3 things to look for in the Lights FC-Vancouver Whitecaps FC game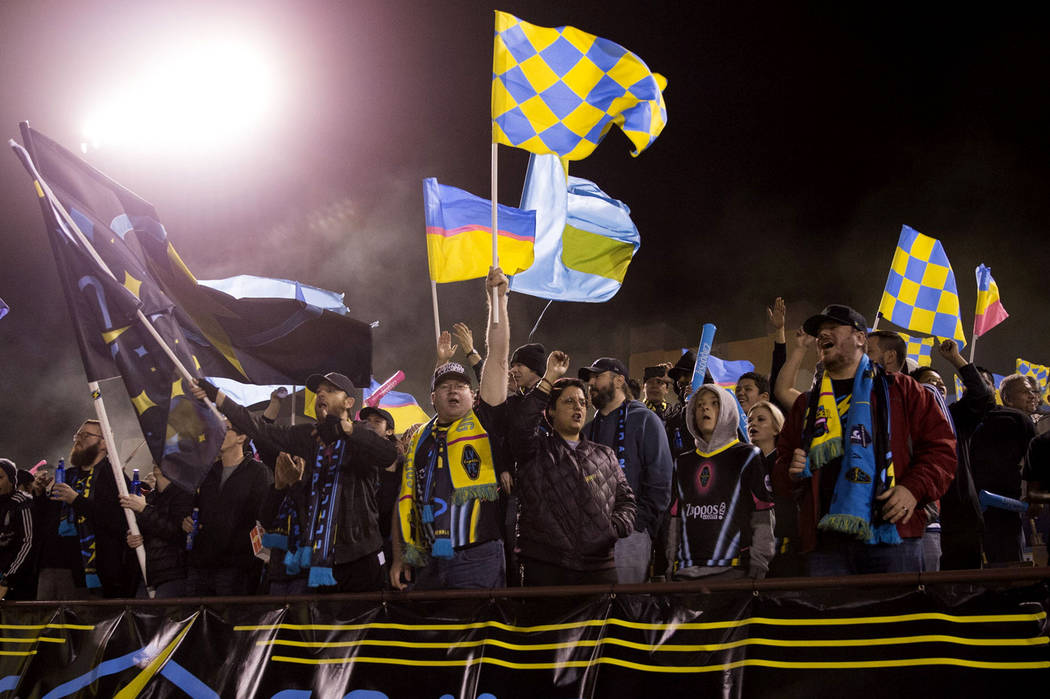 The Lights FC plays its second exhibition game against Major League Soccer's Vancouver Whitecaps FC at 8 p.m. Saturday at Cashman Field. Here are three things to look for in the match:
1. Looking for an encore
The Lights had a sellout crowd of 10,387 at their first preseason game last Saturday against MLS' Montreal Impact, creating a raucous atmosphere during the team's 2-0 loss.
Now the Lights need to prove they can sustain that environment. Owner Brett Lashbrook isn't backing down from expectations, saying his team can sell out each of its two remaining exhibitions and 17 regular-season home games.
"I think we can," Lashbrook said. "It's the right community. It's the right price point."
Averaging a sellout would be a remarkable achievement for the club, especially because only two United Soccer League teams averaged more than 10,000 fans per game last season: FC Cincinnati (21,199) and Sacramento Republic FC (11,569).
Both Cincinnati and Sacramento are currently finalists for a MLS expansion team.
2. Final third woes
The Lights not only failed to score against Montreal; they failed to record a shot on goal.
One issue that coach Jose Luis Sanchez Sola saw was that his forwards weren't moving enough away from the ball, which made it hard for the team to create good chances.
"We need to have more options to pass in the second half of the field," Sola said. "More passes, more movement."
The Lights are still learning to play with one another, which showed on some of their missed connections against the Impact. The team hopes to link up more after another week of training and score in front of its home fans.
"There's a lot of things with our attack that we need to work on but overall it was a good start," midfielder Alex Mendoza said. "We couldn't finish any (chances) but we'll start finishing them and it'll be better for the crowd."
3. Lineup tweaks
The Lights continued to bring in new players to camp in the past week, and Sola has been experimenting with combinations to find the best 23 or so players for the team's inaugural roster.
That includes mixing up the team's starting lineup, as newcomers Daigo Kobayashi and Samuel Ochoa practiced with the first team Thursday.
Kobayashi, a 34-year-old midfielder, had one goal in 12 games with MLS' New England Revolution last season. Ochoa, a 31-year-old forward, had eight goals in 25 matches with Sacramento in 2017.
The Lights also added 32-year-old defender Rodrigo Inigo and 25-year-old midfielder/forward Bryan de la Fuente to their training camp roster this week, giving the team 30 players in camp.
"(We need to work on) our chemistry so we understand each other more," Mendoza said. "Perfect (our) movements so we can create more chances."
Contact Ben Gotz at bgotz@reviewjournal.com. Follow @BenSGotz on Twitter.
Game day
Who: Lights FC vs. Vancouver Whitecaps FC
What: Soccer exhibition match
When: 8 p.m. Saturday
Where: Cashman Field
TV/Radio: KCLV.TV/Live, Twitter.com (@lvlightsfc), Youtube.com (Las Vegas Lights Football Club), KENO (1460 AM) (Spanish)
Odds: Whitecaps minus 400, Lights plus 1,100, draw plus 475 (Westgate)
Tickets: LightsFC.com/tickets