Brazilians celebrate at Mexican World Cup party in Las Vegas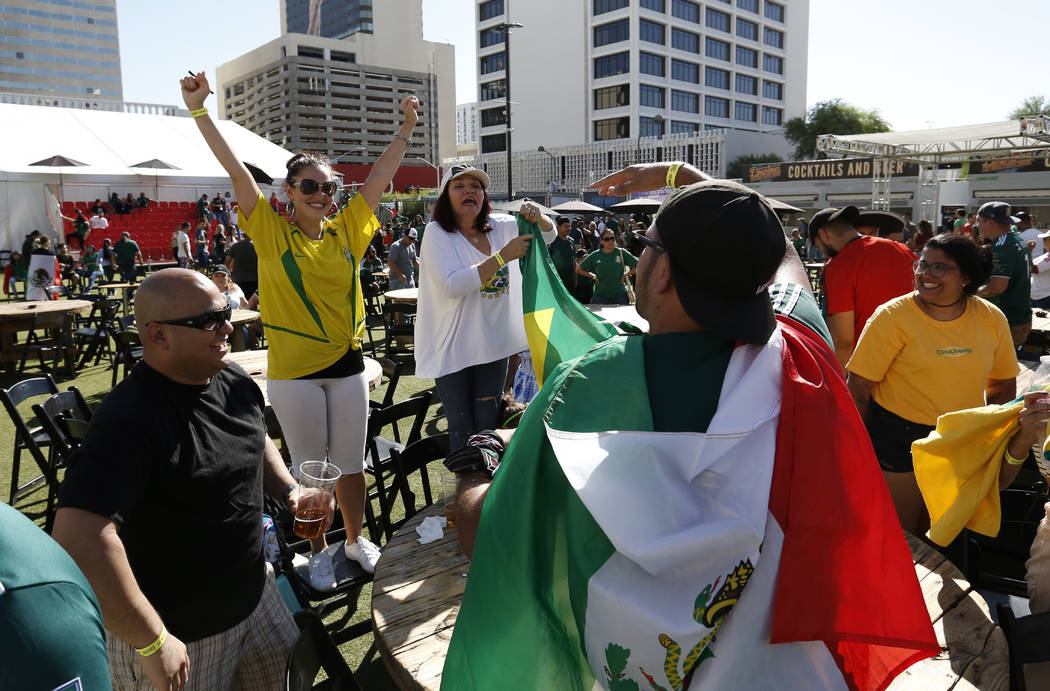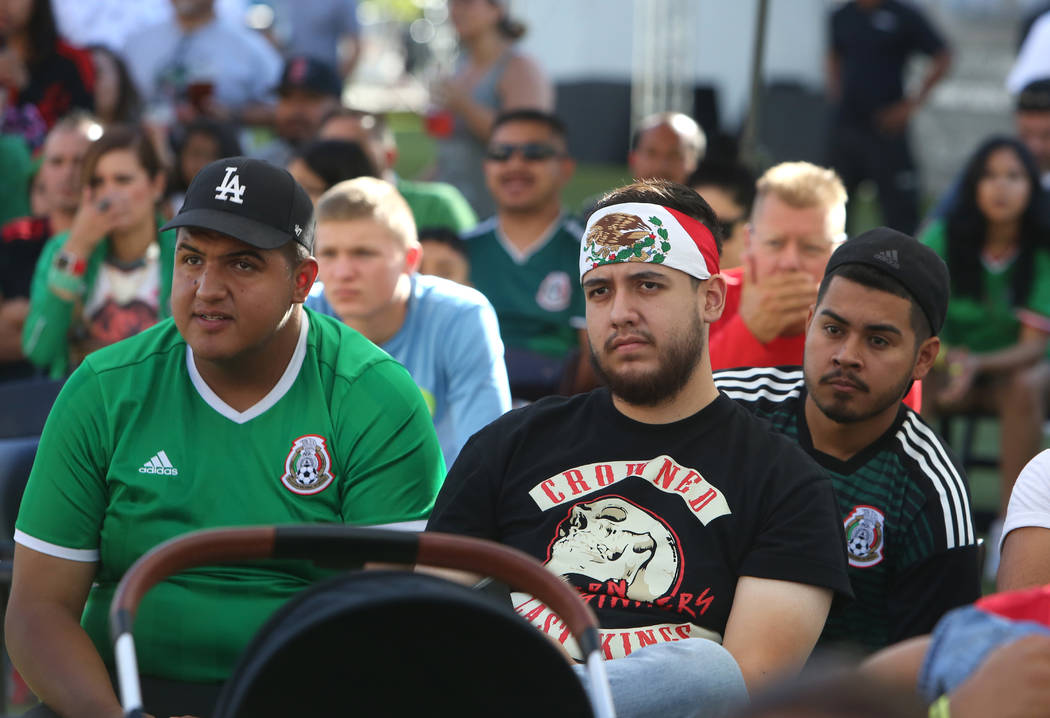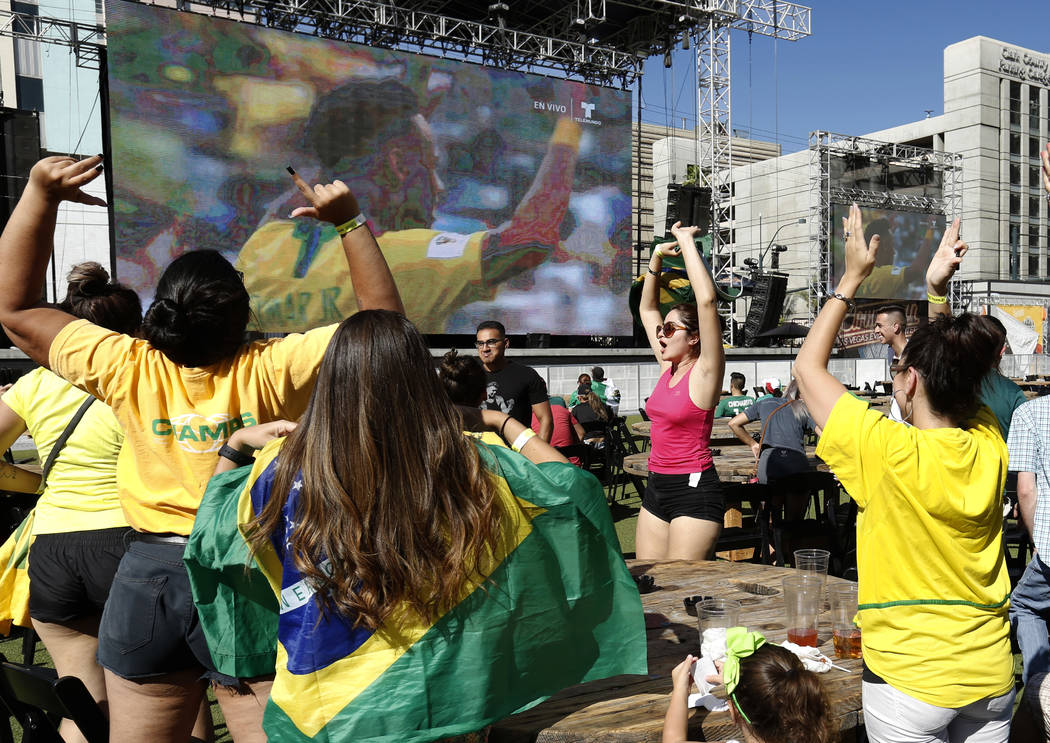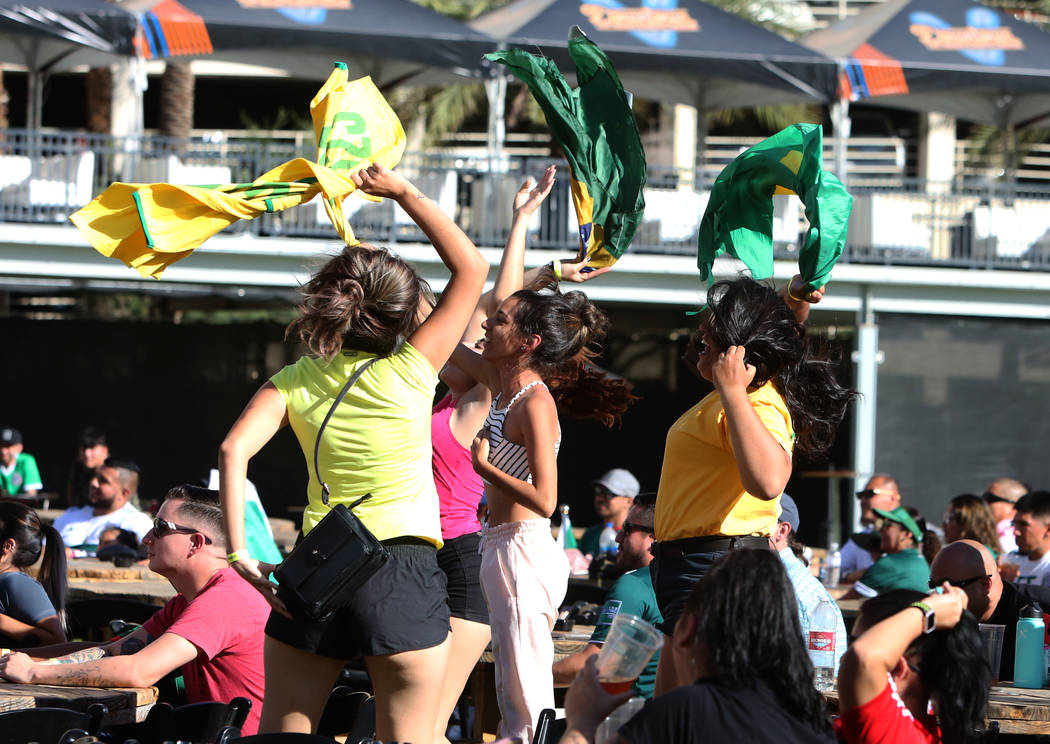 Hundreds of Mexico supporters packed the Downtown Las Vegas Events Center early Monday morning, but it wasn't them who went home happy.
Lost among the rojo y verde of the Mexican jerseys and flags and sombreros and Modelo sat a pocket of rambunctious Brazil supporters who made sure to remind the despondent majority whose team won 2-0 in the World Cup knockout stage.
"We never had a chance to watch any Brazil games, I was working, busy and today we finally had a chance today," Summerlin resident Carolline Uale said.
Uale is originally from Natal, Brazil, and has settled in the valley. She played host to friends in from Brazil for Warped Tour Las Vegas last weekend, and they decided to pop down to what they knew was a Mexico watch party.
"We Latinos, we love soccer no matter what, so we're supporting whoever wins," she said at halftime. "Very nervous, my heart is about to get out of my mouth."
Uale and her group were the only table of Brazil fans, though a few sprinkled cheers throughout the venue went up when Selecao scored.
They got that chance when Neymar connected in the 51st minute, then again when Roberto Firmino drove in the dagger in the 88th minute. The Brazilian fans waited until the final whistle, then burst out in cheers knowing their team was headed to the quarterfinals.
"Everybody is Latinos," Brazilian fan Francesca Elizabeth said. "People are friendly."
Ricky Flores wore a Mexican flag around his neck like a towel, and said he was talking trash to the Brazilian contingent as the match was beginning. But once it ended, he went to celebrate with them, citing the camaraderie of soccer fandom.
"It's a game and you see I came over here and I talked with them and I cheered for them because it's either them or Uruguay who is an American team," Flores said.
Nervous energy seeped through the venue the entire scoreless first half. Mexico came out string early, and had a few chances, but the crowd was just waiting for a chance to explode. It nearly got one in the 15th minute, but a missed cross put El Tri supporters back in their seats.
For some, just getting to attend a watch party was a treat. Elias Rubio was born in Guadalajara, Mexico, and now lives in Las Vegas. He considered going to Russia to see the matches in person. Instead, he was pleased to not have to work Monday morning, and if that meant going downtown, that was fine with him.
"I go anywhere I have to go," Rubio said.
Mexico has not reached the quarterfinals since 1986, instead seeing its run end in the first round of the knockout stage seven World Cup appearances in a row.
"We always back Mexico," local tattoo artist Ric Aguilar said. "There's that Mexican curse that lives today."
Instead, Brazil moves on to the next round, having not lost in the Round of 16 since 1998, and will seek its first title since it defeated Germany in Japan in 2002.
Needless to say, getting up early to make it downtown to see Monday's result didn't seem to bother Uale.
"It was awesome watching it," she said. "It was worth it."
Contact Justin Emerson at jemerson@reviewjournal.com or (702) 387-2944. Follow @J15Emerson on Twitter.