Failed penalty kick dooms Lights FC late in 3-2 loss
Updated June 24, 2018 - 7:25 pm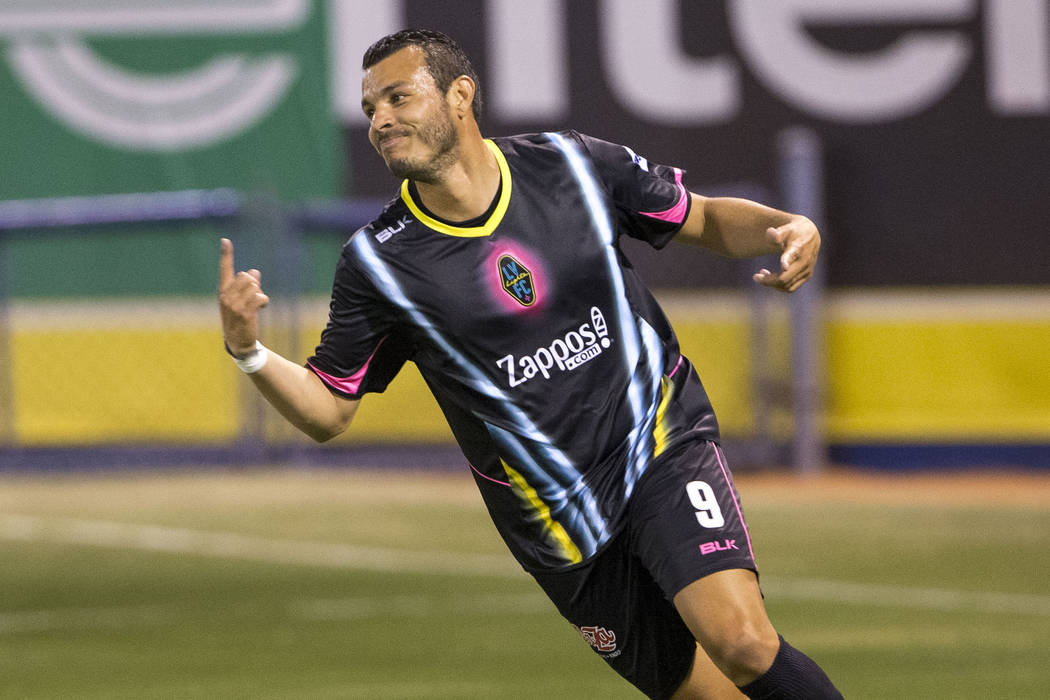 Carlos Alvarez's hands instinctively grabbed his head in disbelief.
What seconds earlier had seemed like a surefire result slipped away in an instant for the Lights FC.
Alvarez lined up to take a penalty kick against the Swope Park Rangers in the fifth minute of stoppage time trailing 3-2, a mere 12 yards away from ending the Lights' three-game road losing streak. But the team ran a play instead of letting Alvarez take the kick, with the midfielder tapping the ball to a charging Sammy Ochoa.
The forward fired at the near post as 6-foot-6-inch Rangers' goalkeeper Christian Herrera dove, but the equalizer didn't come. Ochoa's shot clanked off the post and the Lights (4-6-4) suffered a heartbreaking loss Sunday in Kansas City, Kansas.
"I have shot this penalty (kick) in my life as a coach five times," Lights coach Isidro Sanchez said. "It's the first time I lose."
The failed kick obscured an impressive comeback by the Lights, who trailed 3-1 after Wan Kuzain Wan Kamal scored for the Rangers (8-4-4) on a free kick in the 68th minute.
Ochoa scored his fourth goal in four games in the 87th minute off a nice feed from midfielder James Murphy in his Lights' debut to move within striking distance. The club almost capitalized moments later when midfielder Raul Mendiola, making his first start, was pulled down in the box in the fourth minute of stoppage time.
With all the added time exhausted when Alvarez lined up, the penalty kick was the Lights' last gasp to salvage a point from the match.
"This is a risky play, and most teams who do it, do it when they are winning 4-0 or 5-0," Sanchez said. "For me, that's just bullying or taking advantage of the opponent. You have to practice it and have courage to make it in these kinds of moments. It showed that this team is brave."
Seth Sinovic and Kharlton Belmar also scored for the Rangers in the 12th and 56th minute, respectively, while Lights midfielder Daigo Kobayashi picked up his third goal of the year in the 21st.
Las Vegas also received two saves from goalkeeper Angel Alvarez, who made his second straight start following his USL debut against Seattle on June 16. Regular starter Ricardo Ferrino, who was suspended for the Sounders 2 match, was eligible to play but the team elected to stick with the 20-year-old Rancho product.
Angel Alvarez was reduced to a spectator at the end though, like almost everyone else on both teams. It all came down to the Lights' first penalty kick of the season, and a play they've practiced since their first week of training in January came up short.
"From this loss, I take excellent things," Sanchez said. "I have a team that is yelling at me to my face that they want to do important things. Even though (today) the environment was not the easiest. Even though today we received the best Swope Park Rangers, we received it with a lot of personality."
More Lights: Follow Las Vegas Lights FC coverage at reviewjournal.com/lights and @RJ_Sports on Twitter.
Contact Ben Gotz at bgotz@reviewjournal.com. Follow @BenSGotz on Twitter.