Juan Herrera-Perla finds ways to survive with Lights FC
Updated July 25, 2018 - 4:13 pm
Juan Herrera-Perla is a survivor.
Two ACL injuries couldn't derail his soccer career. Moving more than 1,000 miles from school didn't stop him from graduating college. And a midseason roster purge by the Lights FC, which affected a lot of the players who made the team on an open tryout as he did, didn't touch him.
Instead, the defender continues to earn playing time, with his 760 minutes ranking first among the Lights' rookies. He doesn't have the flashiest game, but he's smart and disciplined enough to know how to do his job.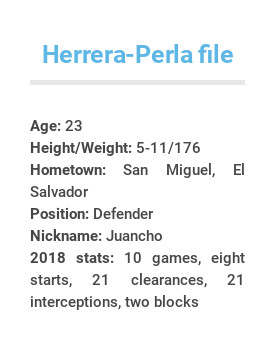 "Soccer has been something that I've had a passion for ever since I was a little kid. And now this is my job, my profession," Herrera-Perla said. "Anyone's job, you take it seriously. If you don't take it seriously, you'll get fired."
Herrera-Perla, 23, picked up his approach from experience. He moved from El Salvador to Texas when he was 5 and showed enough promise that he trained at FC Dallas' academy. But when it came time for college, he ended up at Southwestern Assemblies of God University in Waxahachie, Texas, and he told the school's website his grades kept him from playing Division I.
"It's a school that opened the doors for me when others were closed," he said.
There, Herrera-Perla matured despite his two knee injuries and develop his approach to the game. He also learned to take his academics more seriously, and even after his successful tryout for the Lights, he maintained his studies.
Herrera-Perla took online classes for his final semester as the season began and spent time in the team's front office to work toward his business management degree. He graduated in April with an associate degree in Bible study, too.
"I was the first in my family to graduate with a bachelor's degree," Herrera-Perla said. "Hopefully, sometime in the near future, I go for my master's and see where that takes me."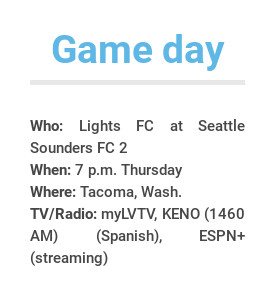 For now, though, his focus is on soccer. Injuries gave Herrera-Perla an opportunity with the Lights, and he's made it hard for coaches to take away his playing time.
Coach Isidro Sanchez said Herrera-Perla, while not the most physically gifted player, is always focused and willing to learn. He picked up man-marking this season, where he follows an opposing player all game, and showed he has what it takes to stick around.
"He has never played professionally before," defender Miguel Garduno said. "Now, six months later, you see him on the field, with the ball, and he has confidence. He's smart. … He's adapted to this (level)."
Bolt update
Lights owner Brett Lashbrook said the team doesn't have a firm deadline in its pursuit of Olympic track star Usain Bolt. The calendar will soon provide one anyway.
Many international leagues have begun or are expected to begin soon, meaning Bolt will need to make a decision quickly if he wants to get preseason/early season work. The Lights have 15 games remaining and are trying to sell Bolt on the idea of proving his worth in the United Soccer League, then moving overseas after the season.
Multiple clubs are competing for Bolt's services, and the Lights' financial resources make a match unlikely.
More Lights: Follow all of our Las Vegas Lights FC coverage online at reviewjournal.com/lights and @RJ_Sports on Twitter.
Contact Ben Gotz at bgotz@reviewjournal.com. Follow @BenSGotz on Twitter.