Las Vegas Lights FC's cash drop goes off without a hitch
September 8, 2018 - 10:20 pm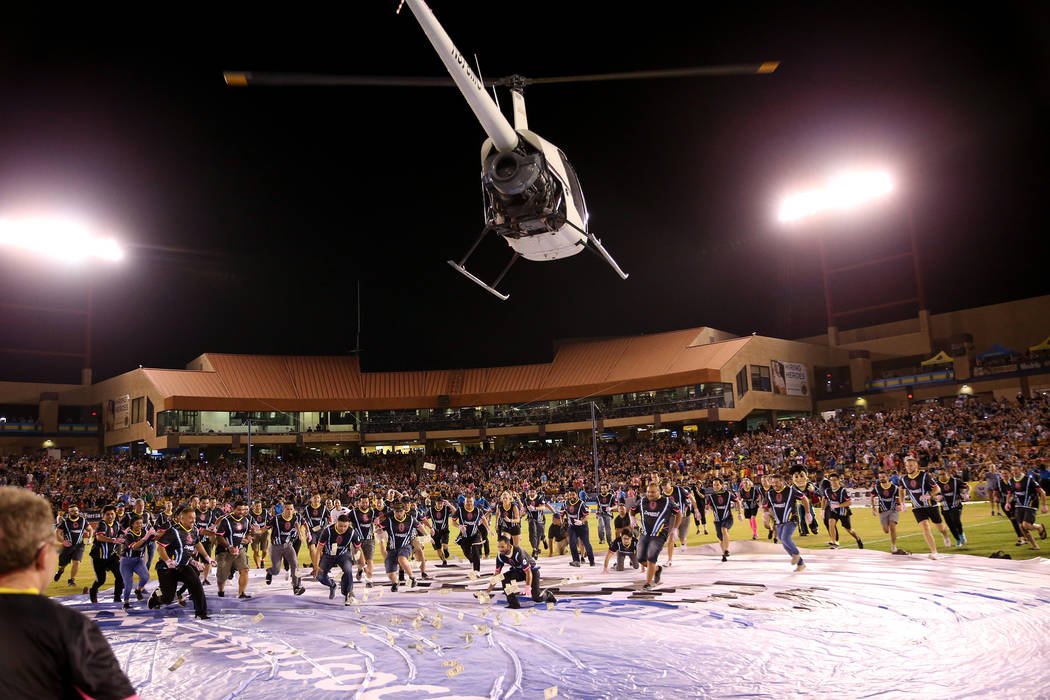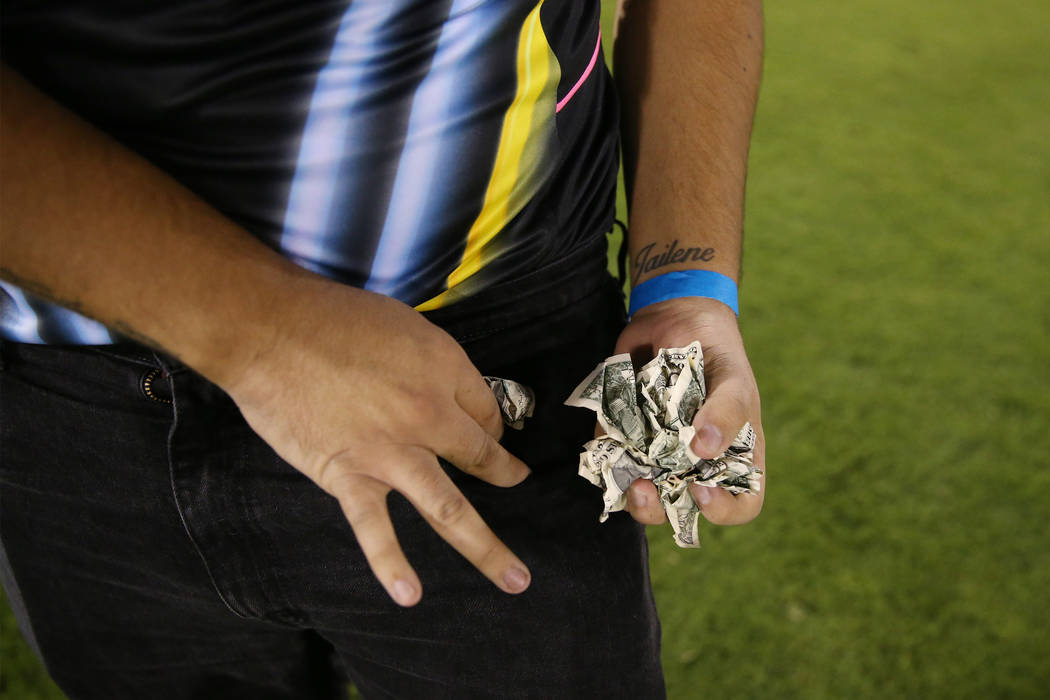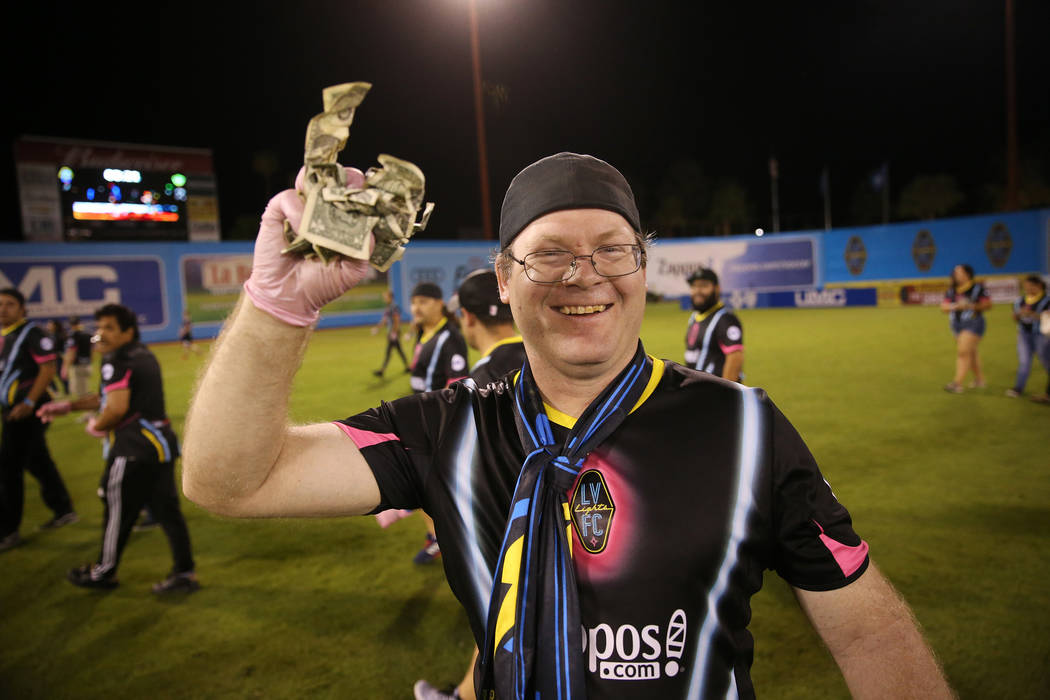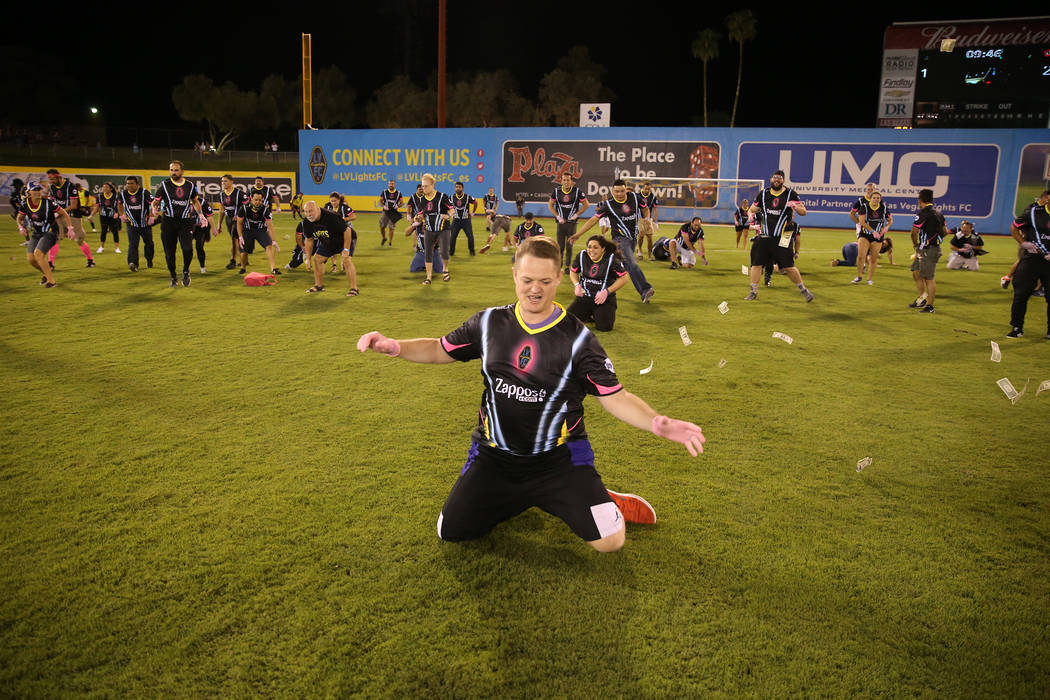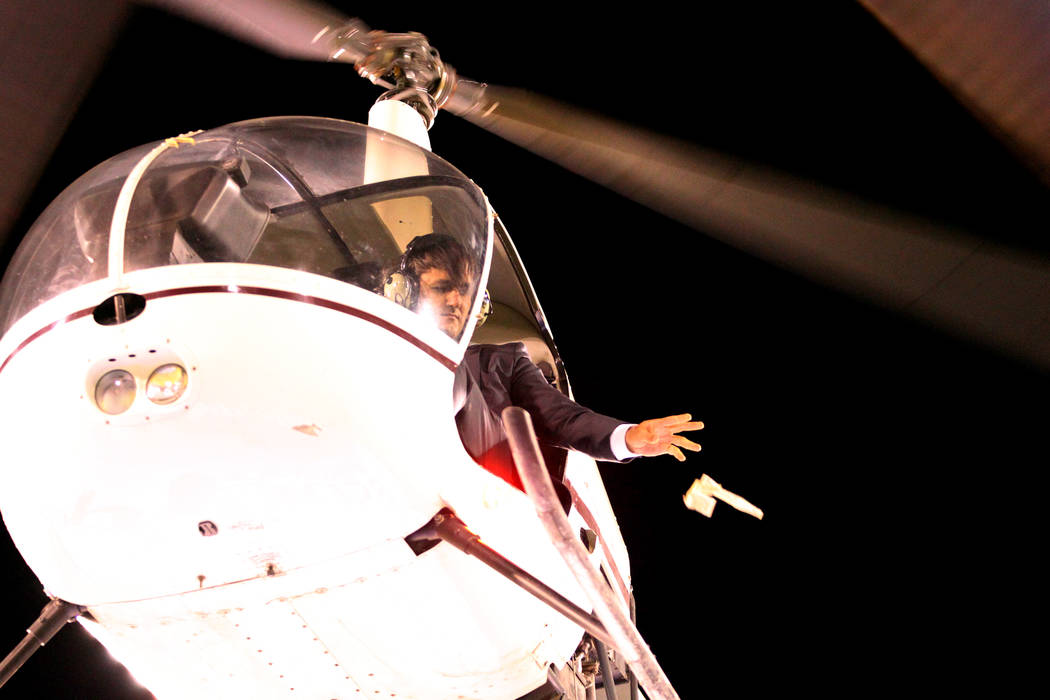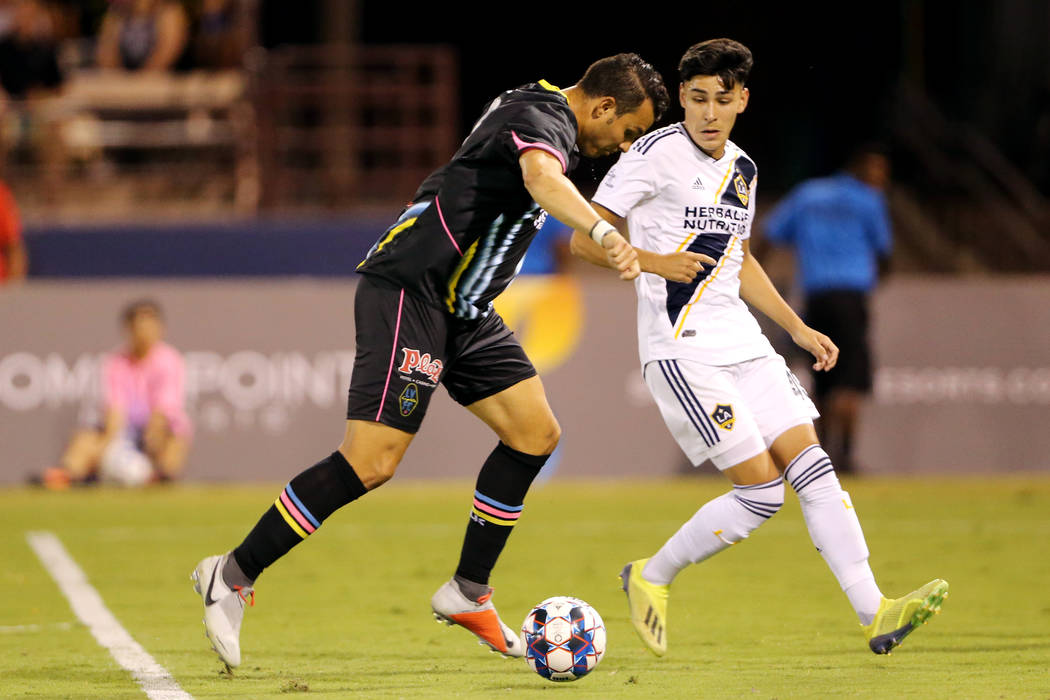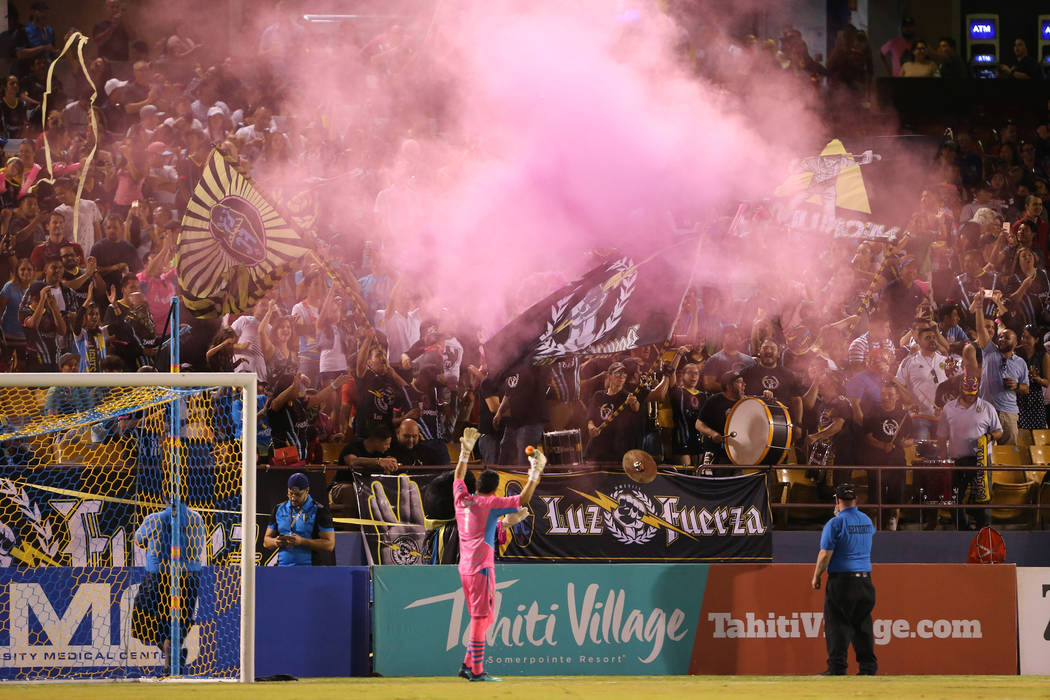 Cash rained down over midfield, whirling around the sky as a helicopter fluttered over Cashman Field and fans scrambled to collect bills. Some stayed near the middle of the field, grabbing what they could, while others chased after bills flying around in the wind.
When it was all said and done, 200 fans walked off the field with a combined $5,000 on Saturday night at halftime of the Lights' game against the Los Angeles Galaxy II, many clutching wads of crumpled cash in their hands.
The Lights lost the game against Galaxy II 2-1, but the highly promoted cash drop seemed to draw plenty of buzz on its own.
The promotion was open to season-ticket holders, sponsors and randomly selected fans in attendance. Owner Brett Lashbrook said $3,000 in $1 bills were dropped, with the remaining $2,000 in $2, $5, $10, $20 and $100 bills.
Participant Lauren Herskowitz came away with mostly dollar bills.
"I was hoping to gather enough for two Life is Beautiful Saturday tickets for me and my 14-year-old daughter," she said.
She made a small dent in that, gathering about $15, she said.
"I started to realize that because I'm short, I probably should stay lower to the ground," Herskowitz said. "If I did that, I probably would have had more money."
Tony Hapiuk said his strategy was to "hopefully stand still and it will all fall on me," while Manny Benavides learned that staying in the middle seemed to be most fruitful.
For an idea that the Lights came up with and pulled together in less than a month as a way to reward fans, the cash drop seemed to go off without a hitch.
"People will talk about how crazy we are off the field, and we are proud of that," Lashbrook said. "We wear it proudly on our sleeve. We have that swagger of Las Vegas, everything about that. But that's all off the field. On the field, we take soccer very seriously, but we thought 'OK, what should we do to reward the fans?'"
Eventually the idea came from somebody remembering a Minor League Baseball team once pulling it off.
"We saw it, and we said 'That's it. That's how we're going to do this,'" Lashbrook said.
Multiple teams have done the same promotion with varied results. In 2006, two kids were injured during a helicopter money drop in Michigan. That was not a concern Saturday, as the team held their contest to 18 and older.
Instead, a day before his team was set to drop the money, Lashbrook said his primary concern was wind.
"I know people will think it's behavior of the fans, but we haven't had a single issue this year with behavior of fans," Lashbrook said. "I am confident in the good of people."
That confidence turned out to be well-founded, as the Lights didn't have any serious injuries or mishaps.
"It was pretty civilized," Benavides said. "There was kind of like slipping and bumping into people by accident, but that's it. Everybody was friendly, which is surprising because it's money."
The team gave participants pink latex gloves and jerseys to wear so they could easily identify if anybody was on the field that shouldn't have been.
A day before, the team brought in the helicopter and dropped fake money over Cashman Field, which helped them perfect it for Saturday.
"It was a great experience, especially for the LV Lights to do this for people," Benavides said.
More Lights: Follow all of our Las Vegas Lights FC coverage online at reviewjournal.com/lights and @RJ_Sports on Twitter.
Contact Betsy Helfand at bhelfand@reviewjournal.com. Follow @BetsyHelfand on Twitter.
Lights lose 2-1
Las Vegas fell 2-1 Saturday night at Cashman Field to the Los Angeles Galaxy II. The Lights have not won since Aug. 4, losing five of those games and tying once.
The Lights dominated possession, especially early in the game, and converted once in the 10th minute on an Omar Salgado goal which was assisted by Carlos Alvarez.
But just more than 10 minutes later, Los Angeles (9-13-6) evened it up as Ariel Lassiter beat goalkeeper Ricardo Ferriño on a penalty kick.
And in the 27th minute, Alvarez's younger brother, Efrain Alvarez, put the Los Dos up for good, bumping the ball off his chest before lifting it above Ferriño.
The Lights (7-14-6) had an opportunity to draw even late but a Carlos Alvarez penalty kick in the 90th minute was saved by Justin vom Steeg to send Las Vegas to a loss.
The Lights outshot Los Angeles 27-13 in the game.