Daniel Cormier challenges ex-champ Jon Jones to accept fight
April 26, 2017 - 11:41 pm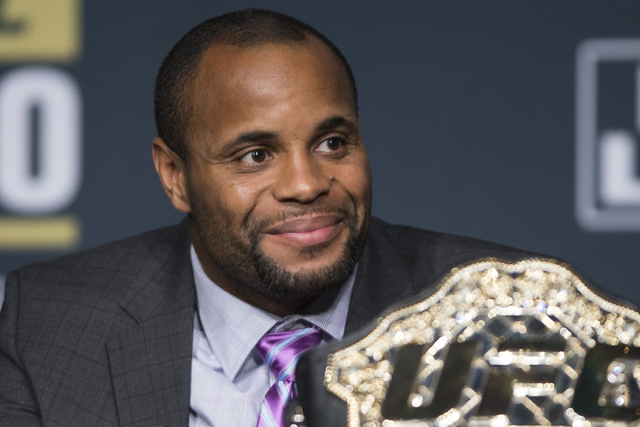 Former UFC light heavyweight champion Jon Jones will return to a different division than the one he reigned over for so long when he comes off suspension in July.
Current champ Daniel Cormier wants to make sure Jones is fully aware of that.
While most of the faces are still the same, Cormier insists he is now calling the shots in what historically has been the organization's most glamourous division.
"It's my rules," Cormier said Wednesday on Fox Sports 1's "UFC Tonight." "I'm the champ now."
Jones vacated the title and was suspended indefinitely by the UFC after he was charged in a hit-and-run accident in Albuquerque, New Mexico, in April 2015.
He made a brief return to action when he captured the interim belt with a unanimous-decision victory over Ovince Saint Preux in April 2016, only to run afoul of the rules once again less than three months later. Jones was pulled from a unification bout with Cormier just days before UFC 200 in July 2016 when an out-of-competition sample was flagged by the United States Anti-Doping Agency.
He was subsequently suspended for a year and will be eligible to fight once again in July. A title bout against Cormier has reportedly been offered to Jones for UFC 214 on July 29 in Anaheim, California.
Cormier challenged Jones to accept the bout during his appearance on FS1.
"Take the fight with me, Jon Jones," Cormier said. "There're no tune-up fights in the UFC. Try to get your title back. Come meet your boy, 'DC.' Get your money. Let's give people the show."
Cormier did credit Jones with putting together the best title reign in UFC history. Jones, 29, has currently won 13 straight fights since the only loss of his career, a controversial disqualification loss to Matt Hamill in 2009.
He captured the belt in 2011 and defended it eight consecutive times before the organization stripped him of the title.
"No one has done it at the level of Jon Jones," Cormier said of his rival's title reign, which included handing Cormier the only loss of his career. "He beat eight of us, back-to-back. He beat five guys who may go into the Hall of Fame – (Lyoto) Machida, myself, 'Rampage' Jackson, Vitor Belfort and 'Shogun' Rua – all were champions and all in their prime."
Cormier, however, saw vulnerability in Jones' one and only fight since the win over Cormier in January 2015.
"The guy we saw against Ovince Saint Preux is the new USADA-regulated Jon Jones," Cormier said. "Yes, I will beat him up July 29."
It might not take that long for them to mix it up. Cormier and Jones have been involved in several altercations outside the cage, including a brawl in the lobby of the MGM Grand for which both were disciplined.
Contact Adam Hill at ahill@reviewjournal.com or 702-277-8028. Follow @adamhilllvrj on Twitter.