Mir was fighting to avoid 9-to-5 job
February 23, 2015 - 7:26 pm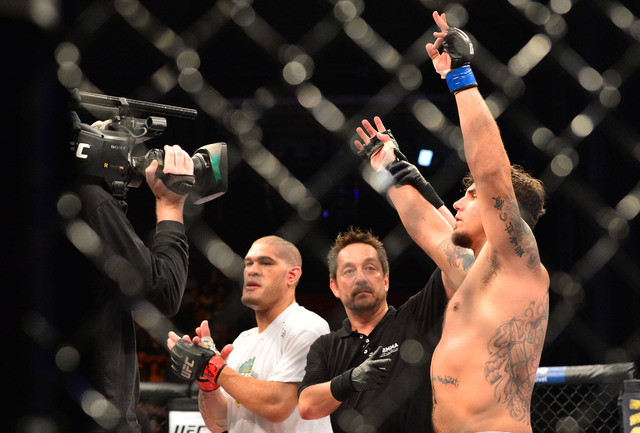 Las Vegan Frank Mir knew there was a huge carrot dangling in front of him that would have quickly gone away should he not have found a way to defeat Antonio "Bigfoot" Silva in the main event of an Ultimate Fighting Championship card Sunday night.
Rumors have been swirling about the possibility of former heavyweight champion Brock Lesnar returning to the UFC, and a third bout against Mir would make a whole lot of sense.
Mir, himself a former heavyweight champion, admits the scenario entered his mind. The 35-year-old Bonanza High alum, however, had more immediate concerns.
He entered the fight having lost four in a row and had gone without a win since 2011.
"It's not something like, 'I'm going to win this to fight Brock,' " Mir said after knocking out Silva in the first round of the bout in Porto Alegre, Brazil. "It was like, 'Man, I need to win this to keep my job, or my wife is not going to let me go to the gym any more.' It's not going to pay the bills. I'm going to have to get a 9-to-5 (job)."
Mir gave his wife, Jennifer, a great deal of credit for his outstanding performance after knocking out Silva in just 1:40. He said she convinced him to take a six-month hiatus from the gym after suffering his fourth straight defeat, a decision loss to Alistair Overeem in February 2014.
He returned to training rejuvenated and went to work on his boxing, which was on full display Sunday night.
"I came out looking for the jab," Mir said. "I've never had a dominating jab, and it's an important punch in the heavyweight division."
Lesnar's return to MMA from professional wrestling is far from a done deal, but Mir knows how big a matchup with his archrival could be at this point in his career.
"I think it would be a huge, big fight," Mir said. "I think it would be something that would catapult my name even higher up. A rubber match between the two of us would be a phenomenal fight. To keep that anywhere in the works, I had to get a win tonight."
The win also gave Mir renewed confidence. He was pleased that all the work on his boxing paid such quick dividends.
"The sky's the limit," Mir said. "I think now I finally have the formula to push forward, so whoever I face next, wherever they're ranked. I think they should be worried."
■ MACDONALD GETS TITLE SHOT — Top welterweight contender Rory MacDonald got the news he has been waiting for when UFC officials announced last week he would challenge Robbie Lawler for the belt July 11 on the UFC 189 card in Las Vegas.
MacDonald thought he had earned the shot several times, especially after winning his eighth fight out of his past nine with a knockout of Tarec Saffiedine in October.
MacDonald endured various rumors and even an announced fight against Hector Lombard that was canceled before eventually receiving word the title shot was official.
"There were a lot of ups and downs, getting the title fight and getting it taken away and now getting it again. It really tested my focus on the fighting," he said. "Originally, I was very upset but almost right away I was able to focus on getting a new opponent and really just shifting all my attention to that and away from the politics and (expletive)."
Now there's only one thing on his mind.
"(The belt) is everything I've worked for over the past 12 years since I was 14," he said. "I made this my dream and my life goal. It's been what I've worked toward ever since, and now it's so close."
The opportunity to avenge a loss against Lawler, the only man to defeat MacDonald over the past four years, is just icing on the cake.
"It was actually the arena we fought in originally, too," he said of the split-decision loss at the MGM Grand in 2013. "That's all a cool bonus. But this is a new fight. I'm a new fighter, refocused and much more hungry, and I'm bringing a different level of passion into this fight."
■ BARKING DOGS — Mir, who was more than a 2-to-1 underdog early Sunday before taking late money to close around plus-145, was not the only upset winner on the card in Brazil.
Underdogs went 10-1 on Sunday night, leading at least one online sports book to report massive parlay losses to such an extent that it could cripple profits for the entire year.
That doesn't seem to be the case in Las Vegas books.
One sports book director said the event was a loser for the house, but nothing extreme.
"It was a knockdown, but not a knockout," Westgate Las Vegas sports book director Jay Kornegay said.
All six fights on the main card were won by the underdog. A $100 parlay on those six fights would have paid almost $200,000.
■ VELASQUEZ'S RETURN SET — UFC heavyweight champion Cain Velasquez will defend the belt against interim champion Fabricio Werdum in the main event of UFC 188 on June 13 in Mexico City.
Velasquez has been out of action since October 2013 with several injuries. The bout originally was scheduled for UFC 180 in Mexico City on Nov. 15, 2014. Velasquez was forced to pull out of the bout, and Werdum was awarded the interim belt for defeating replacement opponent Mark Hunt.
The organization also announced a lightweight bout between Gilbert Melendez and Eddie Alvarez will take place at the event.
Contact reporter Adam Hill at ahill@reviewjournal.com or 702-224-5509. Follow him on Twitter: @adamhilllvrj.