UFC president Dana White softens tone on Conor McGregor
Updated April 9, 2018 - 8:49 pm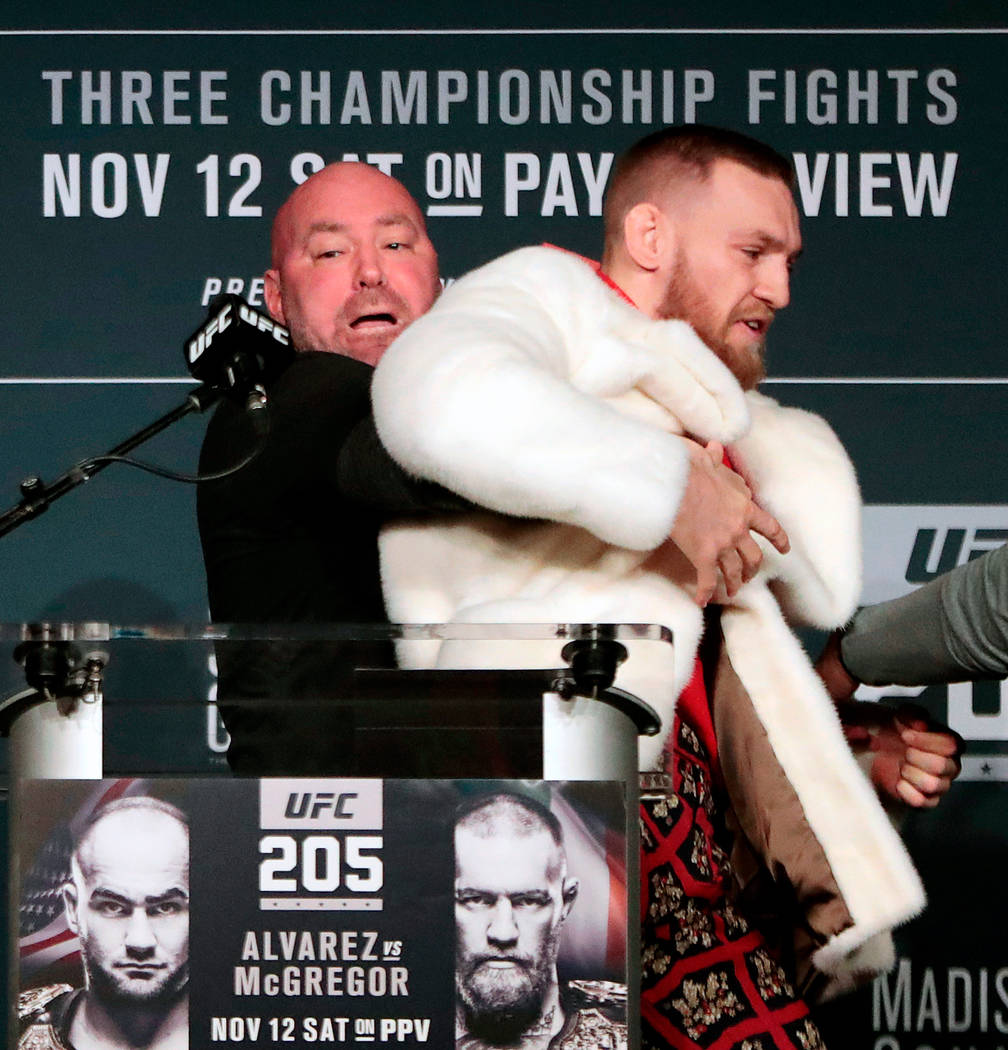 An infuriated Dana White appeared ready to sever ties with Conor McGregor in the immediate aftermath of a rampage at Barclays Center on Thursday that resulted in the arrest of the superstar fighter.
The UFC president appeared to soften his stance dramatically by the end of a chaotic UFC 223 event Saturday night in Brooklyn, New York.
"People say to me, 'Oh, this looks so bad for the sport,' and everything else," White said in the wee hours of Sunday morning inside the same arena the incident had taken place. "I agree, it doesn't look good.
"But at the end of the day, there's a lot worse that goes on in all the other sports, so I'll take a dolly through a (bus) window any day."
The dolly McGregor threw broke a passenger window and injured two fighters, forcing their removal from Saturday's card. When asked by a reporter in the hours after the melee whether he wanted to do business with McGregor going forward, White's answer revealed his frustration with the former two-division champion and unquestioned cash cow.
"Would you want to be in business with him?" White retorted before calling the act "disgusting and despicable" and openly wondering whether McGregor was on drugs.
He was much more measured at the postevent news conference.
"We talked. It's good," White said. "I think that there's a mutual respect between us and, obviously this week, I had so many things thrown at me. To focus on this show was insane. We'll get back and we'll focus on Conor McGregor."
McGregor is also receiving some support from the world of embattled celebrities.
Rapper Chris Brown, who has had several high-profile outbursts of uncontrollable rage, seems to understand McGregor's temper.
"We all get crazy sometimes," he told TMZ.
Singer Justin Bieber also expressed public support for McGregor.
"I think Conor will be fine," Bieber said. "We all make mistakes."
McGregor is free on bond and must return to court June 14 to answer for several criminal charges, though two legal analysts told the Review-Journal jail time is unlikely because of McGregor's lack of prior criminal record.
Rousey 'happy' for UFC losses
Former UFC women's bantamweight champion Ronda Rousey has rarely spoken of the two setbacks that led her to step away from the octagon.
After her starring role at Wrestlemania on Sunday, Rousey apparently was in the mood to reflect on the crushing knockouts administered by Holly Holm and Amanda Nunes.
"It was me versus the world in an individual sport," Rousey told ESPN. "I thought I would never say this, but I'm so happy I lost those fights because it led me here. This is so worth it.
Wow…thank you @RealKurtAngle the @wwe universe and New Orleans for an unforgettable night… https://t.co/RyaZ8q5I5r

— Ronda Rousey (@RondaRousey) April 9, 2018
"Everything really does happen for a reason. I'm just so grateful. I thought I never would be (grateful) for (the losses), but time is a great teacher. I'm just really, really glad I gave it time instead of giving up and feeling it was the end of the world. There's so many people who encounter tragedies who feel like the world and time won't heal it. But all I can say to those people is: Just give it time, even if you think time can't heal it. You never know what will happen and where it will lead you. Every missed opportunity is a blessing in disguise. I really believe it now. "
Rousey teamed with fellow Olympic medalist Kurt Angle to win a tag-team match at the WWE's biggest event of the year.
She has never formally retired from the UFC.
Diaz accepts USADA sanction
UFC star welterweight Nick Diaz accepted a one-year suspension from the U.S. Anti-Doping Agency that will actually expire this month.
The 34-year-old faced discipline for three violations of the whereabouts policy that requires UFC athletes to inform USADA of their location at all times as part of the drug-testing program.
Diaz, 34, violated the policy in both the second and third quarters of 2016 and again in the first quarter of 2017. Three infractions in a 12-month period results in a suspension. His ban is retroactive to April 19, 2017, making him eligible to return to competition in less than two weeks.
Diaz, however, has not competed since January 2015 when he tested positive for marijuana after losing a unanimous decision to Anderson Silva in a bout that was eventually deemed a no-contest due to Silva testing positive for performance-enhancing drugs.
Contact Adam Hill at ahill@reviewjournal.com or 702-277-8028. Follow @AdamHillLVRJ on Twitter.