Montes' suicide squeeze bunt lifts struggling UNLV past New Mexico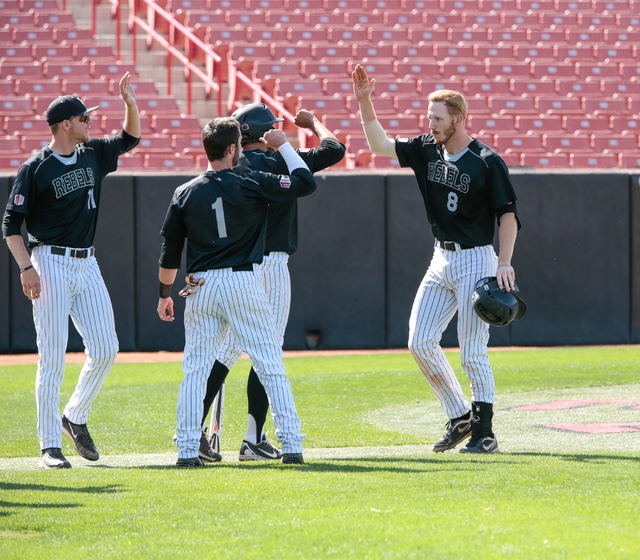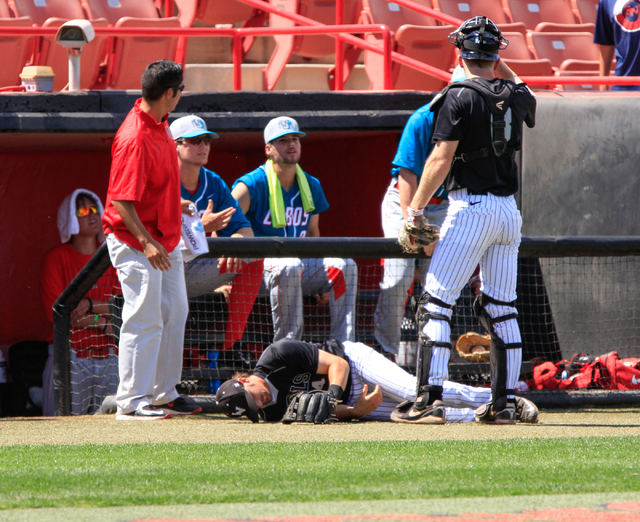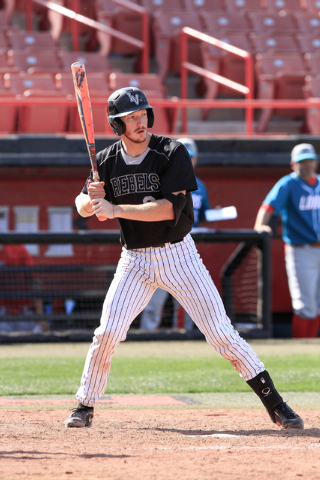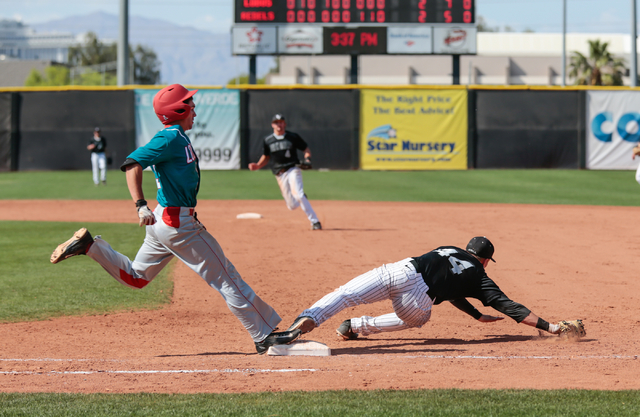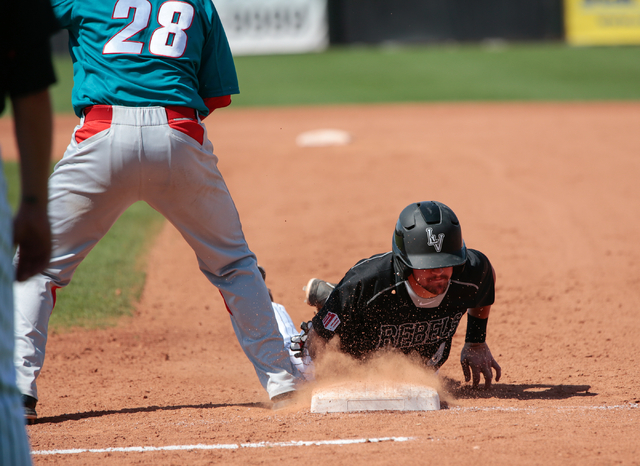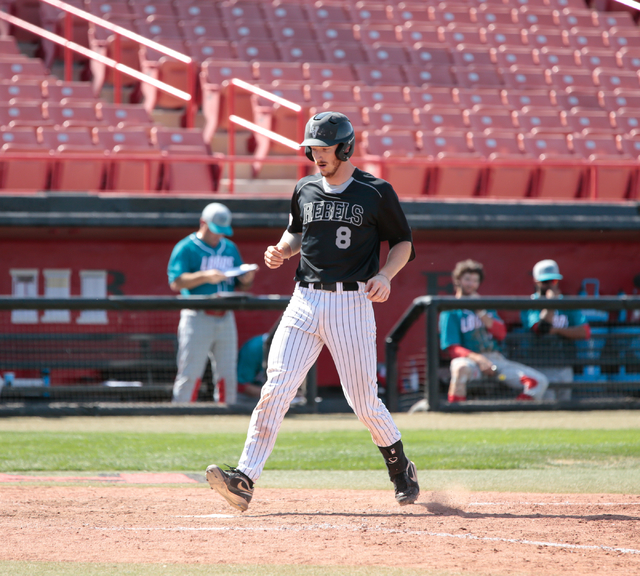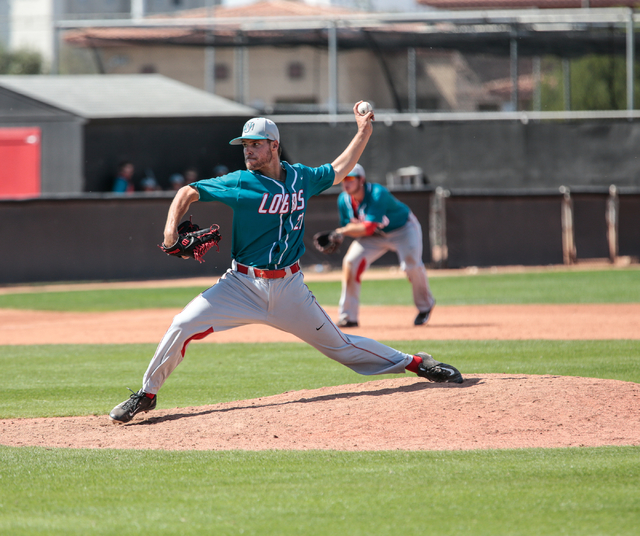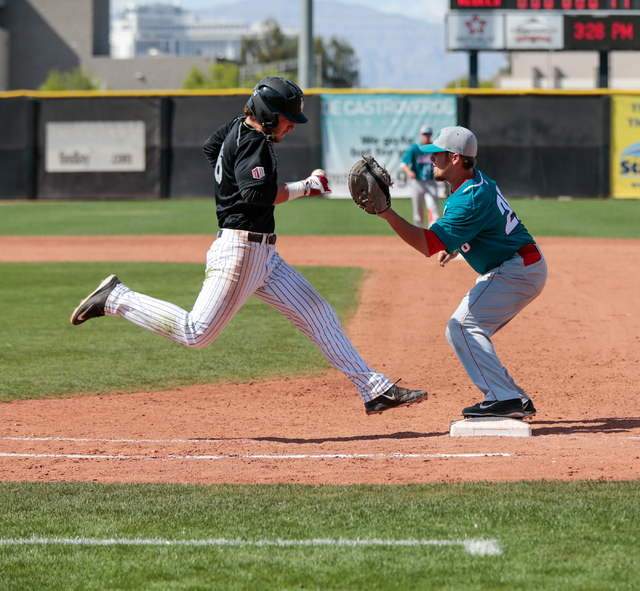 All Edgar Montes needed to do was hit the baseball hard somewhere and UNLV likely would have won Sunday's game.
New Mexico certainly expected Montes, who had put down two bunts all season, to swing away with the bases loaded and one out.
But with the Lobos playing their defense back, UNLV's A.J. Hernandez surprisingly charged down the third-base line.
Montes couldn't have put down a better suicide squeeze than if he had tossed the ball, easily scoring Hernandez with the winning run to give UNLV a 3-2, 10-inning victory.
The bunt was so good that Lobos pitcher Alex Estrella didn't even bother to try to get an out.
"It's tough with the bases loaded because that turns that into a force out (at home plate), so you really have to execute," UNLV interim coach Stan Stolte said. "And we didn't have the fastest runner on third. We had to execute it perfect, and we did."
The victory allowed UNLV (16-22, 3-15 Mountain West) to avoid a sweep, but New Mexico (23-16, 13-8) still left Wilson Stadium with the series victory in winning two of three games.
The Rebels, who next play at 3 p.m. Tuesday at UC Riverside, are in search of any kind of late-season spark as they try to avoid the play-in game in next month's conference tournament in Reno. They have talent, having won series over Ohio State and Nebraska and split with Arizona State, all with Ratings Percentage Index rankings of 22nd or higher.
League play has been another matter, with the Rebels losing seven one-run games.
They got one back on Sunday.
"We've hung in there all year," Stolte said. "It's just been tough. We haven't played well enough to win games, and the teams we've played are really good, like New Mexico, which is as tough as they come. Every game in our league is that way, and we just aren't as talented compared to last year.
"We've been snakebitten in the league, and hopefully this game turns us around in the conference."
UNLV made a regional last season, but Stolte said he likes "our makeup" of this year's team. The Rebels' resilience was tested against New Mexico right-hander Tyler Stevens. He shut out the Rebels through the first six innings, allowing two hits over that span, as the Lobos built a 2-0 lead.
Morgan Stotts' two-out double in the seventh inning became the third hit, and it was enough to prompt Lobos coach Ray Birmingham to make a pitching change.
In came left-hander Luis Gonzalez, who issued a walk and then gave up a run-scoring single to Austin Anderson to bring the Rebels within 2-1.
They tied the game in the eighth on Erik VanMeetren's one-out solo home run to left field.
UNLV's pitching gave the offense a chance to catch up. Right-hander D.J. Myers allowed six hits and two runs over seven innings before turning the game over to the bullpen.
Lefty Brayden Torres (1-2) delivered by allowing one hit and no runs over the final 2 2/3 innings. He had to pitch out of trouble right away, entering the game with one out in the eighth and a runner on first base. Three batters later, with runners on second and third, Torres got out of the jam by inducing a grounder.
"It was huge," Torres said. "I usually come in with runners on base, and it's a situation where that runner can be the winning run. With the way we've been playing, all the runs count. And all the guys we strand, those count, too."
Then UNLV truly made it count in the bottom of the 10th.
Hernandez struck out to lead off the frame, but made it to first base on a third-strike wild pitch, and moved to second on Joey Swanner's sacrifice. The Lobos then intentionally walked VanMeetren and unintentionally walked Dylan Ellis on a full count to load the bases.
That brought up Montes, who entered the game batting .300. Third-base coach Kevin Higgins sent in a sign for a bunt, which surprised Montes.
He came through, however.
"I know I could do it," Montes said. "We practice it all the time. I usually say we don't bunt. Me and a couple of guys, that's our joke. But when it calls for it, we get the job done."
Contact Mark Anderson at manderson@reviewjournal.com or 702-387-2914. Follow him on Twitter: @markanderson65.