Don't expect Raiders to change famous logo, slogan
Updated March 27, 2017 - 9:41 pm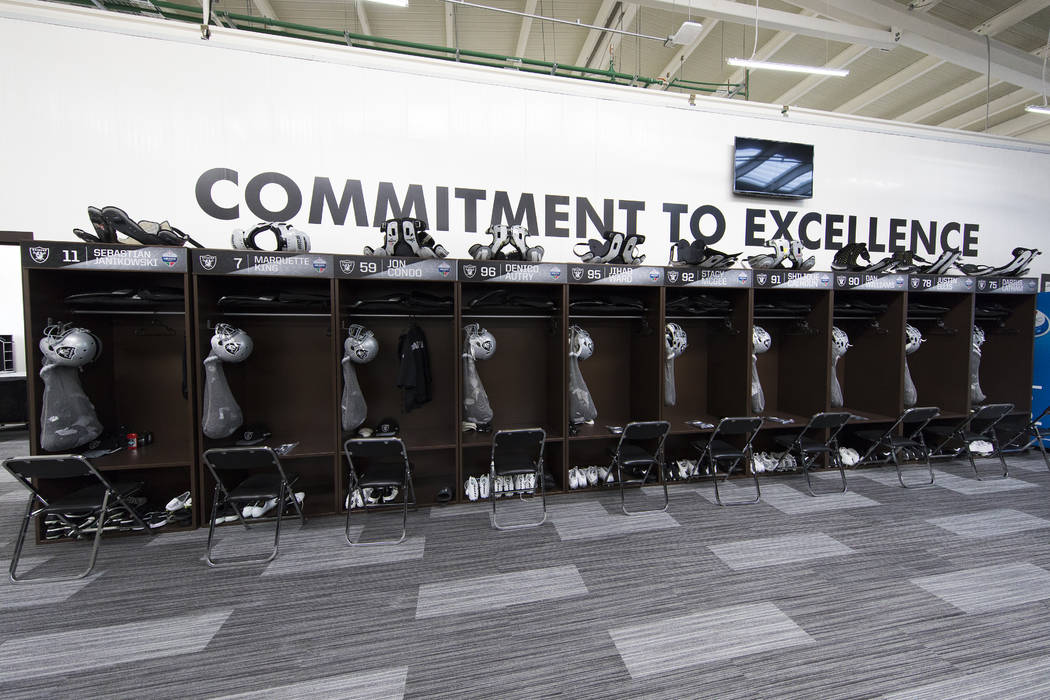 The silver-and-black logo, a pirate wearing an eye patch and football helmet with crossing swords in the background, is as recognizable as any other in North American sports.
It's a logo that defines the outlaw nature of the Raiders' franchise, one that has lasted more than 50 years.
When the Raiders move to Las Vegas, they are expected to bring their logo with them with few, if any, changes, and that's the way it should be, according to an expert on sports business and marketing.
"I think the notion that the Raiders would reinvent themselves would be really not a great idea because they have such a strong following and passion behind their brand," said David Carter, an associate professor at Southern California and a consultant to sports organizations and playing venues. "Maybe what would be more appropriate would be some sort of refinement to their brand to at least acknowledge and balance their history with where they're about to end up.
"Clearly, if they're going to be operating out of Las Vegas, that's an opportunity to moreso reach a global audience than they would reach in the Bay Area. So some refinement is necessary, but an extensive rebrand wouldn't be warranted."
Raiders spokesman Will Kiss told USA Today the team will not change its logo. The Review-Journal reached out to Kiss and Raiders president Marc Badain, but they didn't respond.
Branding goes beyond the logo for the Raiders, whose motto, "Commitment to Excellence," is just durable.
The logo and slogan help the Raiders attract more of a national following than most NFL franchises.
"It's clearly one of the most iconic brands in all of sports," Carter said. "It's differentiated itself over the years based on the history and tradition of not just the team, but the players that have been a part of that franchise and even the Davis family … have been a critical part of the branding of the team.
"Every team has a brand, and theirs as a rebel brand, a brand that would take no prisoners, I think that's something we don't see too much throughout professional sports."
That divisiveness makes it effective.
"I think the one thing you can say about the Raiders' brand is there has not been any misunderstanding about what it represents," Carter said. "From that standpoint, the brand strength is very strong.
"You have to have someone to hate if you're in sports, and I think that they've played that foil very, very well over the years and have built quite a following around it. So that's going to be critical for them to maintain in some strong fashion if they end up in Las Vegas."
Contact Mark Anderson at manderson@reviewjournal.com or 702-387-2914. Follow @markanderson65 on Twitter.
RELATED
Oakland Raiders get NFL's approval to move to Las Vegas
NFL MERCHANDISE RANKINGS
(As of Nov. 30)
1. Tom Brady, Patriots
2. Ezekiel Elliott, Cowboys
3. Dez Bryant, Cowboys
4. Odell Beckham Jr., Giants
5. Carson Wentz, Eagles
6. Russell Wilson, Seahawks
7. Aaron Rodgers, Packers
8. Dak Prescott, Cowboys
9. Rob Gronkowski, Patriots
10. Cam Newton, Panthers
11. Antonio Brown, Steelers
12. J.J. Watt, Texans
13. Jason Witten, Cowboys
14. Tony Romo, Cowboys
15. Von Miller, Broncos
16. Derek Carr, Raiders
17. Todd Gurley, Rams
18. Luke Kuechly, Panthers
19. Amari Cooper, Raiders
20. Khalil Mack, Raiders
— According to the NFL Players Association