Fans, Fertittas attend last Bay Area battle of Raiders, 49ers
November 1, 2018 - 8:26 pm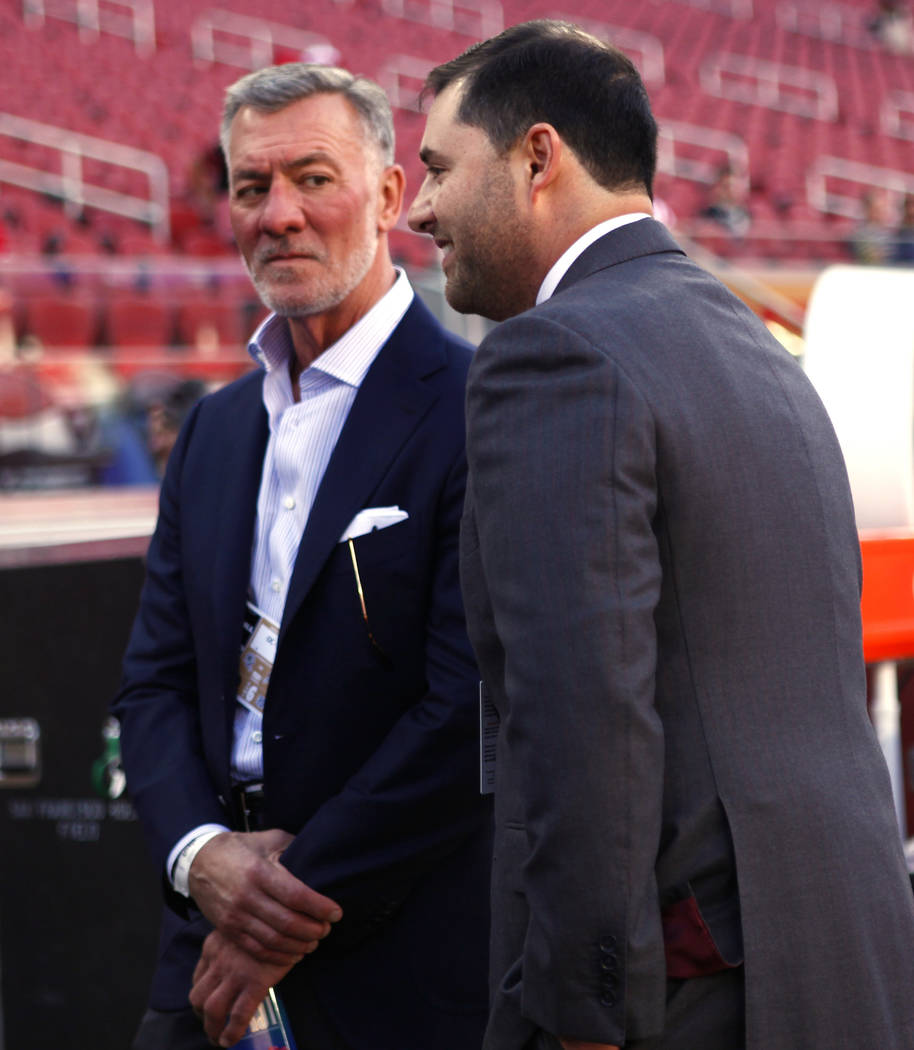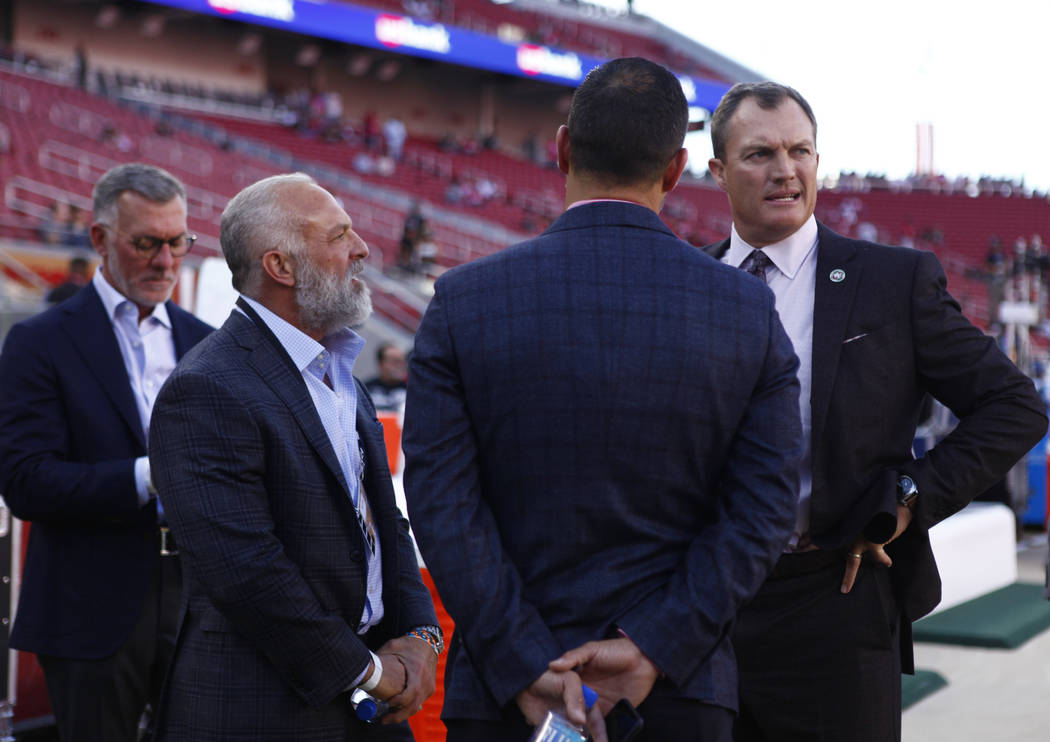 SANTA CLARA, Calif. — Many red empty seats were visible Thursday at Levi's Stadium for the potential final meeting between the Raiders and 49ers as Bay Area rivals.
The Raiders are on track to relocate to Las Vegas in 2020. It's unlikely the two Northern California outfits with a combined record of 3-14 after their prime-time game will meet again before the Raiders move into a domed stadium near the Strip.
The two teams aren't set up to contend anytime soon, so an all-Bay Area Super Bowl doesn't seem probable in the next two years.
Oakland and San Francisco aren't scheduled to play each other in the 2019 regular season, but the NFL could have the two franchises meet once more in next year's preseason.
"It was a good rivalry," said Edward Carrillo, 53, who considers himself a lifelong 49ers fan. "People said a lot of bad stuff about it, the violence and the fights, but as you can see, everybody is getting along and having a good time."
No fights broke out while a reporter strolled through the tailgating section in front of the four-year stadium.
The NFL scrapped the annual Raiders-49ers preseason game after numerous fights occurred during the 2011 exhibition.
Brothers Frank and Lorenzo Fertitta are familiar with fights from their days of operating the UFC before selling the mixed martial arts company for $4 billion in 2016. The Las Vegas residents and casino operators were on the field before Thursday's kickoff.
The Fertitta brothers were walking with a group of 49ers brass that included CEO Jed York and general manager John Lynch.
The Fertittas were reportedly in a bidding war this year to buy the Carolina Panthers. David Tepper officially bought the Panthers for $2.275 billion in July.
UFC president Dana White has expressed confidence that the Fertitta brothers will one day own an NFL franchise.
"It is 100 percent a fact they are hardcore football fans, and I promise you one day the Fertitta brothers will own an NFL team," White said on Jim Rome's radio show two years ago. "No doubt about it."
There have been no reports this year of the 49ers being up for sale.
Another local made the trip to Northern California to watch the 49ers defeat the Raiders 34-3. But this one isn't as known as the Fertitta brothers, but you've probably seen him on television.
Some of you might recognize Jomaine Bobbitt. He appears on the @FOX5Vegas Raiders commercial. He made the trip hoping to see a Raiders win tonight. That won't happen but he's still very excited about his wife soon giving birth #RaiderNation pic.twitter.com/AeOlRz787T

— Gilbert Manzano (@GManzano24) November 2, 2018
Jomaine Bobbitt, 42, is the guy raising his arms in excitement after a Raiders touchdown during a commercial that regularly airs on Fox 5 (KVVU).
Bobbitt, who was born in Oakland and raised in Las Vegas, didn't want his beloved Raiders increasing their chances of landing the No. 1 pick in the 2019 draft.
"I want to win for bragging rights," Bobbitt said before the game. "If we can pull this one off, there's a sense of pride."
Bobbitt was confident the Raiders would come out victorious in the final regular season Bay Area battle.
"I don't know him at all," Bobbitt said of Nick Mullens, who started at quarterback for the 49ers. "Hopefully he's not that good."
He was that good for his NFL debut, completing 16 of 22 passes for 262 yards and three touchdowns.
The Fertittas were there to witness the start of the Mullens era with Bobbitt possibly looking to fast forward to 2020.
More Raiders: Follow all of our Raiders coverage online at reviewjournal.com/Raiders and @NFLinVegas on Twitter.
Contact Gilbert Manzano at gmanzano@reviewjournal.com. Follow @GManzano24 on Twitter.