Raiders embarrassed in 34-3 loss to 49ers on 'TNF'
Updated November 1, 2018 - 10:24 pm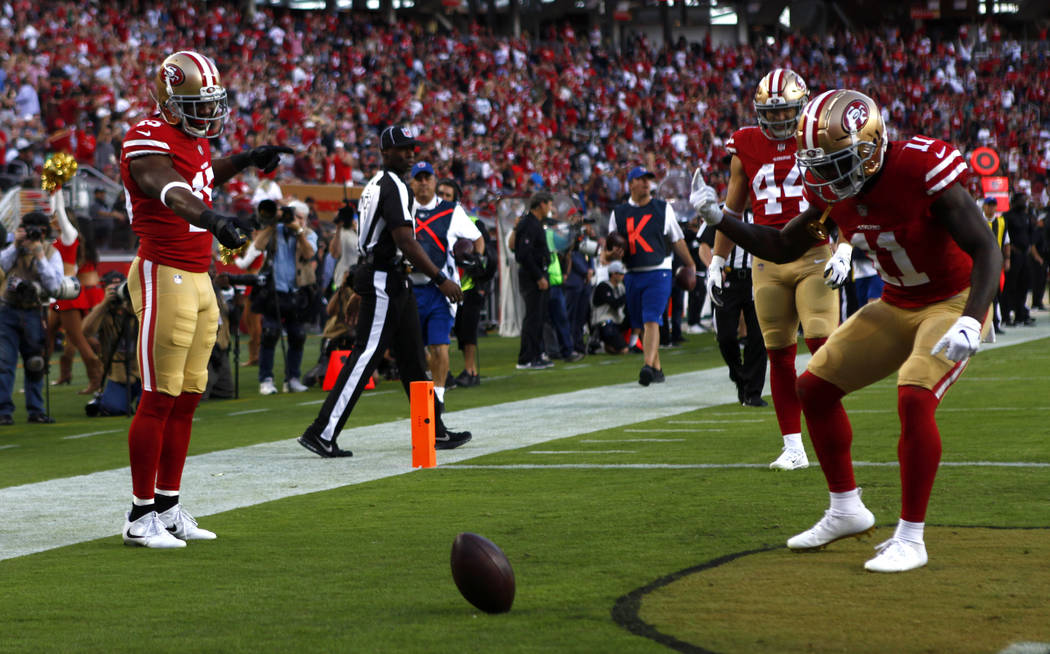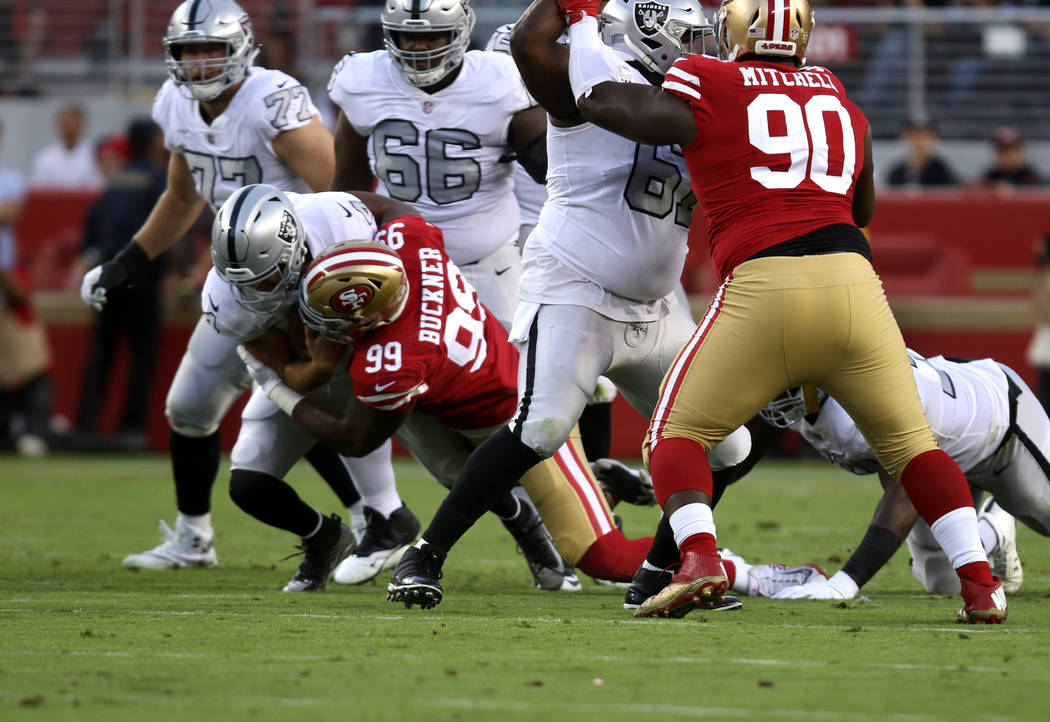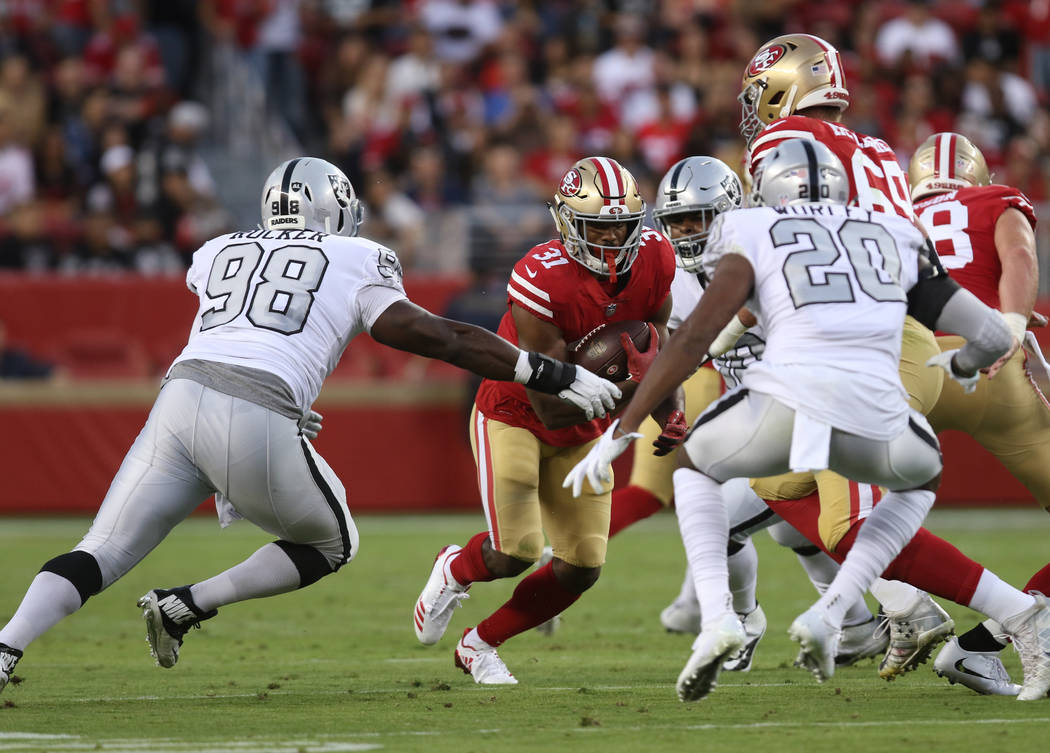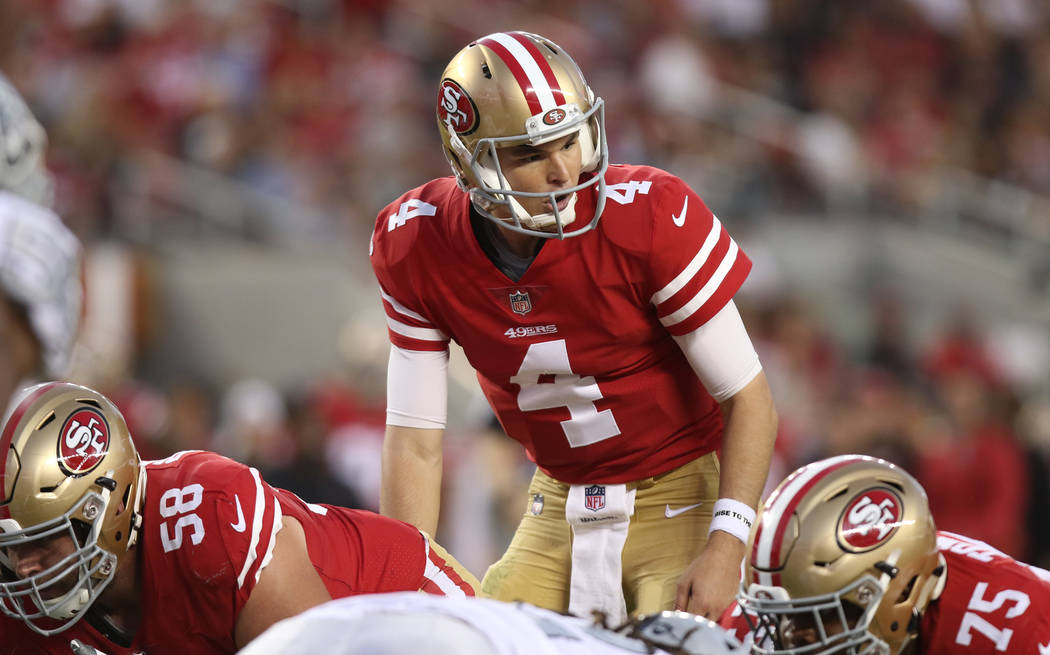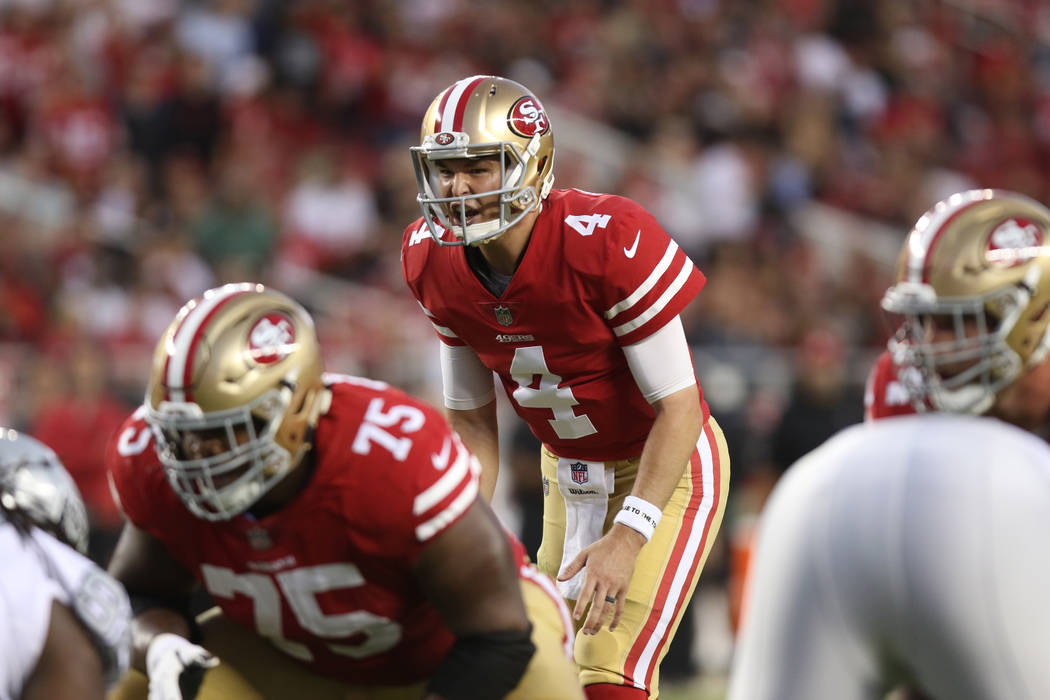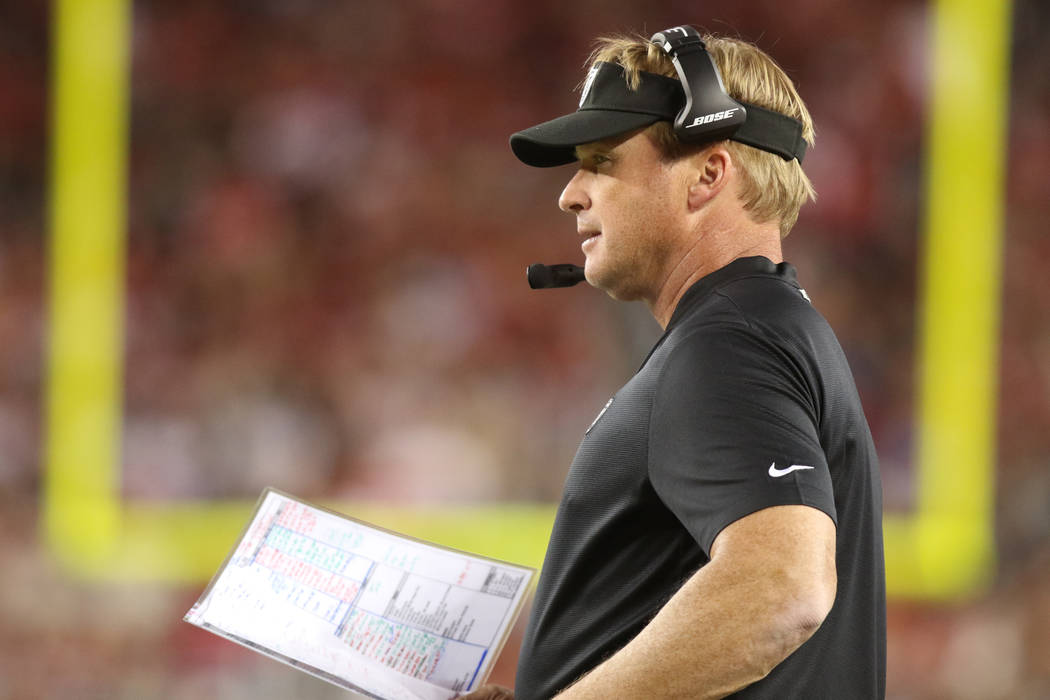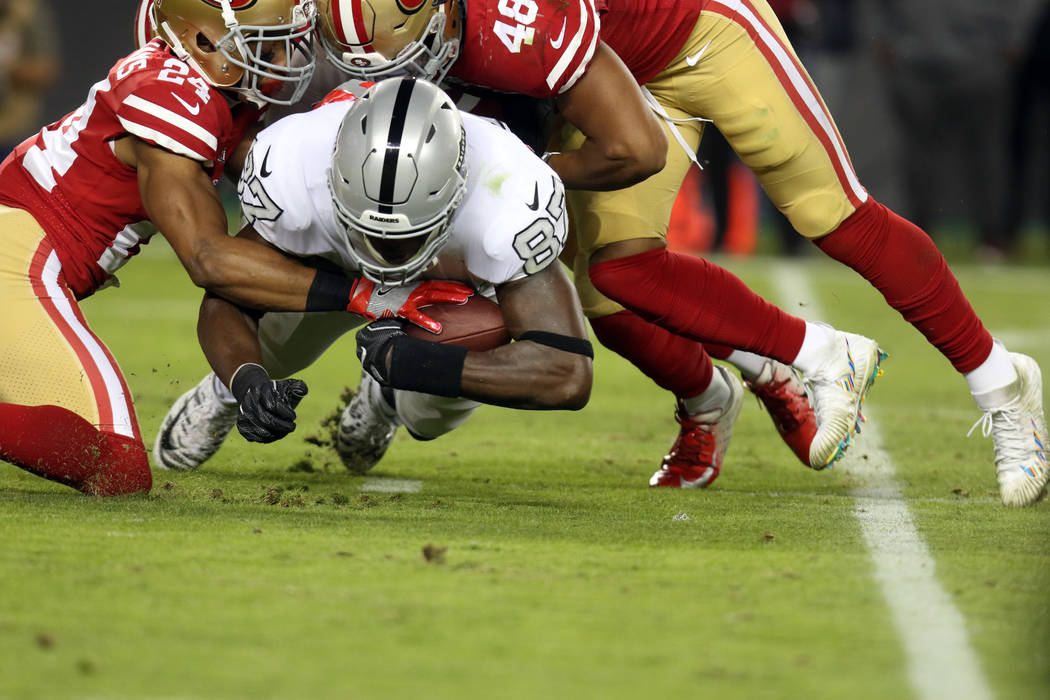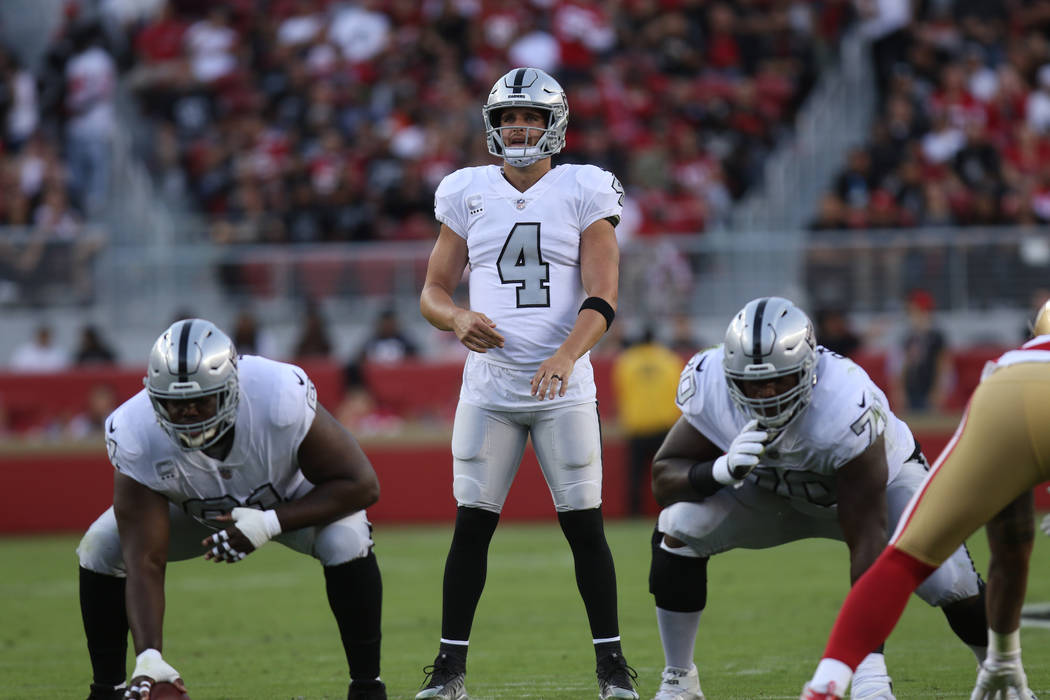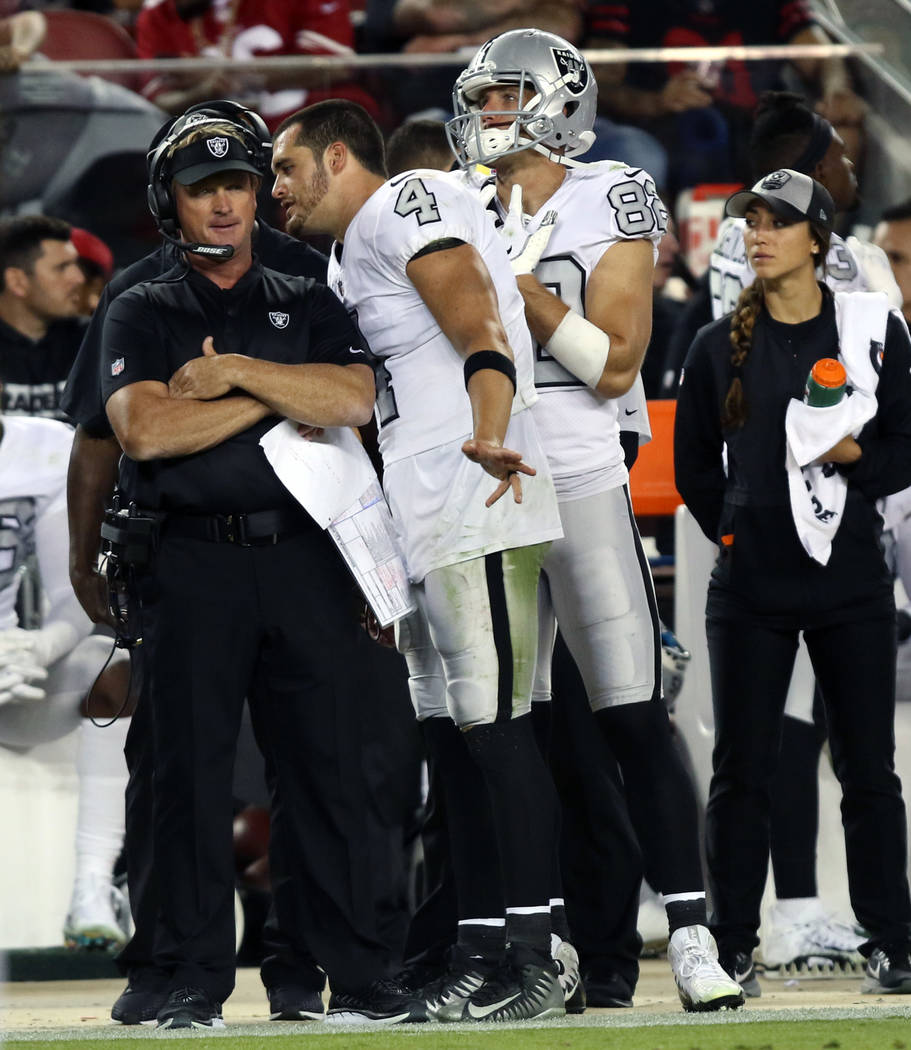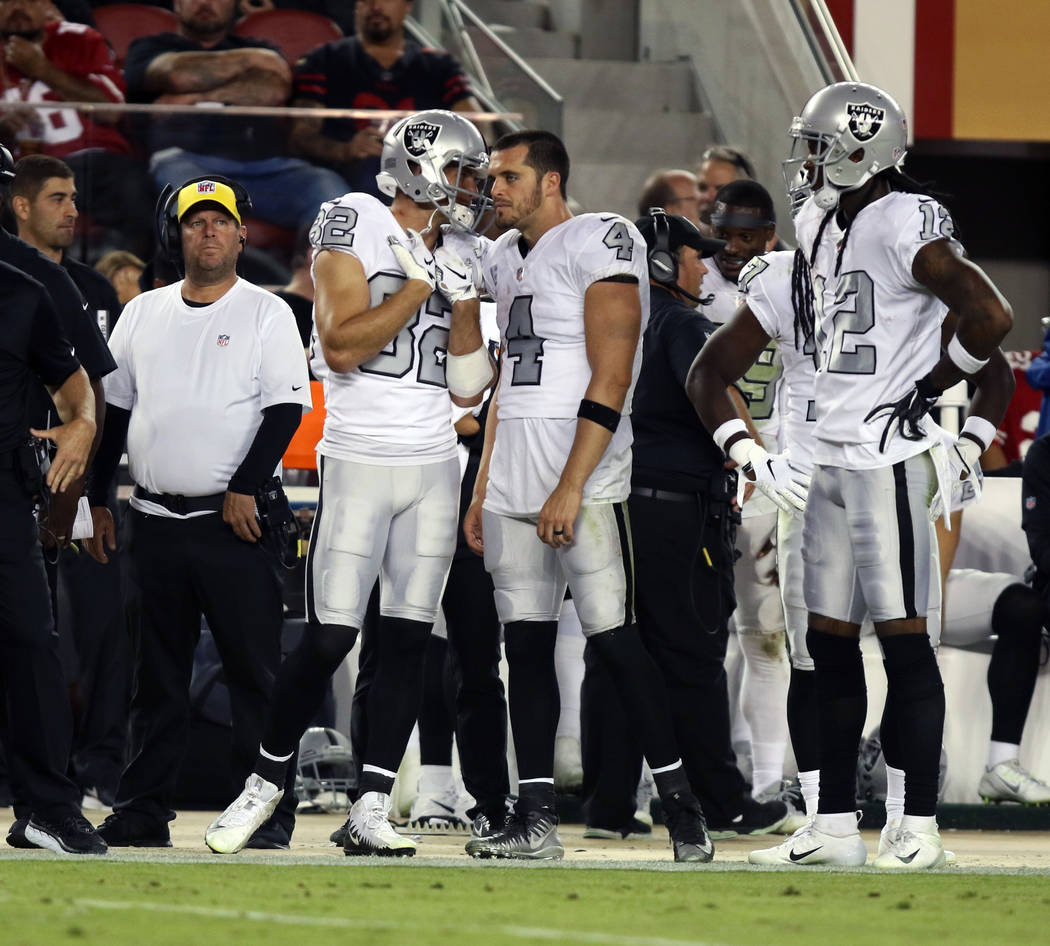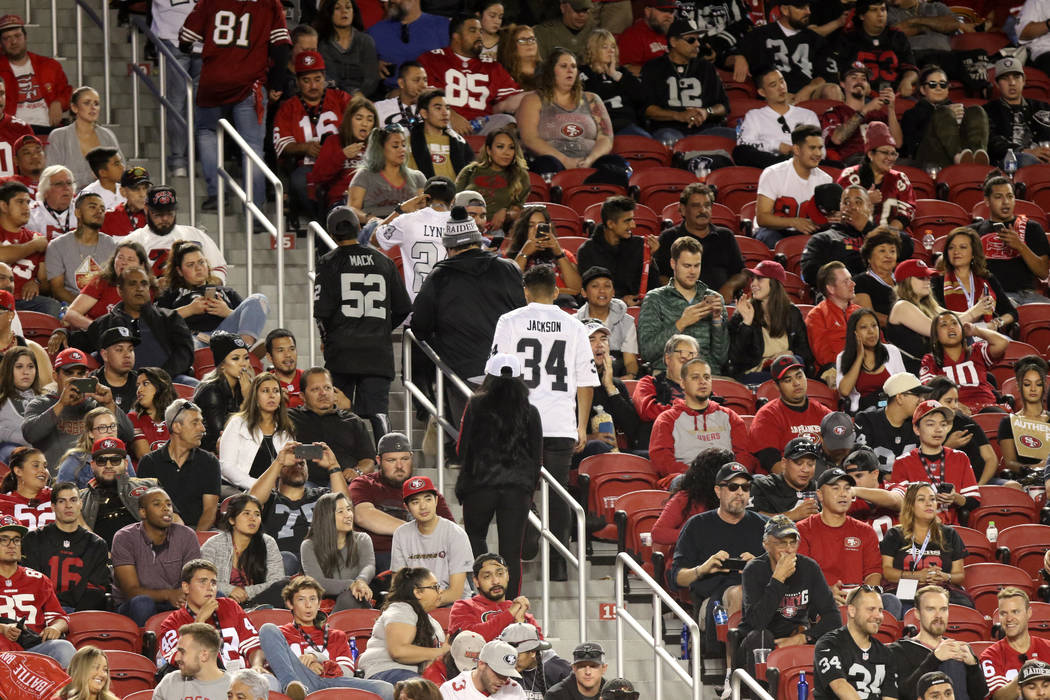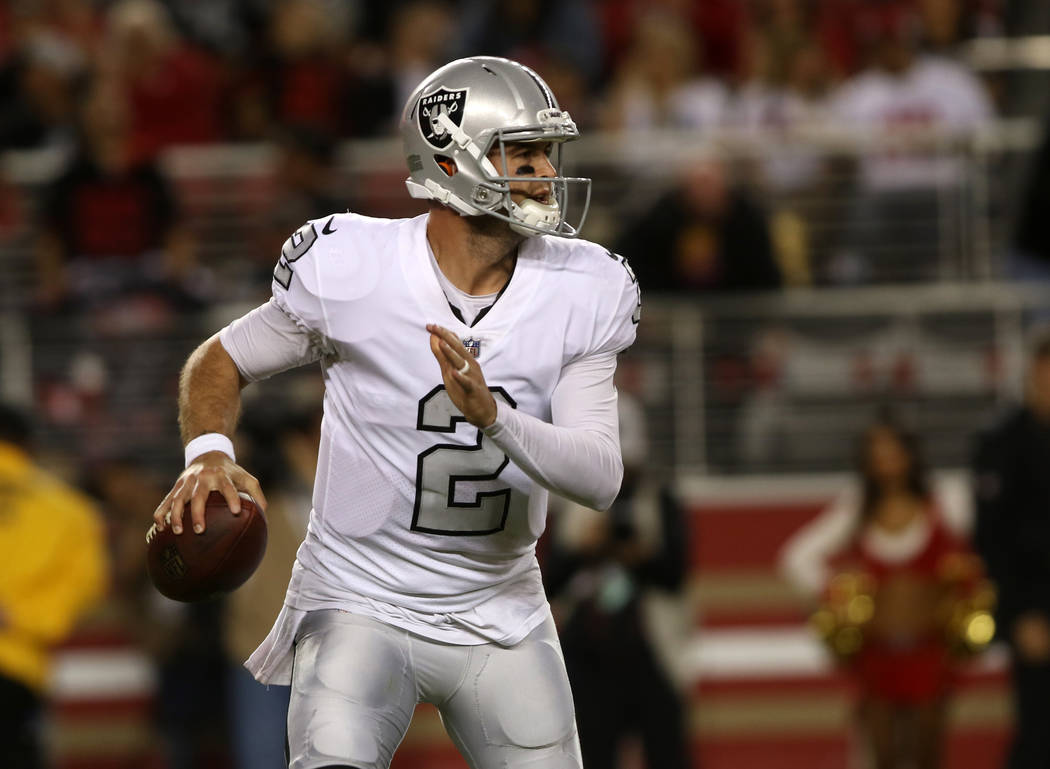 SANTA CLARA, Calif. — Derek Carr stood on the sideline, arms crossed, helmet not in sight.
He was protected at last.
The Raiders shut down their quarterback early in the fourth quarter of a 34-3 loss after Carr played two snaps that period. A pass wasn't thrown in either, his first dropback a 2-yard scramble to evade the San Francisco 49ers' rush and the other a 6-yard loss when he couldn't.
All that remained for Carr was to watch.
That's not easy, either.
A sad, sluggish Raiders season sunk to an almost unwatchable low Thursday evening on primetime television. Carr was sacked a career-high seven times, and the defense made first-time NFL quarterback Nick Mullens look like a seasoned All-Pro in an embarrassing defeat at Levi's Stadium. The game played like a Greatest Hits album as to why the club owns an atrocious 1-7 record.
"They literally just came out and beat us to a pulp," running back Jalen Richard said.
Track one: "Ability."
The defense doesn't have enough of it.
Mullens spent all of last season on the 49ers' practice squad as an undrafted rookie from Southern Miss. This September, he was cut following the preseason, cleared waivers and returned to the practice squad where he remained until a Week 3 injury to quarterback Jimmy Garoppolo. He started Thursday only because a wrist ailment sidelined backup C.J. Beathard, who struggled to grip a football this week.
Mullens never before appeared in an NFL regular-season game.
He led a scoring drive on five of the 49ers' first six possessions. Four ended in touchdowns, including the first two. Oakland allowed three plays of 50-plus yards Thursday. It failed to sack him. It failed to force a takeaway. For Mullens, it was a special career moment. For the defense, it was routine.
Meanwhile, track 2 played for the Raiders' offense.
"Injuries." Namely, to the offensive line.
Moving the football largely has been a non-issue when healthy up front. Its first four games this season reflected this. Even Sunday's against the Indianapolis Colts qualifies as permissible evidence of this offense's potential with quality blocking.
On the first drive Thursday, rookie left tackle Kolton Miller suffered a right knee injury.
So it began.
He continued with a brace before being sidelined throughout the second half. By game's end, left guard Kelechi Osemele moved to left tackle until exiting when he "tweaked" his knee, coach Jon Gruden said. It was Osemele's first game since a Week 4 right knee injury that forced him to miss three games. Ian Silberman appeared at right and left tackle. And again, Carr took shot after shot.
The Raiders have sacked opposing quarterbacks seven times in 2018, the same number of times Carr went down Thursday.
"Awful field position." "Untimely penalties." "Third-down struggles." The rest of the album played itself out.
Once the game was over, the music stopped.
A somber reality remained.
This season has limped along. It's grown repetitive. It has tested loyal Bay Area fans, who see the relocation clock tick closer to 2020.
And yet, eight games in, it's only now halfway over.
More Raiders: Follow all of our Raiders coverage online at reviewjournal.com/Raiders and @NFLinVegas on Twitter.
Contact reporter Michael Gehlken at mgehlken@reviewjournal.com. Follow @GehlkenNFL on Twitter.