Final four stadium sites for Raiders up for debate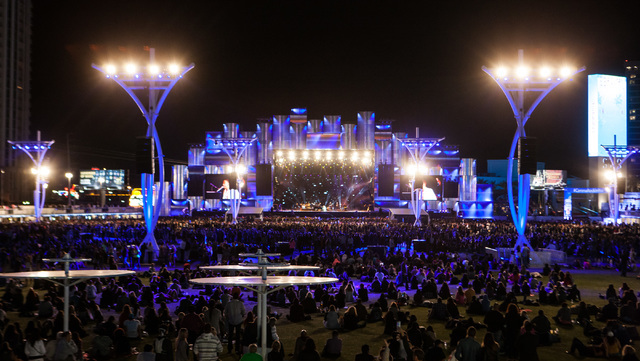 Mark Davis has been searching for a new home for several years, and the owner of the Oakland Raiders has said he's ready to settle in Las Vegas.
But exactly where the NFL team might secure real estate is the question no one can answer right now.
"In my opinion, they have got to pick a primary site and a fallback site," Steve Sisolak, Clark County Commission chairman and member of the Southern Nevada Tourism Infrastructure Committee, said last week.
The side picking the site is the private partnership that comprises the Raiders, casino operator Las Vegas Sands Corp. and Majestic Realty. While the tourism infrastructure committee works on a financing plan for the $1.4 billion, 65,000-seat domed stadium, the search for the right piece of property is intensifying.
Las Vegas Mayor Carolyn Goodman, stressing the need to find a suitable stadium site soon, provided her best impersonation of a real estate agent at last week's SNTIC meeting: "Location, location, location."
There are actually four locations under consideration, with three on or near the Strip and the other just north of downtown. The Raiders are not touting a favorite yet. Davis said he's "site agnostic," and team president Marc Badain said he's "open-minded" during the scouting process.
"All of them have positives," Badain said, "and all of them have negatives."
It sounds like a politician's cliche, but it's the truth. There is no best bet or perfect location.
"If we get the financing in place, maybe we can do the site selection later," Sisolak said.
The latest funding proposal for the stadium calls for a $500 million contribution from the Raiders, $400 million from the Sands and Majestic developers and $500 million from the public through hotel room taxes.
Craig Cavileer, Majestic's executive vice president, is probably more deeply entrenched in the property search than anyone. He was the point man on a UNLV stadium project that fell through three years ago.
"The project deserves to be at the best location, and there's a lot of factors," Cavileer said. "If we can be walking distance to the hotel rooms, in proximity to the monorail, close to the airport and be part of the Strip brand, that's very important."
Andy Abboud, Las Vegas Sands' senior vice president of government relations and community development, said eight to 12 sites have been examined. But these appear to be the final four:
TROPICANA AVENUE
Pros: Close to UNLV campus; land transaction would be simple.
Cons: Possible opposition from FAA because of proximity to McCarran International Airport.
The early leader was the 42-acre site owned by UNLV along Tropicana Avenue east of Koval Lane.
It rubs elbows with the college campus, which makes it seem an ideal spot for the Raiders and Rebels, who would share the stadium.
"We should not dismiss that property. It's a great piece of property," Cavileer said. "It needs to be a piece of property that we can afford to develop both on-site and off-site, and frankly the acquisition cost is attractive with UNLV as a potential partner. It has a lot of reasons why it's a good site."
It has a major potential negative. Across the street are McCarran International Airport runways, and the stadium could interfere with flight traffic. That's an issue that will be addressed with the Federal Aviation Administration.
"The Trop-42 site, the problem with that is the FAA could just rule that out," Sisolak said. "We've also got to start looking at infrastructure costs on these things related to sites. You got to get freeway access; you got to have I-15 access. When you start building flyovers, that's expensive. You're talking tens, if not hundreds of millions of dollars."
Sisolak said he was given an estimated cost of $200 million to construct ramps at I-15 and Tropicana to alleviate traffic problems, but Cavileer dismissed that estimate as too high. Majestic and Sands have vowed to cover additional infrastructure costs related to the project, if those costs are reasonable.
"If it's too big of a number," Sisolak said, "we're going to have to reassess the whole thing."
Cavileer said he will work with UNLV President Len Jessup, a member of the SNTIC, and the FAA to explore the viability of the Trop-42 site.
"There are certainly challenges on that site. I don't maybe have the same level of doubt that others might," Cavileer said. "But they are legitimate and they need to be addressed."
FORMER RIVIERA HOTEL SITE
Pros: Large land mass for stadium, parking.
Cons: Land was previously earmarked for Las Vegas Convention Center expansion.
A large plot on the Strip where the Riviera hotel-casino was recently imploded also intrigues the private partners, but the land is owned by the Las Vegas Convention and Visitors Authority, which is planning a convention center expansion project also being considered by the SNTIC. LVCVA President and CEO Rossi Ralenkotter said last week he will consider the site for a stadium.
"We like the Riviera site," Cavileer said. "Rossi said he's open-minded, and all I can do is take him at his word at this point."
ROCK IN RIO FESTIVAL GROUNDS
Pros: Close to I-15.
Cons: Ingress/egress improvements needed to avoid traffic snarls; land could cost as much as $200 million.
The Rock in Rio festival grounds at Las Vegas Boulevard and Sahara Avenue is owned by MGM Resorts International. The site is close to the I-15, but it likely would require large infrastructure costs to prevent a traffic nightmare in the area. And the land would come at a price.
"If you start looking at $100 million or $200 million for site acquisition costs, that could change the entire prospect," Sisolak said.
Cavileer, who has heard the traffic complaints over and over, said, "There is going to be traffic everywhere. The Sahara site is interesting but it's getting far north. It doesn't have the walking distance proximity that several of the others do."
CASHMAN FIELD
Pros: Available soon with 51s expected to move.
Cons: Far from the Strip and airport; not easily accessible from I-15.
Cashman Field, home of the Las Vegas 51s Triple-A baseball team, also has been proposed. The 51s are planning a move to a new stadium in Summerlin in the near future.
"It is less attractive," Cavileer said. "It's not Strip proximate, it's further away from the airport, it's further away from direct access to the I-15. I don't think we should dismiss it entirely, but I would not put it up there with one of the most attractive alternatives."
Sisolak was more blunt, saying, "I can't see that happening."
In addition to the final four, there are open spaces further from the Strip between I-15 and South Las Vegas Boulevard that Cavileer called "sort of in the second tier of interest."
With the next SNTIC meetings scheduled for July 11 and July 28, everyone involved is searching for more clarity on the potential stadium location.
"We're much further along in looking at sites than people realize," Abboud said. "We want to be somewhere along the resort corridor along the Las Vegas Strip. I think we can get that resolved by the end of July. We may go forward after July with two potential sites and determine the best one."
Hurry up, but be patient, is Cavileer's attitude.
"It won't be done at the end of July, and it won't be done by the end of August. It's a process you have to go through in real estate development," Cavileer said.
"I think right now we should be in the process of eliminating sites that aren't viable as opposed to saying how many are viable. We have enough to look at, so let's start cutting those up."
The Review-Journal is owned by the family of Las Vegas Sands Chairman and CEO Sheldon Adelson.
Contact reporter Matt Youmans at myoumans@reviewjournal.com or 702-387-2907. Follow on Twitter: @mattyoumans247
RELATED
New financing plan for Las Vegas domed stadium gets tepid response
Now that Las Vegas has NHL team, is it ready for Raiders?
Mark Davis 'very optimistic'about Las Vegas
Roger Goodell using his pull to keep Raiders in Oakland