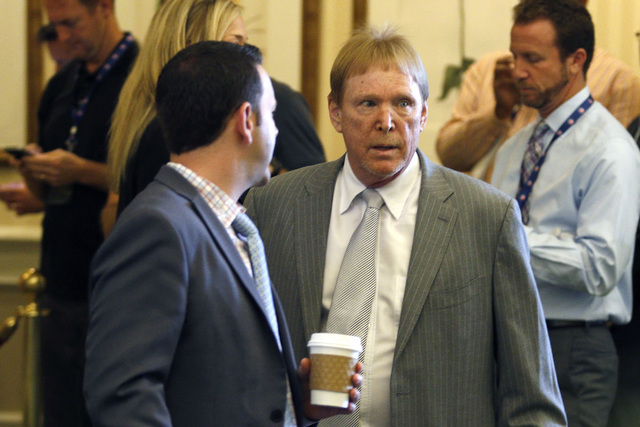 CHARLOTTE, N.C. — NFL commissioner Roger Goodell is resisting any urge to throw a party for Las Vegas.
Goodell dismissed questions Tuesday about the Oakland Raiders relocating to a proposed $1.4 billion stadium near the Las Vegas Strip as "very premature" and "pure speculation."
Raiders owner Mark Davis had a different message: "This is the real deal. If Las Vegas can come through, we're going to be there. I made a commitment."
Jerry Jones is a gambling man, and the owner of the Dallas Cowboys sent a speculative message with a more positive tone. When asked if the league's owners are open to exploring Las Vegas as an NFL city, Jones said, "Simply, yes."
The NFL Spring Meeting at the Ballantyne Hotel concluded with mixed messages after team owners and league executives debated an array of topics. Goodell remains cool to Las Vegas, but the climate appears to be changing.
"I just think the obvious, that Las Vegas is a very attractive place," Jones said. "It's one of our nation's real jewels, it's an asset, it's unique, it's American. And all of that, in my eyes, is what the NFL aspires to be associated with. It's a great entertainment environment, and I think that far overshadows any issue to do with gambling.
"We had discussions about Vegas. We had no pushback in any kinds of discussions. With the Raiders certainly having the interest that they have and being the iconic team they are, for them to be thinking about going to Las Vegas really fits."
The league awarded future Super Bowls to Atlanta, Miami and Los Angeles, but Goodell gave no indication he's ready to move the Raiders to Las Vegas, explaining that he needs to see a formal stadium plan and more information on the market in general.
On April 28, Davis vowed to move his team to Las Vegas. Last month, a plan to finance a 65,000-seat stadium near the Strip was presented to the Southern Nevada Tourism Infrastructure Committee. The project would be funded through a public-private partnership including the Raiders, Las Vegas Sands Corp. and Majestic Realty.
The current proposal calls for $750 million from taxes on tourists and $650 million from private sources. The Raiders would contribute $500 million, including a $300 million loan from the NFL, with Las Vegas Sands/Majestic Realty adding $150 million. The SNTIC meets again Thursday to discuss the stadium's financing.
"We are pursuing the opportunity," Davis said. "When we have a project ready to go, we'll bring it to the league for approval. I don't have a timeline on it right now. We want to do it right, so there's no real rush."
In January, the league denied the Raiders an opportunity to return to Los Angeles, instead allowing the Rams to move from St. Louis to the nation's second-largest market. Davis said the Raiders are doing demographic research on Las Vegas' viability in supporting a team.
"It's a virgin market, so to speak, which is a funny way to describe Las Vegas," Davis said. "It's a new market, and it's got the potential to be a really exciting market."
Las Vegas would be the NFL's fifth-smallest media market — ahead of Green Bay, Buffalo, New Orleans and Jacksonville — but it's also a marquee tourist destination, as Jones and Rams owner Stan Kroenke each emphasized.
"I feel like Las Vegas has matured and grown a lot," Kroenke said. "I feel like Mark Davis is doing a good job of looking at his alternatives, which you have to do if you can't get things worked out in your home market. I think Mark's doing it the right way."
Kroenke said legalized sports betting is not necessarily an immovable obstacle for Las Vegas, adding, "I think there's more comfort, more clarity as things move along in that area. The whole history of gambling and sports has been an evolving sort of thing. Where it was 25 years ago is not where it is today."
With powerful owners such as Jones, Kroenke and the New England Patriots' Robert Kraft in his corner, Davis expressed confidence he can get the votes needed from 24 of 32 owners to relocate his franchise. But he said he has not surveyed a majority of the owners.
"I haven't heard 'No,' let me put it that way," Davis said.
"I'm very optimistic about it. If Las Vegas comes through, we're going to Las Vegas. This isn't a game of using them for leverage or anything else like that."
Still, Goodell said he prefers the Raiders remain in Oakland in a new stadium, and he made it clear he won't entertain many more Las Vegas questions until the NFL sees the stadium financing plan.
"It's very premature at this point," Goodell said. "Until we have more information, it's pure speculation. There's a great deal of work that needs to be done.
"We believe in that Oakland market, but there has to be a solution that develops. It has been a long time coming."
The Review-Journal is owned by the family of Las Vegas Sands Chairman and CEO Sheldon Adelson.
Contact reporter Matt Youmans at myoumans@reviewjournal.com or 702-387-2907. Follow on Twitter: @mattyoumans247