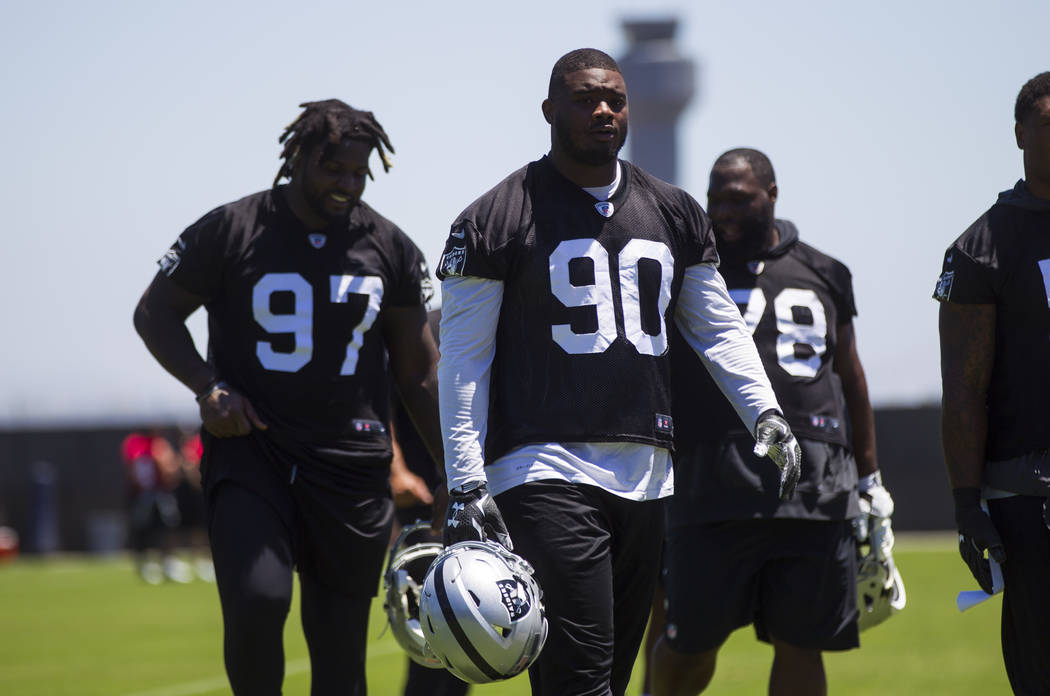 ALAMEDA, Calif. — Jihad Ward winced.
Last week, the Raiders defensive tackle was pulled from action, appearing to favor his left foot. An athletic trainer evaluated him. The apparent injury sidelined Ward for the rest of the afternoon and might explain why, one week later, he was not seen on the practice field.
For Treyvon Hester, this was a foot in the door.
The Raiders opened a three-day minicamp Tuesday. Hester kept busy, seeing first-team reps for a short-handed unit. It was a significant opportunity for a rookie attempting to vie for a roster spot. He was one of the team's four seventh-round picks in late April and the last of its nine draft selections.
Roster spots aren't earned in the spring.
First impressions are.
"He's done a good job," said coach Jack Del Rio. "For all the big guys, it's more about what we do when we get the pads on. It looks like he has a natural ability to rush inside, interior push. Look forward to seeing that with pads."
To that point, it seems prescient not to make too much too soon of Hester's minicamp role.
The Raiders aren't required to provide a medical update on Ward or any of their 90 players during the spring. For now, there is no indication Ward's absence will carry into the July 28 report date for training camp. Likewise, third-round pick Eddie Vanderdoes is due to report then. He's been ineligible to participate in the past month-plus of activities because of UCLA's academic schedule.
Hester, 24, logged 39 tackles and a team-high five sacks for Toledo in 2016.
Watching the Warriors win
Del Rio was there. He saw it all.
He saw thousands of fans stand during the final seconds of regulation. He saw yellow confetti clouds drop from the Oracle Arena rafters. He saw a team and city celebrate a championship together.
And then, he got back to work.
Del Rio had box seats Monday night when the Golden State Warriors won the NBA championship. The experience was a reminder of the energy that surrounds a title team.
"That atmosphere last night was electric," Del Rio said. "It was great to be a part of it. We've had big games here, regular season games, but obviously it all gets ramped up when it's a playoff game. We'd love to earn those (home playoff games). That's what it's all about."
The Warriors will have a parade Thursday in Oakland.
Del Rio won't be there.
"We'll be busy working," he said.
Contact reporter Michael Gehlken at mgehlken@reviewjournal.com. Follow @GehlkenNFL on Twitter.