Raiders finish Browns in 45-42 overtime thriller
September 30, 2018 - 5:18 pm
Updated September 30, 2018 - 10:45 pm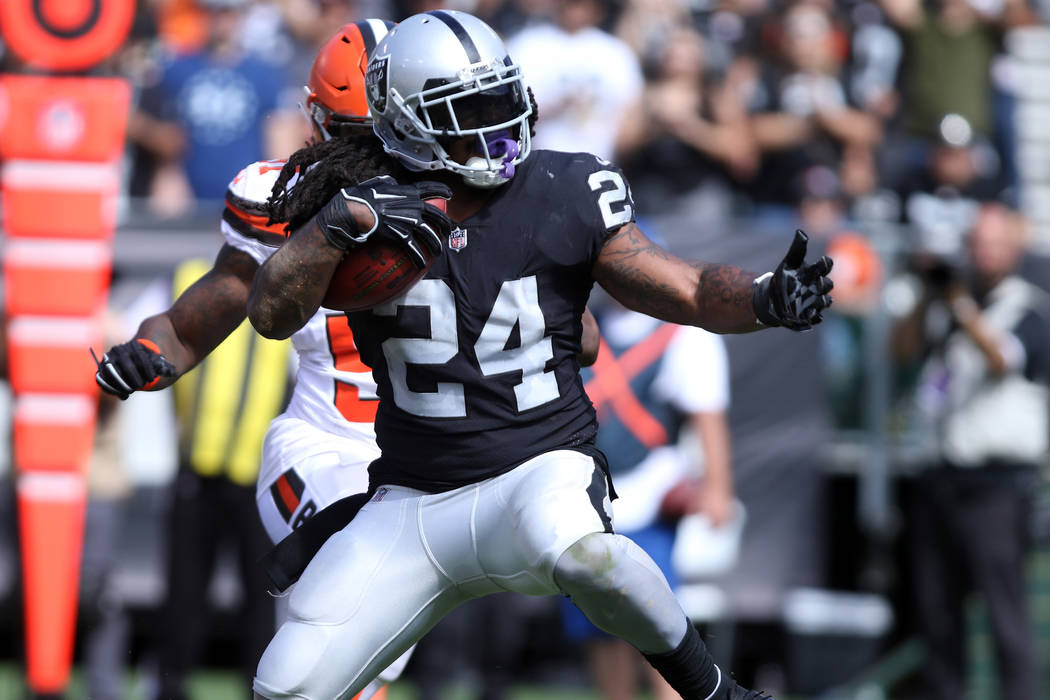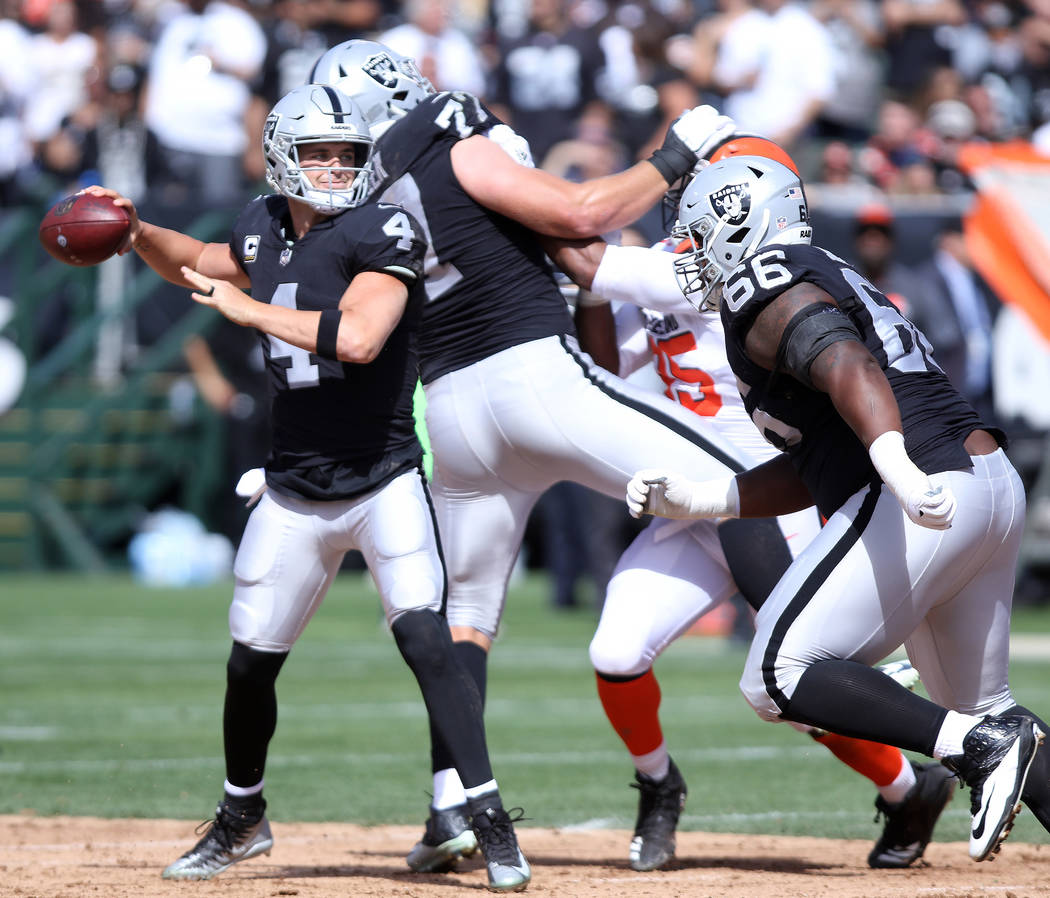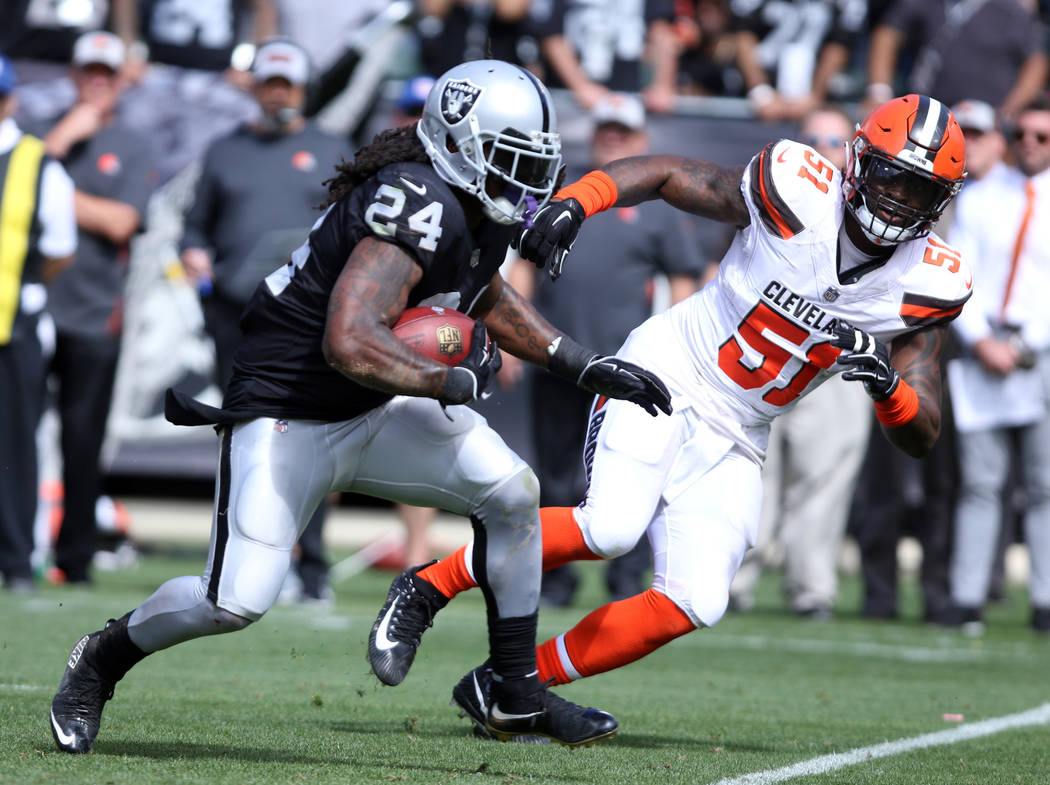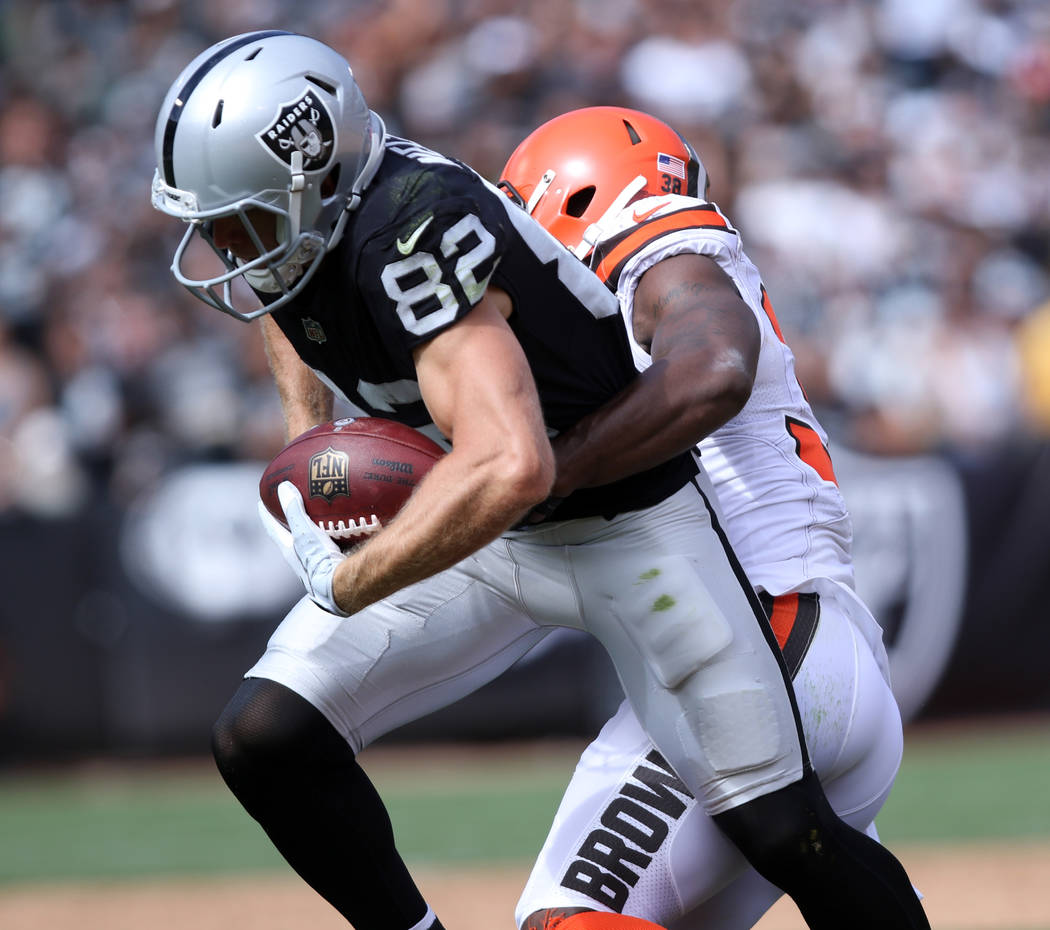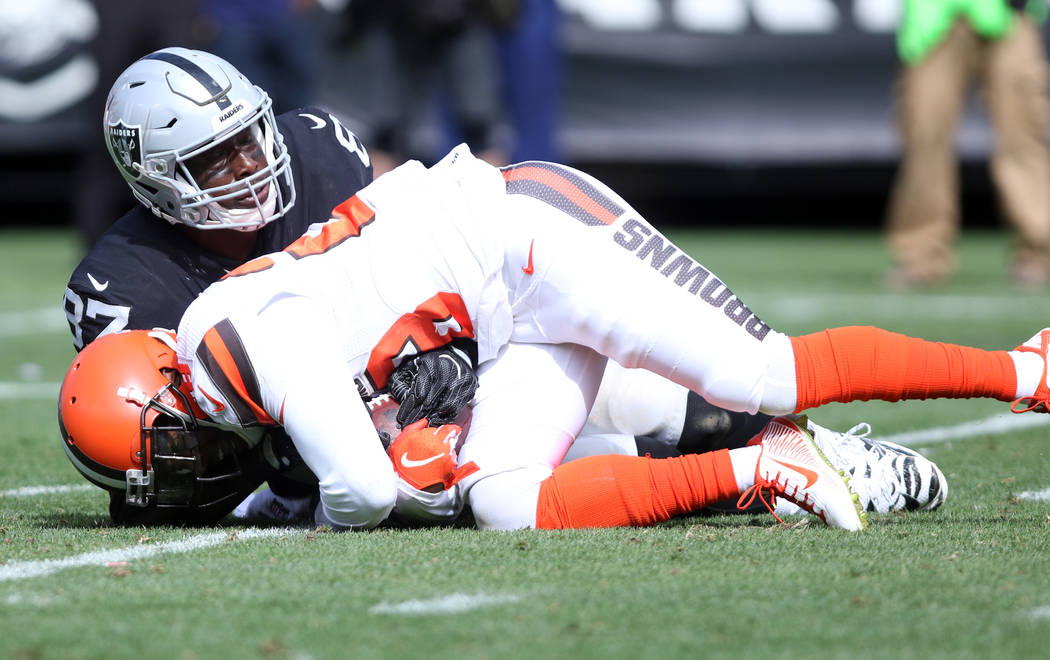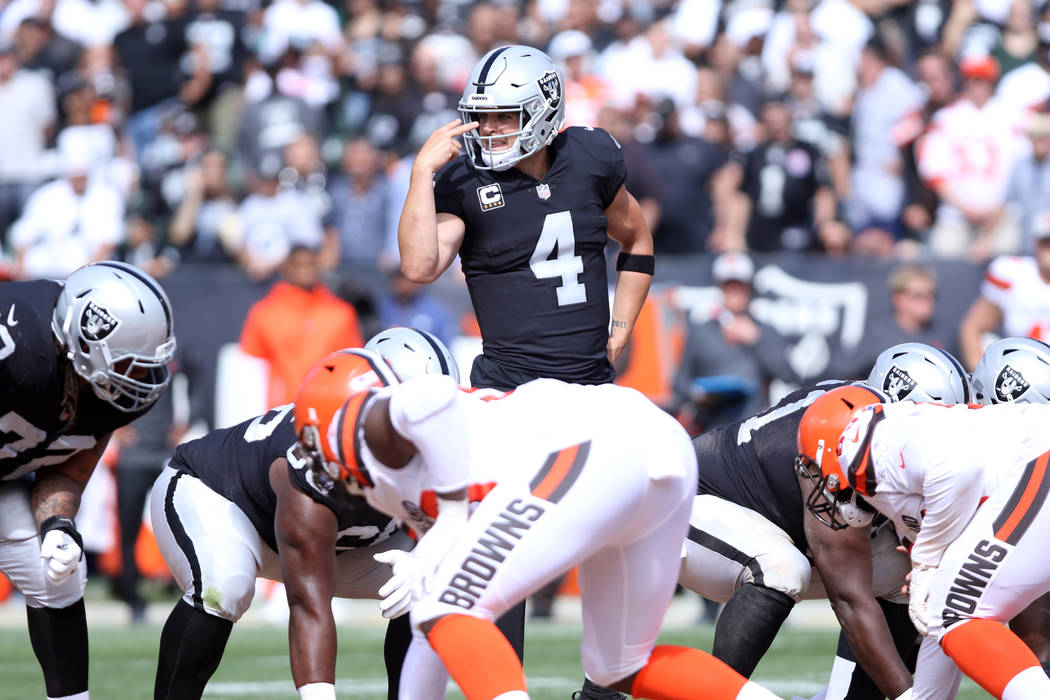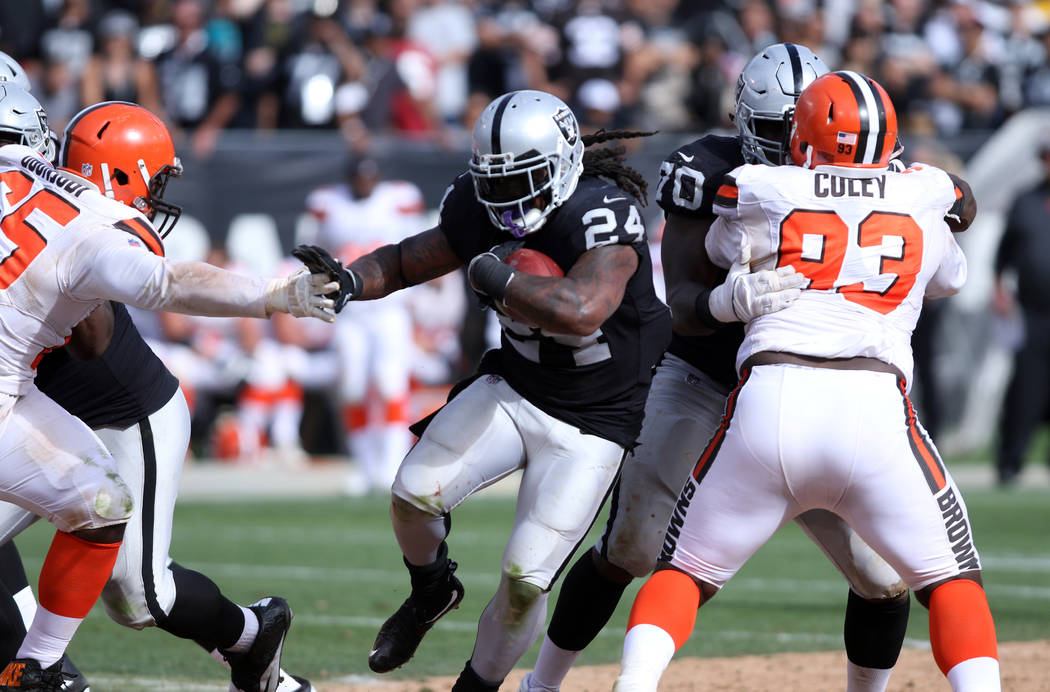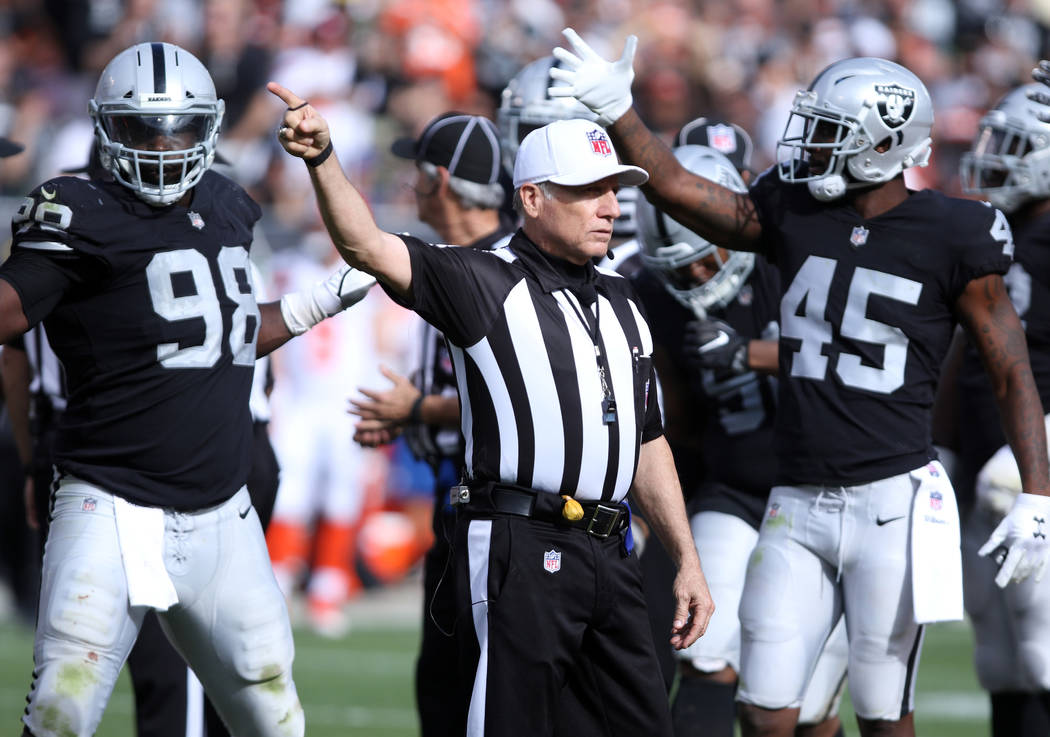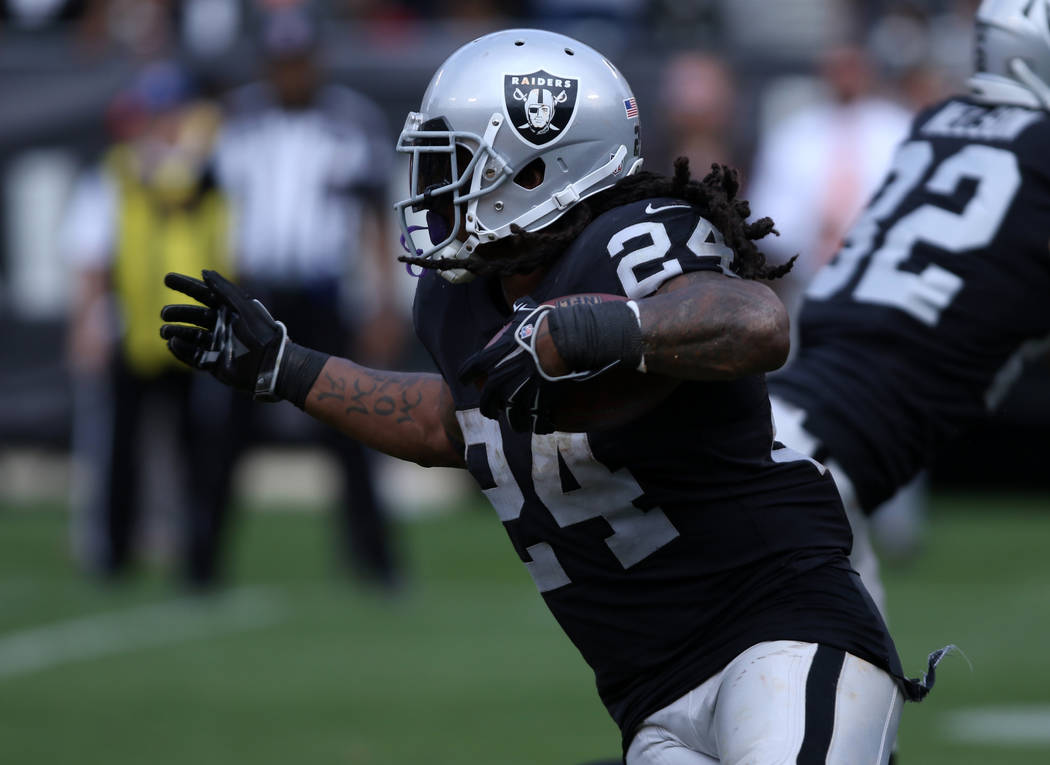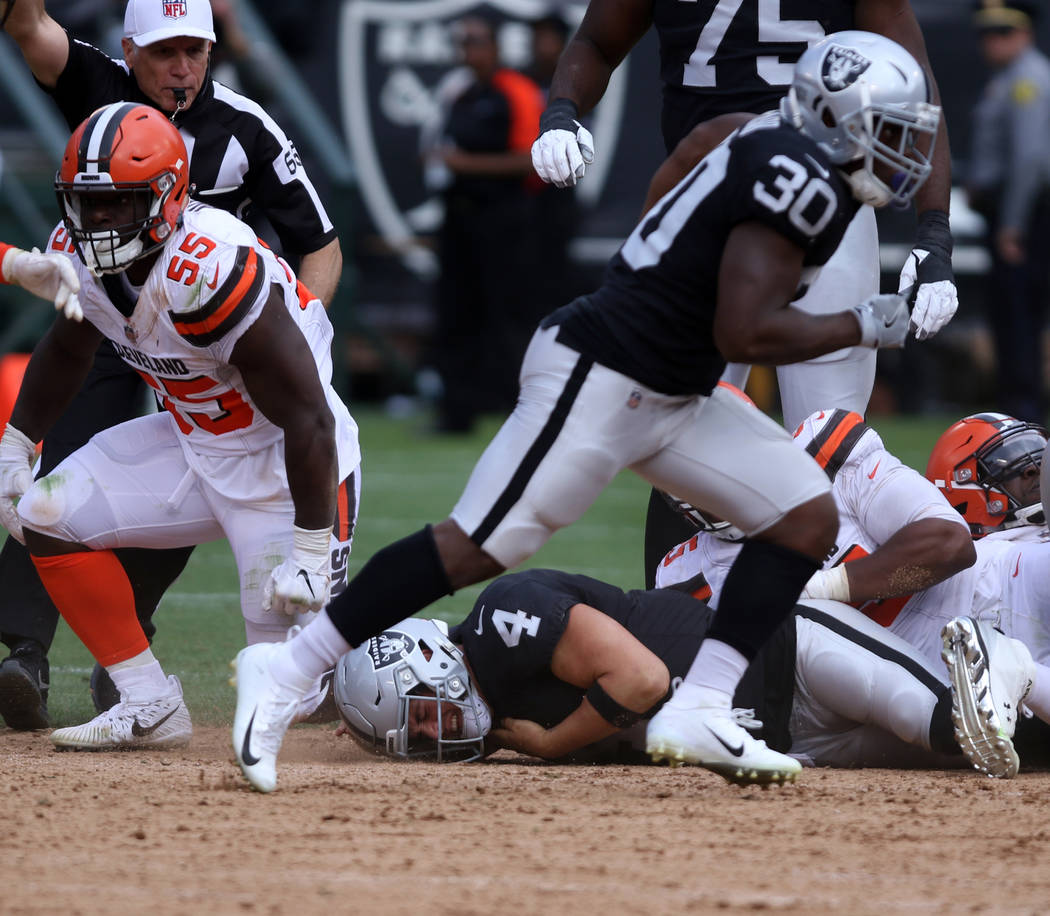 OAKLAND, Calif. — One word haunted Raiders headquarters this week.
It floated from room to room without prejudice, its presence seeping into the walls. Coaches stressed it during meetings and between strength-and-conditioning sets. In practice, when breaking huddle, players shouted it in unison. This word, a subject of much frustration, was heard again Sunday on the sideline and field.
Finish.
Finish.
Finish.
For a moment, those calls seemed sure to go unanswered. A miscommunication between wide receiver Amari Cooper and quarterback Derek Carr resulted in a fourth-down, red-zone incompletion with less than two minutes remaining.
"I think our stadium emptied out about halfway after that," Carr said. "The people that stayed, they got a fun show."
Following a forced three-and-out, Carr efficiently paced the offense downfield and fired a 7-yard touchdown to tight end Jared Cook with 30 seconds left. A successful two-point conversion forced overtime where rookie Matt McCrane converted a 29-yard field goal in his NFL debut, knocking the Raiders past the Cleveland Browns in a 45-42 slugfest.
It took until the fourth game, which lasted four hours and four minutes, to purge the past.
So long, ghost.
"There were a lot of peaks and valleys in the game," said Jon Gruden, who earned his first NFL coaching win since 2008. "We finished today."
On the three-and-out, Browns running back Carlos Hyde initially was determined to have converted a third-and-2 run. But the ball spot was overturned upon an automatic review. He didn't finish. Punt.
Down eight points, Carr and Cook connected. Wide receiver Jordy Nelson then converted the vital two-point attempt on a back-shoulder fade route in the left corner of the end zone. He bobbled Carr's pass slightly before securing possession. A finish. Tie game.
Browns quarterback Baker Mayfield tossed an 11- and 15-yard pass to cross Raiders territory at the 49-yard line. He threw a deep pass for wide receiver Antonio Callaway, but safety Reggie Nelson diagnosed the ball's trajectory as errant and ran to intercept it. A finish. Overtime.
And so it went late for the Raiders (1-3), things neatly falling into place.
The most major hiccup in overtime came on a 50-yard field-goal attempt from the dirt infield at the Oakland-Alameda County Coliseum. McCrane missed wide left, providing the Browns (1-2-1) favorable field position at their own 40-yard line. But the defense promptly forced a three-and-out.
Possession returned to the offense.
This was the first game in franchise history in which the Raiders had one player surpass 400 passing yards, two players surpass 100 receiving yards (Cook and wide receiver Amari Cooper) and one player top 100 rushing yards (running back Marshawn Lynch).
Cook, Cooper and Lynch all had first-down receptions of at least 11 yards on the final drive, setting up McCrane for the closer.
On Sept. 16, the Raiders did not trail the Denver Broncos until the final six seconds of regulation. On Sept. 23, they faltered late against the Miami Dolphins, allowing wide receiver Albert Wilson both to catch and throw touchdowns of more than 50 yards. In their first three games, the Raiders were outscored 37-3 in the fourth quarter.
They outscored the Browns 21-14 in the fourth Sunday.
"This team has been working hard," linebacker Derrick Johnson said. "We just hadn't finished yet. It was a prime example today: finishing. That's been the motto the last couple weeks: finish. Finish, finish, finish. Today, it didn't look like the last couple of weeks. We finished, so hats off to us."
More Raiders: Follow all of our Raiders coverage online at reviewjournal.com/Raiders and @NFLinVegas on Twitter.
Contact reporter Michael Gehlken at mgehlken@reviewjournal.com. Follow @GehlkenNFL on Twitter.