Raiders mailbag: Derek Carr, offense no longer sleeping
Updated October 4, 2018 - 2:01 pm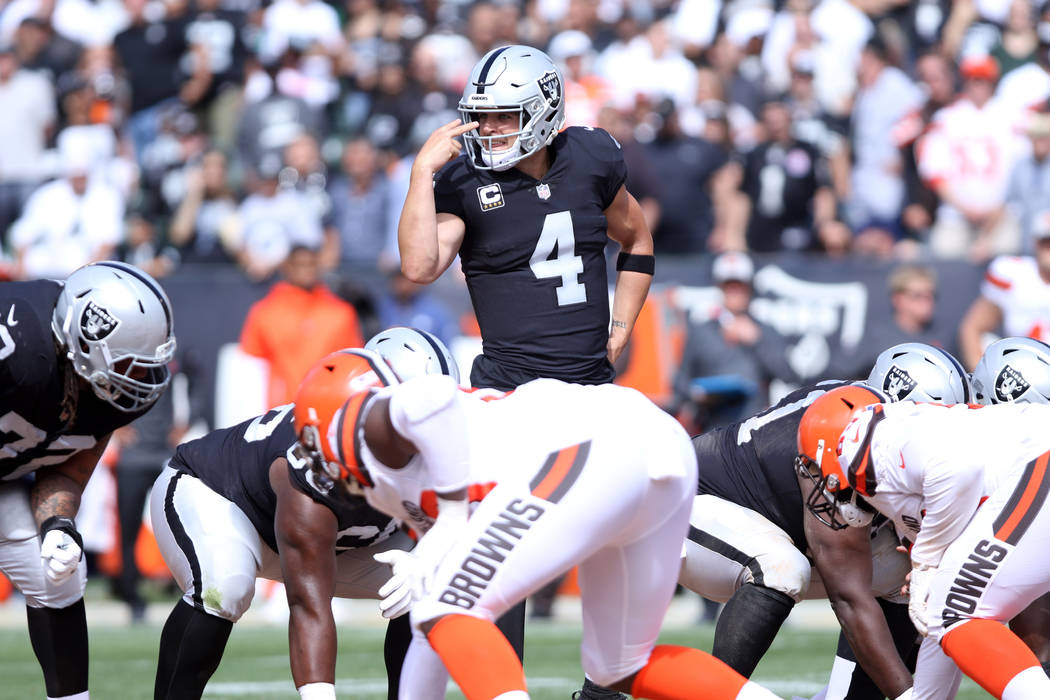 Want to be a part of the R-J Raiders mailbag? Send NFL writer Gilbert Manzano your Raiders questions and hot takes. Tweet him @GManzano24 or email gmanzano@reviewjournal.com. Enjoy the Week 5 mailbag:
Here's a shocker.
But before revealing the surprising fact. Take a few guesses.
Which team entered Week 5 with the second most total offensive yards behind the mighty Los Angeles Rams?
Nope. Not the Patrick Mahomes Chiefs.
Strike two. Not the Fitzmagic-led Buccaneers.
It's Jon Gruden's Raiders (1-3). The team that was outscored 37-3 in the fourth quarter after three games. The squad that only scored a combined seven points in the second half after two games.
The Raiders have racked up 1,767 total offensive yards (441.8 average per game), only trailing the Rams' 1,874 before Thursday.
It's crazy to think how far this team has come since last year's dormant offense with Todd Downing as the playcaller.
It was just last week that the home crowd booed Derek Carr after an interception in the third quarter.
"(Carr) has too many 'what are you doing' throws each week," @XRaiderfan tweeted. "Too many picks. Too many drops, and that doesn't help."
Carr ignited a 14-point second-half comeback against the Browns, and is fourth in the league in passing yards at 1,373.
Looks like 2016 Carr is back, and maybe turned "XRaiderfan" into a believer again.
Not the same Browns
"Why did it take OT to beat the lowly Browns?" — Don Williams (Facebook)
These aren't the same ol' Browns.
The Browns (1-2-1) should have beaten the Pittsburgh Steelers and the New Orleans Saints, arguably a top four team in the NFL right now. But kicker Zane Gonzalez had other plans.
Entering last week, many were raving about the Browns' vastly improved defense that was giving up 19.7 points per game. They got torched for 565 total yards by the Raiders' offense.
That was a good Browns team the Raiders dropped 45 points on. The Steelers and Saints only combined for 42 points.
Bad officiating
"The officials gave them that game." — Debbie Phillips (Facebook)
Sometimes you need a little luck to break a losing streak.
It was a horrendous performance by the officiating crew that led to a few gift calls for both teams, with the Raiders getting the bigger bulk.
Not sure what the referees were looking at during the late fourth-quarter review, but Browns running back Carlos Hyde clearly got the first down. It forced Cleveland to punt and paved the way for Carr's heroics.
Before that blunder, the officials blew the whistle too soon on what appeared to be a Carr fumble in Raiders' territory.
The refs also stopped a potential "Beastquake" in the second quarter. Shame on you, referees. The football world needs more long touchdown runs from Marshawn Lynch.
Shade of the week
"Haven't seen any Khalil Mack tweets, so they must be doing something right." — Victor Corona (Twitter)
Well played, Corona. Suddenly, the Gruden bashing has gone down a few notches.
It took until Week 4 for the Raiders to create a competent pass rush, but better late than never.
Last week, I challenged Raiders defensive coordinator Paul Guenther on the Vegas Nation Raiders podcast (Make sure to listen every week. Available on iTunes and Apple Podcasts) to make life difficult for rookie quarterback Baker Mayfield.
Guenther obviously took the challenge seriously and succeeded. The Raiders' defense recorded four takeaways, which led to 21 points for the offense.
If the defense is doing well, that usually means so is the offense. Let's see if Guenther's guys can sustain this momentum.
Rookie love
I didn't get one question or comment regarding the Raiders' rookies. So let me ask: Why not?
Every Raiders fan should be raving about the 2018 draft class. It's been four years since the Raiders have gotten this type of production from rookies.
Heck, we can even go as far as saying it's the first sign of homegrown players being developed by the Raiders since Carr, Mack and Gabe Jackson.
Third-round selection Brandon Parker will fill in at right tackle for the injured Donald Penn, and it doesn't even feel like a dropoff.
First-round pick Kolton Miller has been outstanding in matchups against Michael Brockers, Von Miller, Robert Quinn and Myles Garrett. It's rare to get this type of performance from a first-year left tackle.
On defense, Maurice Hurst (fifth-round) and Arden Key (third-round) keep getting better. Hurst had a momentum-changing strip sack against the Browns.
Fifth-round pick and punter Johnny Townsend has turned the flamboyant Marquette King into an afterthought.
So I ask again. Why no hot takes on the rookies?
Also, it's a shameless transition and reminder to send MORE questions for the weekly mailbag.
Don't be shy, Raider Nation.
Contact Gilbert Manzano at gmanzano@reviewjournal.com. Follow @GManzano24 on Twitter.