Raiders' Marshawn Lynch opens Las Vegas 'Beast Mode' store with family
September 11, 2018 - 5:46 pm
Updated September 11, 2018 - 6:40 pm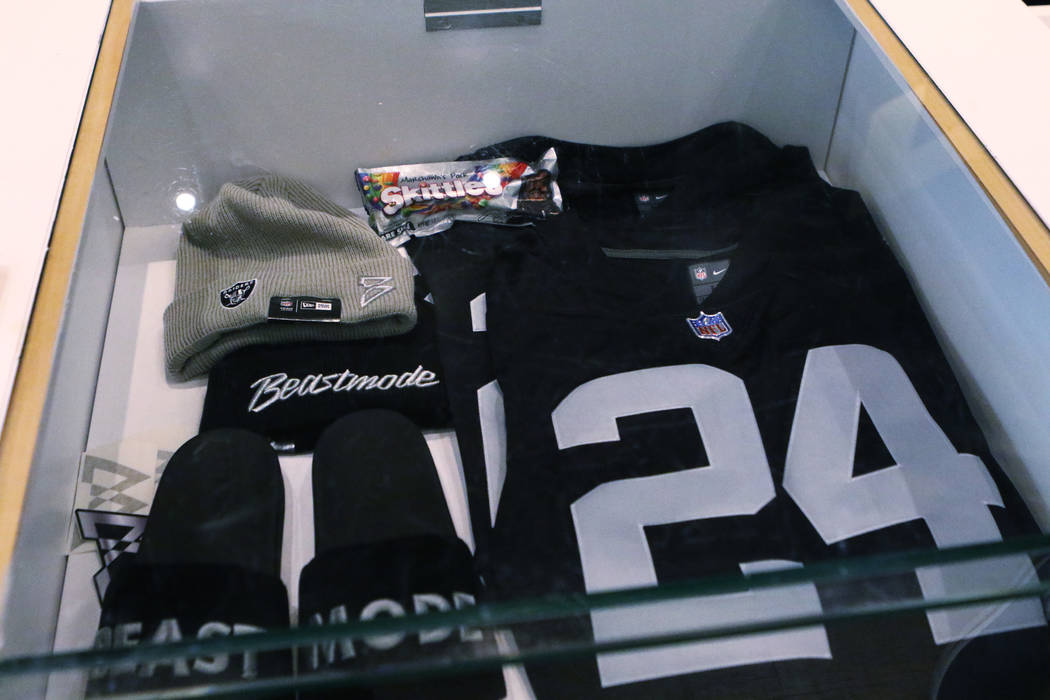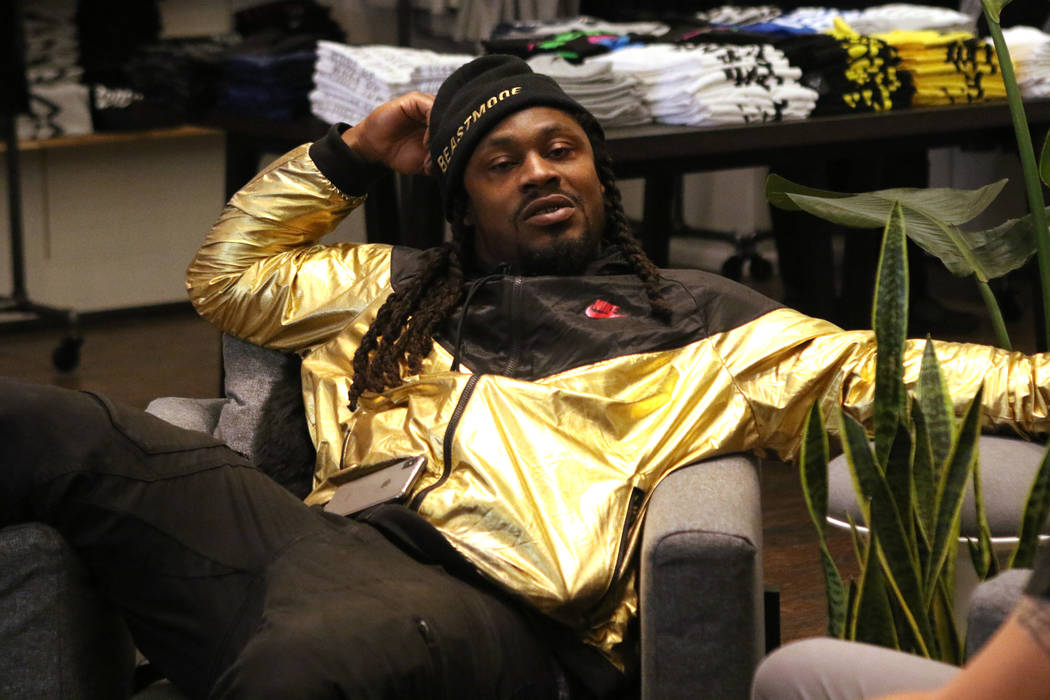 A few months removed from winning Super Bowl XLVIII, Marshawn Lynch was packing and labeling boxes in a cramped apartment in Oakland. With sweat dripping, Lynch reached for a set of clothes from his sister, Marreesha. While maneuvering back to his station, Lynch often bumped elbows with two close friends, Rell Reed and "Swiv."
"It was like a sweatshop in there," recalled Marreesha, who's known as "Lemon."
After each handoff from Marreesha, Lynch evaded obstacles to make sure operation "Beast Mode" was running smoothly. He probably had an easier time avoiding contact against the Denver Broncos during the big game. The Seattle Seahawks routed the Broncos 43-8 in 2014 to turn the Oakland native into a world champion.
Four years later, Lynch is also a successful entrepreneur and founder of Beast Mode Apparel, a clothing line with three stores and an online shop. Two opened in 2016, one in Oakland and the other in Seattle, where Lynch played for six seasons.
Lynch, now a running back for the Raiders, had his third store open this month at Town Square Las Vegas.
"When we were in the apartment, we used to ship out the orders and it quickly became overwhelming, so this was just the next best step," said Lynch's mother, Delisa, about expanding.
With Lynch's "Beast Mode" moniker becoming a household name, the Lynch siblings decided to use the name for their mom-and-pop business. Marshawn had the vision and Marreesha had the execution.
The older Lynch could have easily paid someone else to start the company. But that's not the "Town Bizzness" way — a phrase Lynch likes to say to remind others where he came from.
Lynch, 32, escaped poverty while growing up in North Oakland. He started from the bottom and fought his way to NFL stardom, but he didn't do it alone. His three siblings were by his side while Delisa Lynch worked two jobs to support them.
That's the way Lynch wanted to run his start-up — by doing the grunt work with his loved ones.
"We got a solid team around us," Lynch said. "When the vision came about, I said, 'Press play,' and made it work."
When the Beast Mode website opened, the merchandise was gone after the first hour.
"At first, we did this just to try it," Marreesha Lynch said. "We weren't sure how it would go. Everything sold out."
That's how the Lynch family and their two close friends ended up working tirelessly in a cramped apartment in Oakland to keep up with the demand.
They got to reap the rewards at the Vegas grand opening as Lynch greeted customers outside while riding a bicycle and dancing in front of a Beast Mode van. Reed walked with a bottle of Hennessy to enjoy the festivities.
As for Marreesha, she was behind the register still hustling.
Home away from home
A year ago, Marreesha told her older brother it was time to open another Beast Mode store and that Las Vegas would be the perfect location.
She also wanted to work at the Las Vegas shop.
"I thought she was playing," said Marshawn Lynch, who has a tattoo that reads "Lemon" on top of his hand. "She said, 'No, I'm serious.' So then I just got on the horn with the team and told them to press play on Vegas."
On Sept. 1, seven days before her 30th birthday, Marreesha opened the Vegas shop as the CEO.
"She working. She's running this motha," an excited Marshawn said.
Las Vegas is becoming a second home for the Lynch family. Marreesha recently moved into a home in Southern Nevada.
Momma Lynch plans to visit her often, but she's not leaving Oakland.
"I'm still in the Bay. I'm not leaving the Bay, but I do I like visiting here," Delisa Lynch said.
Playing in Vegas
Delisa Lynch said she would love to see her son play in Las Vegas when the Raiders relocate in 2020 and move into a domed stadium off the Strip.
Lynch, who's starting his 11th season in the NFL, doesn't see himself playing that long.
"I don't think I got it in me," said Lynch, who was drafted by the Buffalo Bills in the first round of the 2007 NFL draft. "I think my time will end while they're in Oakland, but to those guys coming out here, I wish the best for them."
Lynch was told by a reporter that he appeared to have a lot left in the tank during a 60-yard touchdown run in the preseason last month that was called back.
"That's all I had, was that (expletive) one play," Lynch said, possibly joking. "I don't want nobody to get their hopes up over that. So don't draft me in fantasy."
Lynch's only game played in Las Vegas might end up being the 2005 Las Vegas Bowl at Sam Boyd Stadium. If that's the case, it was a good one.
Lynch rushed for three touchdowns and 195 yards to lead California to a 35-28 victory against Brigham Young.
Delisa Lynch got to take home her son's Las Vegas Bowl MVP trophy. In 2016, Lynch was inducted into the Las Vegas Bowl Hall of Fame.
"I would say Vegas has been good to me," Lynch said.
More Raiders: Follow all of our Raiders coverage online at reviewjournal.com/Raiders and @NFLinVegas on Twitter.
Contact Gilbert Manzano at gmanzano@reviewjournal.com. Follow @GManzano24 on Twitter.