Raiders scrap practice, keep perspective as California fires burn
November 15, 2018 - 6:16 pm
Updated November 15, 2018 - 7:06 pm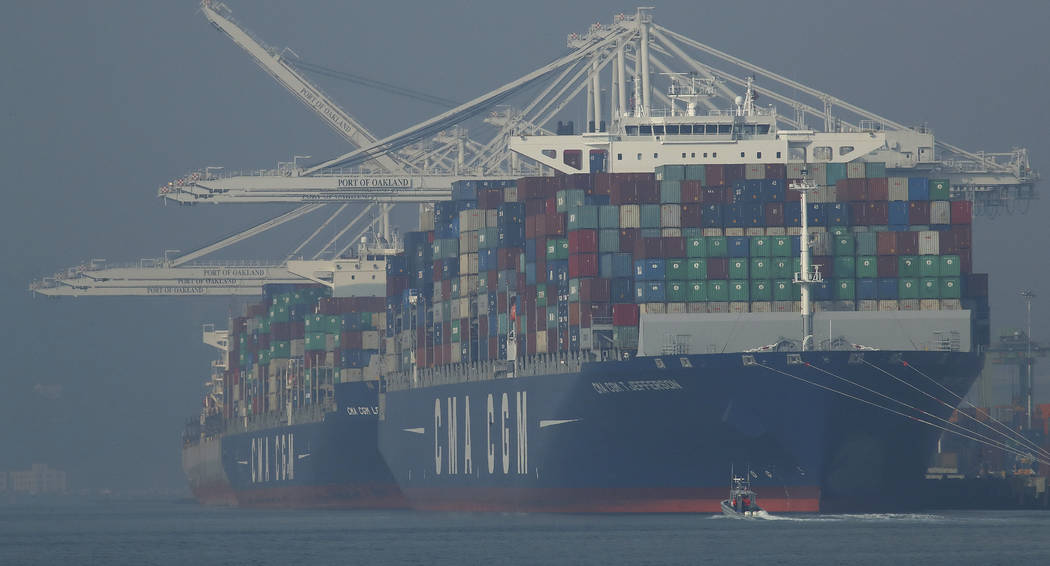 ALAMEDA, Calif. — Raiders coach Jon Gruden addressed the team in a morning meeting where, behind closed doors, multiple players said that he discussed the ongoing Camp Fire in Butte County.
It is based about 140 miles northeast of club headquarters and, per authorities Thursday morning, has killed at least 56 people, making it the deadliest wildfire in California history.
Three hundred people are unaccounted for. About 140,000 acres have burned. More than 10,000 structures, nearly 9,000 of which are homes, have been destroyed.
Disaster puts sports into perspective.
"What we do is on the lower scale of what it really means to be a human in this world," safety Marcus Gilchrist said.
Smoke continued to blanket the Bay Area on Thursday, adversely affecting air quality and forcing the Raiders to cancel their afternoon practice. The team traveled to an off-site location where it held an indoors walkthrough, a fairly major schedule adjustment before Sunday's game at the Arizona Cardinals.
Raiders did well by players, coaches and staff today when canceling afternoon practice. "Very unhealthy" Air Quality Index of 217 in Oakland, according to EPA. Worst local afternoon in that regard since Camp Fire began last week. pic.twitter.com/Fd3CVZkkla

— Michael Gehlken (@GehlkenNFL) November 15, 2018
Gruden's comments assured that players kept perspective.
Many already had.
"Let's not get it twisted," tight end Lee Smith said. "A one-win season. Disappointment. Having to move practice. In the grand scheme of life, it doesn't matter. Of course, it's media-driven, and it's a production-based business, and it's an entertainment business, and everyone loves it, and we're paid to win. But at the same time, regardless of what goes on in the NFL, it doesn't matter when it comes to life and the real world.
"I have four babies at home and a beautiful wife. I couldn't imagine any of them being trapped in a burning home or any of my family members losing their lives. … If my house burned down, and if all (my family) had was the clothes on our back, I'd say that might be a little worse than losing a football game or having to move practice across town. I try to never lose perspective."
Initially, the Raiders (1-8) were scheduled to practice from 1:30 to 3:30 p.m.
They made the prudent call in the morning to cancel the session. At 2 p.m., the Air Quality Index (AQI) was a "Very Unhealthy" 217, according to the AirNow.gov, a website overseen by the Environmental Protection Agency. At 3 p.m., it was 246. Pungent smoke eerrily clouded air visibility. The local AQI was the highest afternoon reading since Camp Fire started last week.
By comparison, it was a still-unhealthy 159 this past Sunday at 1 p.m. in Oakland. The Raiders hosted the Los Angeles Chargers as scheduled with a 1:05 p.m. kickoff.
An exact list of the Raiders' relief efforts was not immediately available. But over the course of locker-room conversations, cornerback Daryl Worley said players have donated to a family who lost "everything; all they really had was the clothes on their backs and whatever they had in their pockets."
The offensive line is planning to provide turkeys as Thanksgiving Day nears, left tackle Kolton Miller said.
"It's very sad to think about," safety Erik Haris said. "Obviously, we've got to change our schedule around, but these people are changing their lives around, their financials. They don't know where they're going to stay at. They're losing loved ones.
"My heart goes out to those people are involved. We'll do our best as an organization to help out and lend a hand."
More Raiders: Follow all of our Raiders coverage online at reviewjournal.com/Raiders and @NFLinVegas on Twitter.
Contact reporter Michael Gehlken at mgehlken@reviewjournal.com. Follow @GehlkenNFL on Twitter.