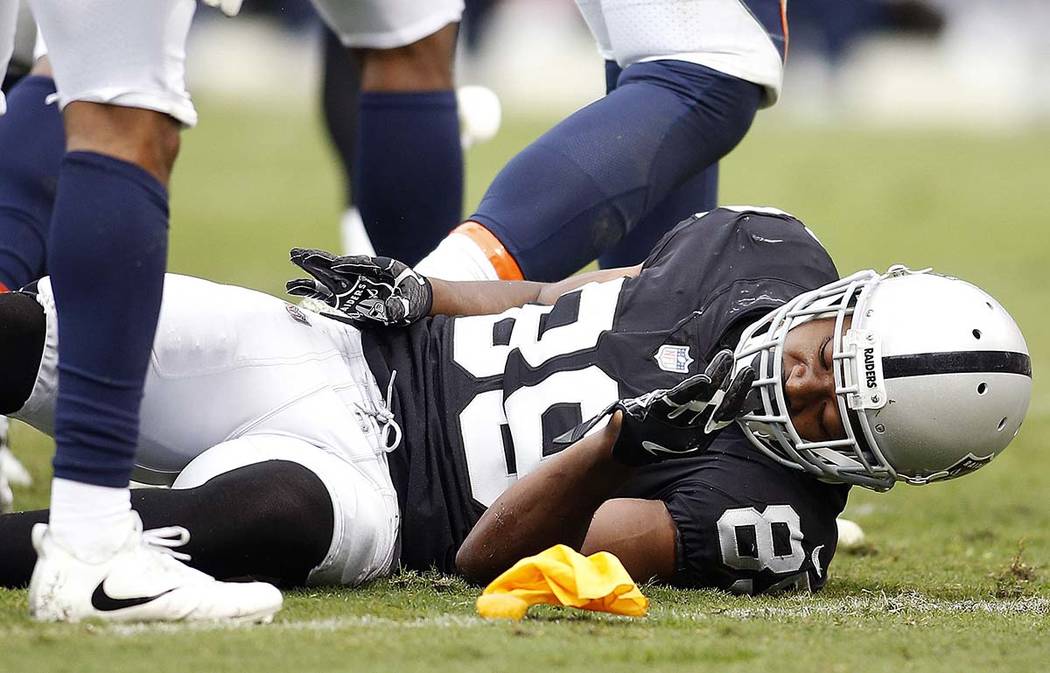 ALAMEDA, Calif. — Some were resting. Others were recovering.
On Wednesday, the Raiders practiced without nearly a fifth of their roster.
Wide receivers Amari Cooper (ankle) and Cordarrelle Patterson (hip) were among the six players to miss practice for injury-related reasons. Four defenders — end Khalil Mack, outside linebacker Bruce Irvin, inside linebacker NaVorro Bowman and safety Reggie Nelson — missed due to rest.
Here in December, this was a season high for Raiders players absent from a single practice.
Cooper is now nursing only the left ankle injury he suffered Nov. 26 against the Denver Broncos. He was concussed on the same play, but has cleared league protocol for a full return to football activities, a team spokesman said Wednesday.
Still, he is believed to be less likely than Patterson to play Sunday against the Kansas City Chiefs.
Center-guard Jon Feliciano was a new addition to the team's injury report with a concussion.
Defensive lineman Denico Autry (hand), FB Jamize Olawale (ankle) and LB Cory James (knee) also missed practice. Autry has dealt with his injury for weeks, although he began this week wearing a cast. He has three sacks in the past two games and is expected to play this weekend.
Mack, Irvin, Bowman and Nelson are scheduled to resume practice Thursday. Coach Jack Del Rio has elected to give certain veterans rest on Wednesday in what he calls "Woodson Wednesdays," a reference to the regular off-day allowed to former Raiders defensive back Charles Woodson.
Last week, running back Marshawn Lynch was an exception. He rested on a Thursday instead.
Chiefs CB Peters suspended
The Raiders' upcoming opponent made news Wednesday with a personnel shakeup.
That's right. It happened again.
Chiefs coach Andy Reid announced that Pro Bowl cornerback Marcus Peters will be suspended for Sunday's game. Peters threw a flag into a crowd and left the field of play for the locker room last weekend late during a loss to the New York Jets.
Raiders opponents have made a trend of mixing things up in the Raiders' apparent favor.
Before a Week 8 game, the Buffalo Bills traded defensive tackle Marcell Dareus for a draft pick. Before Week 9, the Miami Dolphins traded running back Jay Ajayi for a draft pick. A bye week and fairly quiet run-up to a game against the New England Patriots followed.
Then, before Week 12, the Denver Broncos fired their offensive coordinator and inserted quarterback Paxton Lynch into his first start of the season. Before Week 13, the New York Giants did the same with quarterback Geno Smith, swapping out Eli Manning.
Here, before Week 14, the Chiefs decided to be without Peters.
"We treat that a lot like we did last week with Eli," Del Rio said. "A decision like that is similar to an injury occurring. We're preparing Raiders versus the Chiefs. Nothing really changes in terms of us putting a plan together and making sure it's about us going in and playing good football."
Contact reporter Michael Gehlken at mgehlken@reviewjournal.com. Follow @GehlkenNFL on Twitter.