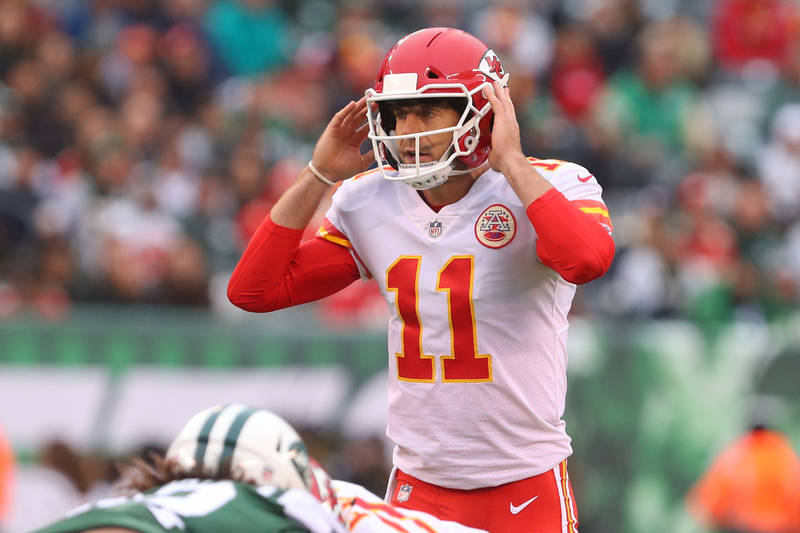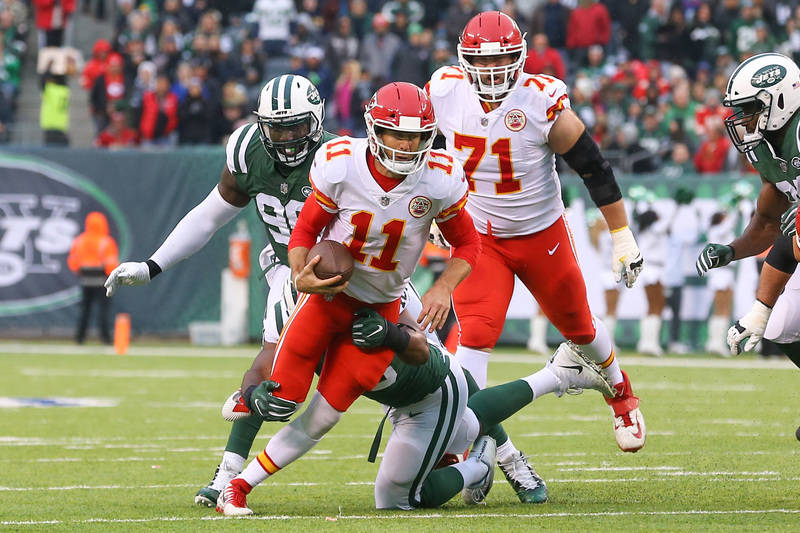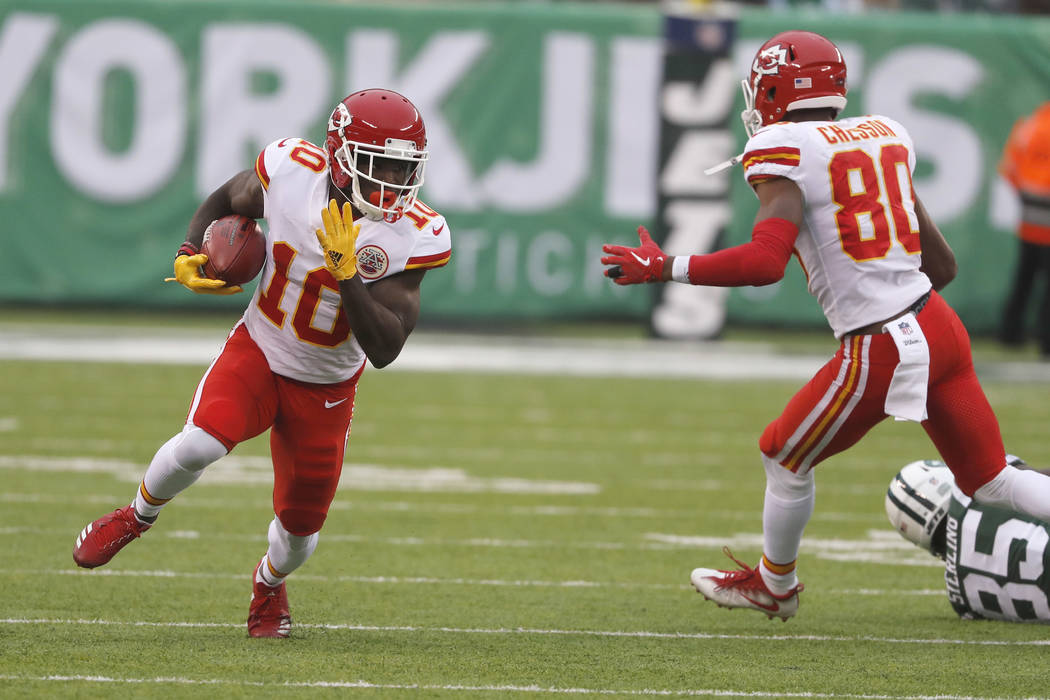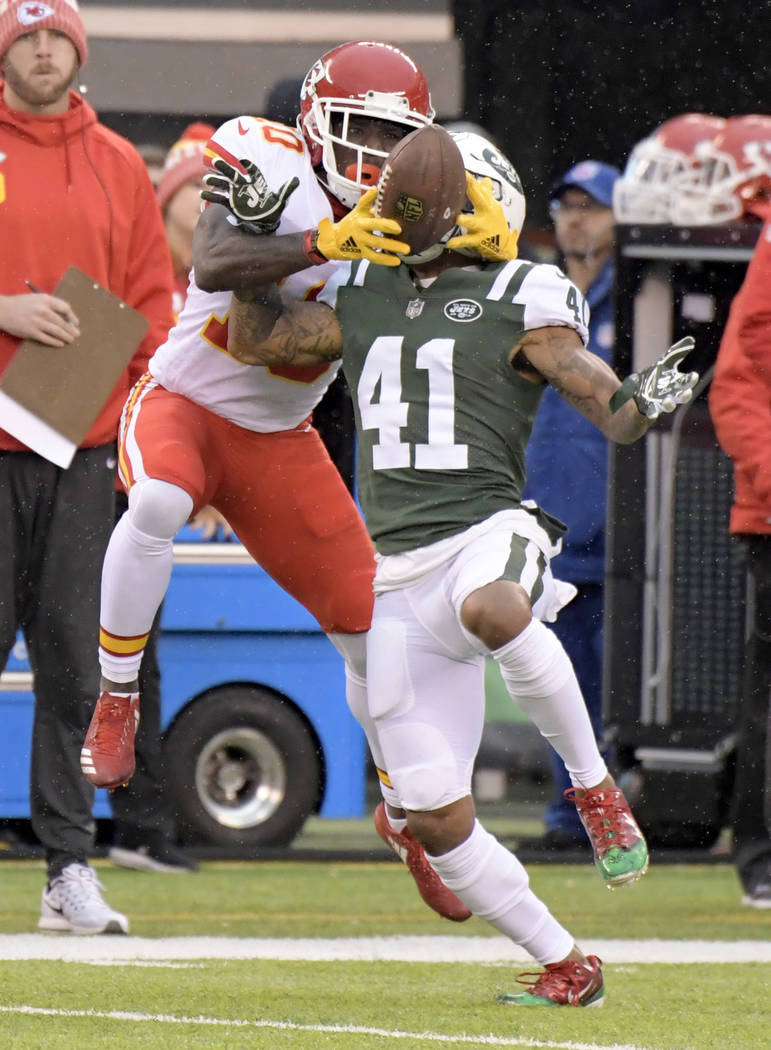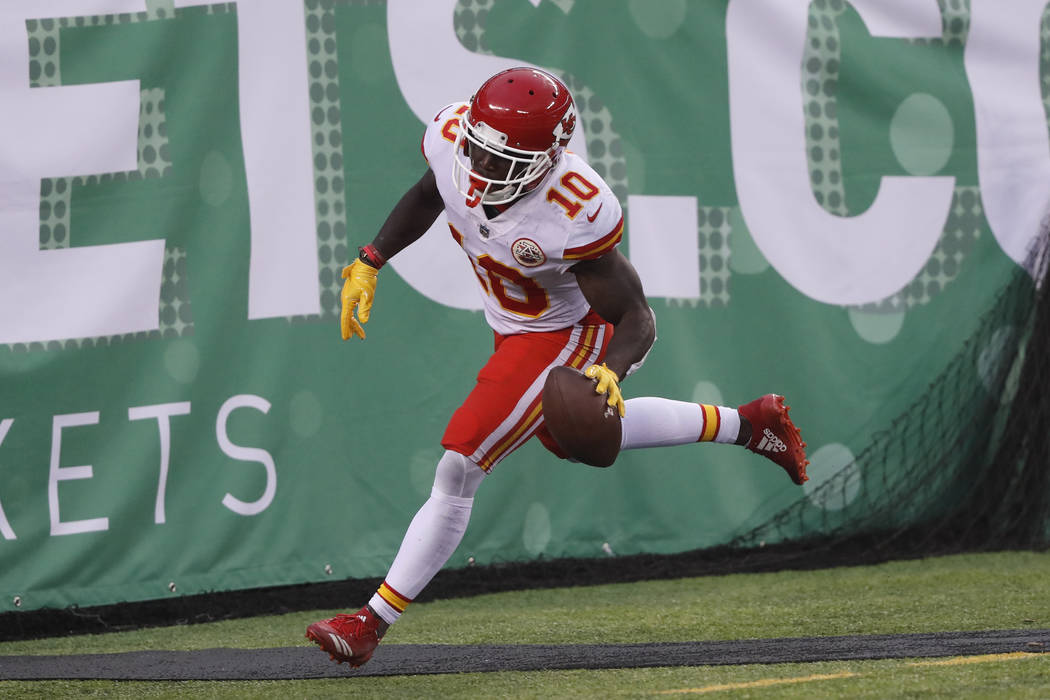 KANSAS CITY, Mo. — There is no dismissing the past two weeks.
They happened.
Defense, a unit whose paltry production during the first 10 games led to its coordinator's firing, became a strong suit. Wins over the Denver Broncos and New York Giants moved the Raiders (6-6) into a three-way tie atop the AFC West with four games left. A win Sunday at Arrowhead Stadium conceivably can elevate Oakland to a first-place standing outright.
Those two games happened.
To learn if the Raiders' defense is legitimate, so must this one.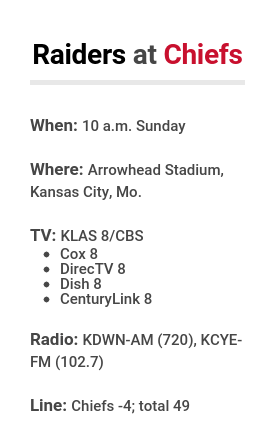 Contain the Broncos who just fired a coordinator and inserted a young quarterback? Fine. Contain the Giants who started Geno Smith over Eli Manning, one day before firing their head coach? OK. No outings in the NFL are to be pushed aside. But a road matchup with the Kansas City Chiefs will be more telling as to whether this defense and thereby team truly have turned a corner.
The Chiefs (6-6) are coming off a dominant offensive performance. And "dominant" might not do it justice.
Last Sunday against the New York Jets, Kansas City scored 31 points with 474 total yards on only 46 offensive snaps. Quarterback Alex Smith threw for 366 yards and ran for 70 more. Wide receiver Tyreek Hill caught six passes for 185 yards and a touchdown. Tight end Travis Kelce added four catches for 94 yards and two scores.
"There's so much to their offense," said John Pagano, the Raiders' assistant head coach-defense who overtook play-calling duties after Ken Norton Jr. was fired Nov. 21. "They do a great job. When you say an efficient offense, that's an efficient offense. You could run 46 plays and score 31 points the way they do. They attack. They're explosive. They have skilled positions all over the place. The quarterback is playing at a high level. We have to go out there and defend that."
Two games is a tiny sample size.
The Raiders allowed a league-low 27 first downs in that span. They ranked top five in the NFL in such measurables as a 24.2 opposing quarterback rating and 240.5 total yards per game. Again, only two games.
Hill is capable of single-handedly testing a defense's acumen.
There is fast, and there is whatever he is. Hill has returned three punts and one kickoff for a touchdown in two NFL seasons. He noticeably has improved his route running in 2017. The Raiders have a step-by-step approach on how to limit his production.
The first one, Pagano said, is to "pray."
"Pray a lot," he added. "He's fast. … He's what we call a true game-wrecker. He has speed that gets over the top."
Beyond that, the Raiders' cornerbacks look to take a physical approach with him at the line of scrimmage. They understand Hill cannot be allowed to speed behind the secondary unabated. Players recognize what he can do, having seen so on film and in person.
His touchdown catches last weekend went for 79 and 40 yards. No defensive back touched him on either play. Hill had a similar touchdown in Week 7 versus the Raiders; cornerback David Amerson didn't touch him on the 64-yard deep ball.
Amerson is dealing with a midfoot sprain for which he's missed all five games since. He's listed as questionable to face the Chiefs. Hill has 60 catches for 911 yards and six touchdowns.
"You've got to slow him down, get your hands on him," Amerson said. "I guess that's the only way, really. I've been trying to figure it out for two years — you know what I mean? That dude right there, he's bringing real track to football. And then he can stop and start (on his routes), too. That's what separates him from a lot of other fast guys.
"Usually when somebody is that fast, it's like, 'All right, I can stay on top of him, and he's done. He can't do this. He can't get out of his breaks.' But he can do all of that. It's a task."
The tallest the Raiders have seen in a while.
With a division title to be decided over these final four weeks, it's time to learn if they're up for it.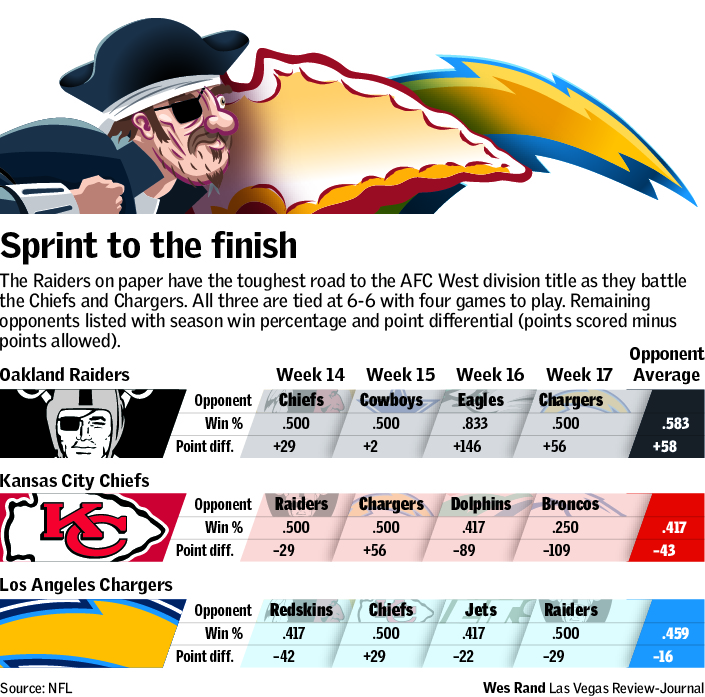 ADD CAPTION/CREDIT
More Raiders: Follow all of our Raiders coverage online at reviewjournal.com/Raiders and @NFLinVegas on Twitter.
Contact reporter Michael Gehlken at mgehlken@reviewjournal.com. Follow @GehlkenNFL on Twitter.