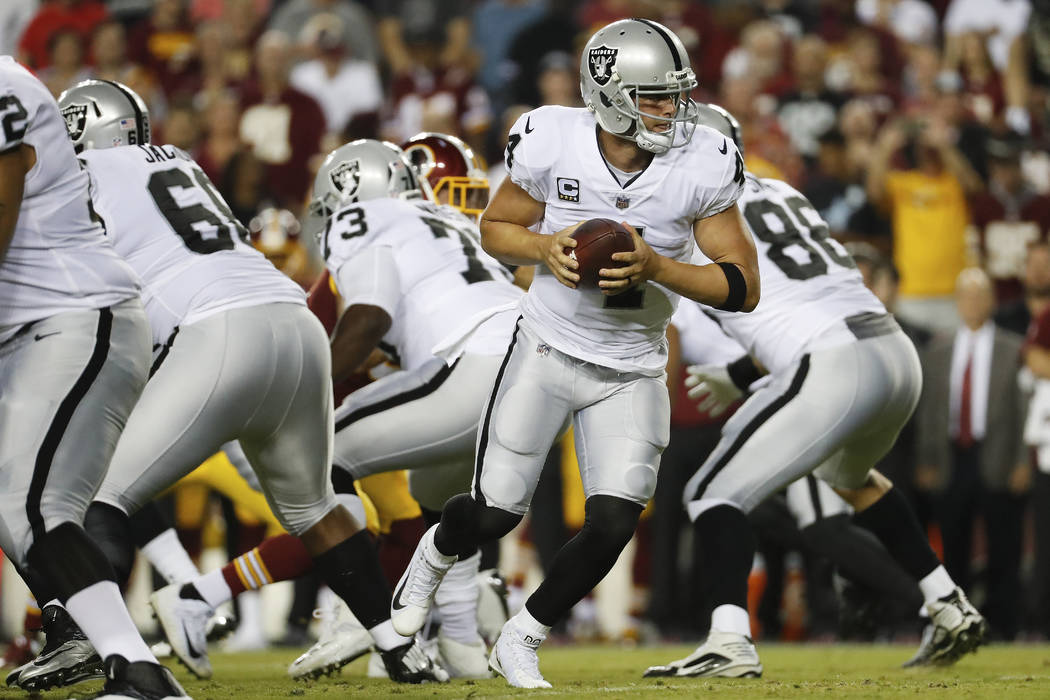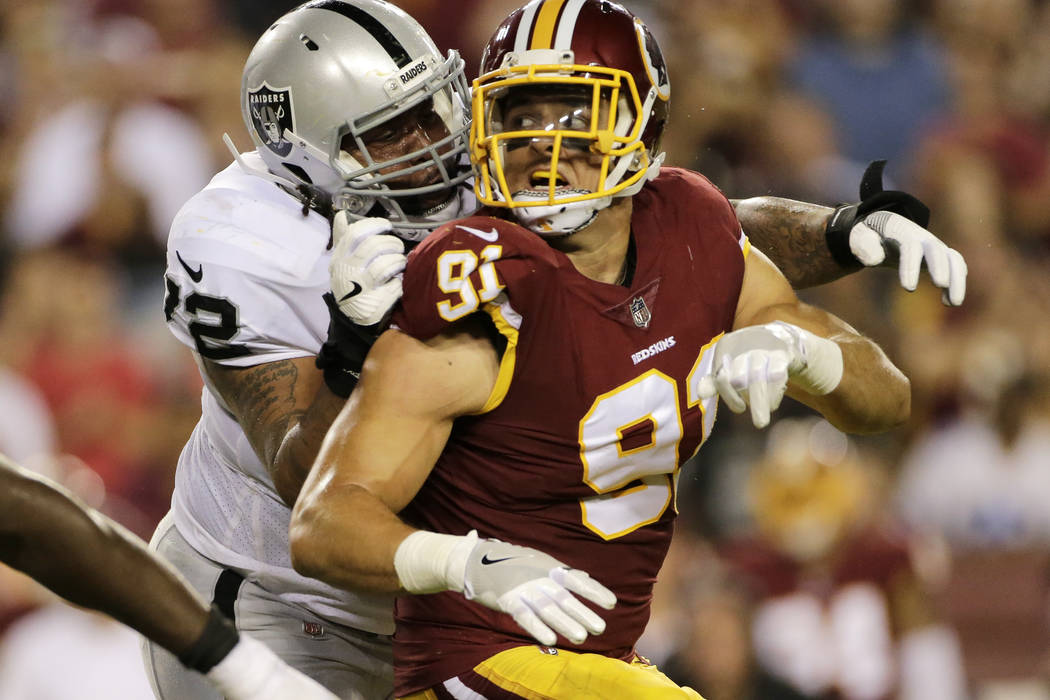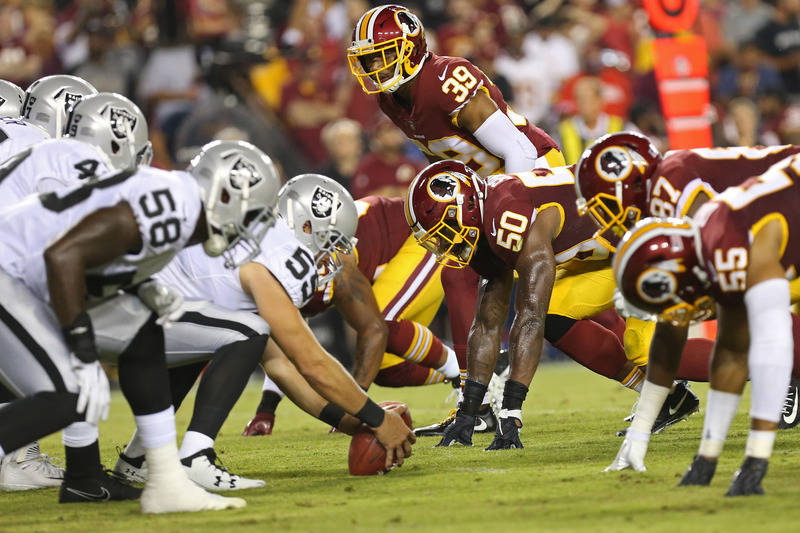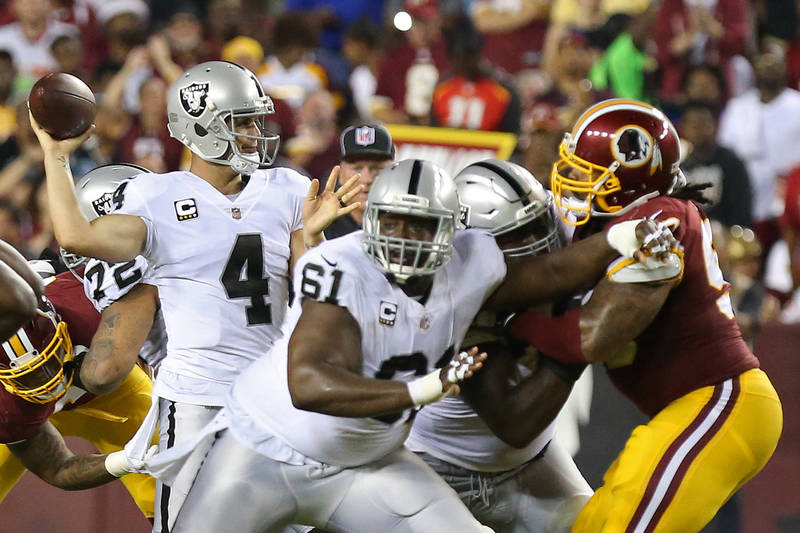 DENVER — Donald Penn stood at his locker Wednesday afternoon, the frustration palpable in his voice.
Days earlier, the Raiders left tackle declared himself to be done discussing the team's pregame demonstration during the national anthem; he said his piece immediately following a 27-10 loss to the Washington Redskins last Sunday. Here on Wednesday, understandably, he now was done talking about the game itself.
No more reliving the past.
"I'm really trying to move on," Penn said. "We fixed a lot of stuff on Tuesday. We fixed a lot of stuff this morning. Now, we're onto Denver. That's a whole 'nother animal we've got to deal with this week. That's what we're trying to get ready for, and the only way we get that taste out of our mouth and get y'all to stop talking about that is to get into this Denver game. Shoot, I wish it was tomorrow."
It's here now.
The Raiders traveled Saturday afternoon to Colorado for Sunday's AFC West opener against the Broncos. Both teams enter the 1:25 p.m. kickoff coming off disappointing losses.
For Oakland, this is the start of a critical early-season stretch, as it will face a divisional opponent three times in four games over a 19-day period. For its offensive line, this is the start of a new chapter.
No one doubted the importance of the unit.
No one doubted its caliber, a prevailing opinion reinforced by the season's first two weeks.
That is what made it staggering when the group faltered against Washington as it did, the Raiders averaging 2.5 yards on 11 designed carries, with quarterback Derek Carr being sacked four times. Carr's season high for sacks was three in 2016, and that happened once.
But Penn is right. Enough of that.
The Broncos are a new challenge, one whose defense features Von Miller, an edge defender whose current career trajectory leads to the Pro Football Hall of Fame. He is a force as a pass rusher and underrated against the run.
Aqib Talib and Chris Harris Jr. are widely considered the best cornerback duo in the NFL. Safety Darian Stewart is a physical presence. Inside linebacker Todd Davis and a strong interior line anchor the league's No. 1 rushing defense.
The Raiders' attack must start at the line of scrimmage.
"Whenever we were getting ready for the Cowboys (in Week 2), everyone was saying that this is the best offensive line that we're playing against," Miller said in a recent conference call. "I really felt like the Raiders, they really are put together to be the best offensive line. That's just my opinion. Up in Dallas, they have a great, arguably the best offensive line, but my opinion, I've always thought that the Raiders had the best offensive line.
"From tackle to tackle, they're great. Inside, (center) Rodney (Hudson) and (right guard) Gabe Jackson, (left guard) Kelechi (Osemele), those guys are beasts. That's what I always felt. So you know, going against them this week, I feel like we're going against the No. 1 offensive line."
Such is the Raiders' standard, too.
When their line is going, the entire offense finds a rhythm. It's balanced between the run and pass. Drives are sustained. Carr tends to get rid of the ball quickly, helping his line to not sustain blocks for too long a duration.
"We're going to be ready to play, especially after what we did last Sunday," Penn said. "It doesn't matter who it is. We could be playing 'The Replacements.' We'll be ready for another game out there to get going. We weren't the Raiders last Sunday. We've got to get back on point."
Their chance is here.
Contact reporter Michael Gehlken at mgehlken@reviewjournal.com. Follow @GehlkenNFL on Twitter.
Raiders vs. Broncos
When: 1:25 p.m. Sunday
Where: Sports Authority Field at Mile High, Denver
TV/Radio: KLAS-8; KDWN-AM (720), KCYE-FM (102.7)
Line: Broncos -3; total 45 1/2