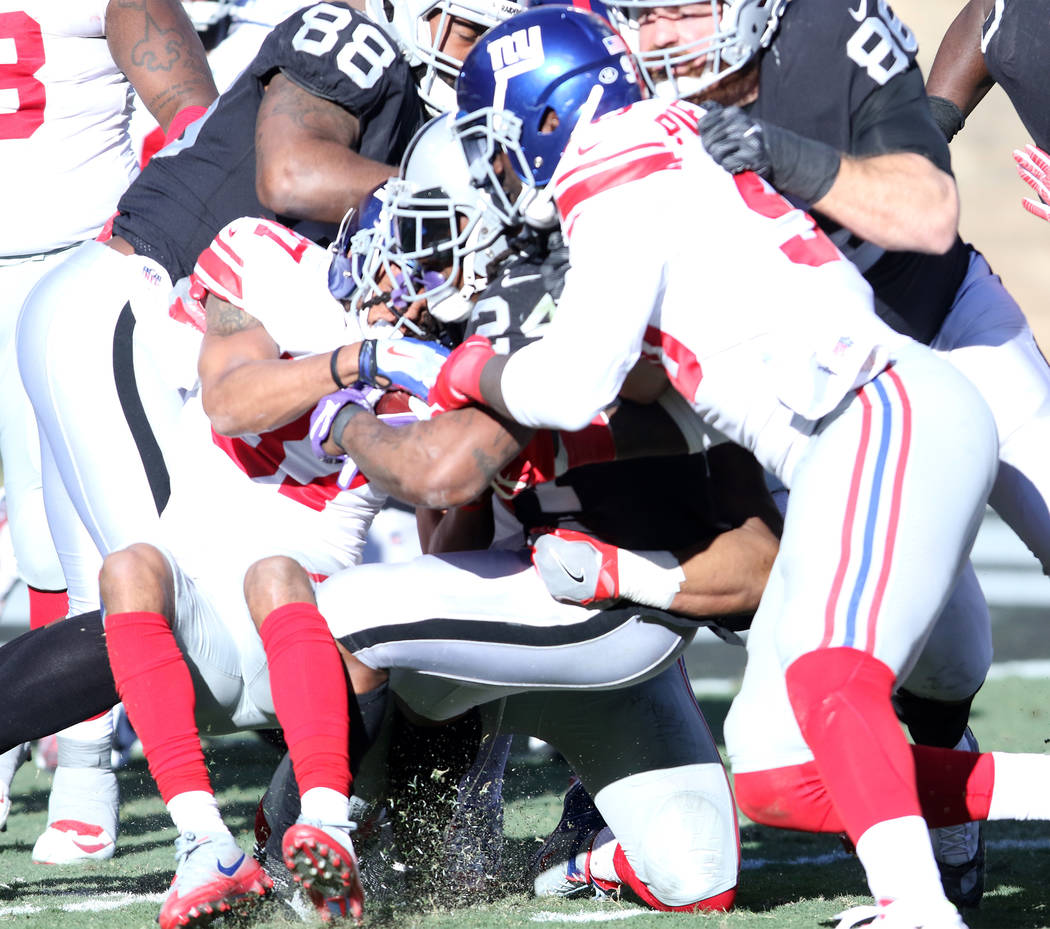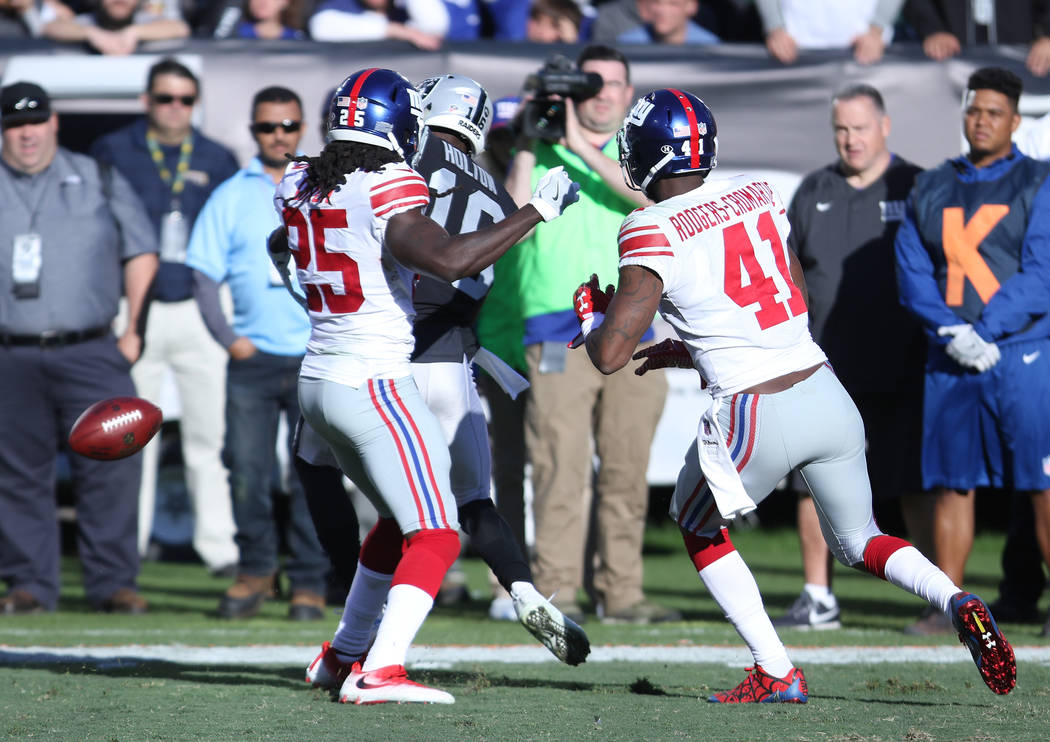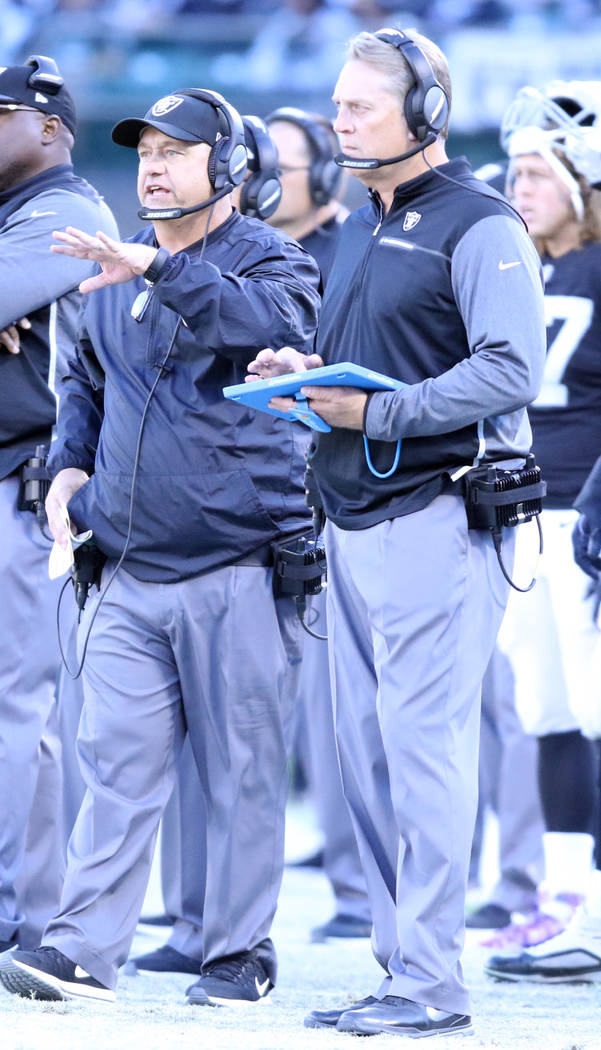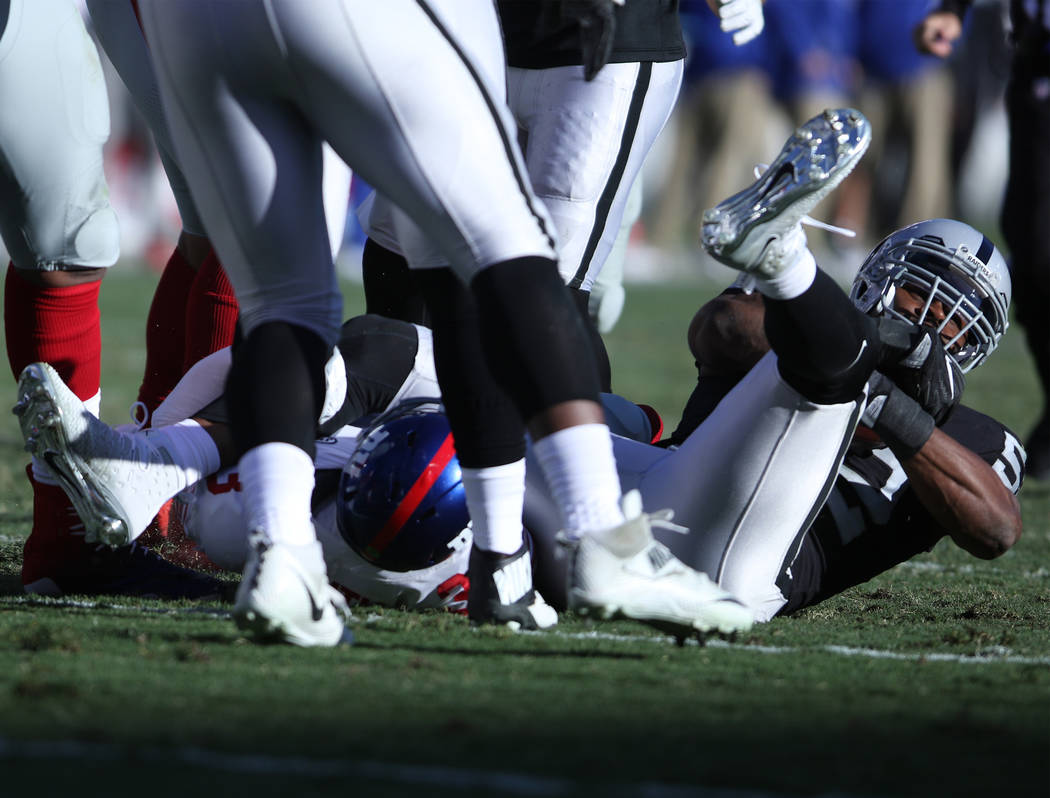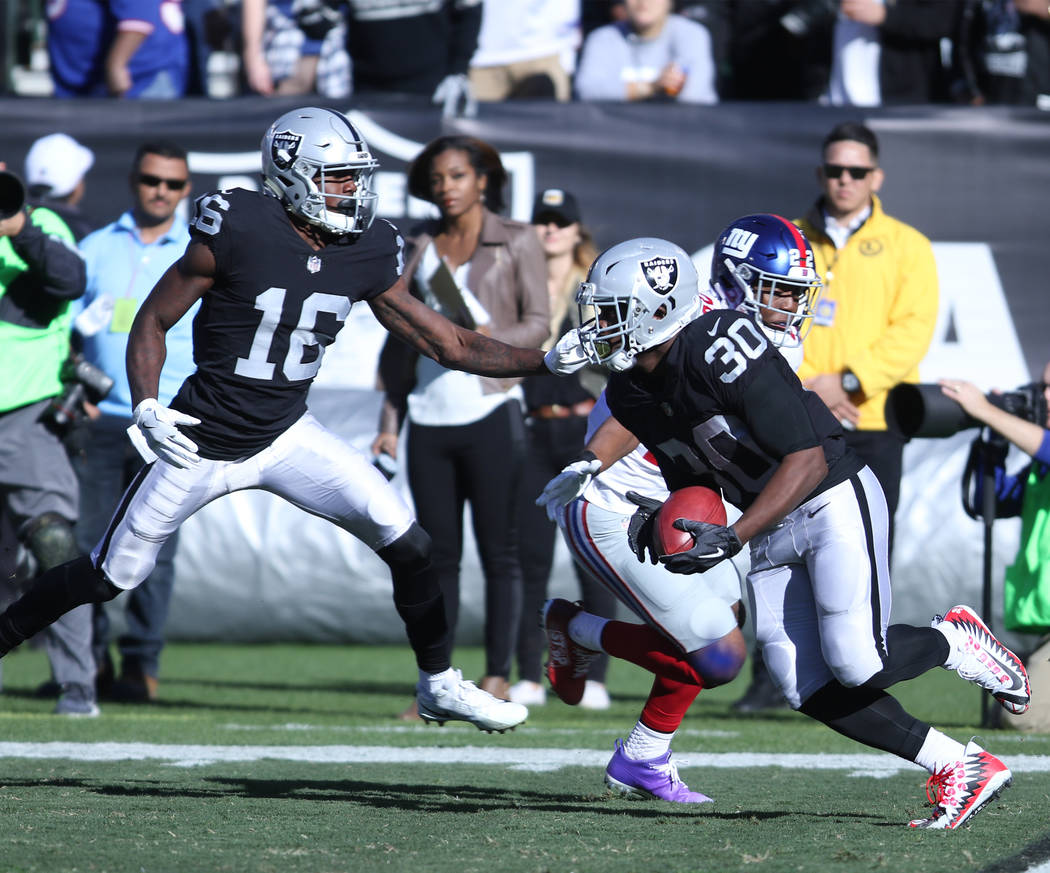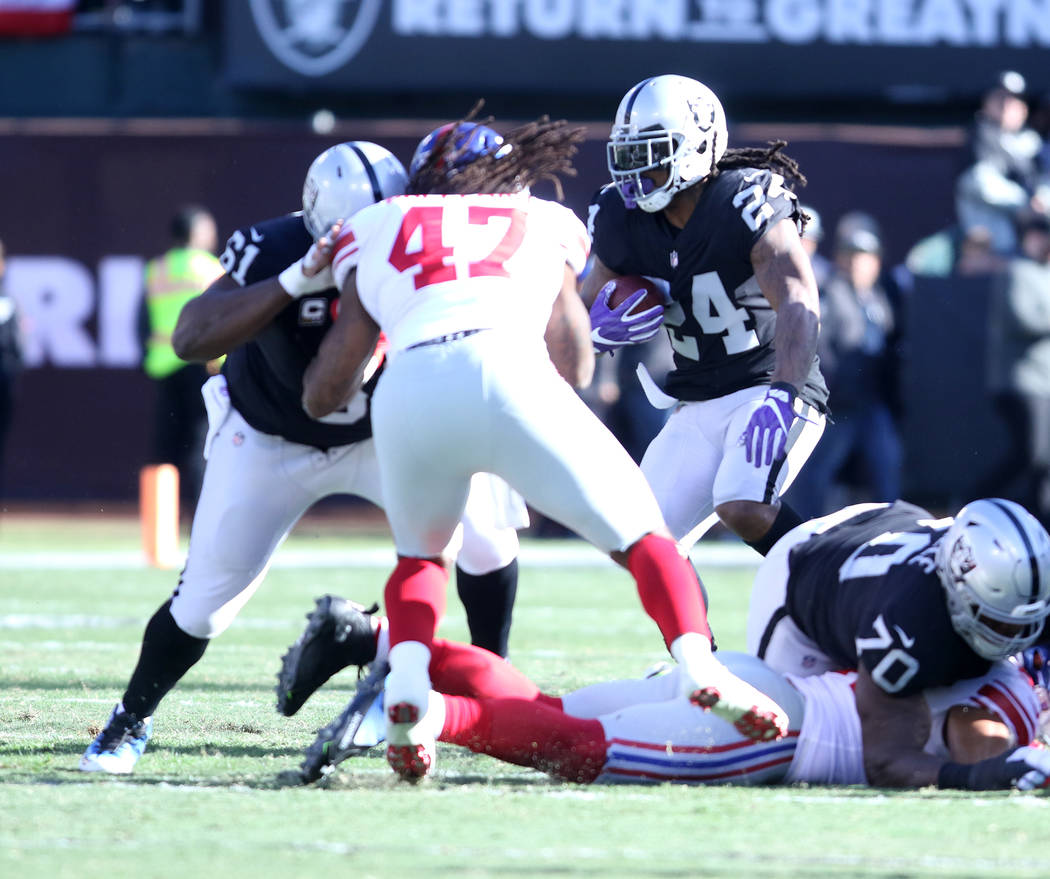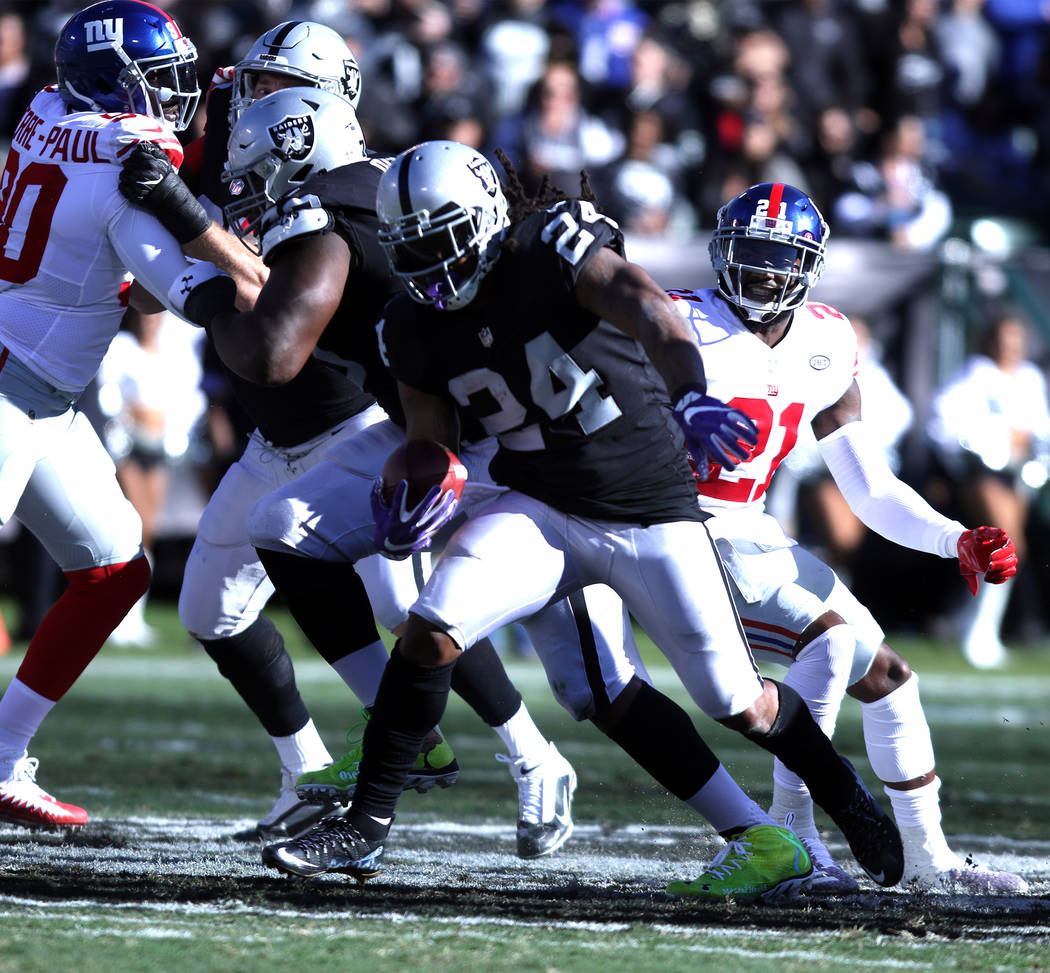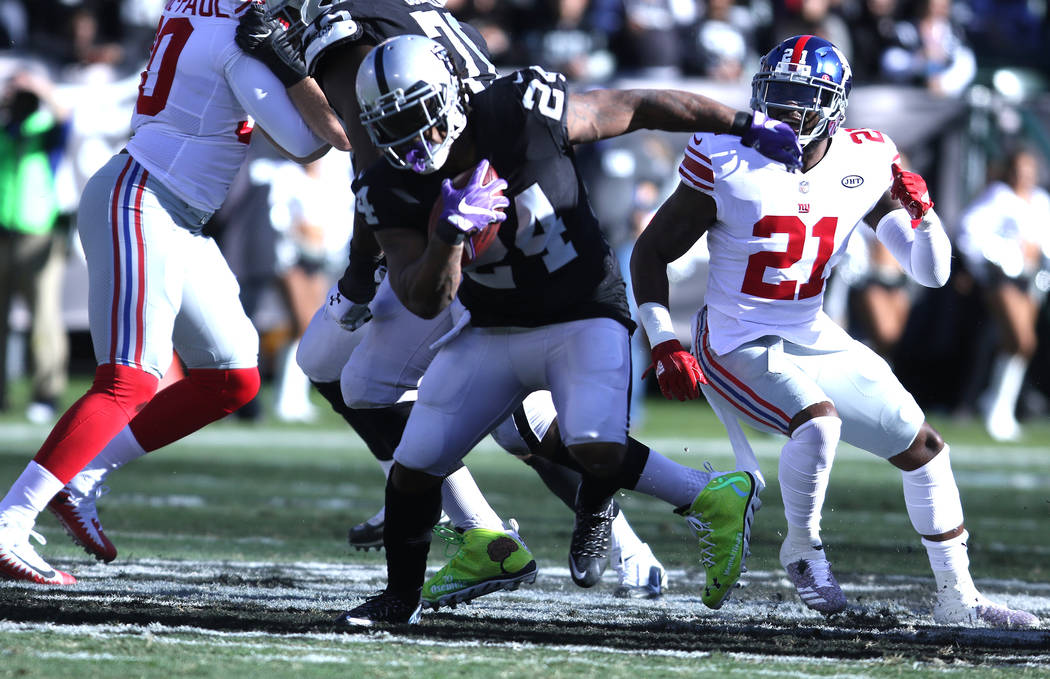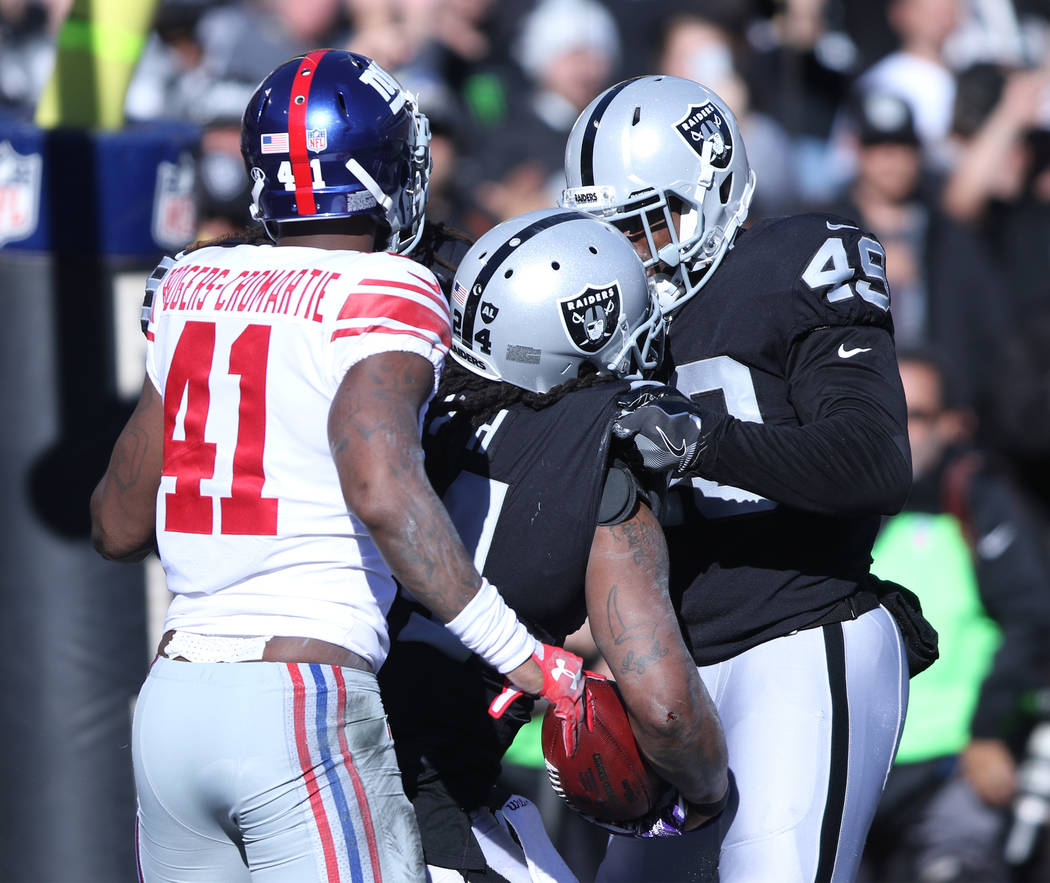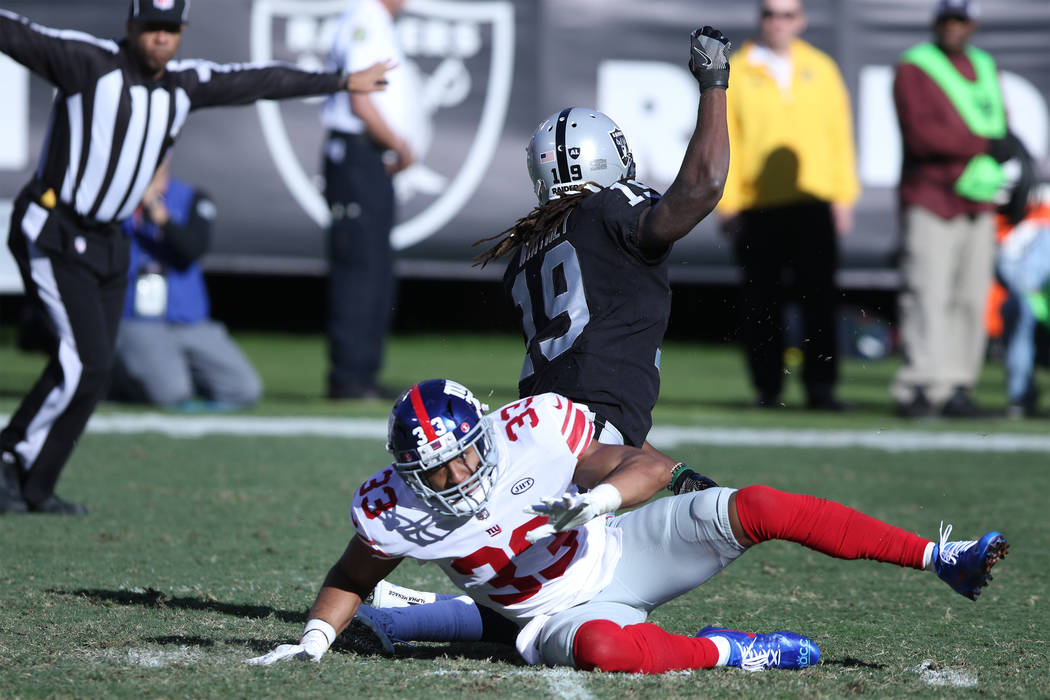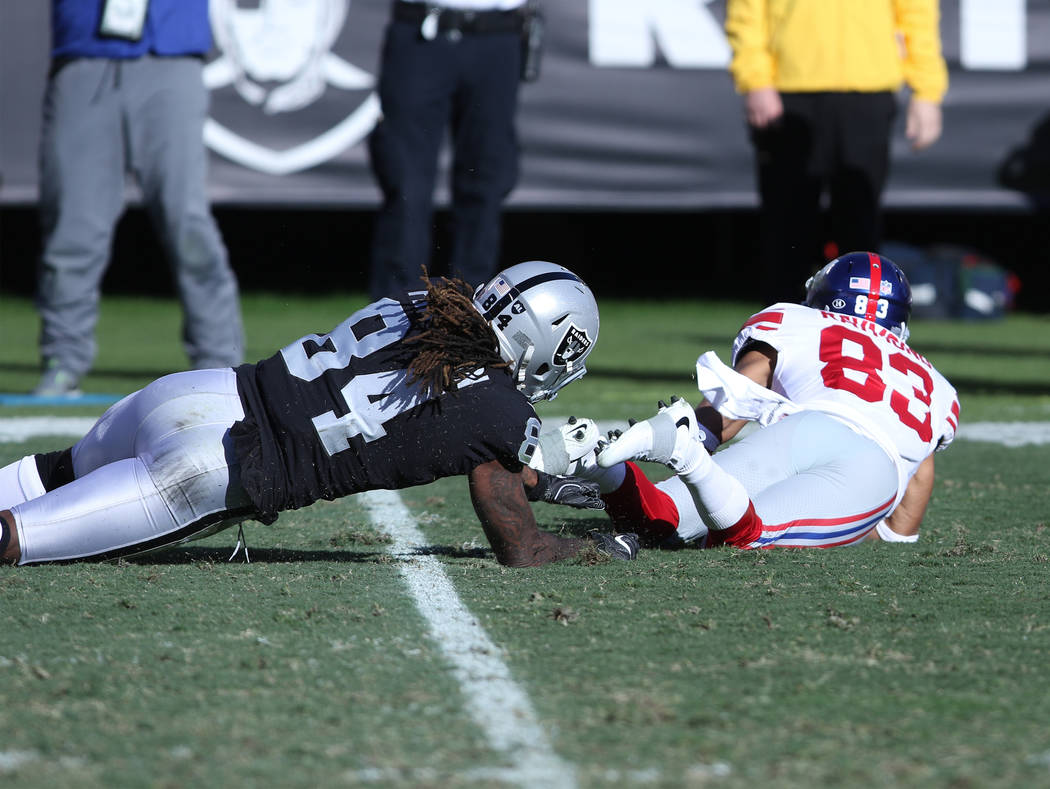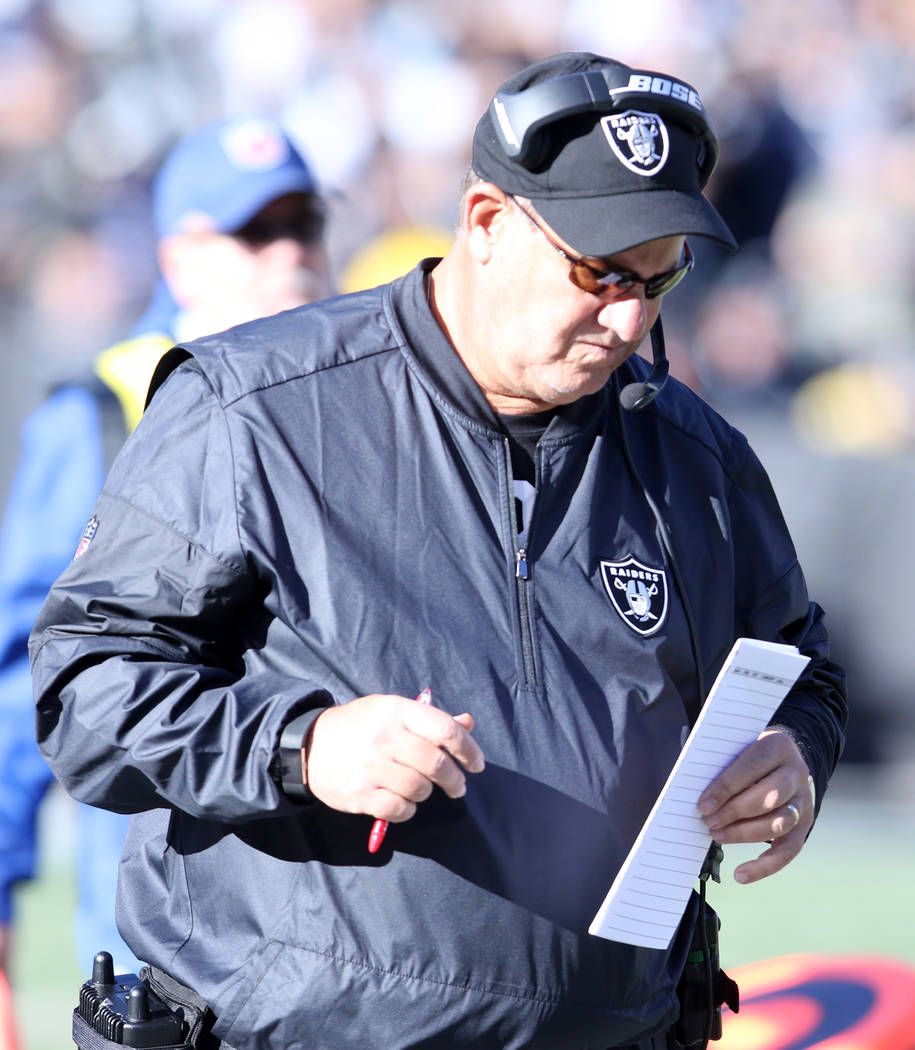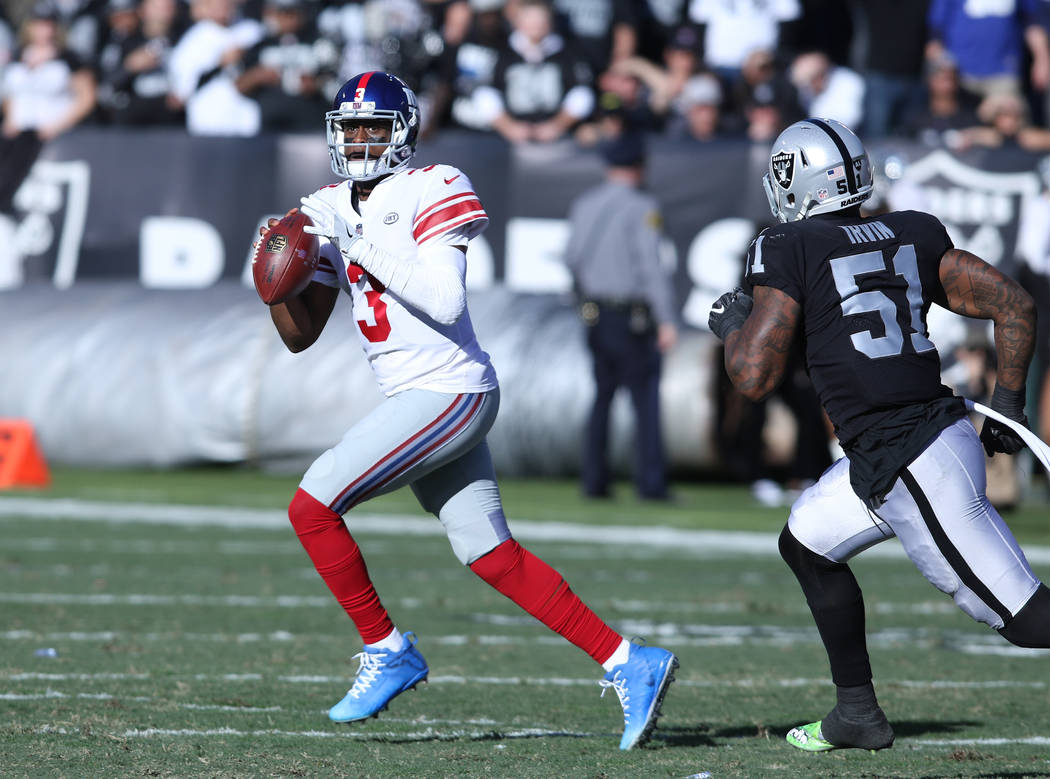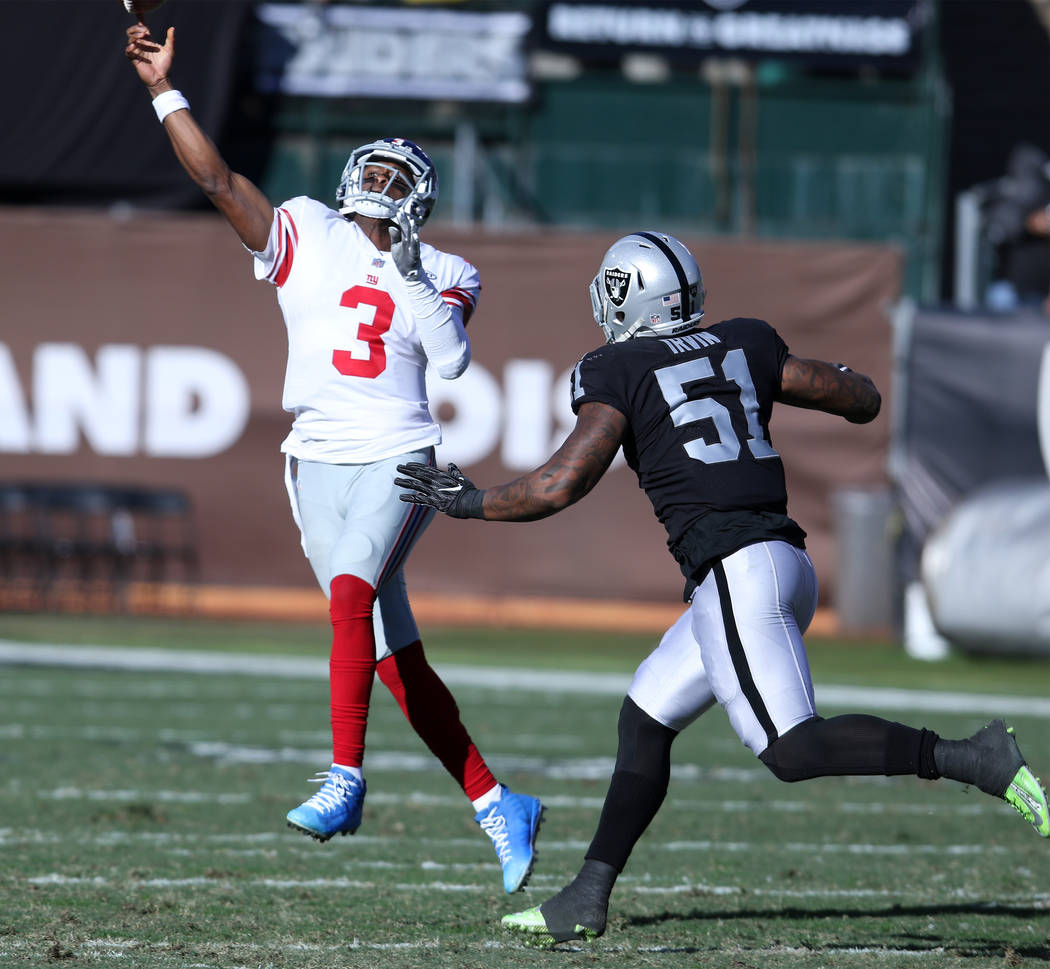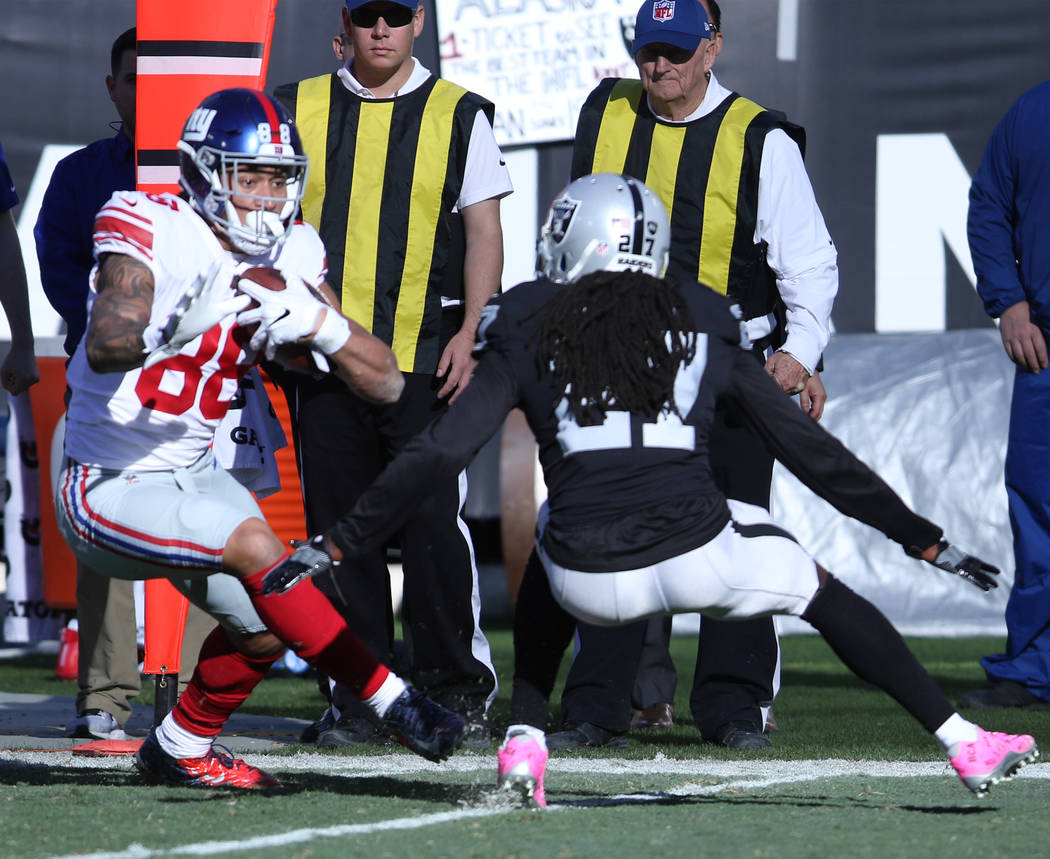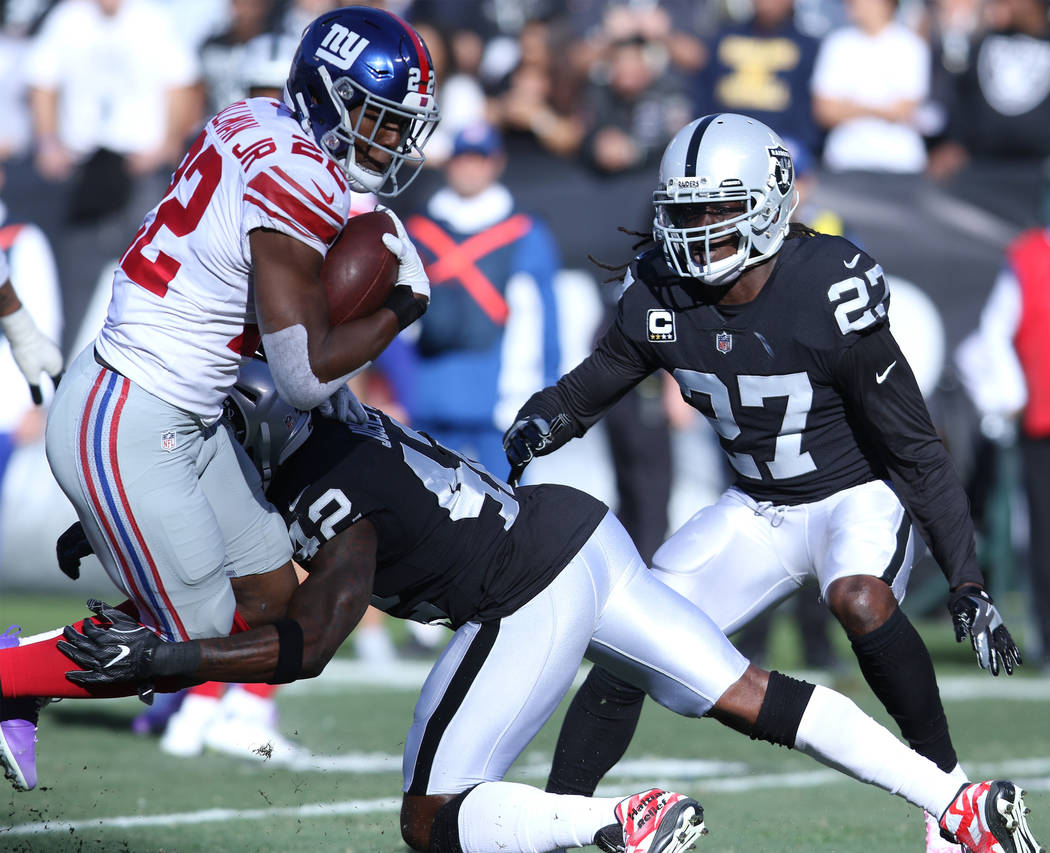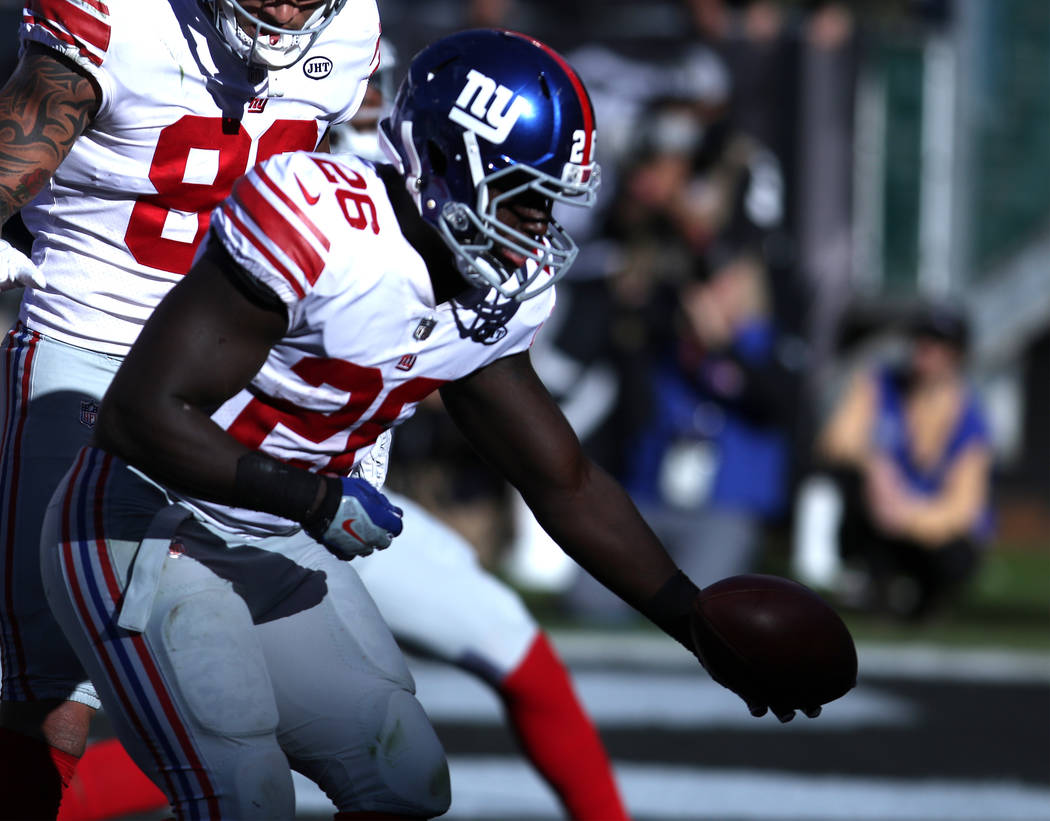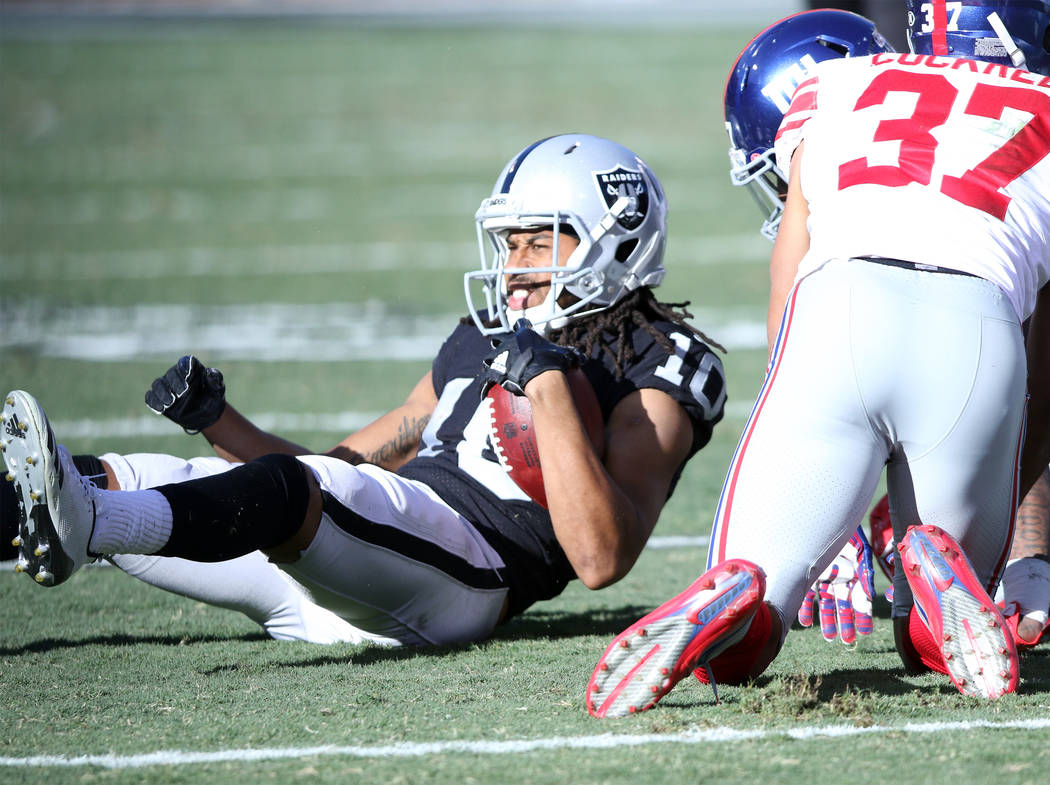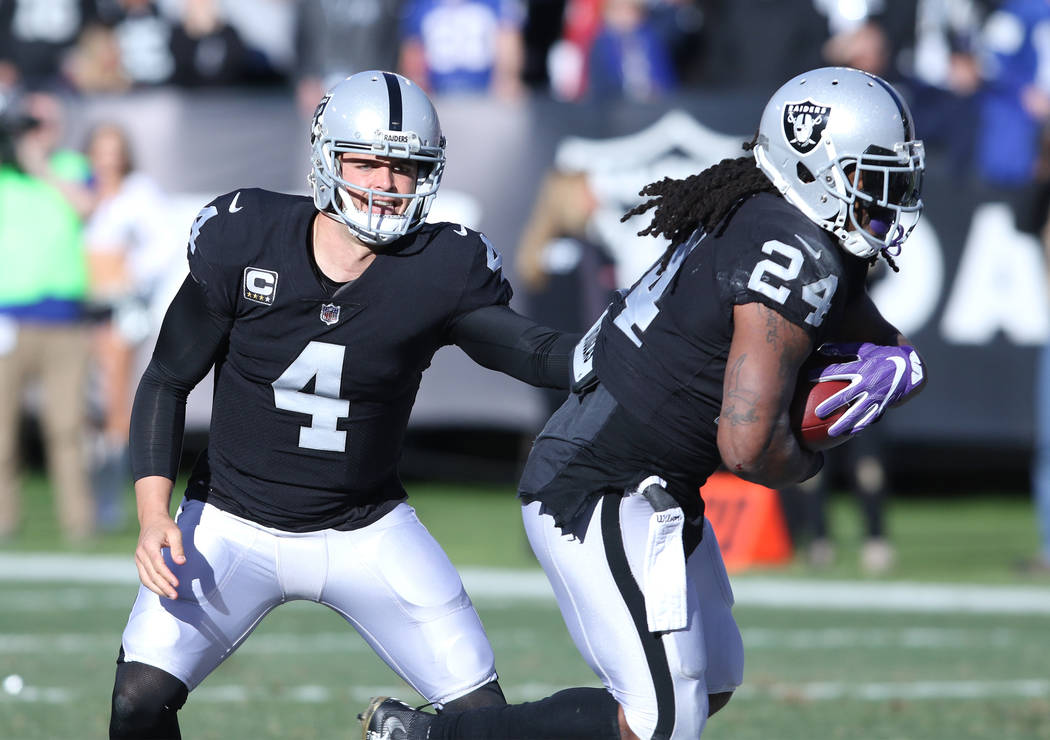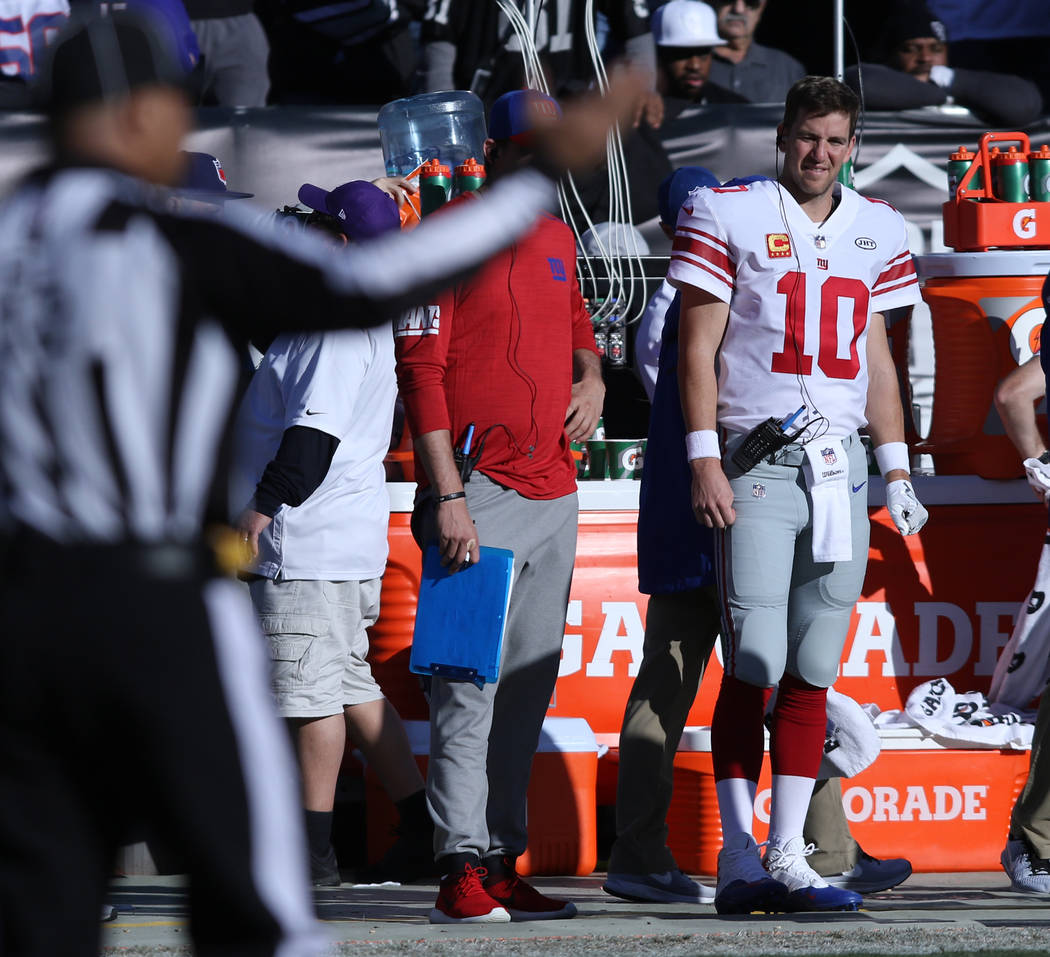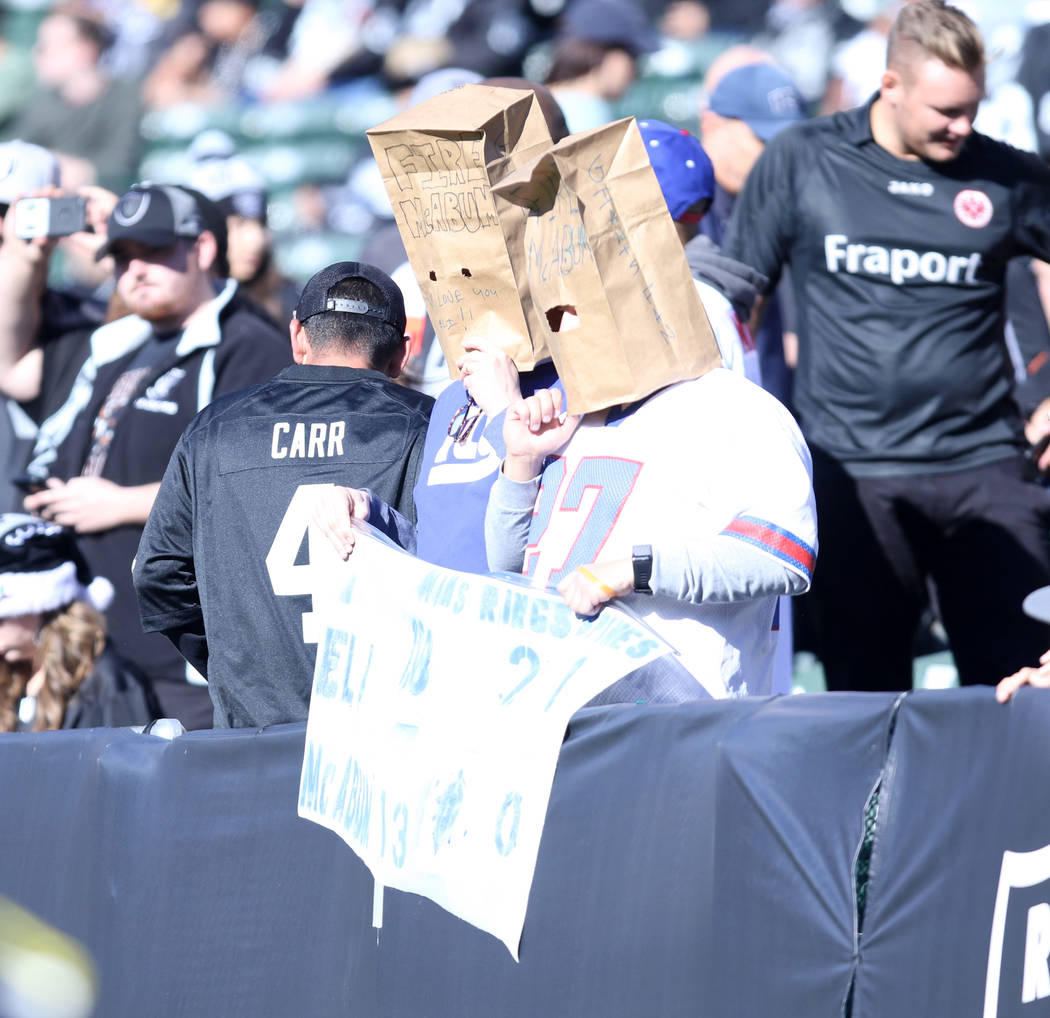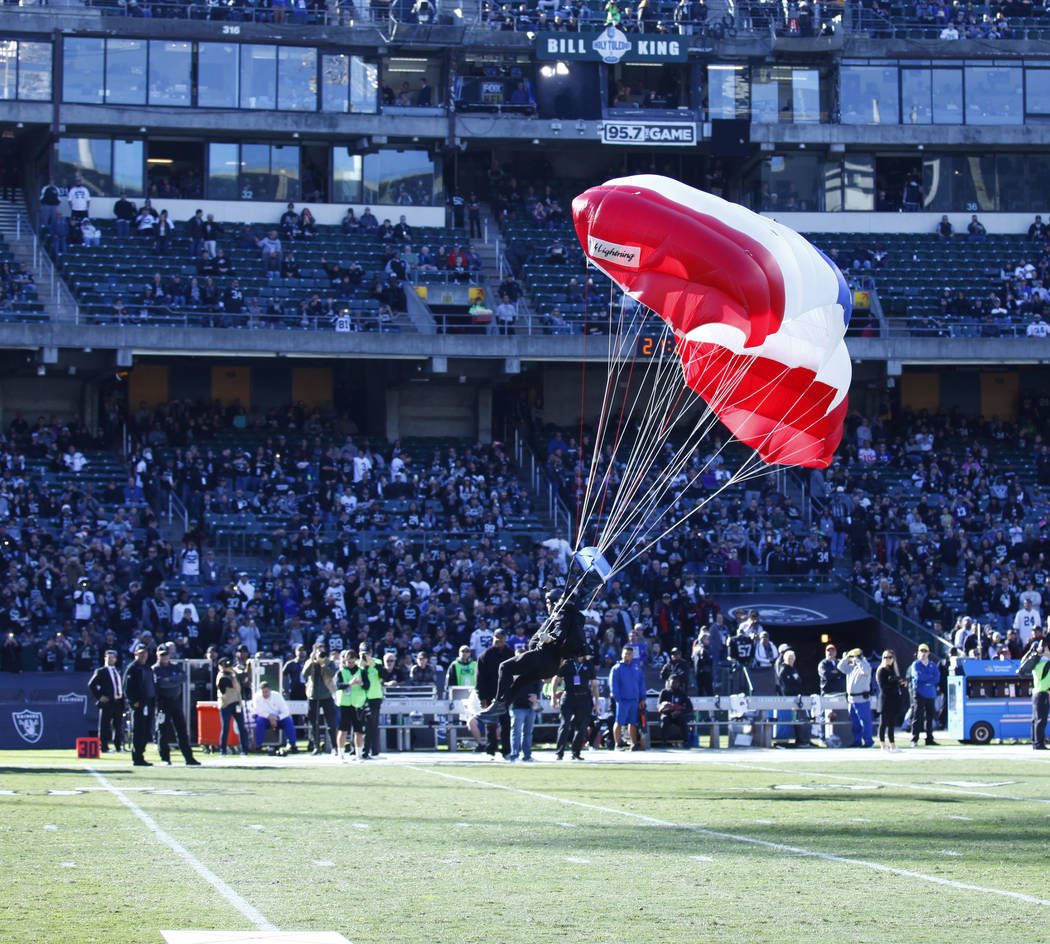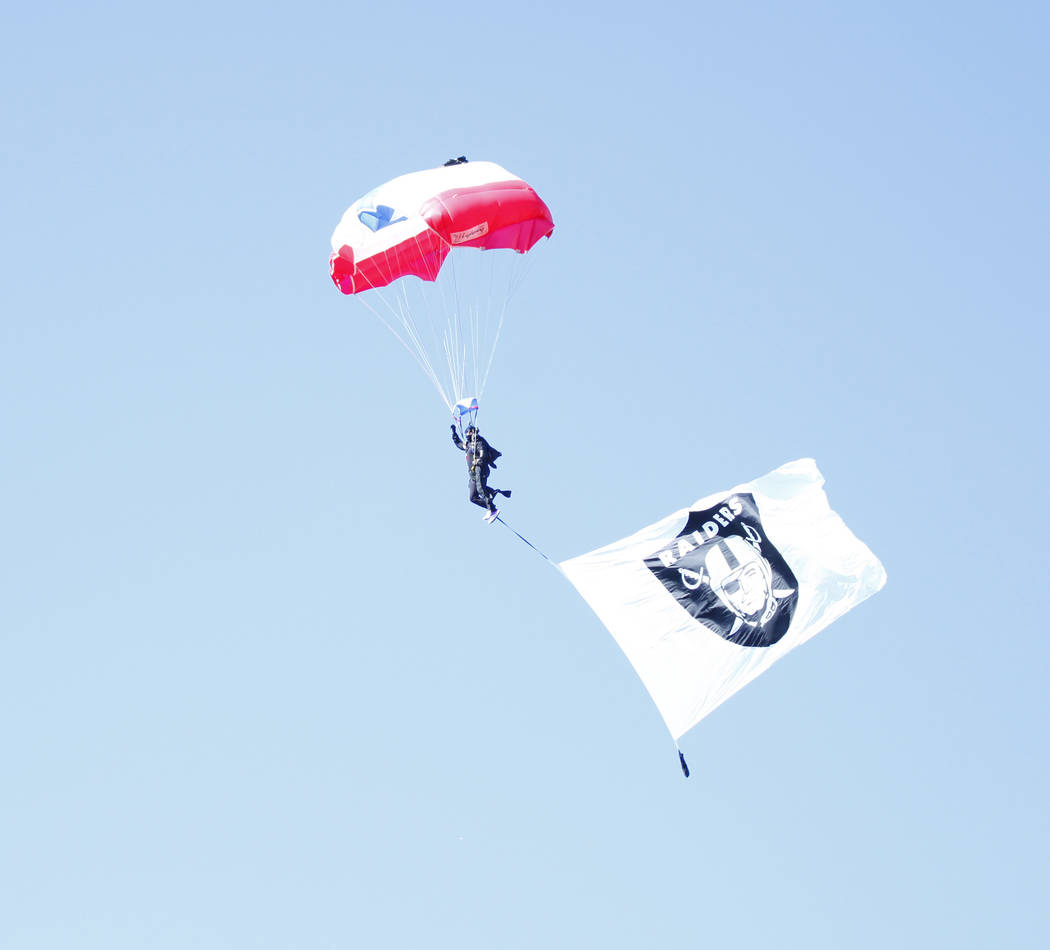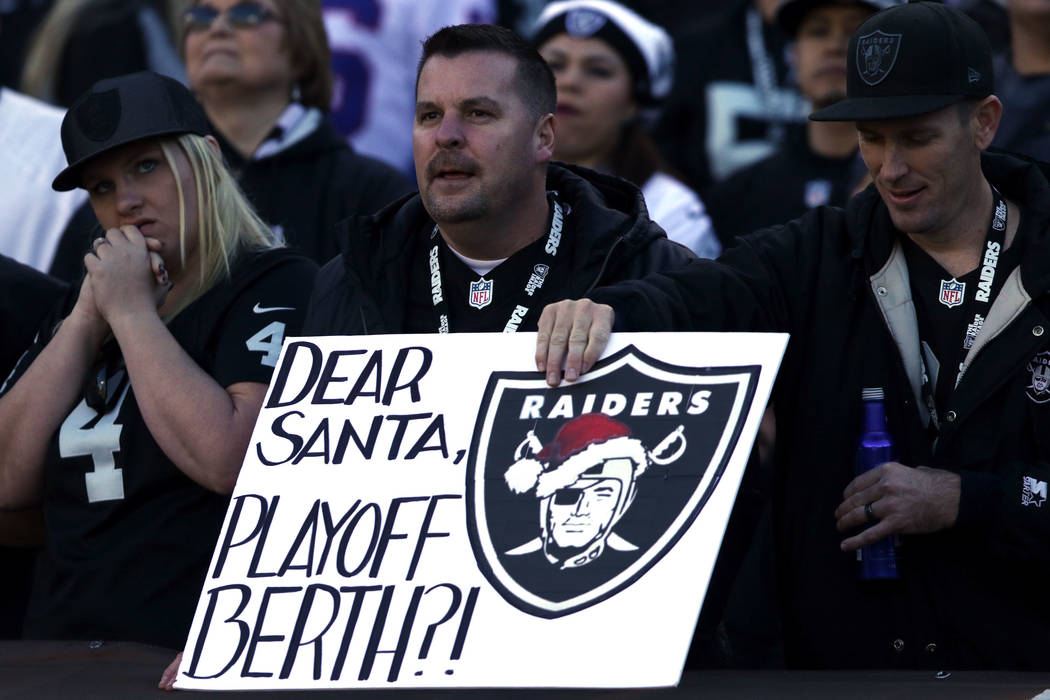 OAKLAND, Calif. — Marshawn Lynch stepped inside to make one defender miss.
He juked outside to avoid another.
On third-and-7 in the fourth quarter, the Raiders running back turned a short pass Sunday into a 21-yard gain, offering a blend of open-field agility and straight power when driving into the New York Giants' secondary. Two plays later, his team celebrated a touchdown.
The Raiders hoped Lynch would be a difference maker in January and February.
He started their December with an effort to keep their hope alive.
Lynch saw 17 carries for 101 yards, including a 51-yard touchdown on the opening series. He closed his action with a clutch conversion, helping lift a short-handed Raiders offense over the Giants in 24-17 win at the Oakland-Alameda County Coliseum.
The Raiders (6-6) now sit in a three-way tie with the Los Angeles Chargers and Kansas City Chiefs atop the AFC West with four games to go. They'll face the Chiefs next Sunday at Arrowhead Stadium, while the Chargers host the Washington Redskins (5-7).
This was Lynch's first 100-yard rushing game since coming out of retirement in April.
"He's getting stronger as the season goes on," running back DeAndre Washington said. "With more carries, he is just getting stronger. It's hard to tackle that man for four quarters. You know what I am saying? He is going to wear you down regardless if he is getting 2 yards or the 50-yarder like he busted today. … At this point in the season, we are really going to need him."
It wasn't always pretty Sunday.
Giants safety Landon Collins and cornerback Brandon Dixon each dropped an easy interception of quarterback Derek Carr. New York failed to recover any of Jalen Richard's three fumbles on punt returns. Richard recovered one; safety Keith McGill II fell on the others. A breakdown in protection led to punter Marquette King being tackled late in the second quarter, giving New York possession at the Raiders' 9-yard line. The offense struggled on third down without wide receivers Michael Crabtree (suspension) and Amari Cooper (concussion, ankle).
But the Raiders found a way.
On the second play following the aborted King punt, defensive end Khalil Mack bent the edge and sped past right tackle Chad Wheeler. Mack attacked the football rather than settle for a sack, tugging the ball away from quarterback Geno Smith as the two fell to the ground.
Mack forced five fumbles last season. This was his first of 2017, and it may have saved the season.
Coach Jack Del Rio said that Mack's takeaway to save a score, Lynch's third-down conversion and wide receiver Cordarrelle Patterson's 59-yard catch-and-run late in the fourth quarter were examples of "grown-man" football that stood out in the win.
Offensive coordinator Todd Downing oversaw the orchestration of Patterson's screen play. Carr said that he, Downing, offensive line coach Mike Tice and wide receivers coach Rob Moore collaborated in the play's design, drawing it up on the sideline. The Raiders ran it on the first play of a fourth-quarter series that directly followed a Giants touchdown.
Carr capped the drive with a 9-yard score to wide receiver Johnny Holton.
"It was just a screen route," Patterson said. "We ran it all game, but we just did it out of a different formation. (Downing) said, 'Just get the ball, and we are going to score a touchdown.' Unfortunately, I got caught and I don't like getting caught. So I was mad after that, but we got the win. At the end of the day, that's all that matters."
In Cooper and Crabtree's absences, Patterson caught all four targets for a team-high 97 yards. Tight end Clive Walford set season highs with four catches for 57 yards. Less obvious efforts came from cornerback Dexter McDonald, who broke up a third-down pass in consecutive third-quarter drives, or Washington's recovery of a final onside kick.
The Raiders have won consecutive games for the first time since Weeks 1 and 2 this season.
"We're learning how to win games," Carr said. "As long as we can get hot, right around now, this is the time to do it."
More Raiders: Follow all of our Raiders coverage online at reviewjournal.com/Raiders and @NFLinVegas on Twitter.
Contact reporter Michael Gehlken at mgehlken@reviewjournal.com. Follow @GehlkenNFL on Twitter.