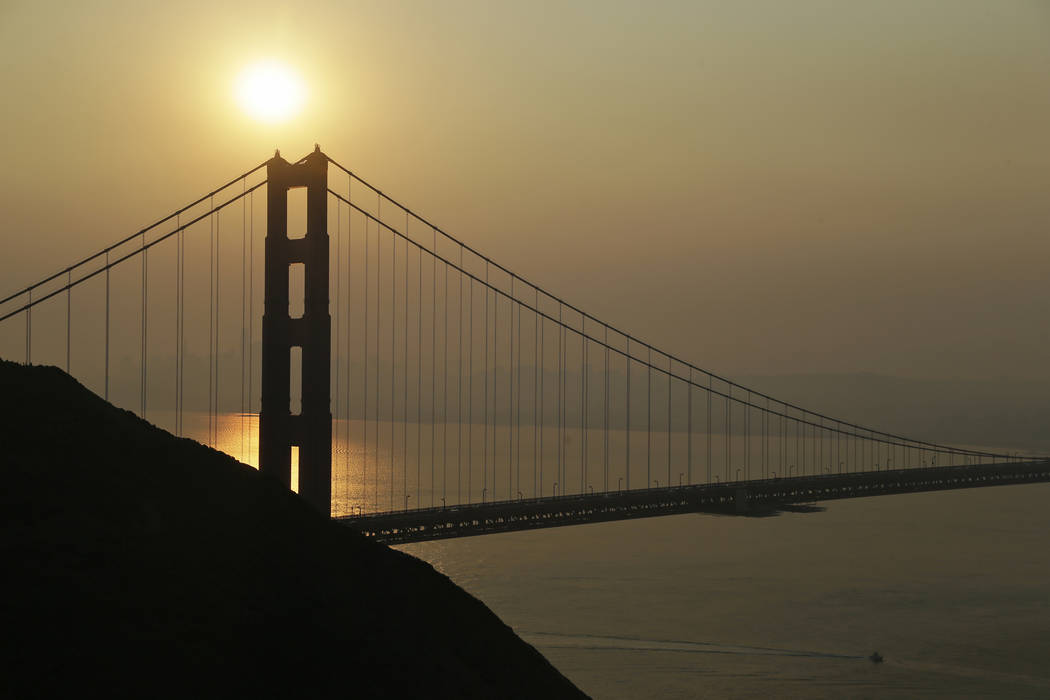 ALAMEDA, Calif. — Whatever inconvenience or issue experienced this week from adverse air quality, the Raiders know, pales in comparison to the devastation experienced about 140 miles northeast of their headquarters where Camp Fire has scorched communities and killed at least five people.
The team's tone Friday reflected that reality.
Coach Jon Gruden said that he was unsure how air conditions could impact Sunday's scheduled home game against the Los Angeles Chargers.
"I don't know. I hope that the fires go away," Gruden said. "I'm more concerned about a lot of people that are being impacted by this. We'll react to whatever the circumstances are, whatever happens. I just hope this ends fast."
Compromised air quality prompted the Raiders to adjust their Friday schedule. Technically, they did not practice, as their session was downgraded to a slower-tempo walkthrough, a club spokesman said. The team also did not work into the afternoon, concluding outdoor activities around 11:30 a.m., about an hour earlier than initially planned.
In its daily forecast, the National Weather Service predicted no sky cover in Alameda.
Air quality reading for Oakland about 48 hours before scheduled kickoff. Some Raiders players reported occasional coughing, eyes burning, headache in past two days. Team reduced its on-field exertion today due to smoky air; didn't work into afternoon. pic.twitter.com/hg01Xj69Ou

— Michael Gehlken (@GehlkenNFL) November 9, 2018
But because of smoke from a wildfire near Chico, California, the sky was blanketed light gray. Visibility was reduced. The air smelled of the smoke that filled it. Around the Bay Area, some pedestrians wore a mask over their mouths to limit the inhalation of ash particles.
Sunday's game presently remains scheduled as planned, set to kick off at 1:05 p.m. It is one of two NFL games that afternoon whose location is relatively near at least one major wildfire. The other game is in Southern California.
"We are monitoring conditions in California and are in close communication with the clubs and local authorities," an NFL spokesman said in a statement. "At this point, both the Los Angeles Chargers-Oakland Raiders game and the Seattle Seahawks-Los Angeles Rams game will kick off as scheduled."
San Francisco Bay Area Air Quality Management District submits hourly air-quality readings that are published on AirNow.gov.
At 1 p.m. Friday, about 48 hours before kickoff, Oakland was deemed to have "Unhealthy" air with a 169 Air Quality Index (AQI). Under that label, people with heart or lung disease, older adults, teens and children are advised to "avoid strenuous outdoor activities; keep outdoor activities short; consider moving physical activities indoors or rescheduling them."
All others are told to choose less strenuous activities "so you don't breathe as hard" and to "shorten the amount of time you are active outdoors."
The Raiders did both Friday.
Thursday was a different story.
Air quality in Alameda worsened significantly just before the Raiders began practice around 1:30 p.m. One offensive lineman, Jon Feliciano, resorted to covering his mouth with a cloth during the opening stretch. as ash visibly fell from the sky. At 3 p.m., they still were on the field amid a 181 AQI reading.
Players reported various symptoms related to the smoky air, such as headaches and coughing.
"What's it like?" wide receiver Dwayne Harris said of practicing in smoke. "Hard. It's hard to breathe. Your eyes burn. For me, I've got bad sinuses and stuff, so smoke and all that, it's killing my lungs. It's one of those things I've never practiced in before, so this is new to me. It makes it a little difficult to go out there and run around and play football. …It was a little smoky out (Thursday), and we still were out here practicing. It was rough."
Video cameras are positioned over the Raiders' practice field, allowing coaches and players to rewatch certain plays later. The smoke was ample enough Thursday to affect the video's quality.
"It looked worse on tape," said linebacker Nicholas Morrow. "It was like, 'Oh my goodness.' I didn't realize how smoky it was. It's like, you ever look at a phone with a bunch of smudge marks on the screen, and you've got to clean the screen off because it's all smudged? Everything was just smudged."
In October 2017, a series of wildfires raged parts of Northern California, including Napa and Sonoma, while the Raiders prepared to host the Chargers.
The Raiders held walkthroughs indoors. Several players wore masks in practice. Meanwhile, the NFL planned possible contingency sites, such as the Dallas Cowboys' AT&T Stadium in Arlington, Texas. Ultimately, air quality improved dramatically by the Saturday before that Sunday game. Kickoff went as scheduled.
Alameda's air quality was worse during last year's fires
The Raiders practiced at a 189 AQI on Oct. 11.
"You could feel it last year," Richard said. "Last year was a bigger fire, and it was closer, too."
More Raiders: Follow all of our Raiders coverage online at reviewjournal.com/Raiders and @NFLinVegas on Twitter.
Contact reporter Michael Gehlken at mgehlken@reviewjournal.com. Follow @GehlkenNFL on Twitter.
Related
Filming location for 'Westworld' destroyed in California wildfire
5 killed trying to flee Northern California fire
Wind-driven wildfire near LA burns homes, forces evacuations