UNLV's Tony Sanchez calls proposed new stadium 'game changer'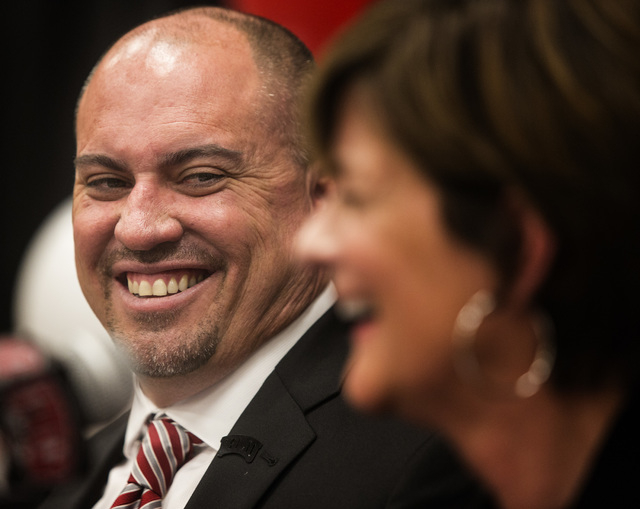 UNLV football coach Tony Sanchez grew up 22 miles from O.co Coliseum, aka the Oakland Coliseum, where he attended countless Oakland Raiders games.
If Raiders owner Mark Davis has his way, Sanchez eventually might need only take a short stroll across campus to reach the NFL team's new, $1.4 billion domed stadium in Las Vegas.
"It's exciting to think about the Raiders coming here," Sanchez said. "My dad was an Oakland police officer for 25 years. It's a pretty awesome thing."
Davis vowed Thursday to try to move his NFL franchise to Las Vegas if a proposed 65,000-seat stadium is built near the Strip for the team. Sitting next to soccer star David Beckham at the Southern Nevada Tourism Infrastructure Committee meeting on UNLV's campus, Davis said the Raiders are ready to contribute $500 million to the project, with $200 million coming from an NFL loan. The rest of the project would be funded by $750 million in taxes on tourists and about $150 million from a partnership between casino operator Las Vegas Sands Corp. and Majestic Realty.
He said he would make the NFL "an offer they can't refuse" in his bid to relocate his franchise and that "together we can turn the Silver State into the silver and black state."
Davis also indicated the Raiders, who have a one-year lease in Oakland for next season, would probably stay there until a new stadium is built. He said the Raiders could play a preseason game at 35,500-seat Sam Boyd Stadium, but that UNLV's aging football home wasn't suitable for regular-season games.
The proposed stadium also would serve as the new home of the Rebels' football team. If the plan comes to fruition, it would have a huge impact on the school.
"It would be a game changer, not just on the athletics level, but it would take the university to another level," Sanchez said. "For UNLV football, it would be an incredible day to have a state-of-the-art stadium. And to be able to share that with the Raiders, that would be a great day for Rebel football."
Sanchez said he spoke briefly Thursday with Davis, whom he had met April 1 when the Raiders owner toured Sam Boyd Stadium.
"He just reiterated to me that he was really, genuinely excited about the possibility of moving to Las Vegas and that he's committed to the city and moving the Raiders here," Sanchez said.
Sanchez and UNLV athletic director Tina Kunzer-Murphy agreed that having the stadium would put the Rebels in the running to join any potential future super conferences.
"We talk about that all the time," Kunzer-Murphy said. "The president, our coaches, the administrators, we talk all the time about how important it is to position UNLV moving into the next wave of change across the country with conference realignment.
"To have that football stadium, we would definitely be in the conversation as things move forward."
The Review-Journal is owned by the family of Las Vegas Sands Chairman and CEO Sheldon Adelson.
Contact reporter Todd Dewey at tdewey@reviewjournal.com or 702-383-0354. Follow him on Twitter: @tdewey33
RELATED
Raiders owner Mark Davis voices commitment to Las Vegas
Raiders Nation shows support for moving team to Las Vegas
Cheering for Las Vegas Raiders is easy; funding stadium a tad less so
Raiders pledge move to Las Vegas, but potential stadium site still far from settled
David Beckham makes pitch to bring soccer to Las Vegas