Carr's continued development as runner could help pass game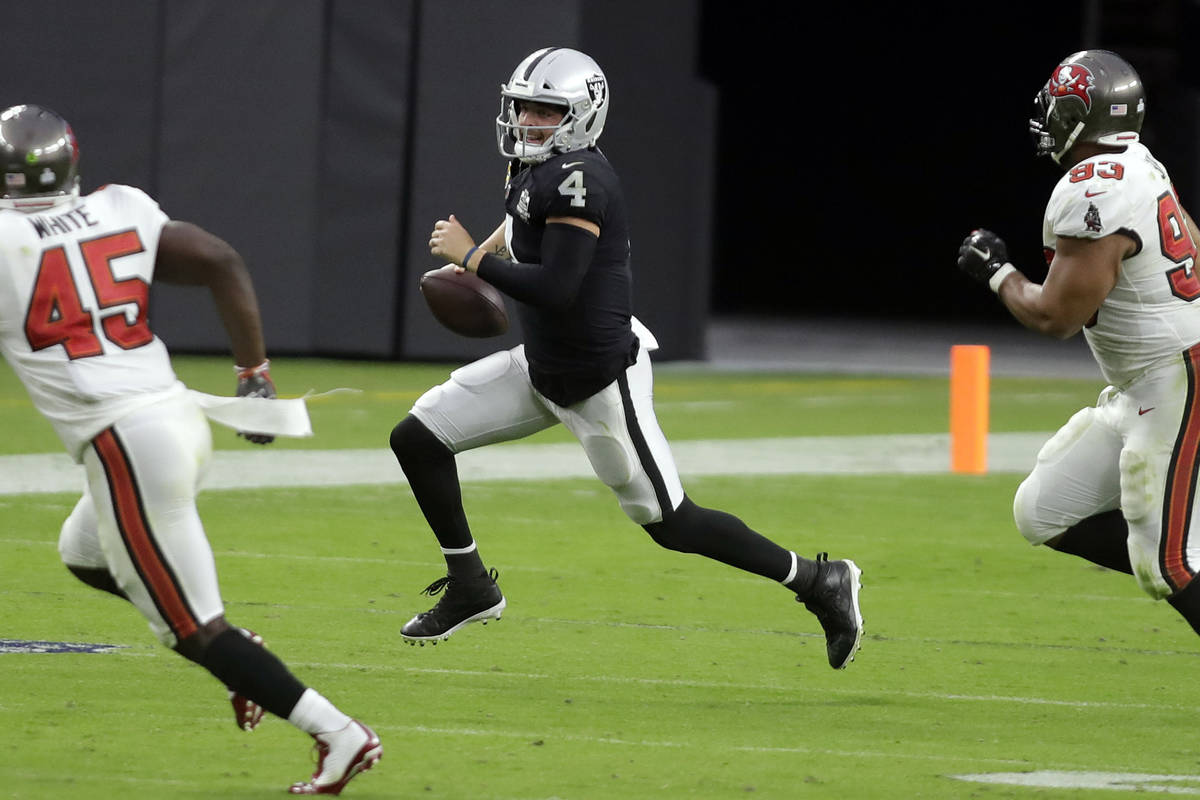 Derek Carr's right arm has been carrying the Raiders' offense for much of the first half of the season, but his legs proved beneficial on Sunday
He picked up 9.5 yards per carry on his two rush attempts, both for first downs, and helped extend several other plays against the Buccaneers' impressive front seven.
"We've talked about that since Coach (Jon) Gruden got here," Carr said Wednesday. "A lot of completions outside the pocket on scramble drills, me running for first downs … that's stuff that we have stressed. Now it's becoming second nature for me."
Carr had just 34 yards rushing in the first five games, but he's aware what a weapon his ability to extend plays can be for the offense.
He expects to continue running more often in his third season with Gruden.
"I think if I go back the first year, it was a struggle because I was just learning the playbook, trying to figure my way and play the way he wants me to play," Carr said. "Then last year we were able to scramble and run now and then … We had scrambled and mostly thrown the ball.
"This year we've been able to do both. … I've been able to get out and run some first downs and throw the ball outside the pocket too."
The next step for Carr is to put more pressure on the defense by combining the threat of the quarterback run outside the pocket with the possibility of stopping short of the line and making big plays downfield to receivers who keep their routes alive.
He has already seen that situation develop a few times this season.
"They have to choose right now if they're going to come out of their coverage responsibility or are they going to stay back, and it does allow for some big plays," he said.
Injury report
Rookie wide receiver Bryan Edwards returned to practice Wednesday for the Raiders in a limited capacity.
He has been out since suffering an ankle injury against the Patriots last month. Edwards also has a knee issue and is unlikely to play on Sunday in Cleveland.
Tackle Sam Young, who left Sunday's game with a knee injury and did not return, also got in a limited practice on Wednesday.
Defensive end Carl Nassib and defensive tackle Arden Key were both limited due to foot injuries. Defensive tackle Maliek Collins (shoulder), cornerback Keisean Nixon (groin) and safety Dallin Leavitt (ankle) each got in limited sessions.
Josh Jacobs was limited by a knee injury and center Rodney Hudson got a veteran rest day.
"I know Richie Incognito is getting better, but I don't believe he'll play this week," Gruden said of his starting left guard, who is eligible to come off injured reserve whenever he's healthy. "We're hoping Trent Brown can get back in the building later this week and possibly play for us. Damon Arnette is in here working out and getting close. He can resume practicing for a couple more days, maybe a week or so. And Edwards gave it a go today. I would say right now he's doubtful, but it's good to see Bryan running around again."
For the Browns, star defensive end Myles Garrett did not practice Wednesday due to an ankle injury and tight end Austin Hooper remained out due to appendicitis. Receiver Jarvis Landry (hip/ribs) was limited, as was running back Kareem Hunt (ribs).
Contact Adam Hill at ahill@reviewjournal.com. Follow @AdamHillLVRJ on Twitter.