Gruden gives QB Cook the hook after rough Raiders practice
August 13, 2018 - 8:19 pm
Updated August 13, 2018 - 8:55 pm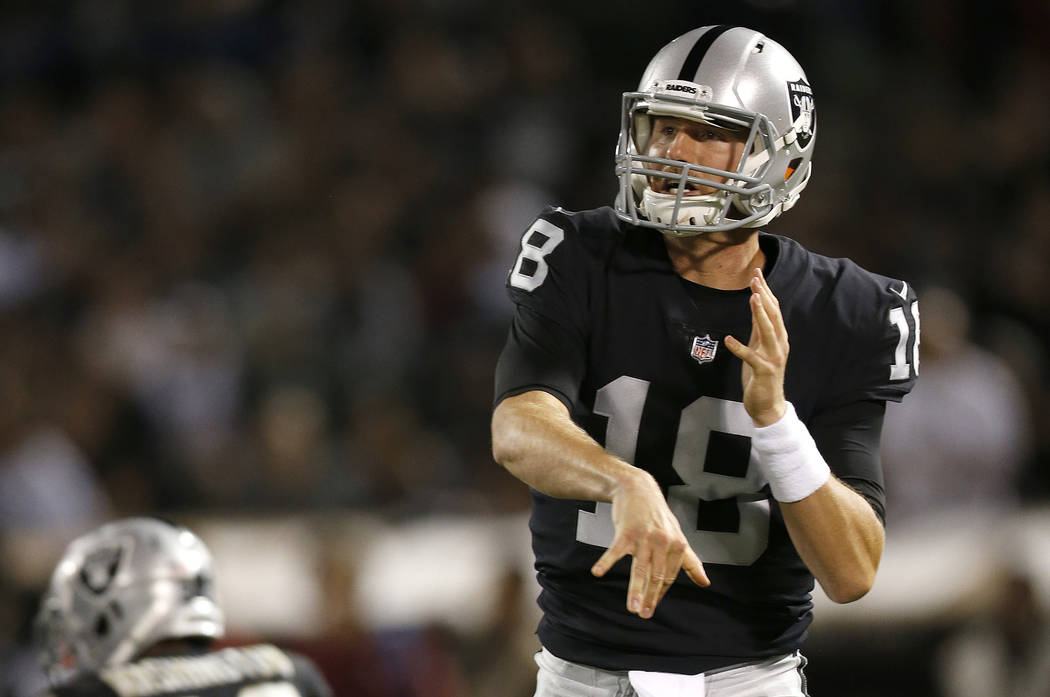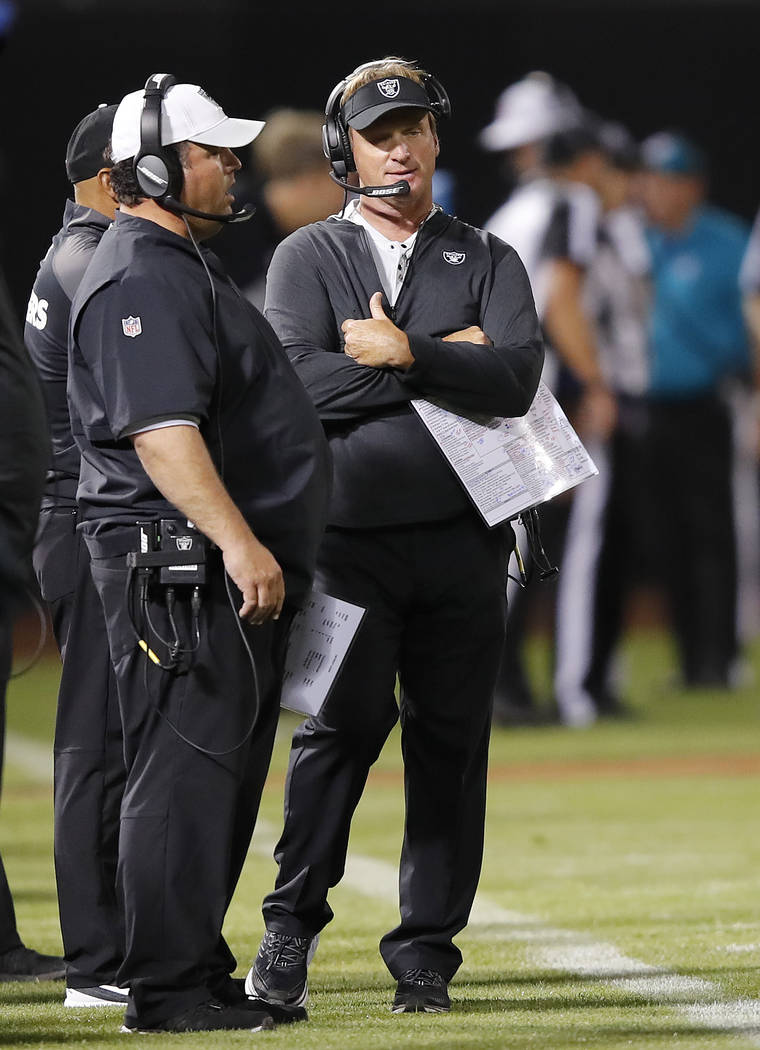 NAPA, Calif. — Jon Gruden did not appreciate the first errant pass Connor Cook threw Monday. He was not enthralled with one that followed later, the football skidding off the practice field and bouncing a few rows up into empty bleachers.
Toward the end of practice, Cook grimaced when he muffed a red-zone snap from under center. He could guess what was coming next.
The hook.
Early this offseason, the Raiders opened their No. 2 quarterback spot to competition. Cook appeared to solidify the upper hand during Friday's 16-10 exhibition win over the Detroit Lions, as he demonstrated poise and confidence when guiding a pair of second-quarter scoring drives. But he has yet to show true consistency.
Cook, 25, handled the bulk of second-team reps Monday.
When unable to field the aforementioned snap during a red-zone period, Gruden pulled Cook from action, inserting E.J. Manuel in his place. For Cook, this was not the encore envisioned.
"Well, he did some positive things," Gruden said of the exhibition opener. "I liked the look in his eye. I thought he was confident, he was in control, and again he moved the football team and did some good things. We made it hard on him today, put him in some tough positions. You don't get a chance to read your clippings and celebrate your press conferences for long in this business.
"So hopefully he got his eyes opened today and can learn from his film. He obviously missed a couple throws we expect him to hit."
Manuel served as Derek Carr's primary backup in 2017.
The role twice produced meaningful snaps, first in the second half of a road game against the Denver Broncos and the next week at home versus the Baltimore Ravens. These opportunities arose after Carr fractured three bones in his lower back in Denver.
No team hopes to service a reserve quarterback in high-leverage situations.
Alas, the Raiders must be prepared.
Gruden raised the stakes Monday for Cook after he finished 11-for-19 with 141 yards and a touchdown against Detroit. The wrinkle consisted of having coordinator Paul Guenther dial up more exotic blitzes, to which Cook was tasked with reading and reacting at the line of scrimmage before the snap.
Cook acknowledged Monday that he could have fared better at responding to those situations.
"But that's why it's practice," he added. "You work on it. You try to perfect your craft and come out and be better tomorrow. … You want to be consistent — consistency in everything, not just a game, a practice but everything. That's my main goal, to come out here and win each practice, be the best version of myself that I can be in practice (and) a game and keep the foot on the gas."
The Raiders' evaluation for Carr's backup is complex.
How Cook and Manuel respond to game situations is important, no doubt. But in the preseason, neither figure to see complex pass-rush designs, given defensive coordinators tend to use the most vanilla pages of their playbook during exhibitions. This should especially be the case Saturday. The Raiders and Los Angeles Rams likely won't show each other much, given they'll meet Sept. 10 in the season opener.
So, practice reps against Guenther's defense carry significant weight.
"We're still figuring out who's the No. 2 quarterback," Gruden said Monday.
More Raiders: Follow all of our Raiders coverage online at reviewjournal.com/Raiders and @NFLinVegas on Twitter.
Contact reporter Michael Gehlken at mgehlken@reviewjournal.com. Follow @GehlkenNFL on Twitter.