Meet the Raiders' 9 draft picks, from No. 7 to 231
Updated April 29, 2023 - 7:45 pm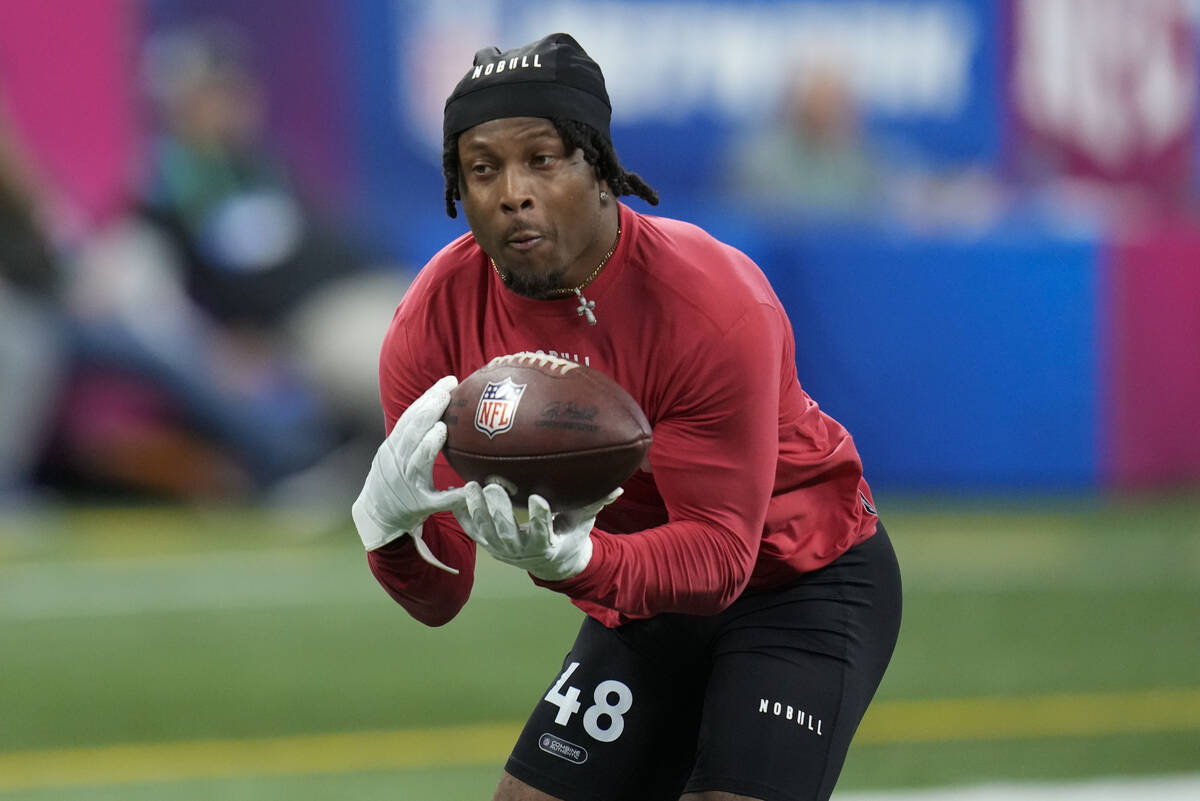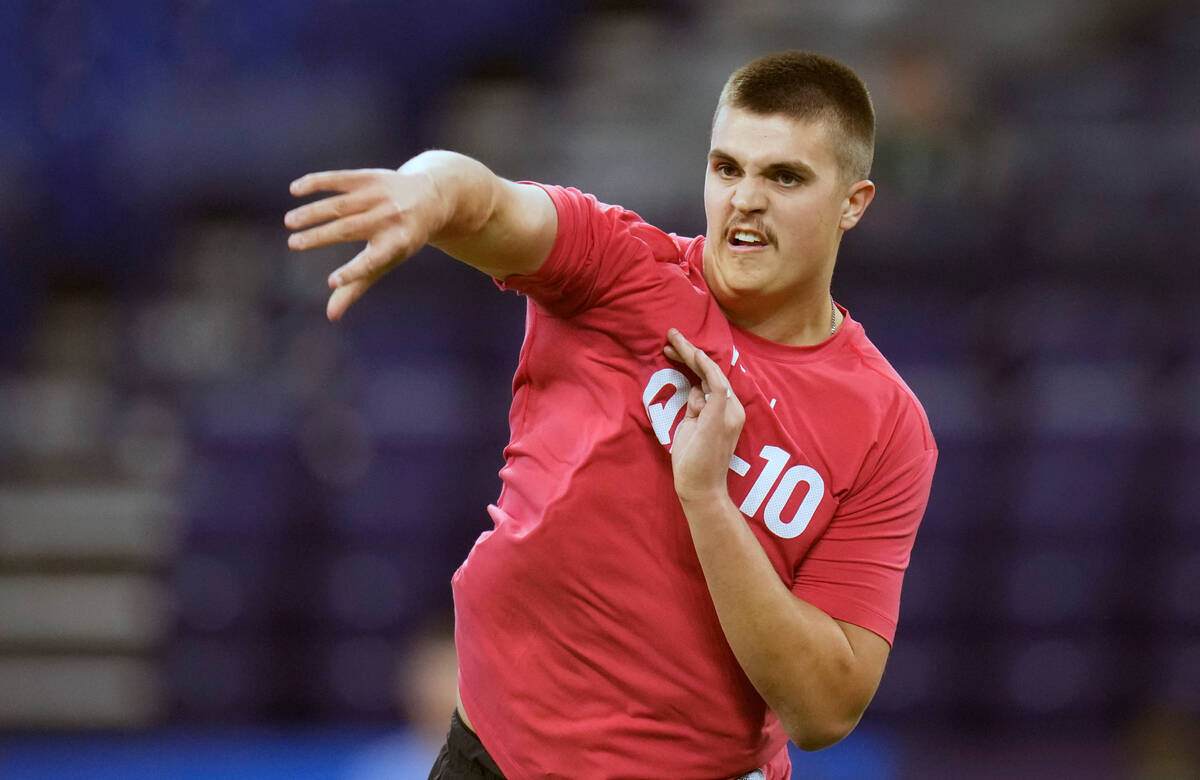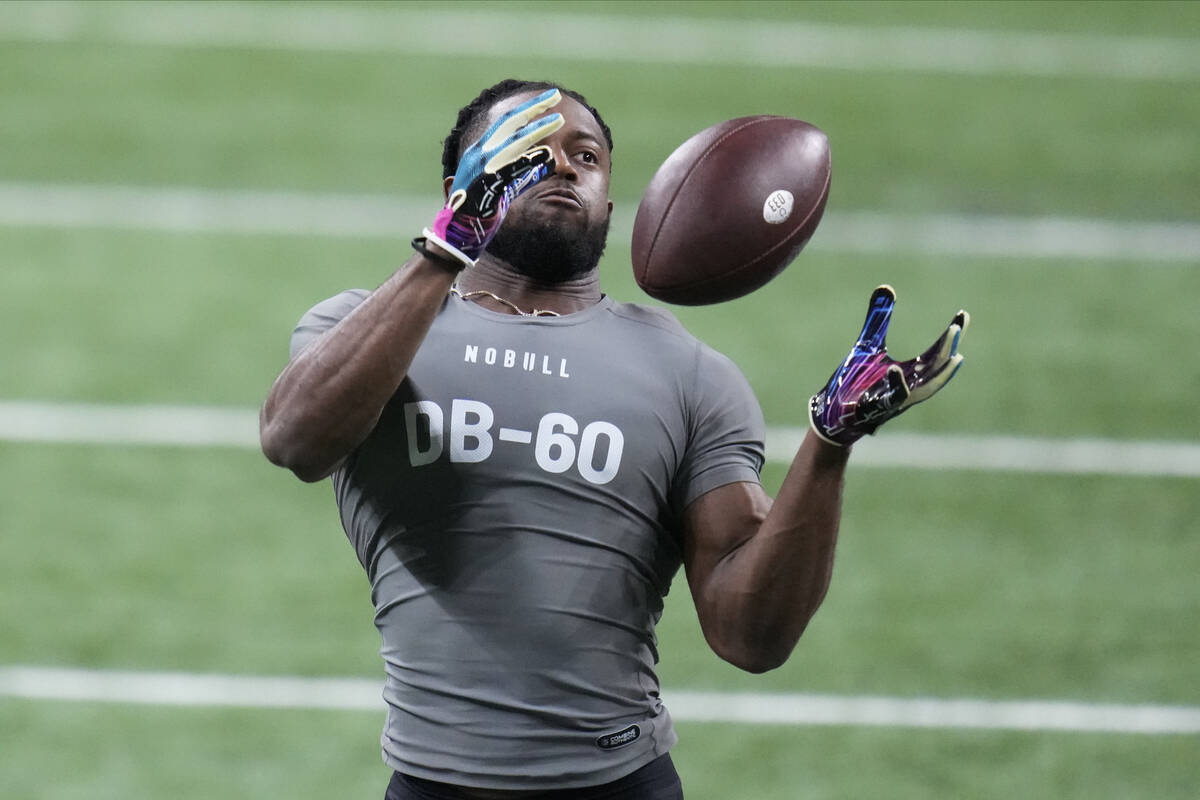 Who: Tyree Wilson, edge, Texas Tech
Pick: First round (7th)
Hometown: Henderson, Texas
Size: 6-6, 271 pounds
Role: Wilson will eventually pair with Maxx Crosby to form what the Raiders hope will be one of the NFL's elite pass rush duos, but for now he will learn from Crosby and Chandler Jones and play in a rotation.
Analysis: After struggling in his first few seasons, he broke out in 2022 and played well enough to be a first-round draft pick. Wilson tallied 50 pressures and eight sacks this past season, resulting in a 79.4 pass-rushing grade. As far as edge rushers go, Wilson is as lengthy as they come. He is also extremely versatile, having played both inside and outside linebacker at times throughout college. — Pro Football Focus
Quotable: "He has an ability to disrupt. We want to be able to eventually develop over time a front that's able to come in waves and you're able to keep guys fresh. That's important in this day and age, because we have quarterbacks (in the AFC West) that run around, like (Justin) Herbert (and) Russell Wilson (and) Pat (Mahomes) can move around in his own way." — General manager Dave Ziegler
Who: Michael Mayer, tight end, Notre Dame
Pick: Second round (35)
Hometown: Independence, Kentucky
Size: 6-4, 249 pounds
Role: The Raiders signed two veteran tight ends this offseason, but Mayer represents the franchise's future and is probably too talented to not have a role this season.
Analysis: Big combination tight end with the demeanor for run blocking and the size for tough, chain-moving catches underneath. Mayer will come into the league with better blocking technique than most tight ends in this year's draft. He's built for in-line duty and was an extension of the Notre Dame offensive line at times. His feet are a little heavy getting into and through his routes, but he has the hand strength and contact balance to win heavily contested catches on the first two levels. Mayer might need to polish his route running to become a high-volume target, but he's a safe pick and will be a good pro who can become a plus player as a run blocker and pass catcher. — NFL.com
Quotable: "A really unique thing about him is his short area quickness. He's a bigger guy, but when you watch the tape, he still has the ability to win in a short area, can win on third down, use his size down in the red zone. … Probably in terms of our scale of traits, one of the highest guys on our board." — Ziegler
Who: Byron Young, defensive tackle, Alabama
Pick: Third round (70)
Hometown: Laurel, Mississippi
Size: 6-3, 294 pounds
Role: He has a lot of experience at the highest levels of college football and should plug right into the rotation at a position that needs the infusion of talent.
Analysis: Young is one of the better interior run defenders in this class. He earned an 88.8 run-defense grade in 2021 and a 75.6 mark in 2022. He has long 34-inch arms that he uses well. — Pro Football Focus
Quotable: "We see him being able to play inside. We also see him being able to bump out and play big end for us in some of our different defensive packages." — Ziegler
Who: Tre Tucker, wide receiver, Cincinnati
Pick: Third round (100)
Hometown: Akron, Ohio
Size: 5-9, 182 pounds
Role: He will bring a lot of speed and figures to be a key special teamer. Unless the depth chart is shaken up at receiver, which is possible, it will be tough to find reps on offense.
Analysis: Tucker's slight frame and short arms work against him, but his speed and quickness give him the ability to uncover on all three levels. He's going to struggle to make contested catches, whether it's a defender or the ground doing the contesting. While he can stretch the field, he might be most effective as a possession target underneath and gadget option capable of making plays with the ball in his hands. His specific attributes create a higher ceiling but lower floor as a pro. — NFL.com
Quotable: "I grew up a wrestler. Wrestling is a tough sport. I've always loved contact in football. I played defense in high school. So I kind of invite (contact). Being a smaller receiver, not too many people expect that. … My coach would always say at Cincinnati, 'You're going to get hit anyway, you might as well catch and get your money's worth.' " — Tucker
Who: Jakorian Bennett, cornerback, Maryland
Pick: Fourth round (104)
Hometown: Mobile, Alabama
Size: 5-11, 188 pounds
Role: A playmaker with elite speed who might not be ready to see a lot of snaps right away, but should compete for a spot in the rotation.
Analysis: High-cut cornerback who is more of a catch-challenger than an instinctive ballhawk. The high passes defensed total is an example of how aggressive Bennett is at the catch point, and he's clearly effective at tilting the 50/50 ball in his favor. However, his coverage tends to lack the needed anticipation and discipline to stay connected to NFL route runners. He has good size, but his coverage strength is a mix and match of man and zone with both featuring inconsistencies that will likely follow him into an NFL camp. — NFL.com
Quotable: "I would say speed is probably one of my biggest strengths. That and versatility. So just having speed in your back pocket, I feel like that's one of the better things that gives me the edge." — Bennett
Who: Aidan O'Connell, quarterback, Purdue
Pick: Fourth round (135)
Hometown: Long Grove, Illinois
Size: 6-3, 213 pounds
Role: He will walk into a good situation for a young quarterback to develop behind two veterans who have a lot of experience in the system and a history of nurturing young players.
Analysis: Aidan O'Connell is a gamer without a doubt, but he is not a starting-caliber quarterback. I envision and project him as a long-term backup quarterback, one who could be a spot starter to get your team out of a pinch. Overall, he has an average set of tools and an average skill set. — Draft Network
Quotable: "I was pretty low on the depth chart, but my family and my friends always made me feel like I was the best quarterback in the world even when I wasn't." — O'Connell, on going from walk-on to NFL draft pick
Who: Christopher Smith II, safety, Georgia
Pick: Fifth round (170)
Hometown: Atlanta
Size: 5-11, 192 pounds
Role: A smart player who needs work on his tackling to be a consistent performer in the Raiders' defense, but could provide depth and help on special teams.
Analysis: Smith brings leadership, toughness, versatility and playmaking to a defense. He projects as a free safety/nickel hybrid defensive back. His positional versatility allows him to be on the field with two other safeties if necessary. He provides three-down value and the potential to become an impact starter after a season or two. — Draft Network
Quotable: "(I play) tough and violent. I'm not the biggest in terms of measurables, but I like to make up for that with how I attack the game." — Smith, on how he makes up for his lack of prototypical size
Who: Amari Burney, linebacker, Florida
Pick: Sixth round (203)
Hometown: St. Petersburg, Florida
Size: 6-1, 233 pounds
Role: A former cornerback in college who should be able to cover tight ends and running backs but has struggled at times in that area. He does play well attacking the line of scrimmage and could prove to be a solid contributor down the road.
Analysis: Burney is a quick pursuit linebacker who really put it together as a senior. He is more of a one-gap defender who plays with a special teams mentality. — Pro Football Network
Quotable: "I feel like when I'm in coverage you don't have to double the man that I'm guarding. I had the best hands on Florida last year … I used to play receiver, so I don't drop too many interceptions." — Burney
Who: Nesta Jade Silvera, defensive tackle, Arizona State
Pick: Seventh round (231)
Hometown: Broward County, Florida
Size: 6-2, 304
Role: The Miami transfer will provide another depth piece at an area of need as the Raiders continue to try to solidify the line of scrimmage.
Analysis: Interior plugger set for duties as a nose tackle in a 4-3 front. Silvera is fairly nimble and can get into blockers quickly. He plays with knock-back power and can hold his ground against single blockers. He struggles to feel and respond to down blocks. Also, he has trouble reading and reacting to lateral steps looking to seal him behind the play. (But) Silvera has talent and is active. — NFL.com
Quotable: "The biggest strength to my game is my tenacity — I'm bringing it every play. And I'm an effort guy, so that's what you're going to see out of me." — Silvera
Contact Adam Hill at ahill@reviewjournal.com. Follow @AdamHillLVRJ on Twitter.