Q and A with Jason Horowitz, new radio voice of Raiders
Updated September 11, 2022 - 12:29 pm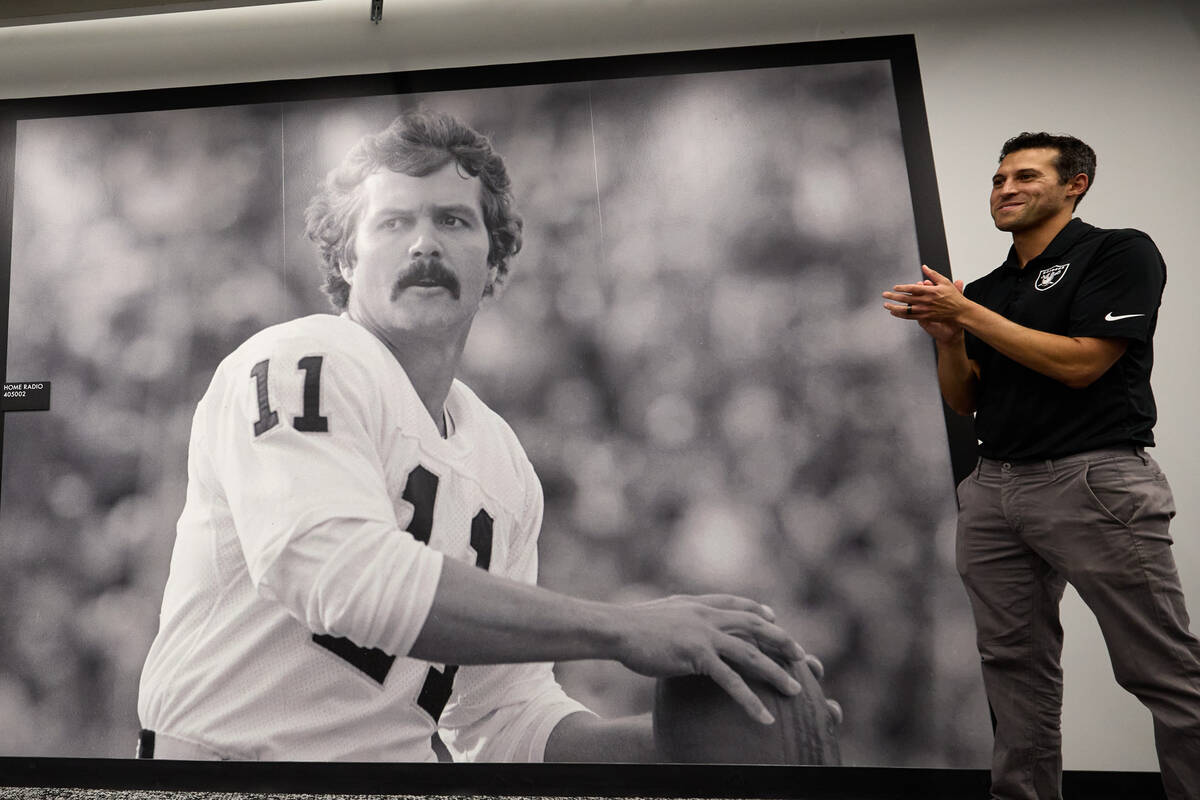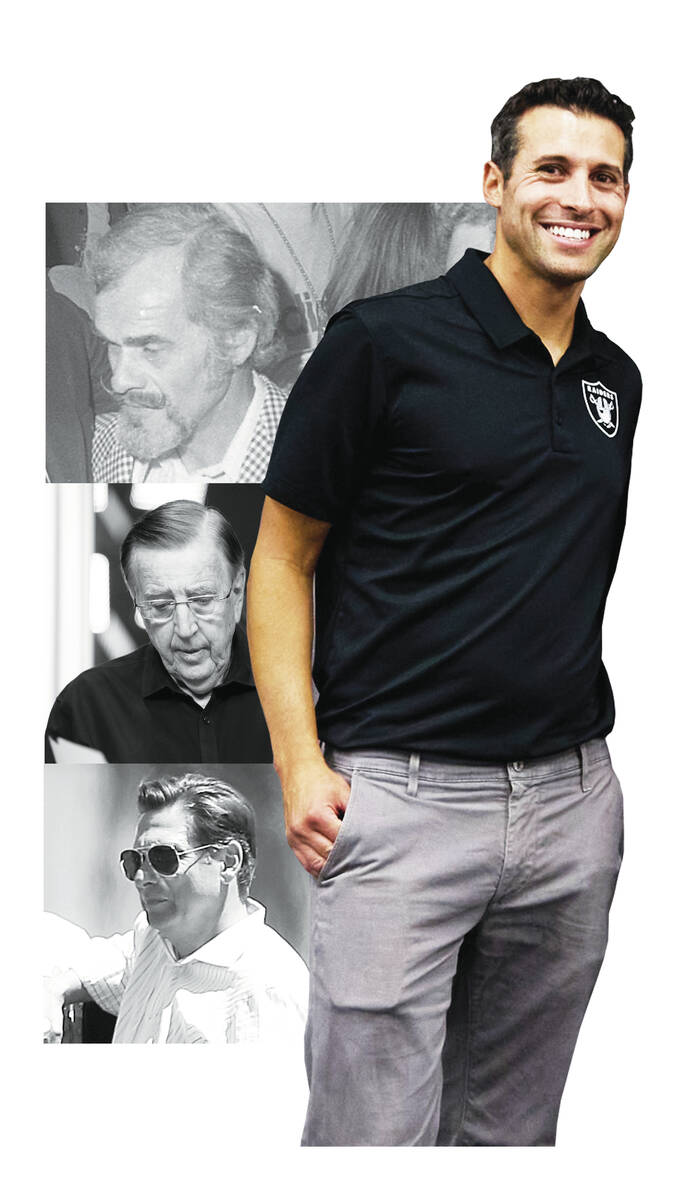 Jason Horowitz officially becomes the broadcast voice of one of the most iconic franchises in sports history on Sunday when the Raiders play the Chargers in Los Angeles.
Horowitz, who was hired in July, is a Michigan native and Syracuse University graduate. He replaced Brent Musburger, who called Raiders games from 2018 to 2022.
Previously, Horowitz called Army football games on CBS Sports Network, while doing college basketball games for both the Big 10 Network and CBS Sports Network.
The 39-year-old sat down this week for an interview about his new assignment with the Review-Journal.
Interview has been edited for clarity and length.
Las Vegas Review-Journal: You've done mostly national work in your career, but now you are the broadcast voice of a franchise. Is there a fine line between being the local presence of a particular team while also calling games with balance and objectivity?
Jason Horowitz: I think it's extremely important to acknowledge we are the voice of the Raiders. Our employer is the Raiders. That being said, whenever the opponent does something great, I'm not going to sound like my aunt just passed away. That's not how I grew up with all this stuff. The action is still the action. And the way I always envision this in terms of being a team's play-by-play guy is that you describe greatness as greatness, whether it's the Raiders or, in this weekend's case, the Chargers.
RJ: What do you see as the biggest difference in transitioning from a national broadcaster to the voice of one team?
JH: As a national broadcaster, you jump into it and you do your best to read as many articles as you can and you talk to coaches and do your homework in order to be on top of things and create storylines. But the reality is, when you're getting to November, it's really hard to read every article. And frankly, it's impossible.
In this case, as the Raiders broadcaster, you already know what has happened and how it's affected the Raiders and every player all the way from week one through 18. So it is drastically different being with the team for every single game, knowing what preseason was like, knowing what Josh McDaniels said going all the way back to the Hall of Fame game.
RJ: Were you drawn to that aspect?
JH: Yes, very much so. And not just because I'll be able to tell an entire season's storyline. And hopefully, tell 20 years of storylines. But also, I like the fact that the fans are going to turn to me, much like they turn to the reporters that cover the team, as preeminent voices of the franchise. And there's so much of that here with, this franchise.
It's a story that needs to be told, particularly now that it really does feel like a new era. I know the Raiders have had a lot of coaches in the last 20 years, a lot of turnover. And of lot of 'hey this feels like a new era, this is going to be the year.'
But it really does feel like hey, this is the time when things turn around and the Raiders are about to be a team that's going to be reckoned with for years to come. And so to start from that point, the beginning of the Josh McDaniels and Dave Ziegler era, and move forward with that era and the new president, it feels special. I'm really looking forward to that.
RJ: Has it hit you that you are the newest broadcast voice of such an iconic franchise?
JH: It does feel like something special. I distinctly remember the Patriots preseason game, during alumni weekend, and we had a bunch of alumni join us in the booth. Guys like James Lofton and Jerry Robinson, and we were all having so much fun, and I texted my wife and said 'this is so awesome.'
And look, I've done that before. Like, I've always enjoyed my job. But being new here, it's been so great to get to know everybody around the organization. And people are so excited for the team and for the energy around the broadcast as well. I've truly enjoyed every step of the first five or six weeks, and I hope that never changes.
RJ: I'd imagine you know you're following a pretty illustrious and, frankly, short list of great Raiders broadcasters
JH: I am very well aware of who preceded me, and the history involved. People know Bill King. People know Greg Papa. People obviously know Brent Musburger and everything he has been in the history of sports broadcasting. And even Joel Meyers, who had a short stint, has had a continuously productive, phenomenal TV and radio career. So it is an honor to follow them.
RJ: Who were your broadcast heroes?
JH: Well, growing up in Detroit, listening to Ernie Harwell call Tigers games, it really starts there for me. Hearing him call games, there was always the sense that he had a smile while he was talking and calling the game. And that was something that was never lost on me.
I'll never forget, I was interning at Fox Sports Detroit, and I was running tape and logging highlights and all the things that you do as an intern. And my best friend was actually interning for the Tigers. So he had me up in the press box before a game once, and we were sitting down to have dinner and Ernie Harwell came over and sat with us. My friend introduced us, and Ernie chatted with us for maybe five minutes or so.
Anyway, three or four weeks later, I was back on the field at Comerica Park and I hear Ernie call out my name. And you know, at that point Ernie was probably in his late seventies, and yet he remembered my name after a five-minute conversation. That blew me away. But the smile that people always described was real, and the energy was real. And all those things that I had always heard about him, all of it was true.
RJ: When you hear the name Raiders, what comes to mind? And has that changed since taking this job?
JH: My perception of the Raiders, beforehand, was a franchise that was once great and has been working to get to that point again, And of course, you think about the Raiders and you think about the Black Hole and Raider Nation and it's incredible fan base. Things of that nature. And all of that is still true, from my perspective.
That said, and granted I've only been here a little while, but I'm part of a group of people that really seem to enjoy being part of this organization. That passion and energy is something that I had heard about. But it's one thing to hear about it, and an entirely different thing to actually experience it after being hired.
I've started to ask my colleagues who have been a part of other organizations, whether for one year or 15 years and everything in between, 'hey, is this actually different here than it is elsewhere?' And most of them have said yes. Yeah. And that is something that, I mean you always hear once a Raider always a Raider and you're like, ok, yeah, sure. And then you join it and you see it and experience it and you're like, oh, they really do mean it.
Contact Vincent Bonsignore at vbonsignore@reviewjournal.com. Follow @VinnyBonsignore on Twitter.