Raiders draft could be altered by arrest warrant for Jalen Carter
Updated March 1, 2023 - 11:10 pm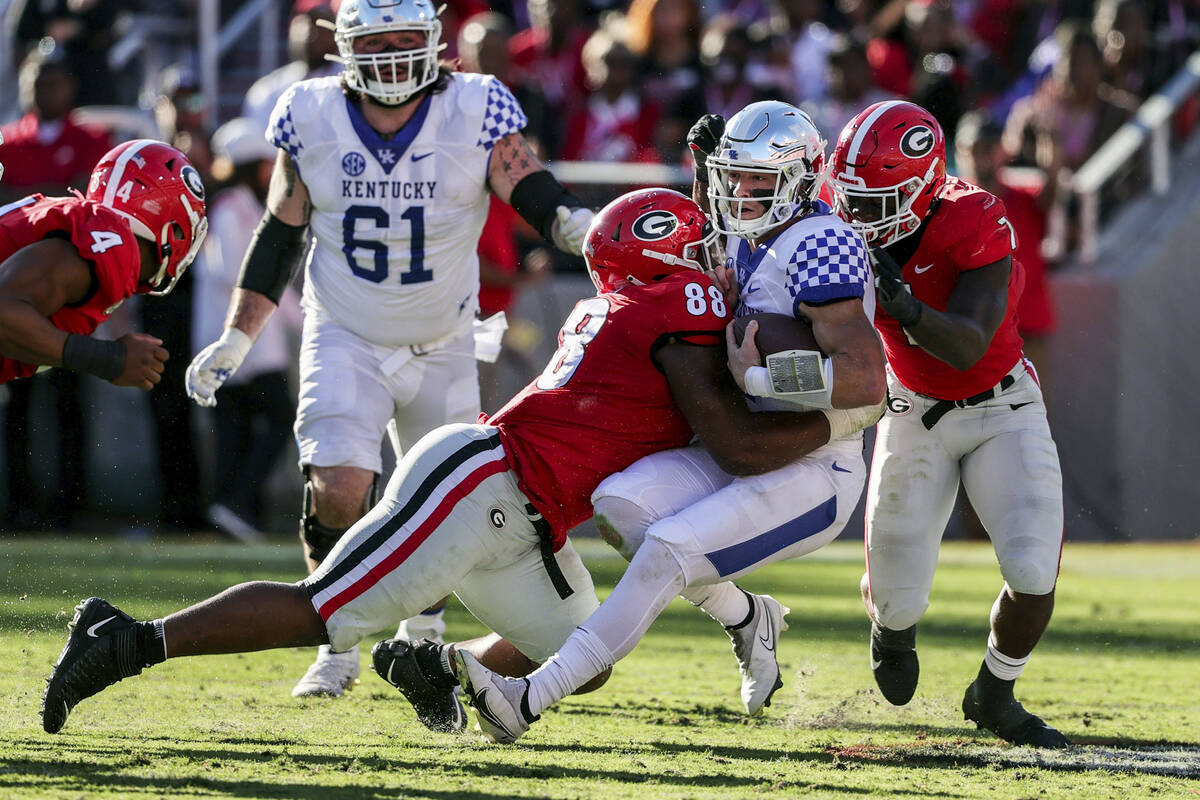 INDIANAPOLIS — In a stunning turn of events Wednesday, the top of April's NFL draft was rocked to its core. And the ripple effect will almost certainly impact the Raiders' draft plans.
Georgia defensive tackle Jalen Carter, the prohibitive No. 1 non-quarterback pick, abruptly left the NFL scouting combine after an arrest warrant was issued for him in connection with a Jan. 15 car crash that killed Bulldogs teammate Devin Willock and Georgia recruiting staffer Chandler LeCroy.
The warrant, issued by the Athens-Clarke County Police Department, accuses Carter of reckless driving and racing. Both are misdemeanor charges.
In a statement, the department said an investigation found that the vehicles LeCroy and Carter were driving "switched between lanes, drove in the center turn lane, drove in opposite lanes of travel, overtook other motorists and drove at high rates of speed in an apparent attempt to outdistance each other."
The statement added that LeCroy's vehicle was traveling about 104 mph, and her blood alcohol concentration was .197 at the time of the crash.
According to a story in the Atlanta Journal-Constitution, Carter initially told police he was almost a mile away when the crash happened. He later changed that story to say he was behind the other vehicle and could see its taillights. Finally, Carter said he was alongside the car when it crashed.
The Raiders pick seventh in the first round and are not necessarily in position to select Carter. But should he slide in the draft because of his role in the crash, it could mean a player they are targeting might be selected before they are on the clock.
If Carter falls to the Raiders' spot, their recent history with wide receiver Henry Ruggs would give them major pause to draft him. Ruggs, whom the Raiders selected with the 12th pick in the 2020 draft, was arrested in November 2021 and is facing DUI charges in connection with a deadly crash.
The Carter news broke about a half-hour before he was scheduled to speak to the media at the combine. He later issued a statement in which he expressed confidence he will be cleared of any wrongdoing.
"It is my intention to return to Athens to answer the misdemeanor charges against me and to make certain that the complete and accurate truth is presented," Carter said. "There is no question in my mind that when all of the facts are known that I will be fully exonerated of any criminal wrongdoing."
Georgia linebacker Nolan Smith became emotional Wednesday when talking about Willock at the scouting combine.
"This is the first time I'm talking about it," Smith said. "That's my guy. That's one person that never did anything wrong. I get sensitive talking about it just because I love him. He never did anything wrong in his three years."
In a statement, Georgia coach Kirby Smart said: "The charges announced today are deeply concerning, especially as we are still struggling to cope with the devastating loss of two beloved members of our community. We will continue to cooperate fully with the authorities while supporting these families and assessing what we can learn from this horrible tragedy."
The Associated Press contributed to this report. Contact Vincent Bonsignore at vbonsignore@reviewjournal.com. Follow @VinnyBonsignore on Twitter.