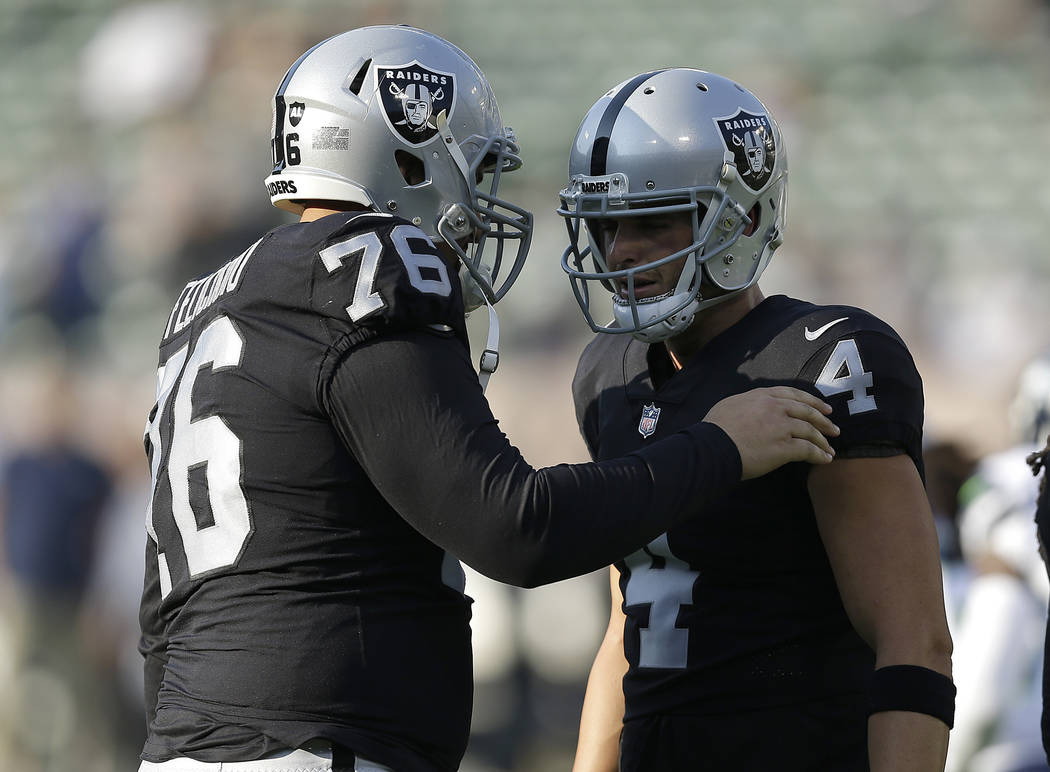 BRADENTON, Fla. — Jon Feliciano knows the IMG Academy well.
Perhaps, even too well.
Most Raiders players were introduced to the campus in 2016 when the franchise spent a week training here as it's doing now. They learned about the state-of-the-art sports facilities and students-athletes who use them. High schoolers who play football at IMG, for example, are charged up to $75,200 per year for tuition and boarding. The rate varies by sport, climbing up to $85,200 for golfers.
Felciano's experience dates back further.
He trained at IMG in 2015 for a major opportunity. In that regard, times haven't changed.
Feliciano is preparing for potentially his second start of the season. He was a bright spot Oct. 1 when he stepped in for right guard Gabe Jackson, who suffered a foot injury against the Baltimore Ravens. Jackson is now dealing with an ankle injury and has yet to practice this week leading up Sunday's game versus the Miami Dolphins.
Feliciano first arrived at IMG to prep for the 2015 NFL Scouting Combine in Indianapolis.
An exhaustive training regimen met him, one that at times pushed him mentally as much as physically.
"Strict," Feliciano said. "They had us on a crazy schedule: 6:30 (a.m.) to 5:30 (p.m.) every day. And then they got mad when you skipped stuff. …. They'd want us there at 6:30 for breakfast. Our next (event) was at like 7:30. I was like, 'I'm not going to get there that early.' I'd get there at 7, and they'd be mad. They'd have my breakfast and (say), 'It's been sitting here.'"
Feliciano grew up in Davie, Florida, just north of Miami Gardens where the Raiders will face the Dolphins.
Coaches have confidence in him, should he start.
In Week 5, he not only was the team's highest-graded offensive lineman versus Baltimore but the second-highest graded guard in the league, according to Pro Football Focus. He is the first offensive-line option off the bench under most circumstances, filling in at left guard, center or right guard. He's even seen two snaps at fullback this season, including one Sunday on a 1-yard touchdown run by fullback Jamize Olawale against the Buffalo Bills.
An official announcement on Jackson's status won't be made until Friday afternoon when the Raiders submit their injury report. Sunday would mark the fifth career start for Feliciano, a former fifth-round draft pick.
"Jon's an athletic, big guy," coach Jack Del Rio said. "He brings toughness. He's versatile. He's played all along the offensive line — he's played tackle; he's played guard; he's played center — so he's very versatile. He's played fullback. He's played tight end. He's a smart guy. He's a tough guy and brings that great versatility."
Added offensive coordinator Todd Downing: "We get a chuckle every once in a while on the sidelines. There's a big play down on our sideline, and you can see our bench, and Jon Feliciano is always one of the first guys celebrating or helping up the ball carrier as he's gone out of bounds.
"The guy plays the game with passion and joy and energy and a nastiness and tenacity that I really, really respect and appreciate. … He is a starting-caliber player in this league, and we feel very, very fortunate that if Gabe can't answer the bell that Jon is ready to go."
A couple years ago, IMG Academy helped prepare Feliciano for an NFL opportunity.
He is back now, living it.
More Raiders: Follow all of our Raiders coverage online at reviewjournal.com/Raiders and @NFLinVegas on Twitter.
Contact reporter Michael Gehlken at mgehlken@reviewjournal.com. Follow @GehlkenNFL on Twitter.