Report: Raiders might lure Jon Gruden back to coaching
December 30, 2017 - 7:54 pm
Updated December 30, 2017 - 11:07 pm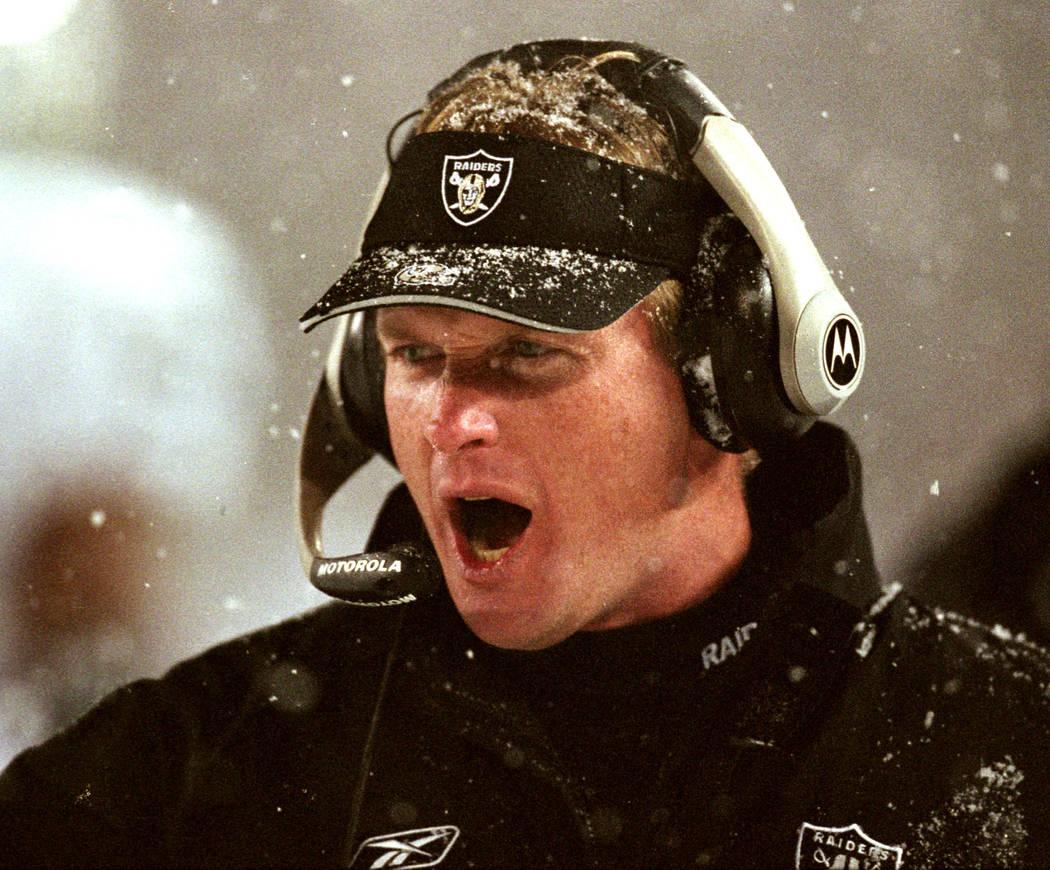 CARSON, Calif. — There appears to be a real chance Jack Del Rio will be on the sideline Sunday for the final time as the Raiders' head coach. And Jon Gruden is a potential replacement.
ESPN cited sources Saturday evening when reporting Gruden, a former Raiders coach who now works as an ESPN analyst, will be tempted to accept a strong offer to coach the Raiders. Owner Mark Davis reportedly is preparing such a proposal which could include an ownership stake in the franchise.
Gruden, 54, has not coached since the 2008 NFL season.
The colorful coach-turned-commentator is the type of character — with a Super Bowl championship on his resume — that would add some shine to the franchise's already glitzy impending relocation to Las Vegas. That move is scheduled for 2020.
"I don't want to sit here and speculate. … There is no news to report," Gruden told ESPN on Saturday. "I can't say I haven't taken any phone calls. I take a lot every year from coaches, some others. … Yeah, sometimes owners. Guys want to bounce ideas off me. I'm here to help people."
The Bay Area News Group also reached him for comment.
"C'mon, man. I'm out with my wife," Gruden said. "This is crazy. I was supposed to be going to Tampa last week. … I've got nothing to report."
Davis did not return calls to the Review-Journal on Saturday night. He told NBC Sports Bay Area that he would not comment about Gruden or Del Rio's job status.
"… These rumors come about every year," he said.
The NFL Network reported that Davis plans to offer Gruden more than $10 million a year to coach the team with an stake in team ownership. League rules and legal issues with the ownership stake might cause that aspect to be deferred until after Gruden retires.
Gruden's name surfaced earlier this season with rumors of his other former team, the Tampa Bay Buccaneers, courting him. However, the Bucs announced on Friday they were retaining coach Dirk Koetter. Another NFL Network report stated the Bucs made that move after losing out on Gruden.
In recent years, Gruden has been connected with openings, including a lucrative offer from Indianapolis last season.
Before Gruden became the subject of annual reports and rumors of his possible coaching return, he was 34 when the Raiders hired him in 1998.
The opportunity followed a three-year stint as the Philadelphia Eagles' offensive coordinator. Oakland went 8-8 in his first two seasons, 12-4 in 2000 and 10-6 during his final year. The Raiders then accepted a Godfather trade offer from the Buccaneers. The package featured 2002 and 2003 first-round picks, 2002 and 2004 second-draft choices and cash.
The offer was too good to refuse.
Last year, Del Rio led an overperforming Raiders roster to a 12-4 finish. The team went 5-0 in games decided by three points or fewer and 9-2 in one-score games. He was awarded a four-year extension in February.
There has been, however, ripples of tension in team headquarters amid a 6-9 campaign, which ends Sunday at the Los Angeles Chargers. That has produced a landscape in which no resolution can be ruled out. This overlaps with the regard for which Davis holds Gruden.
Meanwhile, delicacy surrounds the situation. Bob Lamonte is a venerable agent whose client sheet is composed of a who's-who of NFL coaches and front-office personnel. The list includes Jon and brother Jay Gruden, the Washington Redskins' head coach — plus Del Rio.
Lamonte could not be reached for comment.
This Gruden deal would represent an avalanche for the front office and coaching staff. While Gruden surely would retain some personnel, his arrival could sweep everything from a structural standpoint.
But on Saturday evening, the gravity of Sunday's game against the Los Angeles Chargers at the StubHub Center became decidedly clear.
The Raiders' season is nearly over. So might be the state of the franchise as it's currently known.
Contact reporter Michael Gehlken at mgehlken@reviewjournal.com. Follow @GehlkenNFL on Twitter.