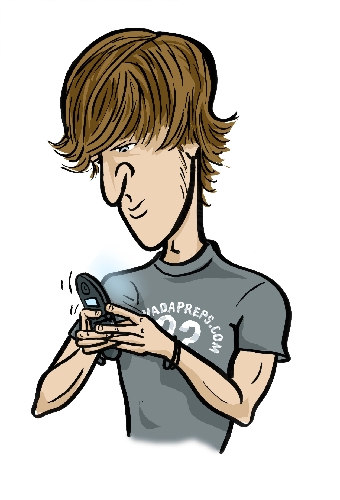 If you're like me, you get about 94 phone calls a day from candidates or parties or random celebrities, all backing this candidate or that one.
And that got me thinking. (I know. Dangerous.)
I should run for senator. After all, I can't be any worse than the two candidates we have, or however many senators there are.
And then I found out you have to be 30 years old to be a senator. (Um, doesn't that mean Harry Reid and Sharron Angle add up to, like, five senators?)
Shoots down that theory. So instead of me being a senator, I decided to give the candidates a chance to pick games like I do.
They didn't have time for me, so I got one supporter for each – because I'm fair and balanced like that.
Here are four to score from Fielder's Political Forum. For four more, head to Nevadapreps.com and click on one of the many pictures of me.
■ Canyon Springs (5-2, 5-0) at Las Vegas (7-1, 5-0) — Reid supporter John Baker writes: "Senator Reid is a firm supporter of Las Vegas. He loves the city, the state and our schools.
"We don't know as much about Canyon Springs, so we'll need to ask Mrs. Pelosi how we stand and get back to you."
Great. Thanks.
Try this instead. Hasaan Henderson might not throw for five touchdowns like he did last week against Rancho, but the battle for the Northeast League should be all Wildcats. Las Vegas by 18.
■ Foothill (8-0, 4-0) at Liberty (6-1, 5-0) — Angle supporter Tom Elliott writes: "The future senator is all about protecting our liberties as Americans.
"Give us Liberty."
About 10 minutes later Elliott wrote: "Wait. We like Foothill, too."
Grrrr. I realize this is a tough pick. With Connor Afoa out, Foothill isn't quite as fierce, and Liberty appears to be back on track after a scare against Green Valley two weeks ago.
Give me … Liberty by 6.
■ Durango (7-1, 6-0) at Desert Oasis (6-2, 5-1) — OK, Tom Elliott. You get one more try.
"Mrs. Angle hopes that both teams stay healthy and that if there are injuries everyone has the same health care Senator Reid has."
Seriously? Pick someone. Anyone.
Julio Mora and the Trailblazers are explosive on offense, but so are Devin Fortenberry and the Diamondbacks.
Neither team will like me calling this the battle for second place (behind Gorman) in the Southwest, but that's what it is.
And the "We're No. 2" chant can start at … Durango by 8.
■ Centennial (5-3, 3-3) at Legacy (4-3, 3-2) — John Baker, you've got this one. Don't screw it up.
"Senator Reid's legacy is still being written. He's our voice, and he's done more to help the citizens of Nevada and the entire U.S. than I could ever write here and far more than Mrs. Angle has.
"I hope I'm still around to celebrate his centennial year and help him get elected then."
It's official. I hate politicians and their representatives.
Look, instead of telling people what you think they want to hear or ripping your opponent, make an educated choice.
Like this one.
Legacy has been way too inconsistent this year, but the Longhorns are young. They should be inconsistent.
The door is open, and Cody Clark and the Bulldogs should walk through while they can. Centennial by 4.
And one last thing. I'm officially changing my name to "None of the above." It might just be enough to get me elected this year.
If not, then vote Fielder or None of the Above in 2028.
Last week: 6-2 (overall and with points)
Season: 55-9 (overall), 44-20 (with points).
Contact Fielder at fielder@nevadapreps.com.
In-depth high school sports coverage