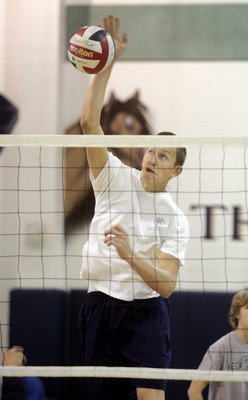 The white banner is hard to miss in Shadow Ridge's gymnasium.
It's the one that serves as a reminder that the Mustangs won the state boys volleyball title last season.
That same banner is motivation for a new crop of players hoping to build on the program's success.
Shadow Ridge lost 12 seniors and returns only four players with token varsity experience from a team that finished 22-3 and won the school's only state championship.
"It's nice to look at. It's great to see," Mustangs coach Christian Augustin said of the state championship banner. "I know the kids were proud of being the first team at Shadow Ridge to win a state championship. But now we're starting all over again."
The core group of last year's seniors were freshmen at Shadow Ridge when the school opened. They laid the foundation for the program and have given each class that follows something for which to shoot.
"The best visual teacher came last year," Augustin said. "Being able to see exactly what we expect and the type of volleyball we want to play was a great lesson. Now they have to get the actual experience on the court."
Middle blocker Preston Simper leads a group of four seniors who saw limited varsity playing time last season.
The Mustangs have seven seniors on the roster, but two are new to the game. Four juniors and three sophomores will vie for their first varsity experience.
"I definitely want to continue the tradition," Simper said. "Last year was the happiest feeling of my life. I want to feel that again before I leave and head to college."
The glass is far from half-empty. Half of the roster played on the Mustangs' 18-2 junior varsity team last year.
"This group of kids is very team-oriented, which is a great benefit," Augustin said. "A lot of these guys dedicated themselves last year, knowing they were going to move up, and played club volleyball throughout the entire year."
Still, the Mustangs have a target on their backs. Even though the names have changed, opposing teams will have extra incentive to play well when they're facing the defending state champions.
"We want to win state," said Jeff Elmer, a junior libero. "We know it's going to take a lot of work, but we want to keep improving. I'm really excited about the season."
PLAYERS TO WATCH
Arbor View — Zac Reese, Matt Ward
Bishop Gorman — Riley Foley
Bonanza — Jesse Mackay
Canyon Springs — Raymond Esteves, Kapahu Kahalepo, Nate Lewis
Chaparral — Carlos Chandia
Cheyenne — Conner Patterson
Cimarron-Memorial — Dustin Larsen, Robert Watkins
Clark — Carlo DeSantis
Coronado — Eric Boman
Del Sol — Garrick Burden
Durango — Darren Torrie
Las Vegas — Jonathan Dugan
Sierra Vista — Josh McLain, Brent Waldron, Joe White
Valley — Jimmy Videaux
Western — Jeremy Buckley