Alabama baseball case offers another lesson as sports betting grows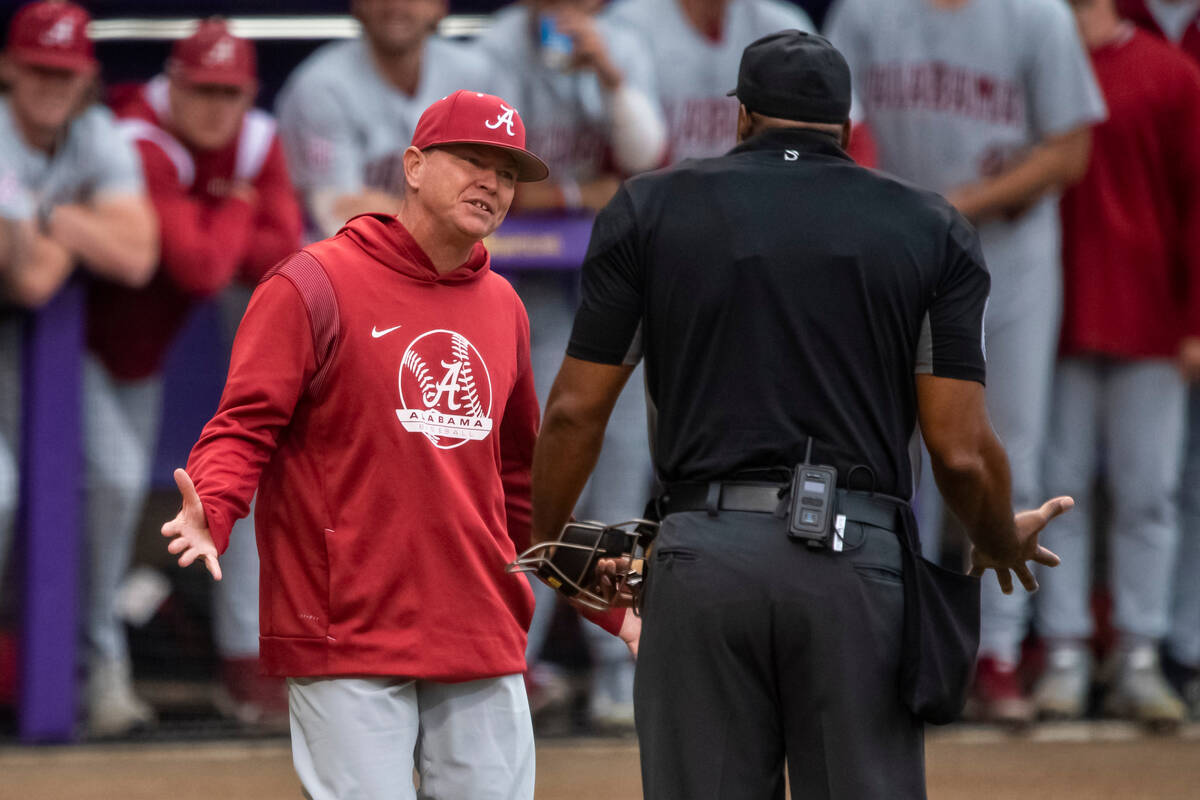 It's no surprise to those who have been following sports betting for many years that regulation generally works and is the best way to ensure the integrity of the game.
That was seen in action with the Alabama baseball case last week.
Suspicious activity was detected in a sportsbook at Great American Ball Park in Cincinnati, where an unknown bettor placed what was called a "large" wager against the Crimson Tide, who then announced their ace pitcher would be scratched from his start against top-ranked Louisiana State.
Further investigation revealed the bettor was in contact with Alabama coach Brad Bohannon around the time he placed the wager. It remains to be seen how that information was obtained, but don't rule out the possibility that cameras were simply able to zoom in on the screen of the bettor's cellphone to ascertain who was on the other end of the conversation.
Bohannon was promptly fired, and several states have removed Alabama games from the betting menu.
This is part of the reason widespread legalization of sports betting was important and had been supported for so long by those who understood the business.
When legal betting was essentially limited to Nevada, it was still going on everywhere. Wagers like this were taking place all the time, from the backrooms of dingy bars to the patios of the local coffee shop, far from the eyes of regulators.
Legalization works. These are the victories we all predicted for years.
But it creates new issues.
Not so cut and dried
Would the Alabama case have happened had sports betting not become so widespread? It's impossible to say.
It's not clear if Bohannon profited. There is a possibility he was just telling a friend, who is reportedly a former high school baseball coach, about a decision to scratch his starting pitcher before the information was publicly available and the friend independently decided to go to the window with the tip.
Highly unlikely, but possible. As so many more people are exposed to sports betting, the temptation is there for so many who might never have been comfortable seeking out a bookie on the black market.
It's also creating a dilemma for sports leagues. In this case, it was cut and dried. Alabama made the correct and easy decision to act quickly in firing Bohannon.
But some issues aren't so clear, and leagues will have more difficult calls to make.
Of the four major sports, the NHL rule is the clearest: "Gambling on any NHL game is prohibited."
Simple and obvious. Major League Baseball and the NBA have more wording to their policies, but the concept is similar: Don't bet on league games.
The NFL is where some work might still need to be done. Team employees have stricter rules than the players, including a ban on essentially all sports betting.
Players and staffers are banned from sports betting on apps inside the team facility, which is probably the right call. But there is also a ban on entering a sportsbook during a season or maintaining even a social relationship with a "sports gambler."
Define 'sports gambler'
To the first point, what is the definition of a sportsbook? As expansion continues, it seems every restaurant or bar in some of the newly regulated states has wagering windows. That will be difficult to monitor and enforce.
But not as hard as the second part.
Who isn't betting on sports these days? In the days before widespread regulation, the term "sports gambler" typically referred to the shadowy figures on the fringe of society engaged in such salacious activities as placing a three-team teaser on a Sunday. (Oh, the horror.)
But now it's more difficult to find people who don't bet on sports. So who is monitoring this ban on personal relationships with sports gamblers and who is even defining the term?
It's a reminder that as massive as this space has grown, there is still a lot to figure out.
One certainty is that college coaches shouldn't be on the phone with a person at the window ready to make a wager on a decision that hasn't been announced publicly.
Or, if they do, they should have the person change the name on the contact so it's not as easy to spot.
Contact Adam Hill at ahill@reviewjournal.com. Follow @AdamHillLVRJ on Twitter.