Former Gorman coach celebrates Gaels' NFL reunion in Cleveland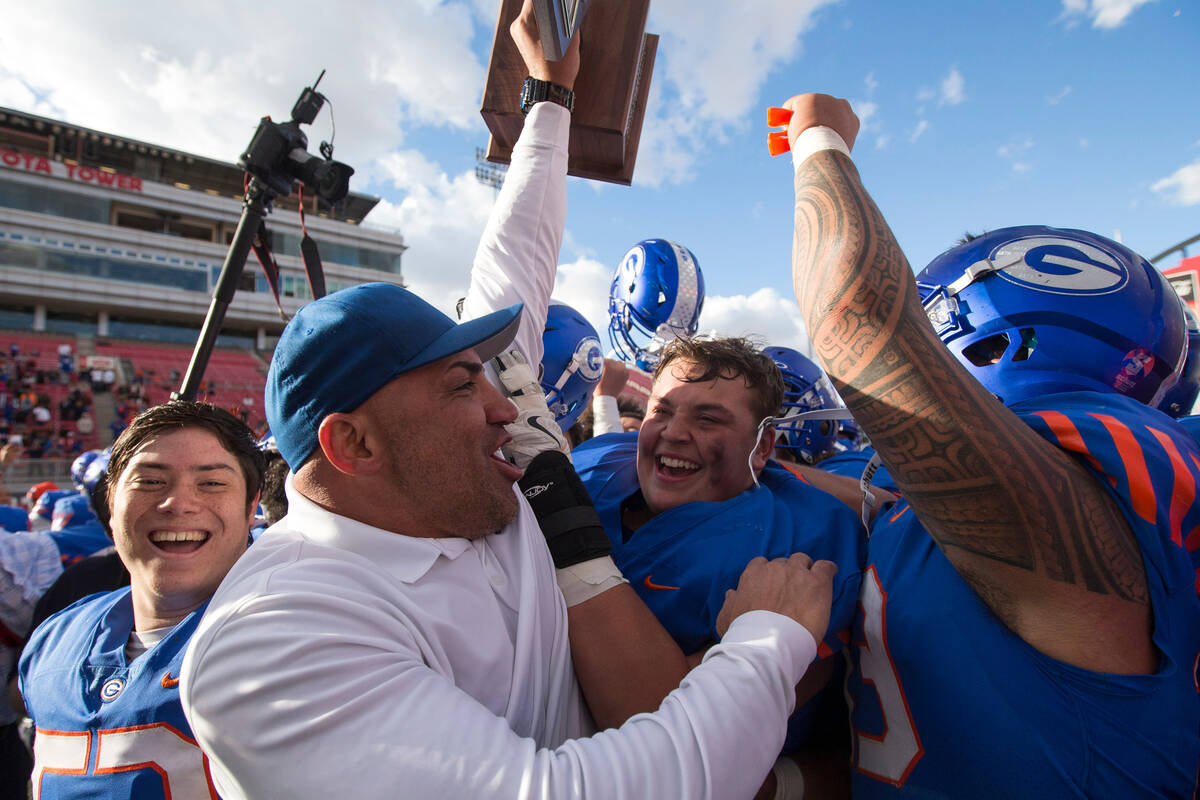 There were no singing waiters or rehearsed dance routines during Kenny Sanchez's birthday lunch with his family Saturday at a Las Cruces, New Mexico, restaurant.
He did get an unexpected surprise as he celebrated turning 43, however, as he learned two of his former players at Bishop Gorman would be NFL teammates with the Browns.
Wide receiver Cedric Tillman, who played collegiately at Tennessee, heard his name called by Cleveland on Friday night. The Browns came right back Saturday morning and selected Dorian Thompson-Robinson, a quarterback out of UCLA.
Sanchez, who left Gorman in January 2020, took a moment upon hearing Thompson-Robinson's destination to process that was the same team that selected Tillman the previous night.
"It's surreal, really," Sanchez said. "It seems like it was so long ago they were playing for me, but it also seems like it was yesterday. It's amazing. I don't know what the words are. I feel privileged that I was there at a little bit of part of their growth to maybe help a little bit, but I feel more now that I'm excited that I'm now a spectator for kids that I got to see kind of grow up for a little bit."
One of the best parts of the story of their reunion in the NFL is how different their paths were to this point. It shows that even for players at a national powerhouse football program, there's more than one road to ultimate success.
'Already the guy'
Thompson-Robinson was a highly touted recruit even though he spent much of his high school career backing up Tate Martell.
"College coaches would come watch Tate at practice, see Dorian throw the ball and then just offer him (a scholarship)," Sanchez recalled. "Even when he wasn't the guy, he was already the guy."
Meanwhile, Tillman went largely overlooked despite producing on the field.
"He really didn't have any offers coming into his senior year," Sanchez said. "UNLV offered him. But I think Tennessee was really the only school that had offered him at the very end there towards signing day.
"That was a weird deal because he was a big kid in high school and he was fast. I just think a lot of schools missed him because Cedric was a phenomenal football player, and for whatever reason I'm not sure why. But I think every coach on the staff knew that he was a dude, and we never doubted it. And now, shoot, here he is."
Sanchez, who now coaches at Organ Mountain High School in New Mexico, reminisced Saturday about an 82-yard touchdown from Thompson-Robinson to Tillman in a 2017 loss to Mater Dei. But the real memories of high school football don't take place between the lines.
"Good chemistry, good friends, good teammates," Sanchez said. "A lot of success, obviously, that we had was because of those guys."
Sanchez, who went 65-8 at Gorman with four state titles, two USA Today national championships and the publication's national coach of the year award in 2016, has a bit of a rebuilding project to do at Organ Mountain after taking the job earlier this month.
There's probably not much NFL talent on his roster just yet. But while he has coached several other players that have now reached that level, he said he looks forward to watching the Browns for years to come.
'Work's not done'
"No doubt, I'll be rooting for the Browns now that we've got two of them on there," he said. "Hopefully it all works out now, but the work's not done. They've still got some work to do to make the team. Then they've got to get out there on Sunday, but I'm sure knowing them they will definitely do everything it takes.
"It's more fun being a fan watching those guys because you actually get to see the talent on display rather than when you're coaching and you're focused on the big picture."
It will be particularly rewarding for him knowing the paths they have taken to get there.
Sanchez said the common denominator they should each be credited for is their work ethic and ability to overcome their unique adversities.
Thompson-Robinson could have transferred instead of waiting his turn and continuing to develop on the bench. Tillman could have grown frustrated with the lack of attention. Both also had to overcome injuries along the way.
Now their paths have converged once again in Cleveland.
Contact Adam Hill at ahill@reviewjournal.com. Follow @AdamHillLVRJ on Twitter.