Hill: It's time for Golden Knights to get desperate
Updated May 28, 2023 - 9:12 am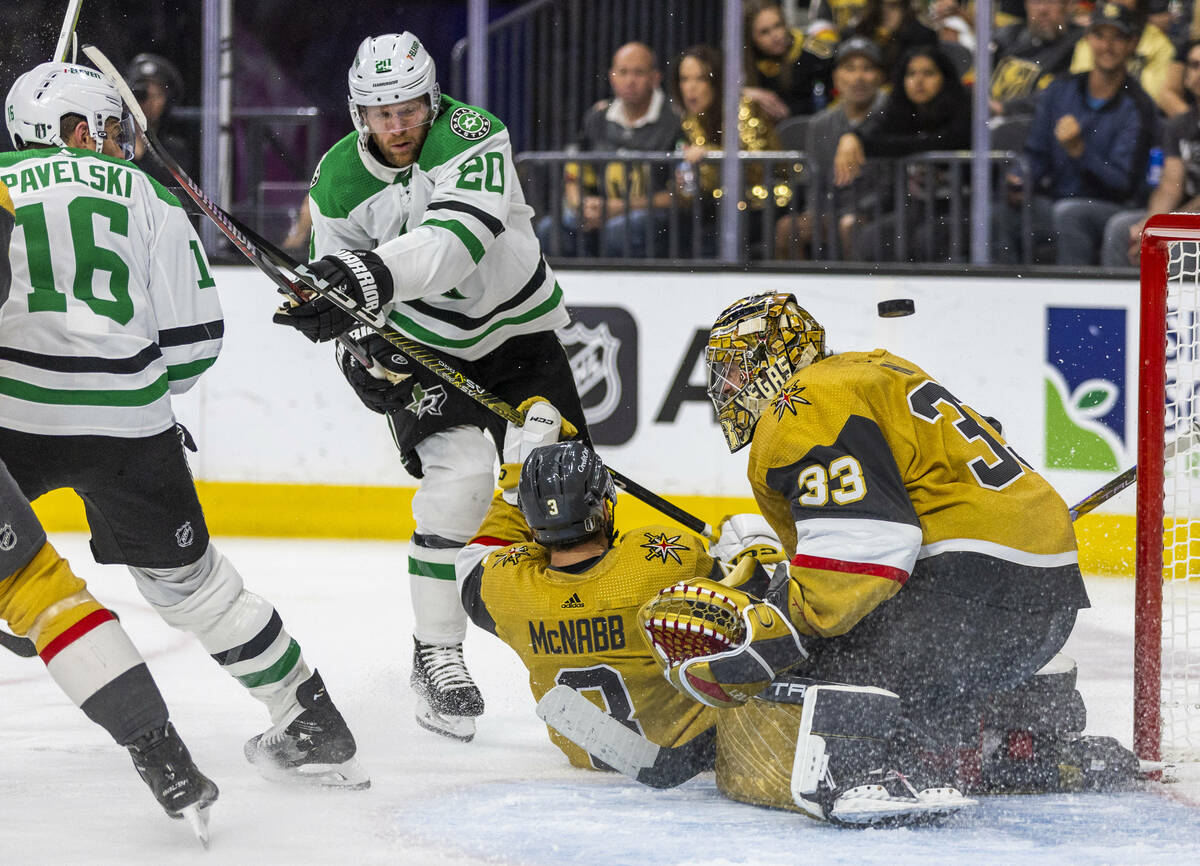 Stars coach Pete DeBoer said before Saturday's game that another victory by his team could dramatically alter the complexion of the Western Conference Final.
"If we can win a game tonight, there's a dramatic shift in pressure here," he said. "It happens pretty quickly on the other side."
A few hours later, that dial has been turned all the way up for the Golden Knights.
The Stars were relentless from the opening faceoff at T-Mobile Arena, creating chance after chance and answering both Knights goals with immediate responses before finally breaking through on Adin Hill for a third-period lead they wouldn't relinquish in a 4-2 win.
Now they can see the summit of a hill that once looked insurmountable. The Stars have turned a 3-0 deficit into a 3-2 series with Game 6 on tap Monday in what should be a raucous American Airlines Center in Dallas.
The pressure is on.
While the Golden Knights still have a fallback possibility with Game 7 set for the friendly confines of T-Mobile Arena on Wednesday, if necessary, they should want no part of that scenario in which anything can happen and often does.
Even if it's not by definition a must-win game like the Stars have faced in the past two, it's a game the Knights must win.
Forward Mark Stone shrugged off DeBoer's efforts to shift the pressure to the Knights.
"He's just trying to make a story in the media, I think," Stone said. "It's the Western Conference Final. There's pressure on both teams to try to make the Stanley Cup Final. Game 6 is on Monday night, and we want to win it. So we'll bring our best effort."
They will need to show the kind of urgency the Stars have the past two games even if Knights coach Bruce Cassidy doesn't fully buy into the concept.
"It's not just about urgency," Cassidy said. "It's a little bit about having the composure to make the right play as well.
"We didn't win enough battles. Did they win more because of urgency? That's a loose word at times. Win your races, win your battles, and when you do, hopefully you have the composure to make a play. We made some. They made more."
He pointed to the Knights' first goal, when Jack Eichel beat two Stars to the puck in the offensive zone and cleared out space for Ivan Barbashev to make a spectacular individual effort going to the net.
But there wasn't enough of that.
"It's a very good question," Cassidy said of why his team wasn't scratching and clawing like that for 60 minutes.
He was more concerned with the 24 times his team turned the puck over, often unforced.
"I'm not sure you're beating the Arizona Coyotes in January with 24 giveaways," Cassidy said. "It's not the right way to play. We're trying to go to the Stanley Cup Final against a desperate team. To me, that's the whole game. It starts right there, and that's the first thing we'll go to correct."
Stone doesn't think his team is far away.
"I don't think we've brought our best, and we've still been in a good spot to win the last two games," he said. "We definitely have to bring a little bit better effort and start playing a little more desperate with a chance to wrap it up."
They will have to show it on the ice Monday against a team that still has its back against the wall but is also confident after two wins.
"I feel great," said DeBoer, who didn't want to double down on his pregame comments. "I like our group. I wouldn't bet against them.
"I've got no other words. Let's go drop the puck."
His belief comes from the way his team has played in the past two games after falling behind in the series.
"I know our group, " DeBoer said. "They weren't happy about being in the hole we were in, and they decided to do something about it. Now we're rolling."
Now it's the Knights' turn to show they can do the same.
The pressure is on.
Contact Adam Hill at ahill@reviewjournal.com. Follow @AdamHillLVRJ on Twitter.