Hill: Knights' Adin Hill changes narrative, expectations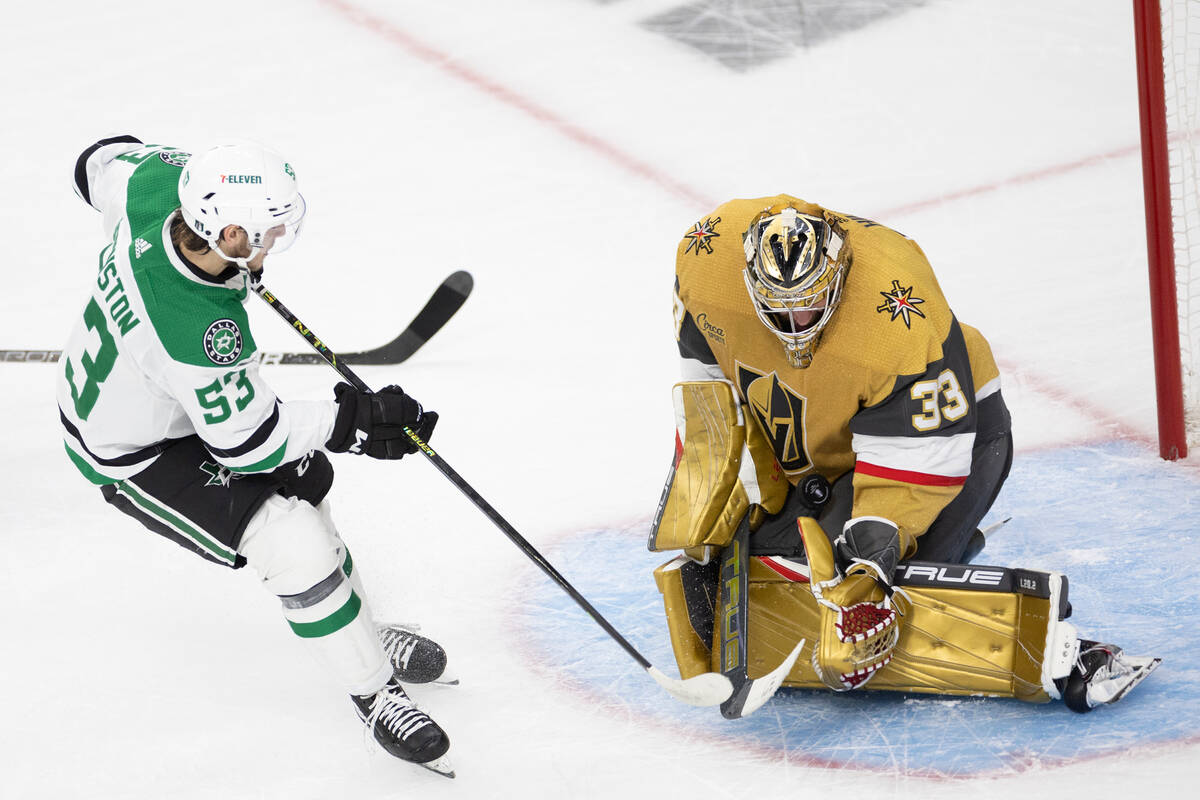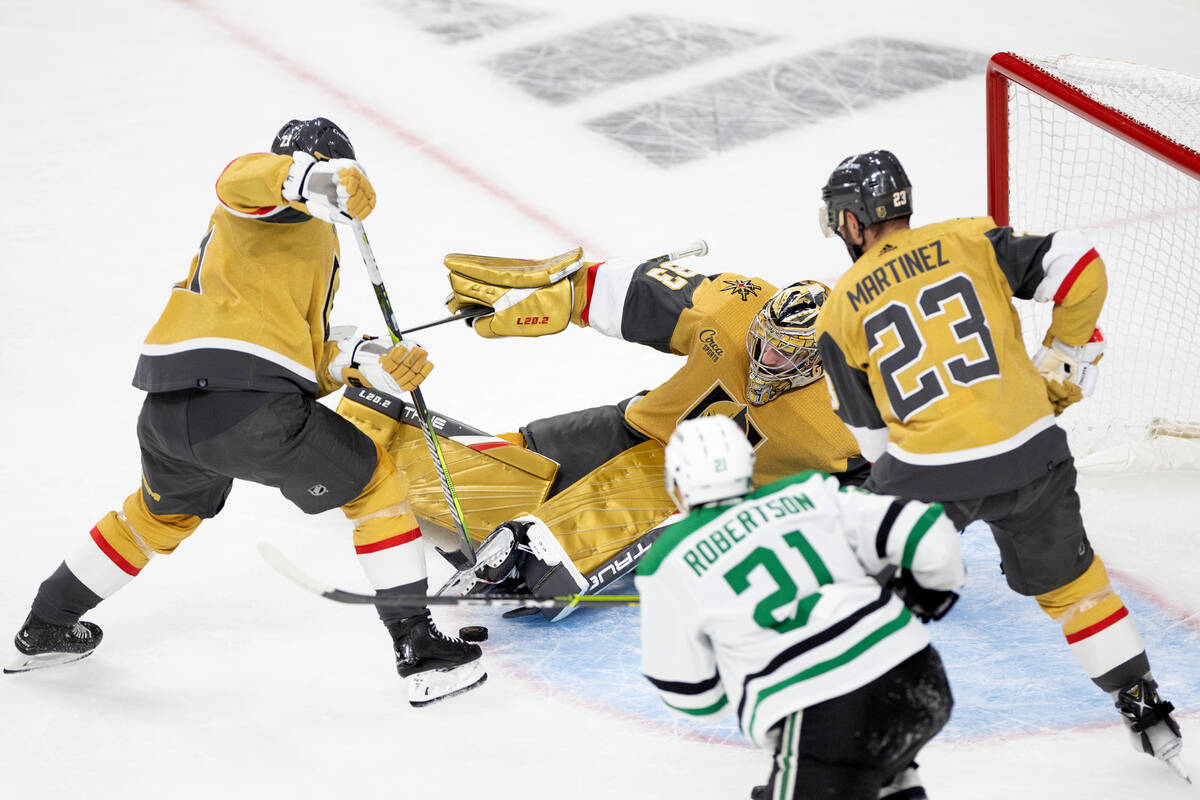 DALLAS — There was a prevailing narrative when Adin Hill took over at goalie for the Golden Knights about how his role was to just not screw things up for a team with the structure in place to make a run at the Stanley Cup.
That the job of the journeyman backup suddenly thrust into starting duties for a championship favorite was to not be solely responsible for derailing those aspirations.
Hill has rejected that storyline with similar confidence and authority to the many shots he has turned away off the sticks of the Oilers and Stars in the past two weeks.
The Knights are in position to advance to the Stanley Cup Final with a Game 6 victory Monday over the Stars at American Airlines Center largely because of his efforts, not despite them.
Now they might need even more from a player who has chosen a good time to play at such a high level, leading a postseason run in his first playoff appearance just as he's about to hit free agency.
"He's been awesome ever since he's been in there," defenseman Alec Martinez said after Saturday's 4-2 loss at T-Mobile Arena. "He's kept us in games, even (Game 4) in Dallas. He gave us an opportunity to win and did the same tonight. He's been one of our best players, if not the best."
It's not that much of a stretch. Even though Hill has started just eight games since taking over for an injured Laurent Brossoit and played in only 10, he's the sixth choice on the odds board to win the Conn Smythe Trophy as the MVP of the playoffs.
He had reached as high as the fourth choice before his dazzling numbers took a bit of a dip with four goals allowed Saturday in a game in which his teammates gave away a baffling number of pucks and got outworked by a desperate opponent for much of the night.
Hill was phenomenal for much of the game, sprawling out for dazzling saves and denying point-blank chances.
The 27-year-old British Columbia native has done work with his glove this postseason that could make Mookie Betts jealous. Maybe the Athletics are taking note. They might need his skills across the street in a couple of years.
"He played well and gave us a chance to win," forward Mark Stone said. "He hasn't let in any bad goals, knock on wood. He's given us a chance to win every night he's been in."
Coach Bruce Cassidy said after Saturday's loss that the decisive goal in the third period might have been the first questionable one Hill had allowed, but a closer look at the replay revealed a wicked deflection off the shaft of Alex Pietrangelo's stick that altered the puck's flight.
Still, after allowing four to reach the back of the net Saturday, Hill's numbers don't reflect a goalie who is simply a passenger on a cruise destined for the final.
He's tied for second among all goalies who have played at least eight postseason games with .579 goals saved above expected per 60 minutes, according to MoneyPuck.com's advanced metrics.
Hill is playing to 0.88 wins above replacement and has a sparkling .932 save percentage for those who prefer more traditional stats.
"I'm feeling pretty confident right now, so you just try to keep that going," Hill said before Game 5.
He has more than done his job after Brossoit got the first eight starts of the postseason before suffering a lower-body injury. He was doing the job many expected of Hill, simply doing what he was asked and nothing more or less.
Literally.
He was at 0.0 goals saved above expected and minus-0.01 wins above replacement. Dead flat average.
Hill, who had never made more than 22 starts in a year over his first five seasons in Arizona and San Jose before making 25 for the Knights this season, has changed the equation.
If just doing the simple multiplication tables was the expectation, he's out there solving advanced trigonometric formulas.
But with great success comes great expectations. He has proven he can be more than just a caretaker, and now that Jake Oettinger is starting to get comfortable for the Stars, Hill must prove his equal or more.
He has answered the call time and again to help the Knights get to this point and has them on the verge of a berth in the Stanley Cup Final.
Hill can be the reason they get there Monday. As long as the team around him doesn't let him down.
How's that for changing the narrative?
Contact Adam Hill at ahill@reviewjournal.com. Follow @AdamHillLVRJ on Twitter.