Hill: Raiders' Jacobs offers honest, harsh Pro Bowl critique
Updated February 5, 2023 - 5:38 am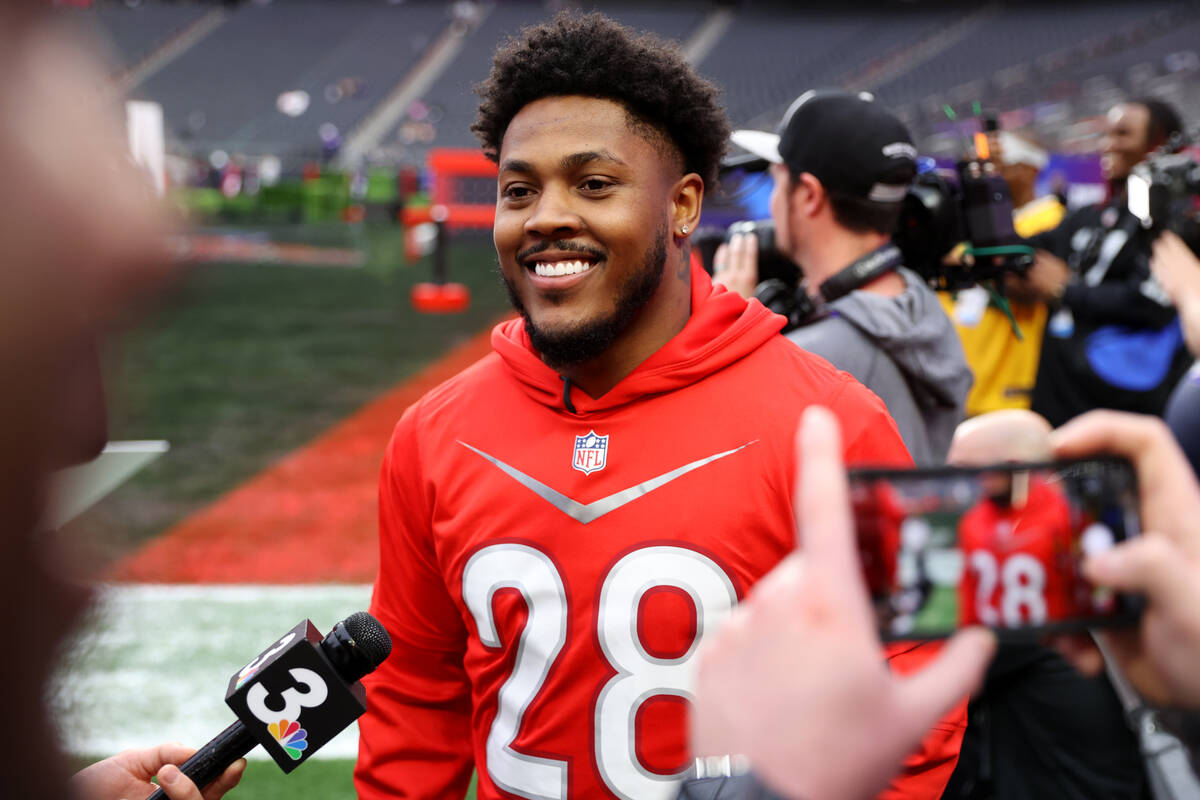 Josh Jacobs joked that he felt unencumbered by the usual restraints of the standard NFL contract because he could be a free agent in a month.
Whether that was the case or he was just ready to get something off his chest, he decided to go scorched earth on the league's new Pro Bowl Games format Saturday.
"This (expletive) is stupid," he said during what was in theory a practice for Sunday's flag football exhibition, which will also feature a competition in which kickers play tic-tac-toe, blindfolded long snappers try to launch grapes into the open mouth of the holder, and linemen compete in a race to pull a weighted wall 10 yards.
Only one of those things is made up, by the way. The other two are happening. You can figure that out for yourself.
Jacobs is one of the most honest and genuine professional athletes when it comes to expressing how he is feeling, and he didn't sugarcoat anything Saturday. He said while the event is billed as a rewarding getaway for excellence at their craft, the players' daily obligations make it anything but a vacation.
He's not wrong. This whole thing is silly. But it is important to note that it was done in response, at least in part, to the continuous mockery of the old Pro Bowl format, when players would often exert minimal effort, with good reason. There's no benefit to putting their bodies through the extra wear and tear of a full-contact football game during a week that is supposed to be a reward for a great season.
The new format is a work in progress.
"They need to figure out a way to make this make sense, because I don't enjoy this," Jacobs said. "We're just kind of here. It's not even really organized. They need to figure it out."
There's not an easy answer. While cynics and curmudgeons have complained about the Pro Bowl from the press box and through their columns for years, fans watch it. So while Jacobs suggested the league simply reward players who make the Pro Bowl with a weeklong paid vacation, the NFL isn't going to give up a weekend of programming.
At least league officials are trying something, and maybe players can take their frustrations this year and help craft a better experience for themselves and the fans in the future.
Maxx Crosby hopes so. The Raiders star is perhaps most responsible for the old format going away because he was so dominant last year by playing at half-speed when everyone else was stuck in neutral.
Crosby doesn't figure to have near as much impact in a flag football game.
"I don't even know if I can play in this game," he said. "Honestly, I'll just be hanging out. I think we have like tug of war or something for the big guys. I've been trying to convince (AFC coach Peyton Manning) to put me at tight end or something. We'll see what happens next year. I hope we can play some football."
Crosby competed in dodgeball Thursday, though he was eliminated by Jacobs. He's hoping to see different events implemented.
"I want to compete at something I'm a little better at because dodgeball is not my main sport, so it was kind of a struggle," Crosby said. "But being around a bunch of players in the league and competing together is a lot of fun."
That's the bottom line. It's supposed to be fun. And if you don't like it, there's plenty of other viewing options.
The players do need to have a bigger voice, though. This should be as much of a reward as possible, not a chore.
Ref show
Once again, the officials became the story in a major NFL event.
No, this is not about the controversial conference championship games last weekend. This is about the dodgeball event Thursday.
New Orleans linebacker Demario Davis thought he had won a round for the NFC defense by eliminating Saquon Barkley only to have his celebration cut short. Barkley lobbied to any official who would listen that he was struck in the head with the ball, which is illegal.
After discussion and a look at the replay, his protest was granted, and Barkley was declared the winner.
For what it's worth, the ultimate ruling was correct. But that's never stopped anyone from complaining about NFL refs before, so why start now?
Contact Adam Hill at ahill@reviewjournal.com. Follow @AdamHillLVRJ on Twitter.