Hill: UNLV enjoys 'Big House' experience while it still can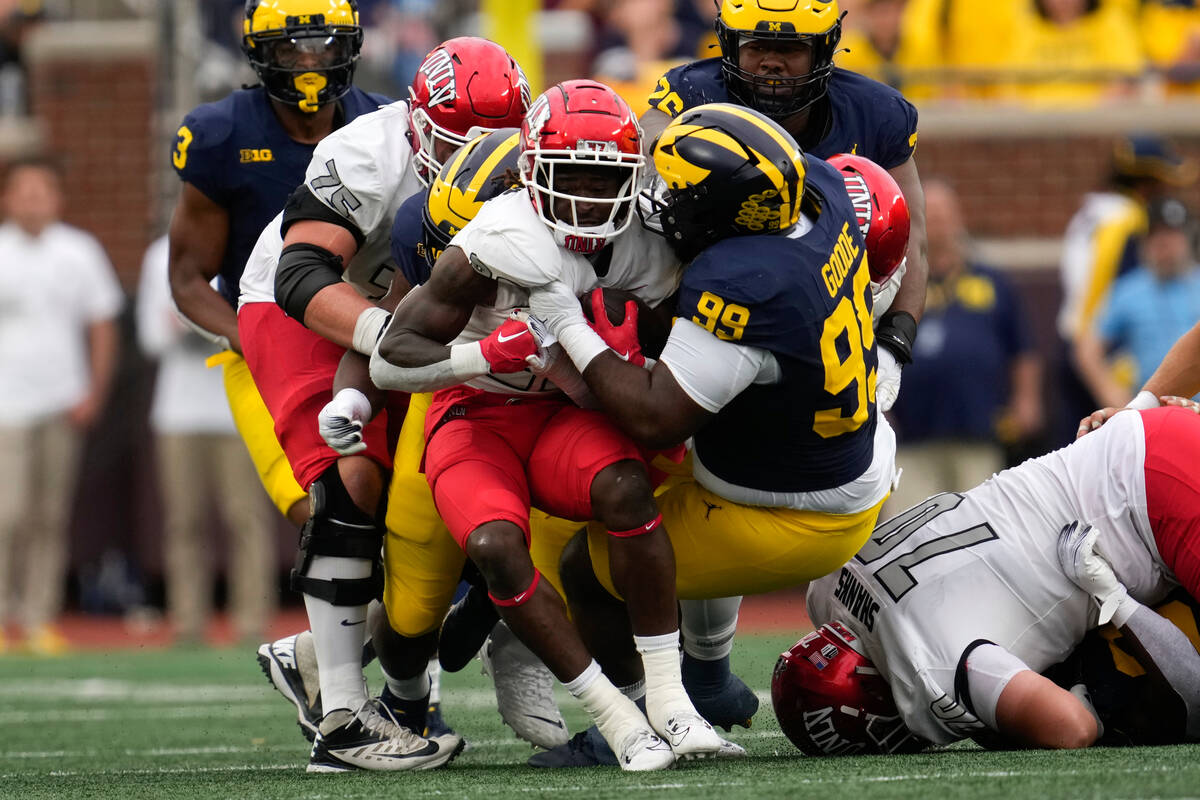 ANN ARBOR, Mich. — Nearly every player who walked out onto the field for the first time Saturday raised their head just to have a look around.
It's not that the UNLV football players were overwhelmed by Michigan Stadium — aka "The Big House." They play home games in an NFL facility, and many were on the roster when the team visited Notre Dame last season.
But there are certain experiences that are just different, and playing in this building against this program is one of them.
And sure, as someone who spent the first five years of my life living just a few miles from this campus and grew up in a Wolverine household, I may have some bias.
It's tough to argue this place is special, though. And it's not alone. There are certain places in college sports that are simply iconic, and one of the great things about being a student-athlete is the opportunity for experiences like the Rebels had Saturday.
That may go away in the future. While many traditionalists have spent countless hours lamenting all of the conference realignment the last few years, none of that has really bothered me. Sure, some rivalries and traditions have been lost. We get over it. In 10 years, it will feel normal that Rutgers and Oregon are in the same league.
But the next step, which almost seems inevitable, will be a bit troubling. The only logical place for all of this to go is the superconferences breaking away from the NCAA and forming their own entity.
It's really not even a matter of if, it's more just about when at this point.
And when that happens, many student-athletes will lose out on what the Rebels experienced Saturday. Schools who get left out of that new alliance won't get the chance to challenge themselves against the powers-that-be in college athletics.
There will be UNLV football players who one day will share the stories with their grandkids about the time they took the field at Michigan Stadium or at Notre Dame. No offense to the fine institution in Laramie, but there won't be tales of running onto the turf at War Memorial Stadium to play Wyoming.
Friend remembered
Michigan star quarterback JJ McCarthy was supposed to be competing against one of his closest friends Saturday.
Instead, he played with a heavy heart.
McCarthy was a close friend of Ryan Keeler, the UNLV defensive lineman who died of a heart condition in February.
The two led Nazareth Academy to three Illinois state championship game appearances and had been teammates since their youth football days.
They had both been looking forward to Saturday's matchup.
McCarthy, an early Heisman Trophy candidate and one of the nation's best players, wrote Keeler's number 47 on his hand for the game in place of the smiley face he usually draws on, which is to remind him to have fun.
"But this game is for Ryan," McCarthy told The Michigan Daily this week.
Another Nazareth teammate, Michigan wide receiver Tyler Morris, had "RK47" written on the tape he wore on his wrist.
McCarthy connected with Morris for a 16-yard completion on the first drive of the game. His second touchdown pass of the day went for exactly 47 yards.
Word travels fast
News of Nick Bosa's record-setting contract with the 49ers broke while the Raiders were on the practice field Wednesday.
Maxx Crosby had already heard about his fellow defensive end's deal by the time the media entered the locker room.
"I actually saw that on the TV as I was walking in," Crosby said with a big smile. "He deserves it. He's a baller."
So is Crosby, who although he signed a massive extension that runs through 2026, has a new number to potentially exceed the next time he's at the negotiating table now that somebody at his position has set the current financial standard.
"We have a couple years, but good for him," Crosby said. "I appreciate that. Reset that (market)."
Contact Adam Hill at ahill@reviewjournal.com. Follow @AdamHillLVRJ on Twitter.