5 minutes that could change the course of Knights-Oilers series
Updated May 13, 2023 - 11:27 am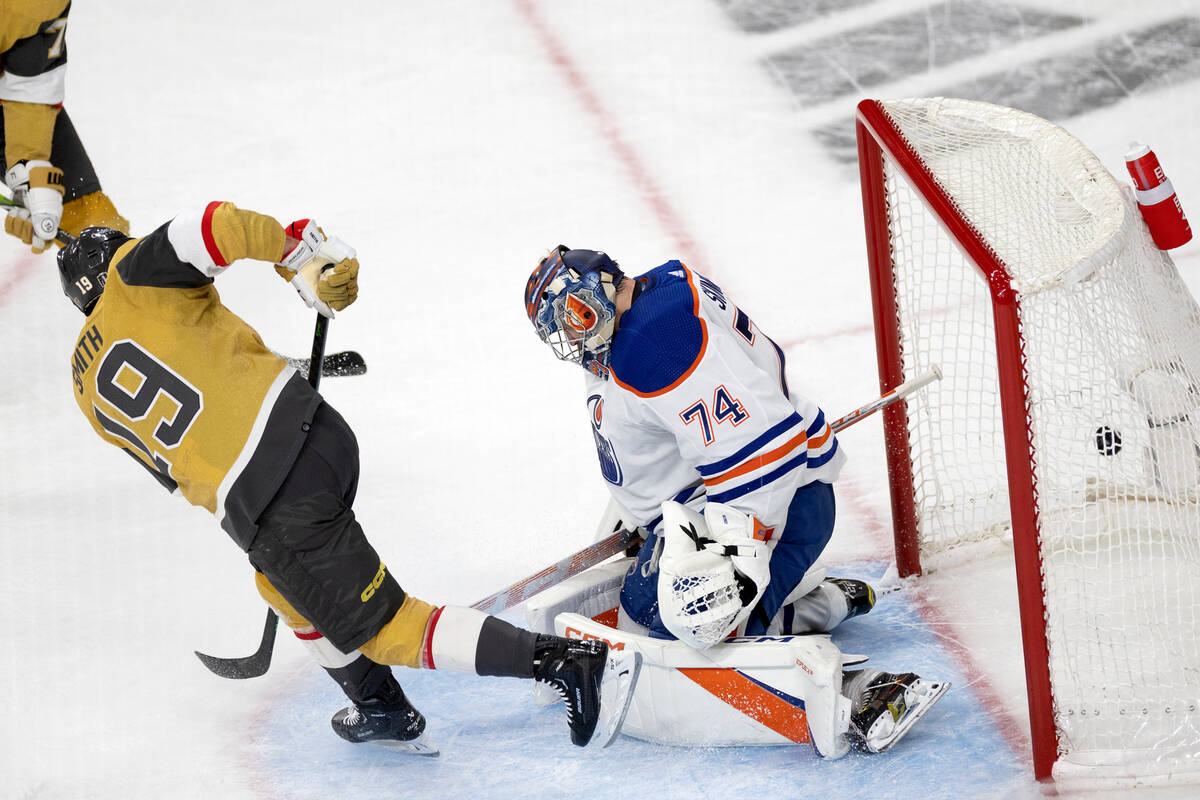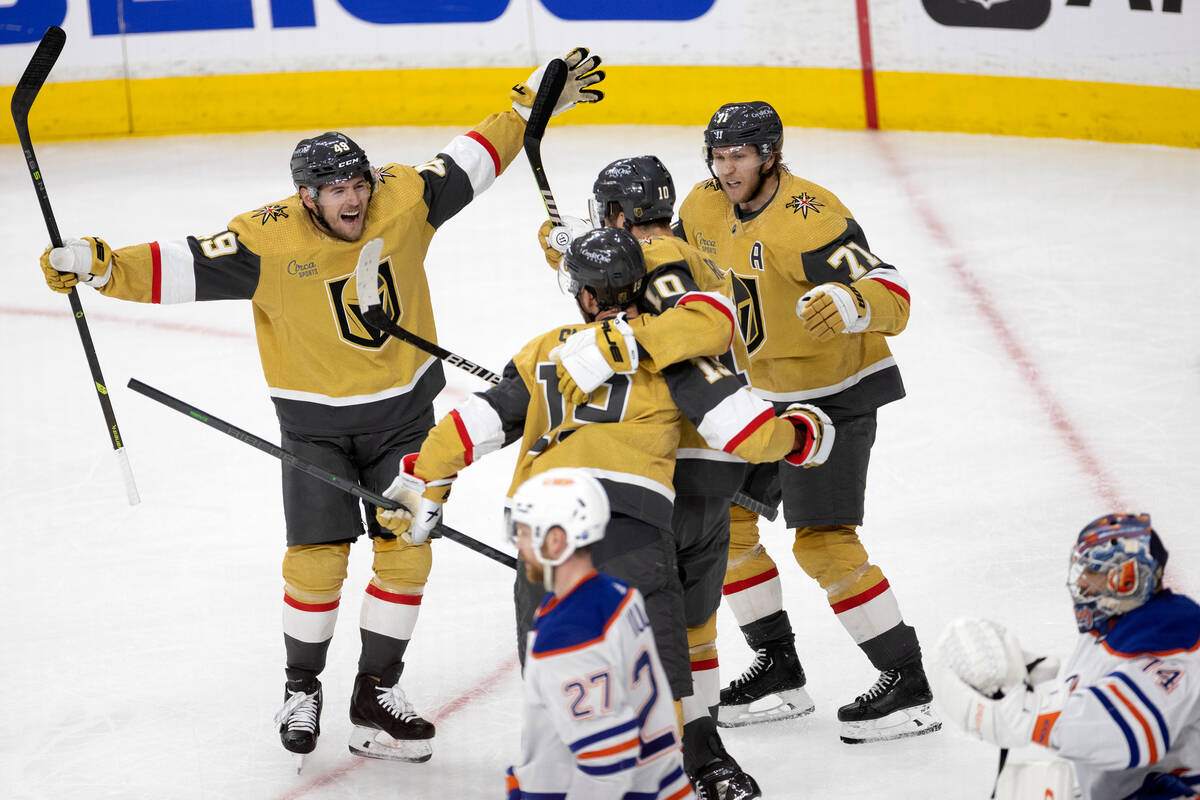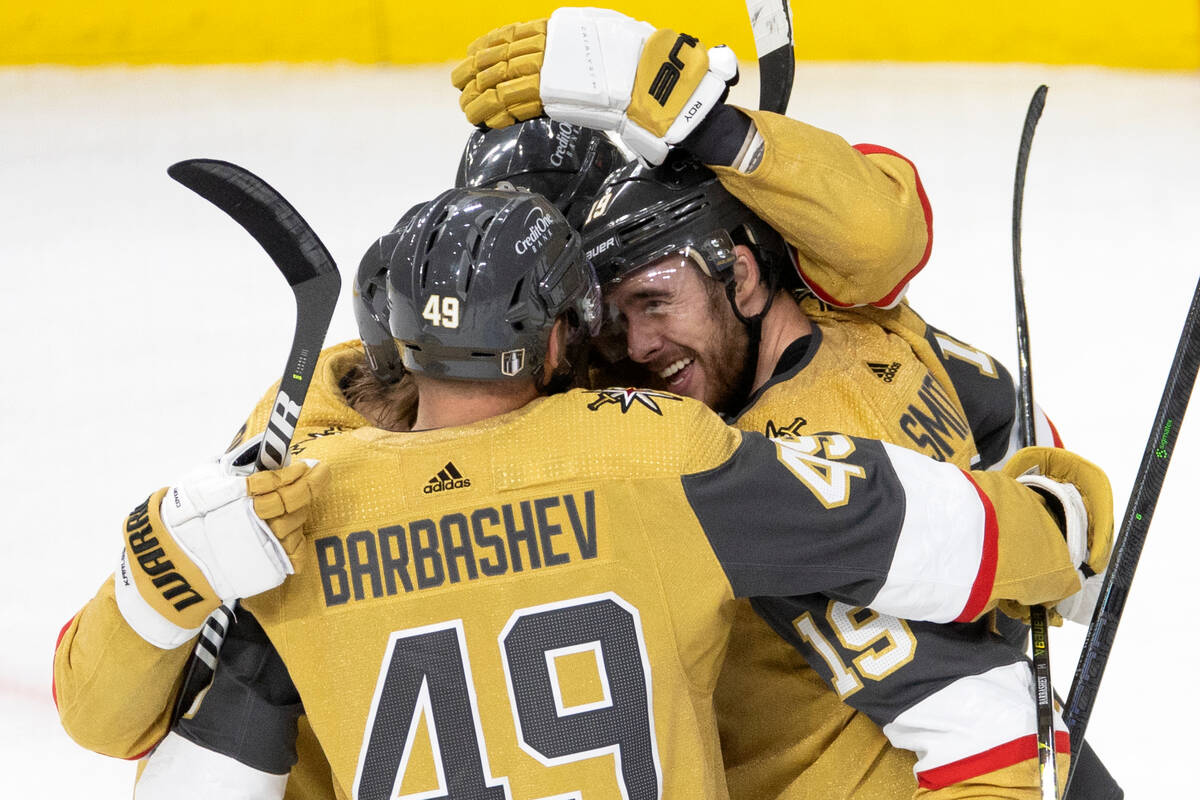 When it's over, when this best-of-seven series between the Golden Knights and Edmonton finally concludes, you might point to one five-minute stretch that made the greatest of differences.
That would mean the Knights prevail.
And they're one win from doing so.
They beat the Oilers 4-3 in Game 5 before 18,519 on Friday night at T-Mobile Arena and can close things out in Edmonton on Sunday.
Maybe, perhaps, because of five minutes on a penalty kill.
Only allowed one
How it occurred: Keegan Kolesar of the Knights took a five-minute major he didn't need to, a boarding call that sent Mattias Ekholm of the Oilers to the ice with 20.9 seconds remaining in the second period and the Knights leading 4-2.
It meant Edmonton's high-powered power play would have more than enough time to cut into and possibly overtake such a deficit to begin the third.
It also conjured memories of Cody Eakin's disputed major (the call against Kolesar was hardly that) against San Jose in the 2019 playoffs, when the Sharks would score four times during the five minutes and eventually win in overtime of Game 7.
What a disastrous loss that was.
Still stings some Knights fans to their core.
But credit a Knights penalty kill without one of its main components in suspended defenseman Alex Pietrangelo. It would allow just one score — a Connor McDavid goal off his own rebound — over the five minutes and escape with a 4-3 advantage. Huge. Massive.
"A lot of things cross your mind," said forward Reilly Smith when asked if he had thought about the San Jose loss entering the third period. "You're aware of situations. You only get so many opportunities in the playoffs, and to let things slip away like that was pretty tough.
"We did a better job this time."
They were aggressive. They didn't sit back and get tired. They went for it.
This was by far the best game of the series. One of the best in all of these playoffs. It's strange. Edmonton scored all three of its goals on the power play and yet the Knights' penalty kill absolutely aided in the victory.
So did their ability to retain puck possession for long stretches in the final minutes.
"We bore down and limited their chances (late)," said Knights goalie Adin Hill, who stopped 31 of 34 shots. "It just shows that we have a really strong group, and it doesn't matter who's on the ice. We did a great job closing things up."
It was a much better start for the Knights compared to Game 4, but Edmonton scored on both its power-play opportunities in the first 20 minutes while the Knights went 0-for-3.
It remained the same sort of offering from them — they created good chances but just couldn't finish them.
Until they did.
Igniting a crowd
Mark Stone and Smith had power-play goals to allow the Knights a 3-2 second-period lead, which came before Nic Hague made it 4-2 and Kolesar had his ill-advised major.
The Knights would score three times in fewer than 90 seconds to ignite a crazed arena.
There just hadn't been a game in the series in which both teams played well. One has always been on point and the other has, well, not been. But that changed in Game 5. Finally. It was far more about hockey than anything else. The Knights were opportunistic. They defended better than at any point in the series. They were just as good or better on special teams.
"It was good to get out of those (five minutes) with the lead," center Jack Eichel said. "The mindset was that it was a big part of the game."
Five minutes that might have just changed the course of a series.
They survived it with the lead. Huge. Massive.
Ed Graney is a Sigma Delta Chi Award winner for sports column writing and can be reached at egraney@reviewjournal.com. He can be heard on "The Press Box," ESPN Radio 100.9 FM and 1100 AM, from 7 a.m. to 10 a.m. Monday through Friday. Follow @edgraney on Twitter.