Garoppolo needs to prove he can be answer for Raiders
Updated March 18, 2023 - 8:37 am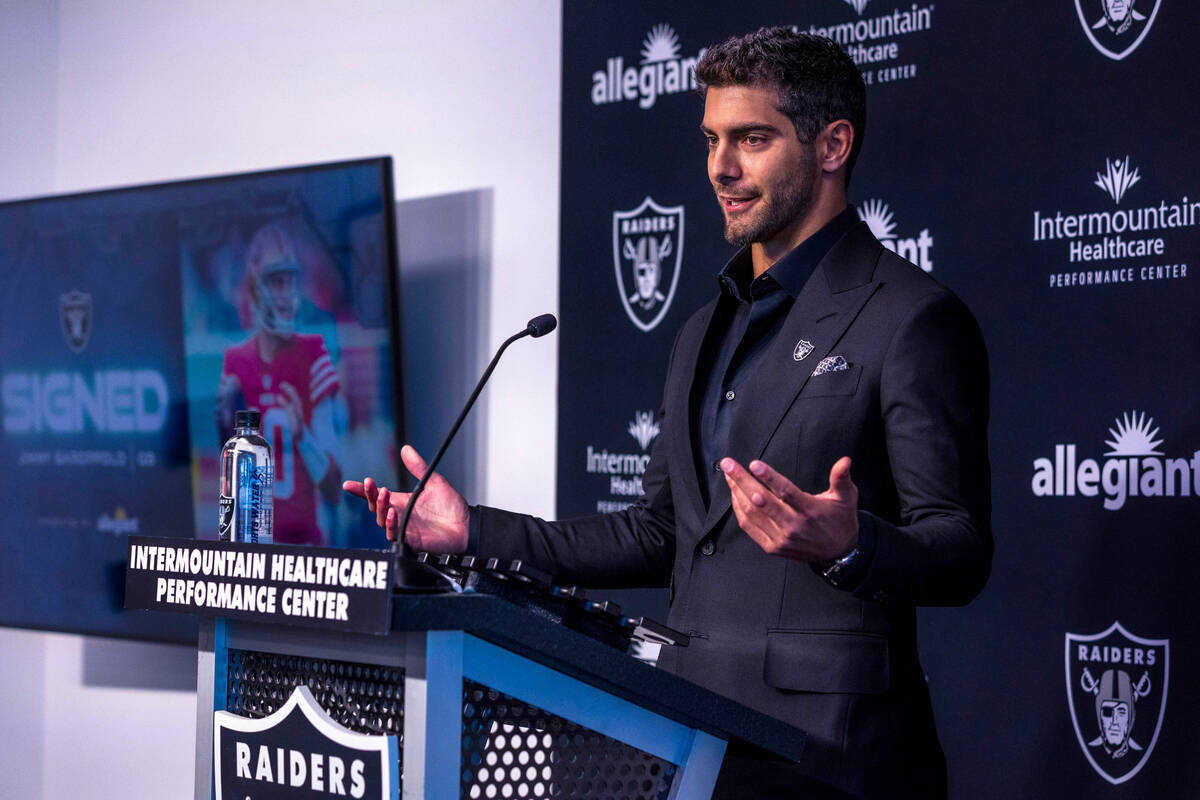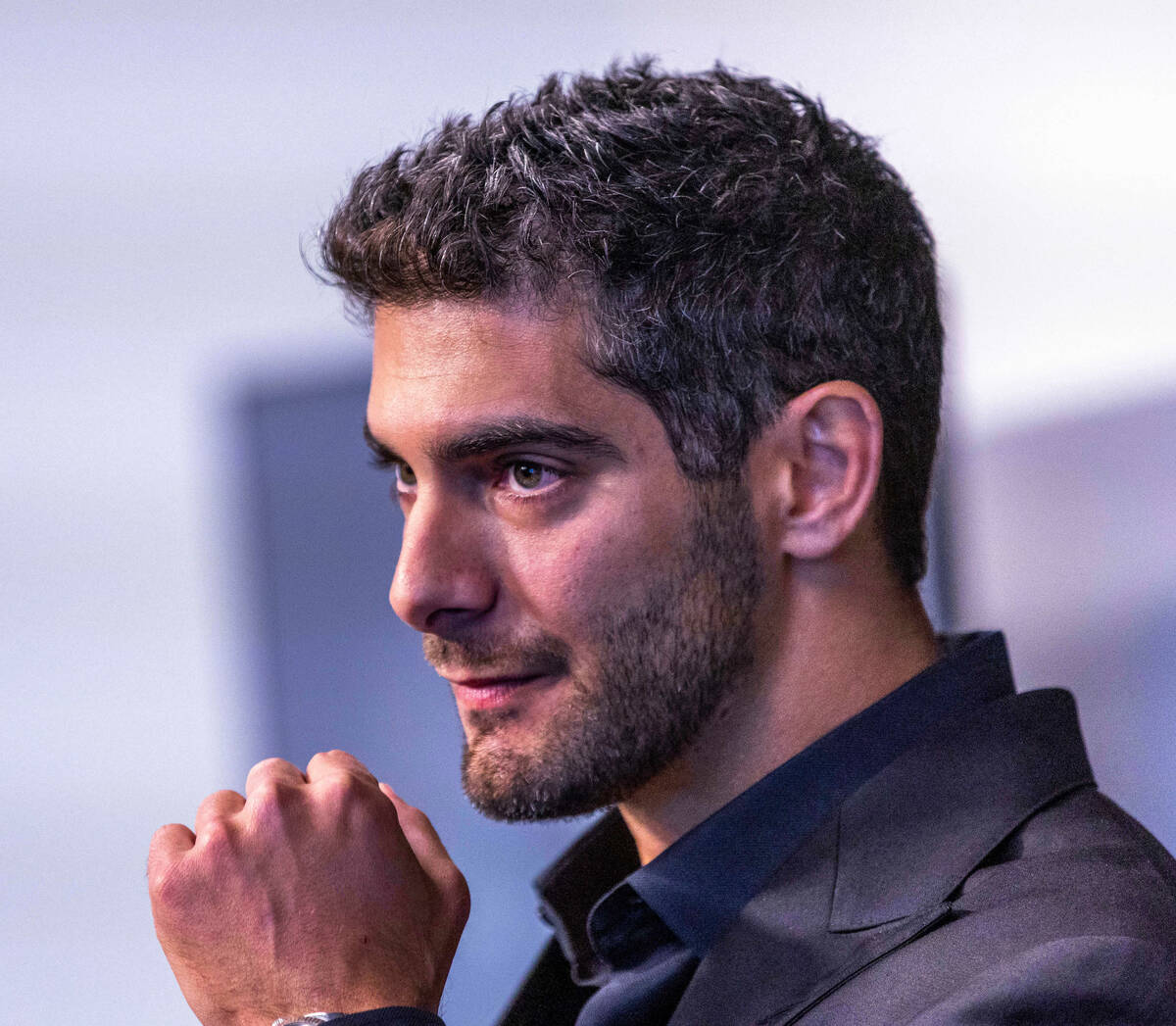 Jimmy Garoppolo said all the right things Friday, stuff like wanting to earn his place and bringing a new energy to the Raiders and exhibiting a work ethic that others can follow.
About wanting to win at the highest level for his new franchise.
Now, he needs to prove it.
Garoppolo was introduced as the team's new quarterback to a large gathering of media and a handful of family members, the former Patriots and 49ers player having earlier signed his three-year contract.
"Hell yeah," he said when asked if even now, in his 10th NFL season, he has something to prove. "I'm trying to win a Super Bowl. I know every player says that when they come to a first press conference, but I want to get a ring and get the silver and black back to where it should be. I know it's not an easy process, but it will be worth it."
Man, it will take some doing. The team that went 6-11 last season doesn't yet own a roster that's just down the street from a title. I'm not even sure it's in the same area code right now.
Health is key
Here's the most important of questions: Can he remain healthy?
His teams win when he does, but Garoppolo has battled several injuries throughout his career as a starter. If the Raiders have any chance of cashing in on a quarterback who has proven an ability to direct sides deep into the playoffs, Garoppolo needs to remain on the field and off the trainer's table.
If he can, he's a good enough leader to make a difference.
If he's an upgrade for the Raiders from the departed Derek Carr — and you can make the argument it's too close to call — it's strictly because of his relationship with Raiders coach Josh McDaniels and their time together in New England.
But that can mean a lot. The upgrade can prove to be large.
Garoppolo from the outset will know what to expect from the demanding McDaniels. Know what his coach most wants from an offense. Know more than what Carr did about what makes McDaniels tick.
"Just learning the language," Garoppolo said. "It won't take long. Josh's offense has obviously evolved over the years. Just have to pick it up as quickly as possible.
"Just turning the page on the next chapter in my life. I can't wait to get started. I come in with the mindset that I have to earn everything. Earn it through hard work and working with teammates and being at the facility — all those little things that play a role. I don't want to be given anything."
He came off as humble and likable. He'll quickly win a locker room with such characteristics. And that's what the Raiders need. They need someone to grab hold of the situation while the rest follow.
They also need to draft a quarterback, a player on a rookie contract who can take time learning behind Garoppolo and not feel forced to perform immediately.
It has all the makings of working out, but to what level of success is unknown.
Garoppolo might prove a fine addition, but he doesn't play defense. There remain far too many holes across this roster to believe that only changing the guy throwing passes can make the ultimate difference in advancing to the playoffs or remaining home.
Looked the part
"He's a winner," said newly signed Raiders wide receiver Phillip Dorsett. "Everywhere (Garoppolo) has been, he's won games. I mean, I feel like that's the most important stat for quarterbacks, just going out there and just winning and making the right plays at the right time. I mean, his record speaks for itself."
Jimmy Garoppolo said all the right things Friday.
Looked and acted the part.
Has all the makings of working out.
Now, it's prove-it time.
Ed Graney is a Sigma Delta Chi Award winner for sports column writing and be reached at egraney@reviewjournal.com. He can be heard on "The Press Box," ESPN Radio 100.9 FM and 1100 AM, from 7 a.m. to 10 a.m. Monday through Friday. Follow @edgraney on Twitter