Graney: Depth again winning tonic for Golden Knights
Updated May 20, 2023 - 11:11 am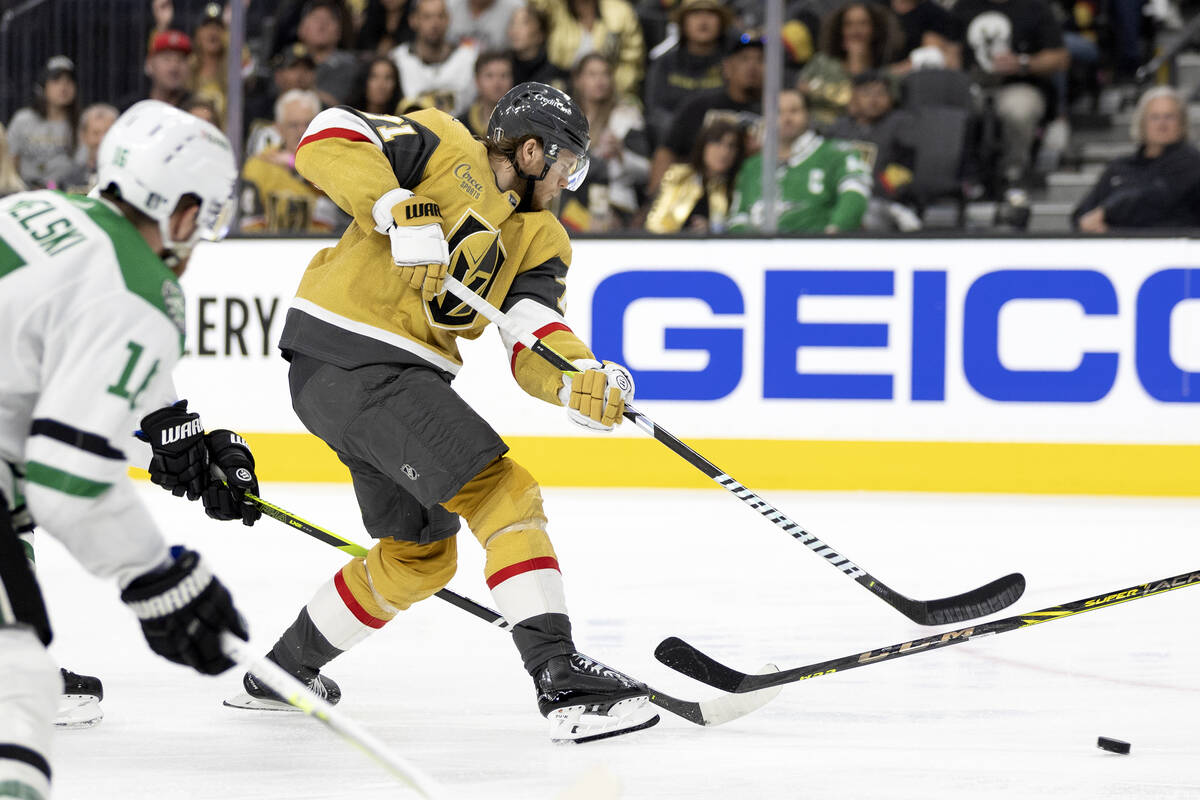 It's the one thing most championed this season, these playoffs, by the Golden Knights.
Depth makes a difference. It did again Friday in the season's most important game yet.
The Knights opened this best-of-seven Western Conference Final against Dallas with a 4-3 overtime win before a more-than-enthused 18,271 at T-Mobile Arena. Crazy thing is, we could have an entire series of this.
Probably will.
The Knights received goals from three of their four lines. Brett Howden would win it at 1:35 into overtime. That's why this group has been so good, so dangerous. You never know who's going to come up big next.
"It's good for our team," Knights coach Bruce Cassidy said. "Certainly, our five-on-five scoring has been excellent throughout the lineup. It can't always be about the stars or the guys you would expect. We need people to step up in key moments this time of year … You have to enjoy the moment and embrace it."
Dominated early
I'm not sure the Knights lost a shift in the first 10 minutes. Shots were 11-1 at one point. That's how much better they were to start. They even killed off two first-period penalties. This is what has happened as the playoffs moved along. They have gotten progressively better with their puck management and checking.
Their forecheck made a huge difference. Dominated zone time early.
"They were more ready to play than us," Dallas coach Pete DeBoer said. "They were better than us in most areas. We have to play up to our level. Give them credit. We didn't execute. But Seattle had depth (in a previous series), and we were able to win that one. There is no quit in our group."
You just never know from where the Knights' scoring might come. They continue to roll four lines and watch all of them produce.
An example of the depth: It was 2-2 at 9:20 of the third period when fourth-liner Keegan Kolesar — who had left earlier after blocking a shot — possessed the puck while crashing into the Dallas net. Teddy Blueger was trailing and finished the play with a score.
"We have good players up and down the lineup, all guys who can get the job done," Blueger said. "It's good to contribute, obviously. Keegan did the heavy lifting (on the goal), and it just bounced to me."
That, and Beckham's father came up big.
Daddy does it
William Karlsson is a new dad and yet isn't being deprived of much shut-eye. He's sleeping in another room from the baby. He looked rested enough Friday.
The Knights center scored twice — via a rebound off the wall and then from the slot — for a 2-1 advantage. Dallas struggled with Karlsson's line most of the evening.
It actually struggled with most things but made a push in the third, scoring the equalizer at 18:01 of the period. Overtime arrived soon after, and so did thoughts of four of them the previous evening between Carolina and Florida.
Things wouldn't last near as long Friday. Howden made sure of it.
"You can't take a period off in the playoffs," Cassidy said. "We've been really focused five-on-five and have tried to build off that from Day One. Playing behind the other team's defense — creating offense through the forecheck. When we get to our game, that's what we look like."
They got to it more times than not and have a 1-0 lead to show for it. Better team. Better prepared. Better beginning to what can prove a long series with more games similar to this.
It could be the norm. Closely contested. A bounce here or there. Goalies doing their part to keep things tight.
The kind of series in which depth will come into play more often than not.
Good news, then, for the Golden Knights.
Buckle up.
Ed Graney is a Sigma Delta Chi Award winner for sports column writing and can be reached at egraney@reviewjournal.com. He can be heard on "The Press Box," ESPN Radio 100.9 FM and 1100 AM, from 7 to 10 a.m. Monday through Friday. Follow @edgraney on Twitter.