Graney: Jack Eichel makes difference in Knights' victory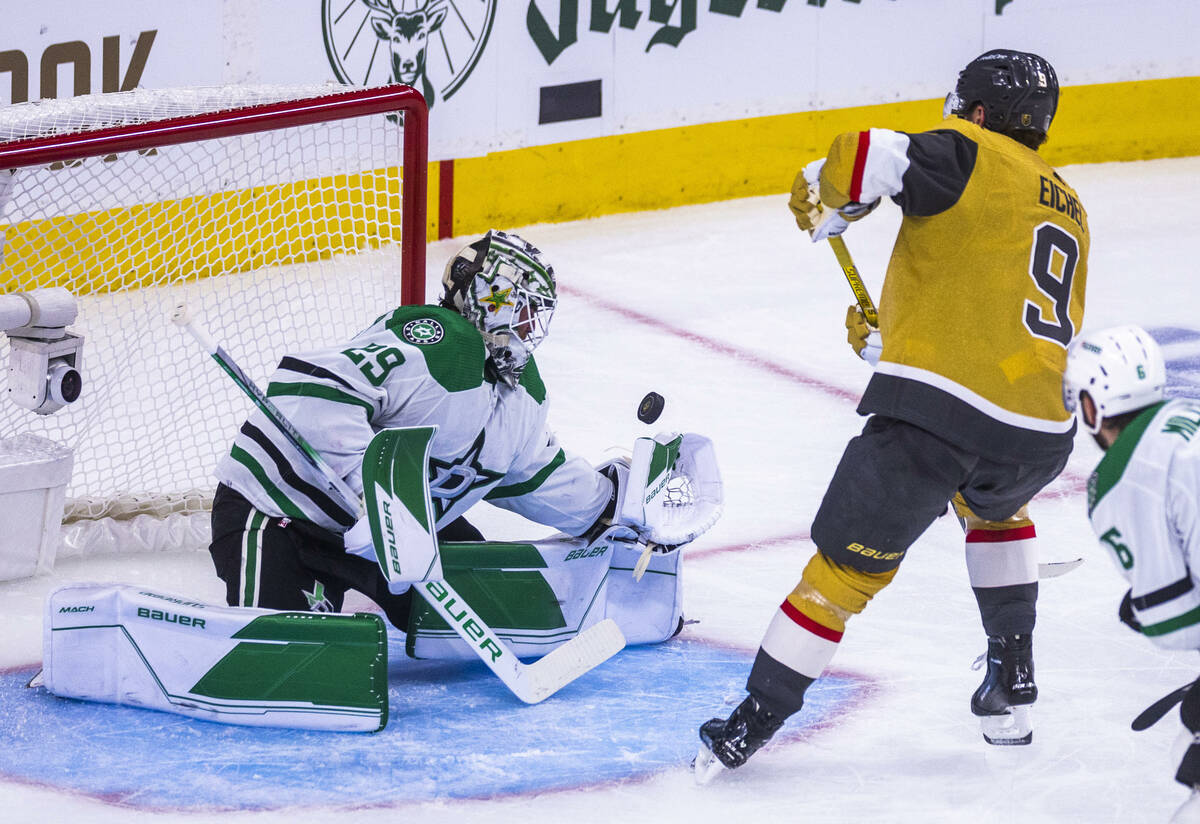 The forecheck was sound. The turnover by Ryan Suter was a (really) bad one.
It found the stick of Ivan Barbashev off the wall. He found Jack Eichel along the end boards.
He peeked once, peeked twice and sent a backhanded pass to the slot.
That's where Jonathan Marchessault waited, ready, uncovered, prepared to tie a playoff hockey game in which the Golden Knights were hardly at their best.
Marchessault would drive the puck home, and the Knights would then beat the Stars 3-2 in overtime before 18,358 Sunday at T-Mobile Arena.
And the equalizer — which came with 2:22 remaining in the third period — doesn't occur without the magnificent feed from Eichel.
Comeback wins
"I see a world-class player who took over the game, that's what I see," Knights defenseman Alex Pietrangelo said. "He is as good as they come. When he's skating like that, the size and strength and obviously skill takes over."
The Knights have a 2-0 lead in this best-of-seven Western Conference Final because — yeah, it happened again — they found a way.
They have eight comeback wins in these playoffs because you're never quite sure from whom the next significant play will be made. Chandler Stephenson scored the game-winner this time.
Because a player like Eichel led the way when his team had played 40 minutes of below average hockey.
Because he is crazy good right now. Because he was far better than one assist Sunday might suggest.
There is a reason Eichel, in his first playoffs, is being whispered among the leaders for the Conn Smythe Trophy, awarded to the MVP of the postseason.
There are miles and miles to travel before such a truth becomes reality. Tons of important hockey yet to be played, beginning in Dallas for Game 3 on Tuesday.
But it gives you a sense of how consistent Eichel has been across 200 feet during this playoff run. How important a role he has played. He has six goals and 15 points in 13 games.
"I thought Jack all night was trying to be a difference-maker," Knights coach Bruce Cassidy said. "He wanted the puck. He wanted to be on the ice. He had a good mindset all night. He wanted to make a difference and certainly got rewarded for it. He was on his game and has been."
Think about it: There were more combined hits from both teams than shots on goal in the first period. The Knights had only 10 shots through two. Frustration set in. But it was Eichel who before the third period told his team that no matter how it had played to that point, it could still find a way to win. He didn't force anything. Just continued to play.
This is what the Knights envisioned when trading for Eichel in November 2021. These kind of moments. This kind of production when winning matters most by one of the world's best players.
Give them credit
Dallas was much better Sunday than during an overtime loss in Game 1. But it was a different Knights' team in the third period. More assertive. More to their game. Before that, it merely hung around long enough and didn't allow the Stars to extend their lead.
And when the Knights needed a game-tying goal as time was running out, Eichel from along the end boards found an open Marchessault.
"You're not going to be at your best every night," Eichel said. "But give our group credit. You just have to stick with it for 60 (minutes). You're not always going to get the bounces. It's not always going to go your way. You just keep working and hope you get a bounce and hope someone makes a play. We had a few of those, and it made a difference."
He made one of them. Again.
He's having one heck of a playoff, a huge reason why the Golden Knights now travel to Dallas with a chance to put a stranglehold on the series.
Yeah. They found a way.
Ed Graney is a Sigma Delta Chi Award winner for sports column writing and can be reached at egraney@reviewjournal.com. He can be heard on "The Press Box," ESPN Radio 100.9 FM and 1100 AM, from 7 to 10 a.m. Monday through Friday. Follow @edgraney on Twitter.