There was a definite disconnect between Darren Waller, Raiders
Updated March 14, 2023 - 6:59 pm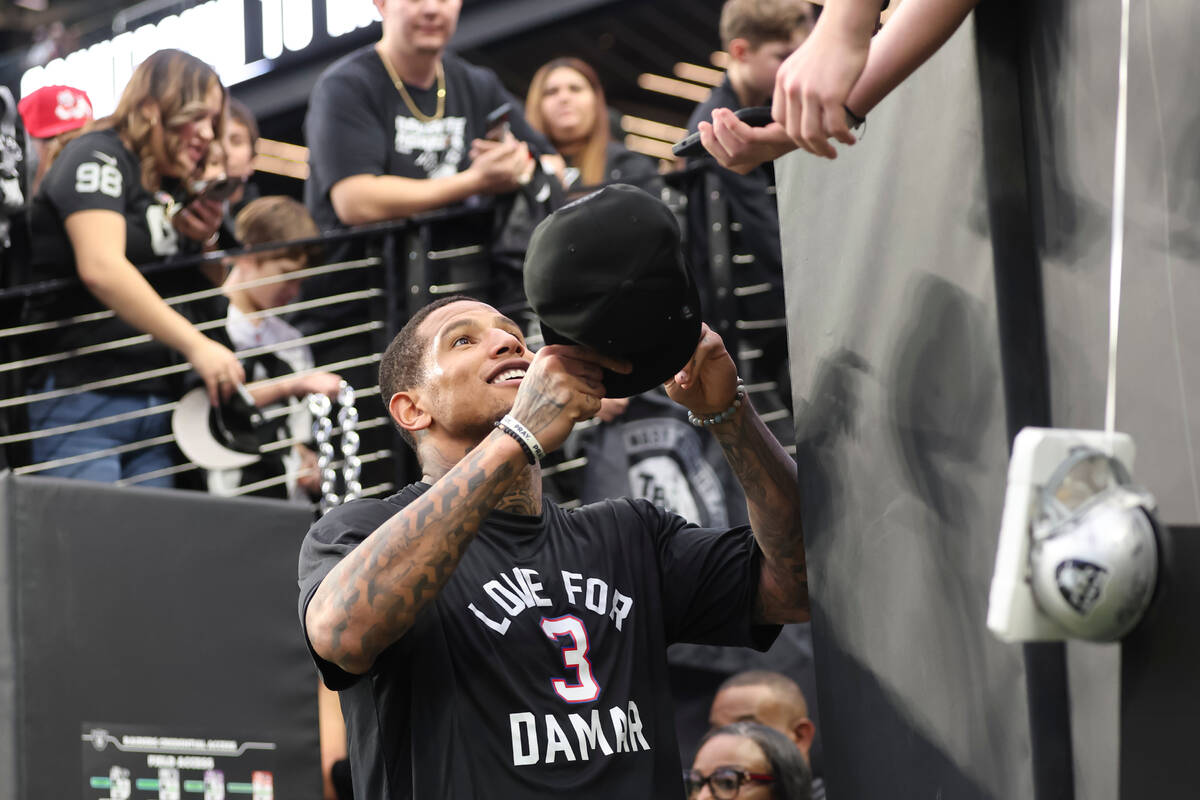 At some point, somewhere along the line that stretches 100 yards, there was a disconnect between the Raiders and Darren Waller.
Such is this conclusion: The tight end was traded Tuesday to the Giants for a third-round pick.
No matter where things went wrong behind the scenes — and there were major hints such was the case — they jettisoned a 30-year-old player whose injury issues mounted the past two seasons.
He was over that time limited to 20 games and 83 catches.
Moving him isn't the most shocking of truths. And likely the best one from strictly a football perspective.
But something was amiss between the team and tight end.
It was a hamstring issue that ailed Waller last season — he missed most of training camp and then spent a stint on injured reserve — and led to internal whispers about how there was growing frustration over the player's lengthy absence.
Former quarterback Derek Carr even questioned some of his teammates' commitment to play hurt following a loss to the Colts in November. Carr said he wasn't talking about Waller specifically. Believe what you want.
Fans, teammates upset
It's not a new theory, the Raiders thinking about trading Waller. You just would have never known it at the scouting combine last month:
"I know Darren fought through a lot of injuries and those types of things last year," coach Josh McDaniels told reporters. "But I have a great deal of confidence in Darren Waller. I felt like he ended the season the right way, really playing well.
"Still fast, explosive, great teammate, very smart … And he'll be a big part of what we're going to do going forward."
Forward didn't last long. Fans are understandably upset. Waller is incredibly popular across Southern Nevada. Some of his teammates also tweeted their displeasure.
But on the same day the team traded Waller, it agreed to a three-year deal with former Patriots wide receiver Jakobi Meyers, which increased the team's cap space by some $11 million.
Meyers is just 26 and has 150 catches for 1,670 yards the past two seasons.
He's younger and has been more productive lately.
As for Waller, he is gone after five seasons with the Raiders and 10 days after marrying Aces guard Kelsey Plum on the same day that Raiders star edge rusher Maxx Crosby married his longtime girlfriend.
Hours before the trade was announced, Waller posted several Instagram pictures of him and Plum on what appeared to be a vacation and perhaps honeymoon.
Also, The Athletic on Tuesday reported that Waller was upset with McDaniels for leaking at the combine the wedding date because the couple had not publicly announced their plans.
Prolly cause he wasn't invited to the wedding lol https://t.co/K3i7oW5oe4

— Kelsey Plum (@Kelseyplum10) March 15, 2023
More disconnect?
Leaving his mark
Know this: Waller definitely will be missed off the field by many in need. He constantly shared his journey with addiction in hopes of helping others, his grant programs with Landmark Recovery saving lives.
"If I had been on the streets for another three weeks, I'd probably be dead," said Desmond Ford last year of the power Waller's contributions had on him. "I was emaciated, a tiny twig you could snap in two. If it wasn't for this grant, I'd probably be dead."
That sort of endorsement is a lasting one.
"It means everything," Waller said then of being involved in the Las Vegas community. "That's the real feeling I've been chasing all along — whether it was drugs or something like that, I wanted to feel good about myself. I get that now through helping someone else improve their life. I feel good about contributing. It's the fuel that keeps me going."
Off to New York, he left a mark far beyond those 100 yards.
Ed Graney is a Sigma Delta Chi Award winner for sports column writing and be reached at egraney@reviewjournal.com. He can be heard on "The Press Box," ESPN Radio 100.9 FM and 1100 AM, from 7 a.m. to 10 a.m. Monday through Friday. Follow @edgraney on Twitter.