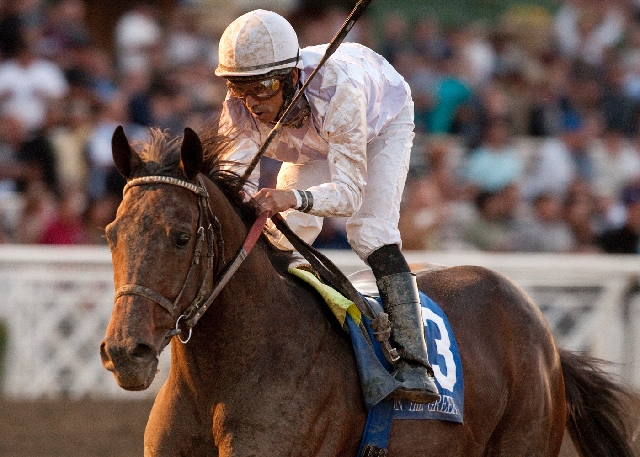 Quick, name the racetrack that will host two Santa Anita Handicap winners Saturday. Santa Anita? Keeneland? Aqueduct? Would you guess Charles Town?
The $1.5 million Charles Town Classic will feature two Big Cap winners in Game On Dude (2013) and Ron the Greek (2012).
Top horses are like PGA players — they will follow the money. And on Saturday the big money is in West Virginia.
It looks like a two-horse race, as Game On Dude (4-5) and Ron the Greek (5-2) are among the best in the handicap division. But Todd Pletcher has a three-horse uncoupled entry in Mordi's Miracle (12-1), Percussion (12-1) and Caixa Eletronica (6-1) to worry about.
Two horses — Game On Dude and Caixa Eletronica — have Charles Town Classic experience. Game On Dude ran second in the 2011 edition; Caixa Eletronica won the 2012 Classic.
If you don't normally handicap Charles Town, here's a hint: Think Fairplex. Both ovals are considered bullrings; Charles Town is 6 furlongs and Fairplex 5 furlongs around.
Riders learn the time to make their move is on the straightaways. The reason is both turns are tight, so a rider has his hands full just saving ground by not blowing the turns.
I like Ron the Greek in a minor upset. His winning race two back in the Sunshine Millions Classic showed he has some tactical speed. I also think he bounced last out in the Big Cap.
I expect at least one of the Pletcher horses to duel Game On Dude from the start. The tactic is called using a "rabbit" to soften up the early speed.
A price horse I think can run into your vertical bets is Clubhouse Ride (8-1). He'll sit far back under Garrett Gomez and make one late run.
■ 3-YEAR-OLD STAKES — The Illinois Derby at Hawthorne and the Coolmore Lexington at Keeneland on Saturday are two top races for 3-year-olds, but neither will factor into the Kentucky Derby field. Churchill Downs chose to bypass the Illinois Derby as a Derby points race. The Lexington has no Derby prospects. Instead, the races should produce potential starters for the Preakness. My choice at Hawthorne is Abraham (8-1) for Pletcher.
■ BLACK CAVIAR — Australian super filly Black Caviar was retired this week, her undefeated 25-race resume intact. Not only was she the most popular racehorse in Australia since Phar Lap in the 1930s, but also a national hero. Even the timing of her retirement was flawless. Her first career race — and win — came April 18, 2009, at Flemington.
■ WOODBINE — Woodbine in Canada lowered the takeout on win bets to 14.95 percent — the lowest in North America — in a move that was long overdue.
For years, I have suggested that tracks that receive slot subsidies should lower takeout, which is the price they charge their customers to bet. These tracks, called racinos, will increase purses but seldom reward their loyal fan base.
Richard Eng's horse racing column is published Friday in the Las Vegas Review-Journal. He can be reached at rich_eng@hotmail.com. Follow him on Twitter: @richeng4propick.