Always Dreaming's Preakness run proves 'horses are human'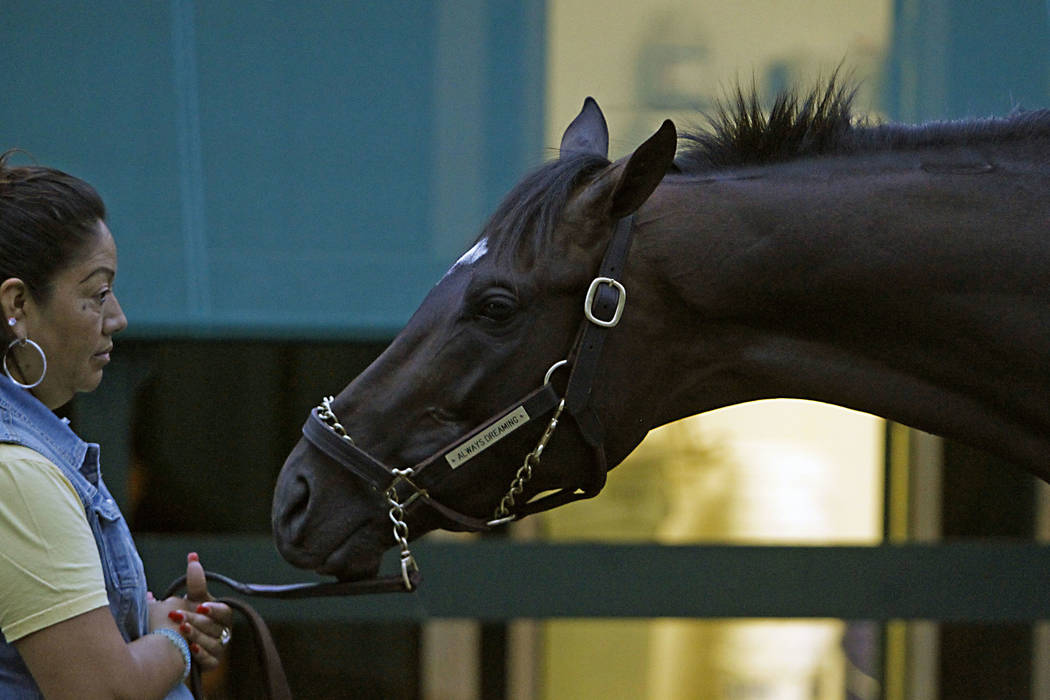 If there is one thing we learned from last week's Preakness Stakes, it is that "horses are only human." I use that phrase with a straight face to mean that horses, like humans, are made up of flesh and blood. We have good days and bad ones and they can fool us.
Kentucky Derby winner Always Dreaming by various accounts came bouncing out of Churchill Downs in good order. His Hall of Fame trainer Todd Pletcher felt good about his preparation. He showed high energy at Pimlico and was a huge favorite to win the second leg of the Triple Crown.
Then they opened the starting gate for the Preakness.
Always Dreaming went right to the front which was no surprise as on paper he looked like the main speed horse in the race. Julien Leparoux sent Classic Empire right after him from the start staying glued to his right flank.
The early pace was aggressive, but not crazy. The pair dueled through six furlongs in 1:11 flat. The first to crack was Always Dreaming who stopped like his race was over at the top of the stretch.
Classic Empire ran away to a three-length lead with 200 yards to go. Leparoux could taste his first Triple Crown win. Then a new challenger, Cloud Computing, went after Classic Empire and collared him literally in the shadow of the wire.
I credit winning jockey Javier Castellano for a brilliant ride on Cloud Computing. And Classic Empire was a prime example of a horse that ran a winning race in defeat.
These horses will meet again, but not in the Belmont Stakes on June 10. The list of Belmont possibles include Classic Empire, Conquest Mo Money, Epicharis, Gormley, Irap, J Boys Echo, Lookin At Lee, Meantime, Multiplier, Patch, Senior Investment, Tapwrit and Twisted Tom.
It should be an outstanding race despite not having the Triple Crown on the line. We still have a lot of key races in the 3-year-old division including the Haskell, Jim Dandy and Travers. Plus we will test the quality of the division when they face older horses in the late summer and fall.
Santa Anita moves
The Stronach Group has sent its top executive, Tim Ritvo, to Santa Anita with a goal of revitalizing the product. He will remain there indefinitely.
One issue that must be faced head on is shrinking field size. The California horse population is under constant attack from other states that can offer higher purses combined with lower costs to horsemen.
Plus there is an underlying problem that has never been fully addressed. That is a small cadre of trainers controlling an inordinate amount of the horses in training.
That lends itself to less competition in the marketplace. I'm not sure how you solve that. They have tried to limit the number of stalls per trainer but that has been meet with great resistance.
Ritvo will have his work cut out for him. Horse racing is completely different that other pro sports. There is not a central body and certainly no commissioner like Roger Goodell or Adam Silver who can dictate policy.
Ritvo can cajole people to buy into change, but cannot force any of the groups into doing so. It's kind of like rounding up stray cats. Just getting everyone on the same page is hard enough to do.
Richard Eng's horse racing column is published Friday in the Las Vegas Review-Journal. You can buy his Santa Anita Park picks at www.racedaylasvegas.com. You can email him at rich_eng@hotmail.com and follow @richeng4propick on Twitter.