American Pharoah is runaway choice for Horse of the Year
December 31, 2015 - 9:08 pm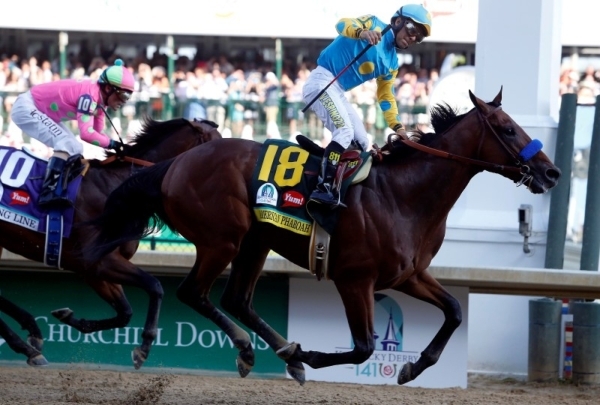 The Eclipse Awards are horse racing's Oscars or Emmys. It crowns the best of the best, and this year's event will be Jan. 16 at Gulfstream Park. The show will be televised live on TVG.
I'm honored to be among the select few Eclipse voters. I don't take the vote lightly, either. The horse racing season is 12 months long, and I have seen all of these horses run, more than once.
This year will be an easy vote for Horse of the Year: American Pharoah. He is the first Triple Crown champion since Affirmed in 1978.
I was just getting into horse racing when Secretariat (1973), Seattle Slew (1977) and Affirmed (1978) won the Kentucky Derby, Preakness and Belmont Stakes. After Spectacular Bid won the first two legs of the 1979 Triple Crown, I recall racing writers saying the series had become too easy to win.
Well, after "The Bid" lost the Belmont Stakes, the sport waited 37 years for the next Triple Crown winner. It remains to be seen if it will be another 37 years to the next one. I hope not. If so, that means some of us are going to miss it.
I had American Pharoah over two worthy horses — Beholder and Runhappy. Beholder is in the 99.9 percent range to win Older Dirt Female. She won all five of her starts this year, including a tour de force win in the Pacific Classic over males.
Runhappy was just as dominant in the Male Sprint division, where he also should win in a landslide. He was sharp in winning the Malibu on opening day at Santa Anita Park. He'll get some well-earned rest and come back in the spring.
In the 2-year-old divisions, I went with two more easy choices — Nyquist and Songbird. Both went undefeated and are the top choices to win the Kentucky Derby and Kentucky Oaks.
Nyquist is named for Detroit Red Wings star Gustav Nyquist. It is not unusual for a lot of cross interest between pro athletes and horse racing. His pedigree does not suggest nine furlongs, but his heart is the size of a melon.
Songbird was actually faster and more dominant than Nyquist. Her owners keep saying they will stay on course with the Oaks and not pursue the Kentucky Derby.
In the 3-year-old divisions, I went with American Pharoah and Stellar Wind for the fillies. The 3-year-old Filly division vote will be close. My picks behind Stellar Wind are I'm a Chatterbox and Lady Eli.
For Older Dirt horses, I went with Honor Code and Beholder, of course. Honor Code is no lock to win the division. My choices behind him are Liam's Map and Effinex.
In the Sprint divisions, I voted for Runhappy and Wavell Avenue. Wavell Avenue figures to be in a dogfight despite her Breeders' Cup win. I voted for La Verdad and Cavorting right behind her.
In the older Turf divisions, I voted for The Pizza Man and Tepin. Both categories are open to interpretation, as many European horses, with only one U.S. start, will garner a lot of support.
My top Steeplechase horse is Dawalan.
In the human categories, I voted for Bob Baffert (trainer), Javier Castellano (jockey), Zayat Stables (owner), Zayat Stables (breeder) and Eric Cancel (apprentice jockey).
Richard Eng's horse racing column is published Friday in the Las Vegas Review-Journal. He can be reached at rich_eng@hotmail.com. Follow him on Twitter: @richeng4propick