California Chrome enters homestretch of illustrious career
December 16, 2016 - 12:29 am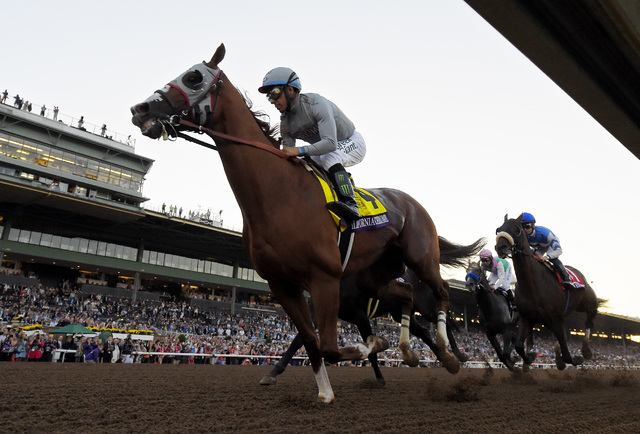 If you never have seen California Chrome race in person, he will be making his final local start in the Winter Challenge Stakes on Saturday at Los Alamitos. His final career race will be the $12 million Pegasus World Cup on Jan. 28 at Gulfstream Park.
The Winter Challenge drew an overflow field of 12, but only 10 will start. Believe me when I say that horsemen are not eager to face California Chrome. The bait is that every horse in the field will get $10,000 upon finishing the race.
If California Chrome does start, the track will offer win wagering only. No place or show pools. Also, the race has been carded as the ninth and final to keep it out of the Pick 6, which will be offered in races three through eight.
California Chrome has made $14,452,650 lifetime. A win in the Winter Challenge and Pegasus would put him over the $20 million mark, easily making him the top all-time money-earning horse. This would not have been possible had Taylor Made Farm not stepped in last year to take control of his career.
California Chrome had an ill-fated 2015 season with only two starts. He spent time in England, and photos of the horse there showed his ribs sticking out. This clearly was not a happy horse. It would have been a real downer to have the 2014 Kentucky Derby and Preakness winner fade off into the sunset like this.
Instead, California Chrome was given all the time he needed to rest, then was put back into training with the man who knew him best, trainer Art Sherman.
An ambitious but well-thought-out schedule of races was put before him in 2016. He was pointed for and won the $10 million Dubai World Cup on March 26. He won the $1 million TVG Pacific Classic on Aug. 20. He narrowly lost to Arrogate in the $6 million Breeders' Cup Classic on Nov. 5.
Now the final curtain call will be in the Pegasus World Cup. Taylor Made has set his initial stud fee at $40,000.
It sounds like a bargain considering the strength of his resume. But Taylor Made is realistic because California Chrome's pedigree by Lucky Pulpit out of a Not for Love mare named Love the Chase is far from blueblood.
The key will be the quality of mares sent to California Chrome in the first few seasons. Horse buyers are notoriously impatient, so if he does not produce lots of stakes winners early on, he might slip in popularity.
The hope is California Chrome can build a successful stud career the way young stallions such as Kitten's Joy or Uncle Mo have. Both of these stallions are off to spectacular starts to their breeding careers.
GOMEZ DIES
On Wednesday, the horse racing world was stunned to learn of the death of two-time champion jockey Garrett Gomez, who last rode in October 2013.
He announced his retirement in June 2015 on his Facebook account. It seems like yesterday when Gomez appeared at the South Point racebook right before Christmas in 2010.
A standing-room-only crowd of fans came out to see him, and he was friendly and gracious as always. Gomez was 44.
Richard Eng's horse racing column is published Friday in the Las Vegas Review-Journal. You can buy his Los Alamitos picks at racedaylasvegas.com. You can email him at rich_eng@hotmail.com and follow @richeng4propick on Twitter.