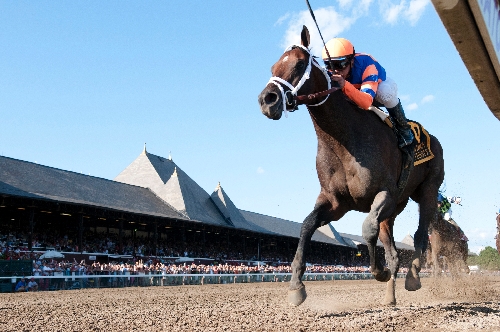 As two top U.S. race meets wind down, Del Mar and Saratoga will showcase their marquee events this weekend, with each worth $1 million. The Travers Stakes at Saratoga will be run for the 142nd time Saturday, and the Pacific Classic will go at Del Mar on Sunday. Both Grade 1 stakes have full fields that are evenly matched.
The Travers for 3-year-olds finally might settle the division title. Stay Thirsty (5-2) is favored off a career-best win in the Jim Dandy. It was a breakthrough race for a colt who previously was all potential, but little production, in his career. A repeat race wins the Travers, but it's hard for any horse to run career-best races back to back.
His two most logical foes are Haskell victor Coil (3-1) and Preakness winner Shackleford (9-2). Shackleford, in particular, offers value, as he was the 3-2 favorite in the Haskell only to lose to Coil by a neck. On paper, Shackleford also looks like the lone early speed, which is the best bet in horse racing.
Coil ran a remarkable race in the Haskell, rallying from last to first in the final half-mile. The Bob Baffert-trained colt has better tactical speed than that and could sit much closer to Shackleford in the Travers.
I like Coil to beat Shackleford again, with Stay Thirsty a closing third.
The Pacific Classic is as difficult a handicapping puzzle as you will find. The first clue is the marathon distance of 1¼ miles, a stretch for many of these entrants. The fact there is no clear-cut leader of the West Coast handicap division also shows how evenly matched the 11-horse field is.
The two favorites — Twirling Candy (5-2) and Game On Dude (3-1) — ran second and third in a blanket finish in the Hollywood Gold Cup. The winner, First Dude, suffered a career-ending injury exiting the race.
The Pacific Classic is far from a two-horse race, though. Tres Borrachos (6-1) showed newfound resolve in winning the San Diego Handicap, his first start under trainer Marty Jones. Jeranimo (12-1) has chased the best grass horses out West and now switches back to the synthetic surface. Don Cavallo (8-1) and Stately Victor (20-1) are synthetic surface specialists back East.
I'm going for a major upset in picking Jeranimo to run down the field late. He won the 2010 Strub at Santa Anita over a Pro-Ride surface, runs even better on grass, which is similar to a synthetic surface, and is a true distance horse, to boot.
Richard Eng's horse racing column is published Friday in the Las Vegas Review-Journal. He can be reached at rich_eng@hotmail.com. Follow him on Twitter: @richeng4propick.